Master Bathroom Tile Selections
I think I finally have my tile selections figured out for the master bathroom. I had a bit of a challenge picking out a tile for the shower floor because this floor is a bit different from most. Most shower floors are level around the edges and slope towards a center drain. But since we needed a curbless shower with no transition from the bathroom floor to the shower floor, here's how we had to do it…
The floor straight ahead from the shower entrance will all be level with the bathroom floor, and then to the right of that, the slope will start. So four feet of the flooring will be sloped towards the drains. There will be two linear drains spanning the entire width of the shower head wall.
With that in mind, I needed a floor tile with a continuous grout line that could go the length of the shower where the slope will start. And it's not that the slope will be very noticeable. Shower floors only have to slope 1/4-inch per foot. But I didn't want to take a chance on using something like a small mosaic tile in a herringbone pattern and have half of a row (i.e., the row that spans that imaginary line where the level floor meets the sloped floor) not lie perfectly flat. But I definitely wanted some sort of mosaic tile because I think the more grout lines in a shower floor, the less likely one is to slip and fall.
So that limited my options to mosaic tiles like this tile, which I found at Lowe's…
I love that tile, but in my mind, the pattern would be going the wrong direction. I can't explain why I think the longer sides of the little rectangles should go against the bathroom floor, but that makes sense to me. Probably because the tiles would be whole and not cut. But if I were to use that tile, the tiles would have to run this directions…
That means that I'd have cut tiles (every other tile) up against the bathroom floor. That doesn't seem well thought out to me.
So I wanted something that didn't have a very obvious direction. This tile from Lowe's was an options, but it seemed a bit too dark. I did like that it was a ceramic tile (or maybe porcelain) and not a natural stone. I'm concerned about something like marble etching and then becoming too hard to clean. But this didn't seem quite right for my taste.
The tile at the top of this picture is slightly different from the first tile, but I'd run into the same problem with having cut tiles against the bathroom floor. But the second tile was more in line with what I was looking for. See how it doesn't have an obvious "correct" direction to it? It's the same look no matter how you place that tile on the floor.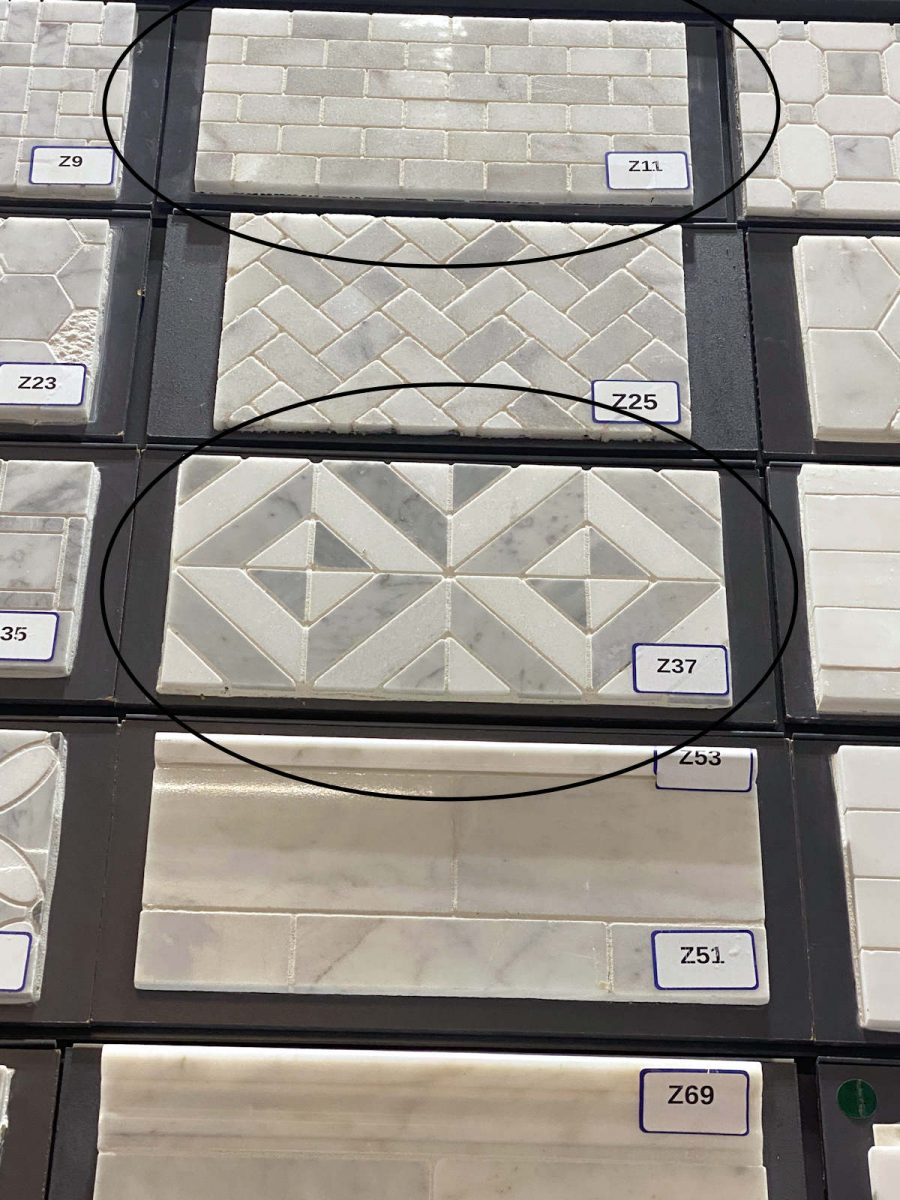 So I ended up purchasing one of those to bring home and look at in the room.
As far as floor tile goes, I wanted something marble-like, matte (nothing shiny that could be a slip hazard), light, and subtle. This one on top that I found at Home Depot seemed to fit the bill. It's actually quite similar to the floor I have in the hallway bathroom, which I still love years later. I also picked up a similar one at Lowe's to compare them in the room.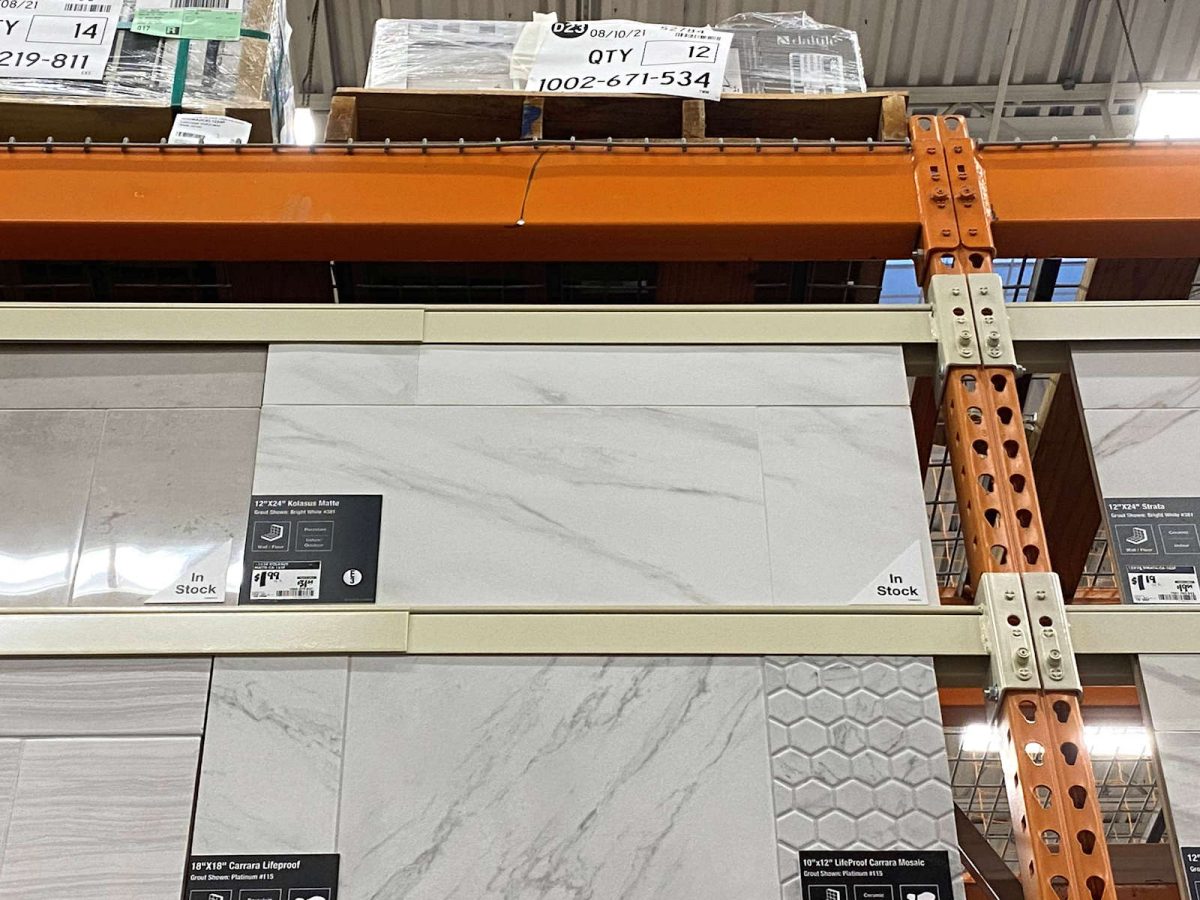 And for the shower walls, I wanted large white rectangle tiles. I know it's not too exciting, but the excitement in this room will be the wall mural and the bathroom wall color. I don't need anything too terribly exciting on those shower walls, and white will keep it light and bright in there. So I picked out two white rectangle tiles from Lowe's — one smaller, shinier, and more irregular (more of a handmade look), and one larger, a little less shiny, and uniform.
So here's a look at all of the tiles. This is the floor tile from Home Depot, the shower floor mosaic from Lowe's, and the larger shower wall tile from Lowe's.
I actually taped up three strips of my wall mural so I could see everything together. And don't be confused by that dark herringbone mosaic tile. I'm considering using that as an accent, but if I do, it will be a very small accent, and won't be used as a herringbone.
Of course, the mosaic tile for the shower floor won't be right up against the mural, but I still wanted to see how it would all look together.
And you have to keep in mind that there will be a lot of white in the room — wainscoting, trim, bathtub, sinks. So the overall look will be much brighter than it is right now with unfinished drywall
And just for the sake of comparison, here is the similar floor tile that I found at Lowe's, as well as the smaller white rectangle shower wall tile (the one that's irregular has a handmade look) that is sitting on the larger tile.
Both of those are a no for me. The floor tile is much heavier marbling, and the overall look is darker. I much prefer the lighter and more subtle look. And while I love the more imperfect and handmade look of the smaller white tile, I don't like the color at all. It's super white. Sterile white. I much prefer the soft white of the larger tile.
Here are the two floor tile options side-by-side. The Lowe's tile isn't much darker, but it's definitely enough to make a difference. And that heavy marbling is just too much for me.
There's one more store I might visit just to make sure there's not a better shower floor option, but I'm almost 100% sure that I'll stick with these selections for the bathroom floor tile and shower wall tiles.
In fact, I'm so sure about those two that I'm going to purchase them today. They guys should be finished with their part of the bathroom by the end of this week, and they'll be ready to hand it over to me to finish up. Eeeekkkk!!! I'm excited!!
Addicted 2 Decorating is where I share my DIY and decorating journey as I remodel and decorate the 1948 fixer upper that my husband, Matt, and I bought in 2013. Matt has M.S. and is unable to do physical work, so I do the majority of the work on the house by myself. You can learn more about me here.