Last Updated on October 8, 2017 by Kristi Linauer
Hey y'all! I didn't work on the house at all this past weekend, so yesterday I got started on my floor again. Just to recap, the reason I'm calling this a "mini" floor refinishing project is because I'm not breaking out the big tools (i.e., renting an actual drum sander) like I did the first time I refinished my floors. (Click here to read more about the major floor refinishing project I did before we moved into the house.)
And I'm not concerned with removing all of the original finish and getting down to bare wood. This time, I just used my small rotary sander with some 80-grit and 120-grit sanding discs, and my main goal was to remove all of the paint and primer drips and overspray, as well as any dings and scratches that I could get out. Some of the scratches were too deep to sand out, so I'll just call those "character." 🙂
I know a few of you were wondering if this would even work since the original finish didn't sand off evenly, but I was pretty confident that it would work.
One thing to know about the oil-based Waterlox* is that it's an amber color, and it takes about two (sometimes three) coats to get it to its full color. So sometimes if you have a floor, table, or countertop that has several coats of Waterlox on it, and you sand out a blemish on it and recoat it, that spot that just has one coat won't quite match because one coat isn't really enough for it to reach its full depth of color. At least, that's been my experience.
So even though I was quite certain that this plan would work out in the end, I was still a bit nervous that it would look pretty splotchy after the first coat. But it actually worked much better than I though it would!
I used a regular 2.5″ angled Purdy paint brush to cut in around the edges, and then used a lambswool applicator for the rest of the floor. I got this from Lowe's.
And here's the sanded floor compared to the newly recoated floor…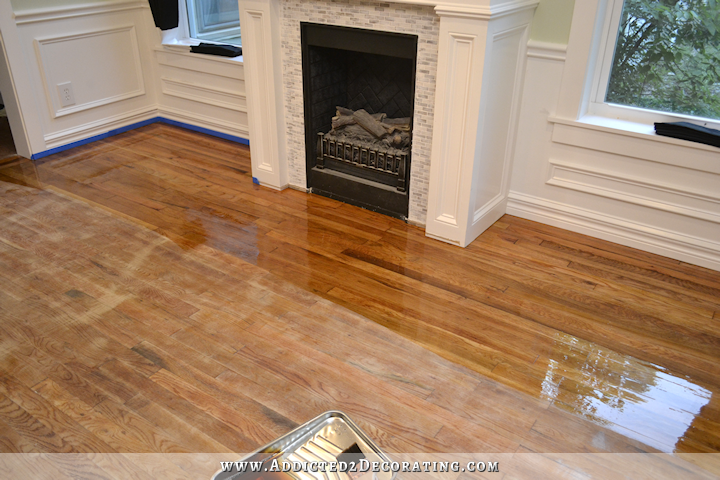 Pretty nice, right?
Here's the whole floor after I got the first coat on it yesterday evening. The Waterlox* was still very wet, which is why it's so shiny and reflective.
Now this morning after it was all dry, the floor did look a bit splotchy, but it wasn't the color that looked splotchy. It was the finish, and that happens on the first coat of Waterlox* even when using it on bare wood. Because it's a penetrating finish, the first coat doesn't soak into the wood perfectly evenly. It's recommended that Waterlox Original Finish* be used on the first coat, and that finish is pretty shiny. Since the first coat doesn't soak in perfectly evenly, there are some areas where it's shiny, and others where it's dull. As you apply more coats, it starts to build up the finish evenly. And if you want a satin finish, you use Waterlox Satin Finish* on the very last coat.
So far I only have one coat, and other than the uneven sheen in areas, it looks so much better already! I think I'll do two more coats — one more original, and one satin. Each coat has to dry for 24 hours before adding the next, but unlike polyurethane, there's no need for sanding between coats. And then after all of the coats are on, I have to wait 72 hours before putting the furniture back. So I'll finally be able to move everything back in on Sunday. Until then, I'll have to keep myself busy on projects outside of this room.
UPDATE:
My floor is finished! Here's what it looks like now after two coats of Waterlox Original and one coat of Waterlox Satin.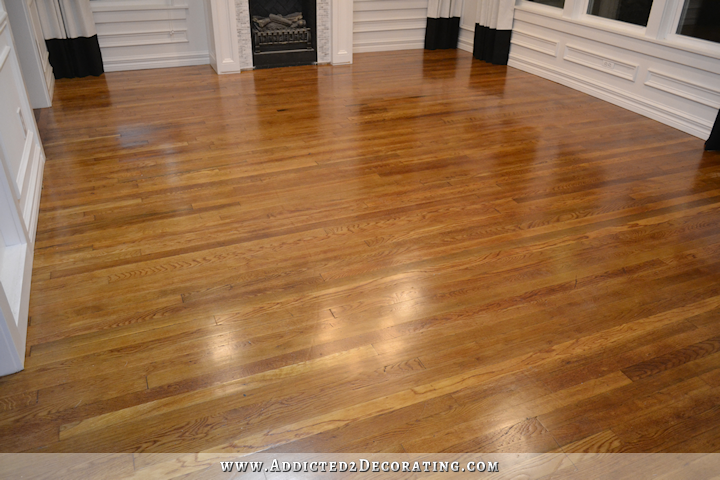 IMPORTANT! Please note that Waterlox can only be used over bare wood or wood that has been previously sealed with Waterlox. It cannot be used over polyurethane, wax, or any other kind of sealer/topcoat other than Waterlox.
And here's a quick recap of the whole process of refreshing floors that have been previously sealed with Waterlox…
Addicted 2 Decorating is where I share my DIY and decorating journey as I remodel and decorate the 1948 fixer upper that my husband, Matt, and I bought in 2013. Matt has M.S. and is unable to do physical work, so I do the majority of the work on the house by myself. You can learn more about me here.
I hope you'll join me on my DIY and decorating journey! If you want to follow my projects and progress, you can subscribe below and have each new post delivered to your email inbox. That way you'll never miss a thing!