My New & Improved "Smiley Face" Yellow Painted Upright Piano
My "new" yellow painted upright piano is finished!  And this time, it's just right.  🙂  I realize not everyone will agree that this is an improvement, but for me, and for my house, and for the vision I have for this room, it couldn't be more perfect!
This is exactly what I envisioned all along, although I didn't envision it sitting against a black wall.  That was one of my many (failed) attempts to make that other piano work in this room, so the black wall is temporary.  This wall will soon be filled with tree limbs and colorful happy birds.
So if you're thinking, "Kristi, I thought this piano was already finished!" then that means you missed this post.
The color I chose for my new and improved piano is appropriately called Smiley Face by Behr.
And this yellow piano truly puts a smile on my face.  I'm so happy that I had a change of heart, and decided to do what I actually wanted to do rather than what I felt obligated to do.
Now I'm really excited to tackle this room and get the walls finished.  While that other piano couldn't hold its own against the Schmacher wallpaper (or my DIY version of it), this bright, happy, yellow piano certainly can.  And it'll be perfect!
And yes, I did end up keeping the original manufacturer's decal.  So at least there's still a little touch of the original left on this piano.  🙂
So now, here's a view of the "before" piano…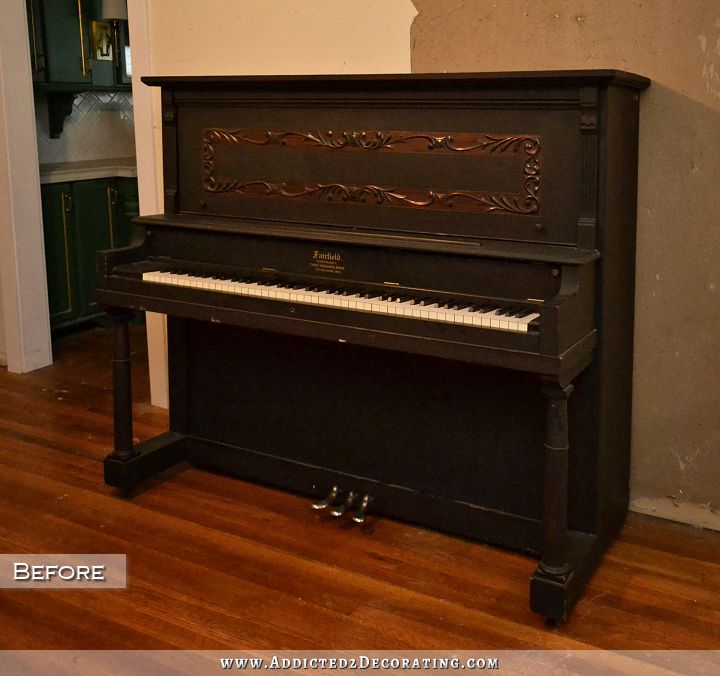 And here's where I took a wrong turn (for my house) with the refinishing of this piano…
And the new and improved "after" piano…
This is so much more "me," don't ya think?  🙂
Addicted 2 Decorating is where I share my DIY and decorating journey as I remodel and decorate the 1948 fixer upper that my husband, Matt, and I bought in 2013. Matt has M.S. and is unable to do physical work, so I do the majority of the work on the house by myself. You can learn more about me here.