My DIY Refinished Hardwood Floors Are Finished!
Oh my gosh, y'all!! I was beginning to think that this hardwood floor refinishing project would never be complete, like I was caught in some Groundhog Day-type loop of never ending sanding. But my floors are finally finished, and I couldn't be happier with the results! They're not perfect by any means, but I'm okay with that. 🙂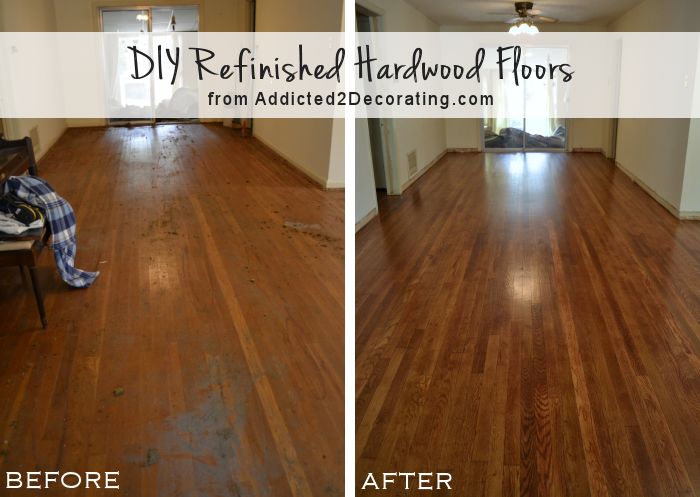 Of course, the "before" picture above was taken immediately after I had removed the 30-year-old green carpet, so while the "before and after" for the hardwood floors looks like the picture above, the "before and after" for the room looks like this: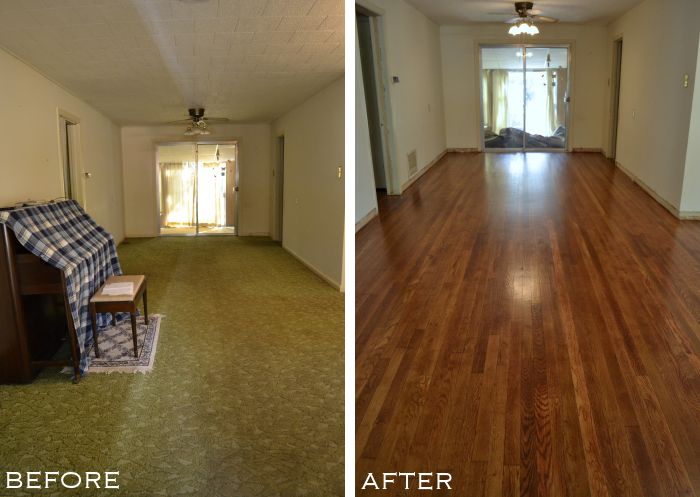 Quite a transformation, right? 😀 I'm pretty ecstatic about it! And just to think that those gorgeous floors were hidden under there the whole time, for about 30 years, beneath green carpet, carpet padding, and a very thick layer of almost-opaque mystery finish that hid the beautiful grain of the oak floors.
You can hover your mouse pointer over this picture to get a quick view of the before and after: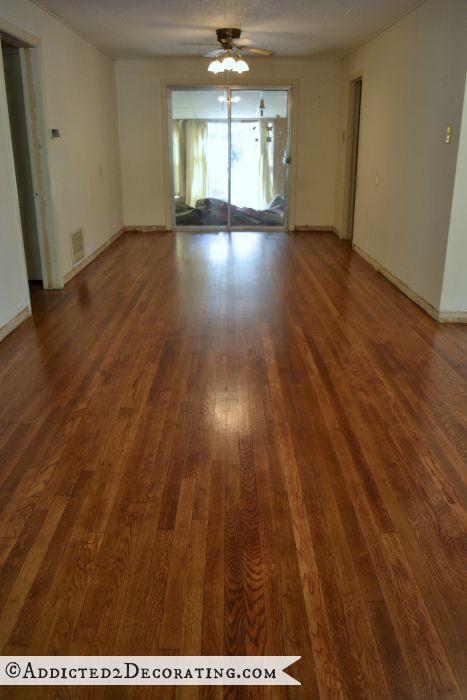 This was definitely one of the hardest and most time-consuming DIY projects I've ever done, but I'm so glad that I stuck with it and didn't throw in the towel after my initial attempt was a complete bust.
Because now I have beautiful floors, and I can say that it was the result of my own hard work and my own two hands.  There's so much satisfaction in that!  (And of course, my mom also helped me for two days by removing baseboards from three of the rooms, clearing out all of the remaining debris from the hallway closet tear out, and doing lots of edge sanding.)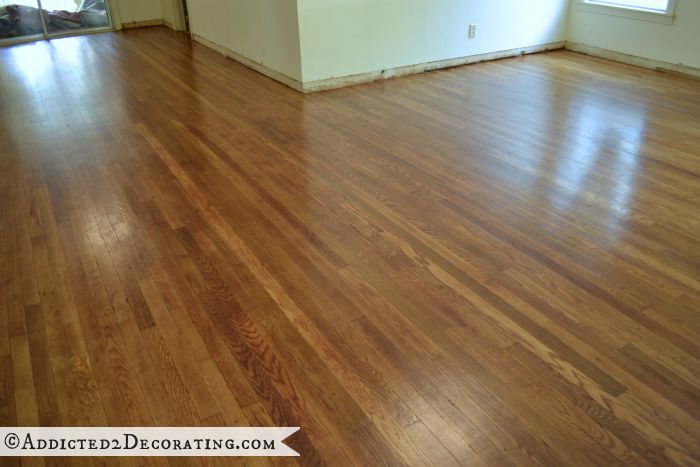 So let's take a little tour of the rest of the rooms, shall we?
The Master Bedroom
Here's how this room started out (with green carpet, of course).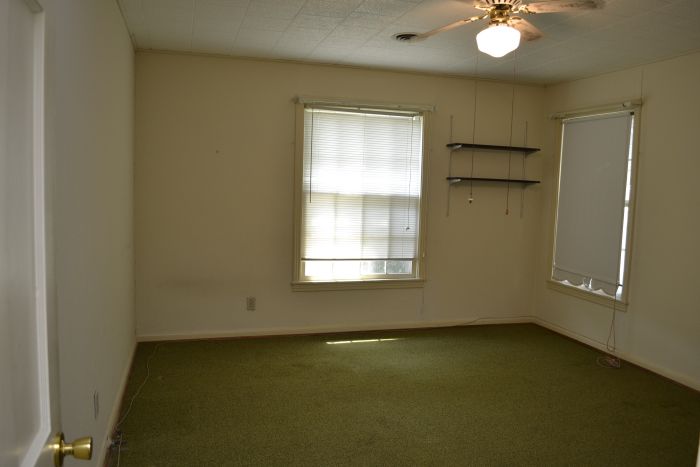 And here's how the floor looked right after I removed the carpet.
And here's the floor now, with its shiny new finish.
You can hover your mouse pointer over this next picture to see a quick view of the before and after:
Matt's Game Room
This room started out with carpet that was more teal than green.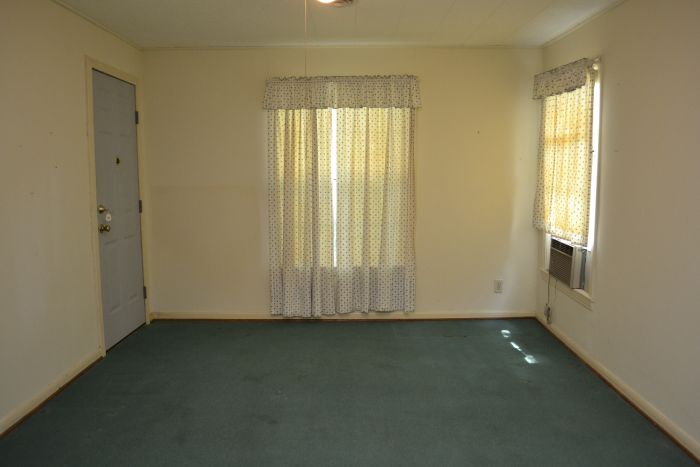 And here's what the floor looked like right after I removed the carpet and padding:
And now, with a beautiful refinished hardwood floor: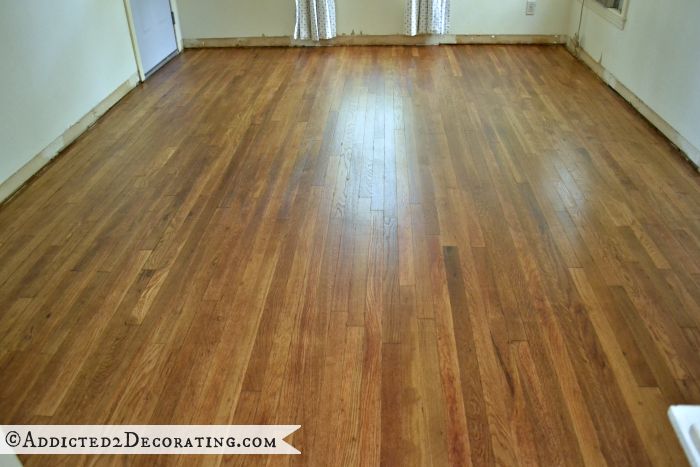 You can hover your mouse pointer over this picture to get a quick view of the before and after: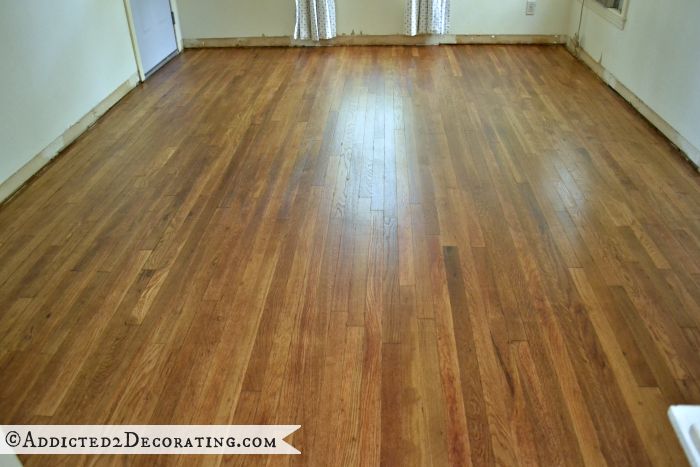 The Hallway
Of course, the hallway also had green carpet:
(Obviously I wasn't really focused on the floor in that photo, but you get the picture, right?)
And right after I removed the carpet: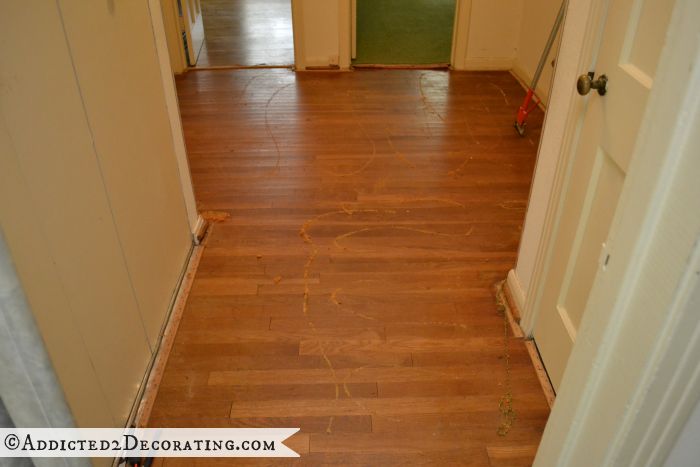 And here's how the floor looks now (with the closet gone also):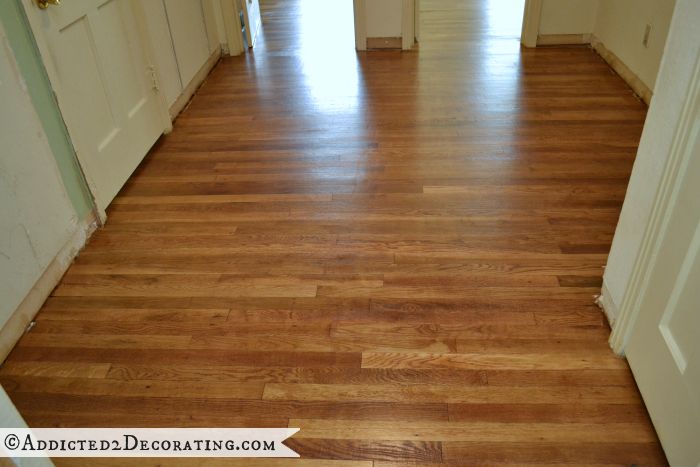 And once again, you can hover your mouse pointer over this picture to see a quick view of the before and after: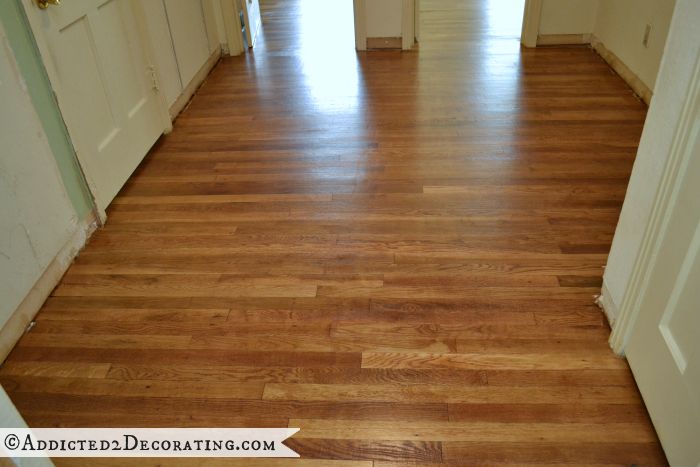 Of course, when it comes to the hallway, this is my favorite before and after view. Here's how it looked with the carpet:
And now: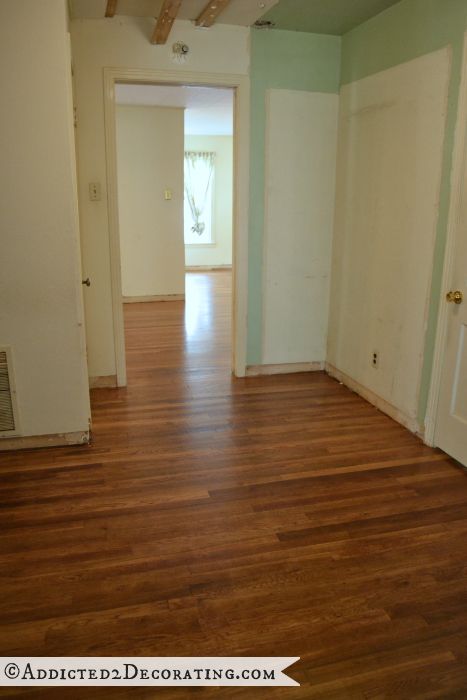 Unfortunately, I didn't get a good interim shot from this angle after I removed the carpet. But here's another quick view before and after: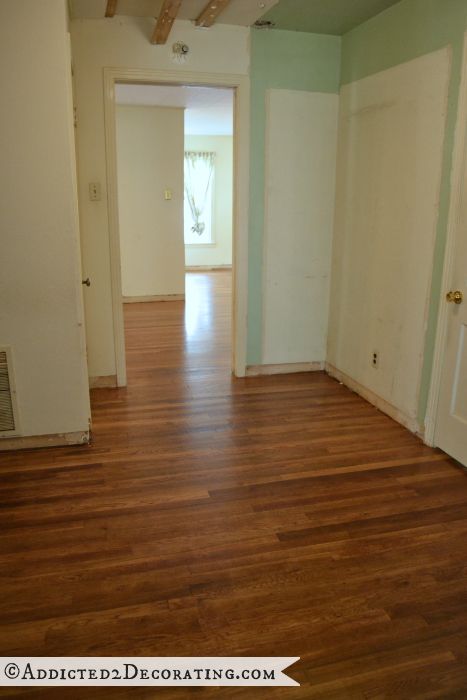 My Office
I also didn't get a good "before" picture of the original hardwood floor in my office. It's the only room that actually had the original hardwood floors exposed (no carpet), so when I pulled up all of the carpet in the other rooms, I didn't even think to get a picture of the floor in my office. But it looks just as beautiful as the rest now. (Well, except for that one board that has termite damage. *Sigh* I still need to deal with that.)
Of course, the color of the paneled walls is very distracting and detracts from the beautiful floors, so I want to paint those ASAP. I did learn that the paneled walls and ceiling are actually original to the house (and very thick solid wood!). For some reason, I thought that they had been added later, but they are in fact original, so I'll be keeping them. But a coat or three of primer and paint will do wonders for that room.
And now, let me answer some of your questions regarding my floor refinishing project:
1. How much did this cost?
The equipment rental and sandpaper came to $450 (about half of that cost was for sandpaper!!), and the Waterlox cost me $700. Throw in the extras, like a new natural bristle brush, a gallon of mineral spirits, etc., and the cost came to right at $1200.
(FYI: I could have saved $300 if I had been satisfied with a semi-gloss finish but I had my heart set on a satin finish. After seeing the cost difference, I almost decided to forgo the satin finish to save money, but Matt insisted that I do it like I want it the first time, rather than settling for something I didn't want and regretting it later. So that satin finish cost an extra $300 in product, and took an extra day of labor. The satin finish is really gorgeous, and actually looks much more satin in person than it does in the pictures above. For some reason, in pictures it reflects quite a bit more light than it does in person.)
2. How much did you save refinishing your own floors?
I refinished about 1500 square feet of hardwood flooring. In my area, the cost for professional refinishing is around $3 per square foot. So that would have put the cost at around $4,500. My cost was 80 cents per square foot. I saved around $3,300 by refinishing my own floors. Had I skipped the satin finish, my cost would have been 60 cents per square foot, which would have been a $3,600 savings. But I really like a satin finish. 🙂
3. What kind of wood floors do you have?
I wouldn't bet anything important on my answer, but I'm almost 100% sure that they're oak. Now I couldn't tell you if they're white oak or red oak, but if you can guess based on the color they turn when you put oil-based finish on them, I'd say they're red oak. But again, I wouldn't bet anything important on that answer. I do know that they're a very hard wood. That I do know for sure.
4. How did you stain your floors?
I actually didn't use stain at all. The color you see is the natural color that the wood turns when you apply an oil-based finish. The Waterlox does have a slight amber color, but not much. Here you can see the difference between the raw wood and the wood with Waterlox.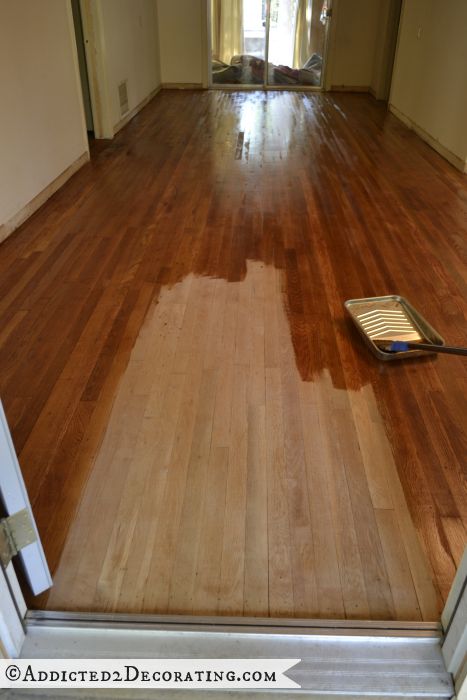 But again, most of that is just the natural color that it turns when an oil-based finish is applied. In fact, the day before I applied the first coat of Waterlox, I actually wiped down then entire floor with mineral spirits, and they turned almost exactly that color with just mineral spirits. So wiping mineral spirits onto wood is actually a very good way to see what color it'll turn once an oil-based finish is applied, so you can determine of you want or need to use stain or not.
On the other hand, if you want really light-colored floors, you'll almost certainly have to use a water-based finish.
5. Why did you decide not to stain your floors?
Whether or not to stain really just comes down to how dark you want your floors. It's completely a personal preference.
I personally wanted a really warm medium brown. I love really dark floors, but I think they show dirt and dust much easier. Plus, I think that a natural finish (the medium brown) is more in keeping with the age of my house (built in 1948). The really dark finishes seem to be a more modern thing (at least from what I've seen), and I can't help but wonder if they have an expiration date. But a natural oak, on the other hand, seems timeless to me, so that's what I decided to go with.
6. How is Waterlox different from stain?
A stain is used to alter the natural color of wood. More often than not, stain is used to make wood darker than it is naturally. Waterlox doesn't actually alter the color of the wood. As I mentioned, it does have a very slight amber color to it, but not enough to really "stain" the wood.
Waterlox would be more comparable to a polyurethane, in that both Waterlox and polyurethane are used as a clear finish to protect wood. The difference is that polyurethane is literally a plastic coating that sits on top of the wood. Waterlox is a tung oil-based finish that actually penetrates into the wood, much like the oil finishes (tung oil, linseed oil, etc.) that have been used to protect wood for over 200 years.
7. How do you clean this type of floor?
Waterlox actually makes a cleaner that you can use to mop the floor, but just plain vinegar and water will work also. You can't use any cleaners that contain ammonia or bleach, or anything that will create a waxy build-up on the floor.
I think those were all of the questions I received, but if I missed one, or you think of something else that I didn't cover, just let me know in the comments below, and I'll add it to the list.
And don't forget to check out my other post where I shared a few specific details and tips regarding sanding the floors.
Oh yeah! One other question I got from a few of you. Was it worth the blood, sweat, and tears (and two weeks of work)?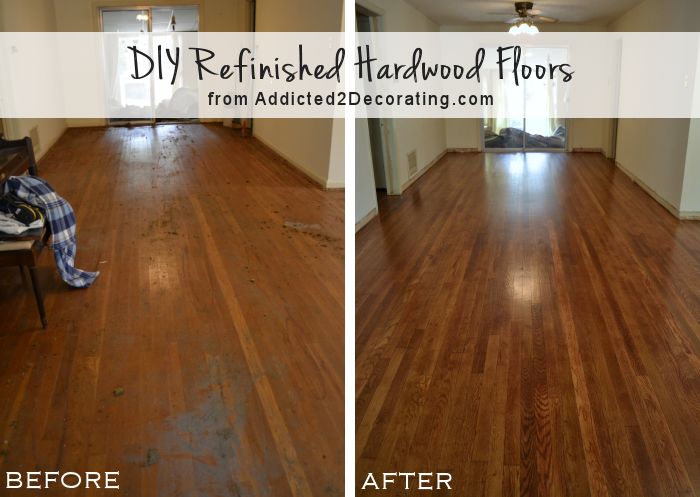 And of course, my answer is, "Absolutely!!" But I don't think I'd ever want to do it again. 😀
*This post is not sponsored by Waterlox. I really did just do my own research, comparing the benefits and drawbacks of polyurethane, oiled finishes (specifically tung oil), and Waterlox, and came to the conclusion all on my own that I wanted to use this product on my floors.
Addicted 2 Decorating is where I share my DIY and decorating journey as I remodel and decorate the 1948 fixer upper that my husband, Matt, and I bought in 2013. Matt has M.S. and is unable to do physical work, so I do the majority of the work on the house by myself. You can learn more about me here.