My Niece's Bedroom Makeover – Before & After
My niece's bedroom is finally finished! This room was a group effort with most of it done by my mom and me, but my niece and brother also pitched in some help when needed.
This is my favorite view of the room — the main wall featuring the built-in daybed with pull-out trundle bed and built-in bookcases that I built, the amazing floral wall mural that my mom painted, and the upholstered headboard that my mom and I made together.
That's a far cry from what this room looked like before we started…
Now it's a bright, fun, and cheerful room fit for a young girl.
Here's another "before" view of the wall to the left of the bedroom doorway…
We re-used the dresser on the other side of the room, but my mom gave it a makeover with some white (Behr Polar Bear) paint. And I reused the mirror (not the frame, just the mirror) to make the decorative wall mirror that's hanging to the left of the bedroom door. (Pics below.)
And now that view from above looks like this when you enter the room…
On the wall to the right of the bed and bookcase wall is the only window in the room. My mom used my drapery tutorial to make lined draperies with a colorful striped accent on the leading edge. The desk was a consignment store find, and we built the little hutch with cubby hole storage. We also dressed up the original hollow core doors with some decorative moulding.
Here's a before view of this side of the room…
The room was just very plain and dark, and the furniture that was in there was way too big and imposing. Just clearing out that huge bed made the room feel twice as big, and the new colors and lighting makes the room feel so much lighter and brighter.
And of course, that's the dresser that was originally in the room, but my mom painted it white. The bulletin board above it was a team effort. I built the actual bulletin board, and my mom painstakingly painted those letters with the thin, brightly colored stripes.
And the wall to the right of that one, which used to look like this…
…is where we hung the mirror that I made, just to the left of the bedroom door.
The door in this bedroom swings out into the hallway rather than into the room. It's been like that for decades, so it didn't even dawn on me that it was non-standard until someone asked me about it. The reason it's like that is because this room used to be my dad's office. He was self-employed and ran his business out of this room, and he needed every bit of floor space. The door swinging into the room got in the way, so he switched it so that it opens into the hallway. I'm actually glad it's like that! If it was a standard door, the swing would have either interfered with the built-in daybed and bookcases, or it would have taken up the wall space where we hung the mirror.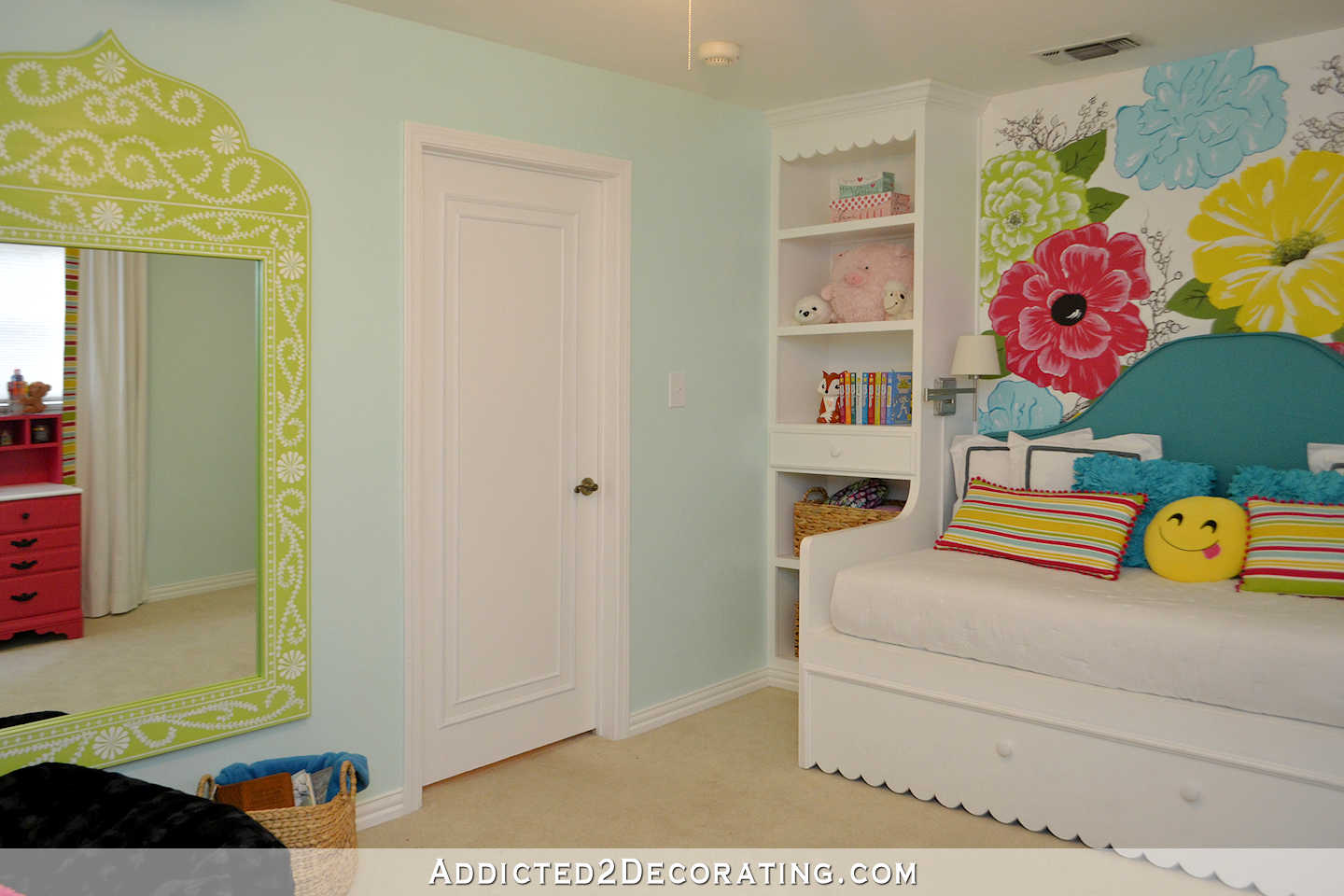 And that's the full tour! I love how this room turned out. Kids' rooms are so fun to decorate.
Sources:
— Wall color: Behr Pastel Jade
— Trim and built-ins paint color: Behr Polar Bear
— Decorative boxes (top shelf, left bokcase): Joann Fabric
— Rectangle baskets – Joann Fabric
— Wall mural – hand painted by my mom, details in this post
— Wall sconces – Home Depot
— Headboard – made by my mom and me, details in this post
— White flanged pillows – made by my mom, similar project here
— Turquoise ruffled pillows – Target
— Striped pillows – made by my mom, fabric from Hancock Fabric (now closed 🙁 )
— Colorful tassel pillow – Target
— Draperies – made by mom mom, similar project here
— Desk – consignment store, hutch tutorial here
— Desk paint color – Behr Glamorous
— White (snow) cordless cellular shade – Lowe's
— White fuzzy throw (on chair) – Marshall's
— Bulletin board – DIY project, details in this post
— Vine & flower wall mirror – DIY project, details in this post
— Bean bag chair – Pier 1
— Basket (on floor) – World Market
— Turquoise throw (in basket) – Marshall's
— Bedroom and closet doors – DIY project, details in this post
I know someone is going to ask how much this makeover cost. To be quite honest, since it took us so long to finish and we kind of stopped keeping track, I don't know an exact amount. But if I had to guess, I would say that it was somewhere in the neighborhood of $1500. While we did reuse some items, and we got other things at a consignment store, that full wall of built-ins, new mattress(es), fabric for the draperies, pillows, and headboard, and supplies for the bulletin board and wall mirror, plus the store-bought items like the beanbag chair (about $120), the wall sconces (about $100), the cellular shade (about $100) and other accessories add up quickly! But even still, $1500 for a totally transformed room with a complete wall of built-ins is very reasonable.
Addicted 2 Decorating is where I share my DIY and decorating journey as I remodel and decorate the 1948 fixer upper that my husband, Matt, and I bought in 2013. Matt has M.S. and is unable to do physical work, so I do the majority of the work on the house by myself. You can learn more about me here.