Q & A–Oil-Rubbed Bronze and Brushed Nickel In The Same Room?
The question about mixing metal finishes is probably one of the questions I'm asked the most. I've addressed it at least two other times here on A2D, but since I continue to get the question, let's talk about it again! Interestingly, my own opinion on the topic changed drastically between the first time I wrote about it, and the last time I wrote about it, so I'll share my current opinion, and then you can chime in and give yours also.
First, the question. Robin writes,
I'm confused and need some direction as local stores are giving conflicting info.  I'm replacing all bright brass door hardware, lighting etc in my home. We have installed oil-rubbed bronze ceiling lights, but I'm in a quandary about door hardware.  One side says keep color the same in same areas, the other says it's okay to mix and match.  Should I go ORB for door handles, hinges, stops, or can I go with my wife's preference of brushed nickel. It might work but I'm one for conformity.  To me it would look odd and stick-out if ceiling light in bedroom is oil-rubbed bronze but the door hardware is brushed nickel!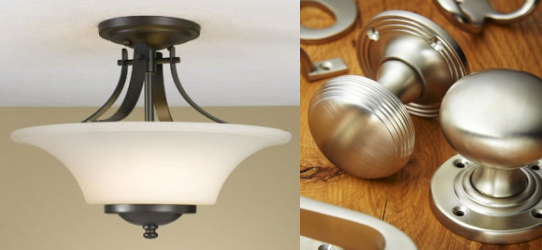 Kristi's Two Cents:
The first time I was asked about mixing metals by a reader, I was squarely in the "do not mix" camp.  I just couldn't imagine why someone would want to do that in a room!  I rambled on about cohesion and flow and blah, blah, blah.  But over the years, my "rule" about mixing metal finishes has definitely relaxed.  You can read more about that here, and you can click here to see what I had to say to another reader with a similar question, and see photos of a kitchen where the metals are mixed to perfection!
Now that doesn't mean I've completely thrown the rule book out the door.  I do still think there are areas where consistency needs to be maintained.  For example, if you're going to use brushed nickel door knobs, then be sure your hinges are also brushed nickel.  And if you're using brushed nickel hardware on one door, then use brushed nickel on all of your doors.  If you start mixing and matching hardware on your doors, it'll end up looking like you purchased whatever hardware you could find in the clearance bins.
But I do think it's absolutely, perfectly fine to use brushed nickel door hardware and oil-rubbed bronze lights.  In fact, I think the two metals compliment each other quite nicely.
---
So what advice to you have for Robin?  Do you think door hardware and light fixtures need to match?  Or do you think it's okay to mix metal finishes in a room?  Give her your two cents!!
Do you have your own decorating dilemma?
Click here to submit your question and photos!
Addicted 2 Decorating is where I share my DIY and decorating journey as I remodel and decorate the 1948 fixer upper that my husband, Matt, and I bought in 2013. Matt has M.S. and is unable to do physical work, so I do the majority of the work on the house by myself. You can learn more about me here.