The Goal: Disguise A Window Unit Air Conditioner
After sharing with y'all the other day about some comments I've received about my air conditioner, so many of you have tried to help me come up with a solution to disguise the ugly thing.  (Thank you!)  🙂
Suggestions have ranged from a decorative folding screen, to a plant stand with a big gorgeous plant, to a radiator cover design adapted to an air conditioner.
I thought I'd search around and see what amazingly creative solutions others have done before I formulated my own plan, so I spent about an hour researching "decorative window air conditioner covers" and everything related to that that I could think of.  Do you know how many great ideas are out there that the average homeowner could and would want to adapt to their own homes?
Zero.
I mean, I saw some brilliant ideas (yes…sarcasm) like "cover them with curtains."  Really?  That thing that's supposed to be blowing cold air into the room so that I don't die of a heat stroke inside my home as the August temps surge to 100+ here in central Texas day after day after day? I'm going to cover it with curtains?  What the…?
😀
Why are there are so many beautiful ways to cover up a radiator, but evidently the idea of disguising a window unit air conditioner (in a way that still keeps the thing actually usable) is foreign to seemingly the entire population of the planet?
So yesterday, determined to come up with a radiator cover-inspired plan for my window unit air conditioner, I headed to Lowe's to pick up some supplies so I could whip one up really quickly and show y'all my creation today and undoubtedly dazzle the entire world with my groundbreaking creation.  I had something simple like this in mind: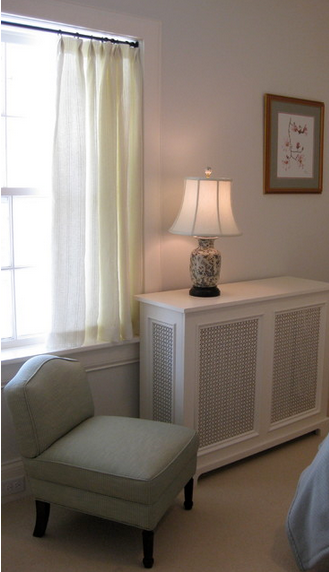 Traditional Bedroom by Denver Interior Designers & Decorators Nadia Watts Interior Design
Simple, right?  A few 1 x 3's, some radiator cover panels, a bit of trim, a plywood top, prime, paint, done!
Yeah.  Except that no store in this area carries that radiator cover screen stuff. And that's when I realized that I don't think I've ever seen a radiator in a house in this area.  In fact, I don't think I had ever seen a radiator in person until I traveled to Europe.  I could be mistaken, but I just don't think homes in my area (I'm in central Texas) have radiators.
So there went that plan.  No quick and easy radiator cover-inspired window A/C cover to dazzle the world today.  But maybe tomorrow.  🙂
After returning home from that disappointing shopping trip, I checked out a few other radiator cover designs that don't require that decorative mesh, and that I think would work equally as well adapted to a window A/C unit.
This one is probably my favorite…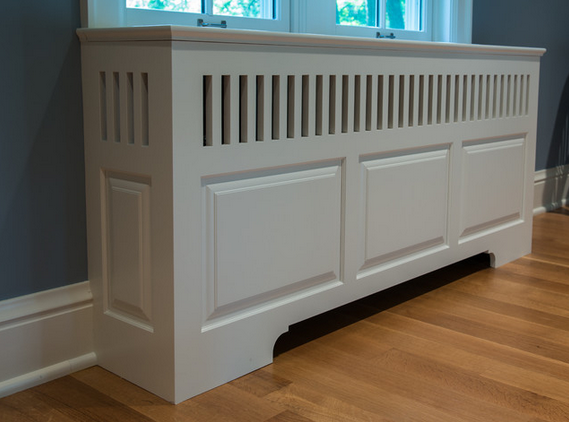 Traditional Living Room by Minneapolis Kitchen & Bath Fixtures Steven Cabinets
And then this one is a close second.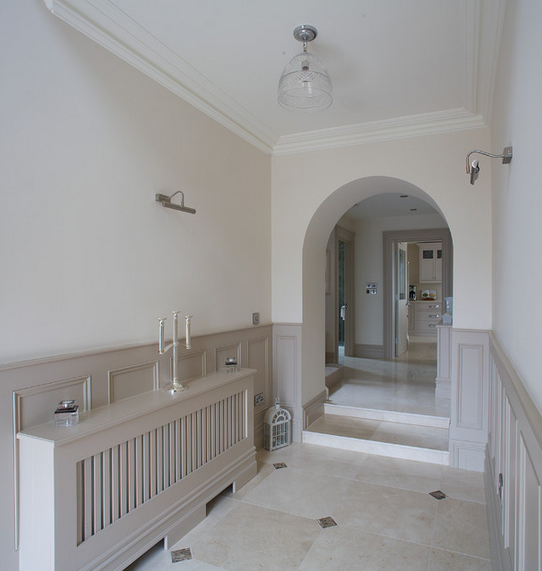 Contemporary Hall by Dublin Architects & Designers Optimise Design
The goal is to come up with something that will disguise the window air conditioner, and perhaps provide a cute little shelf area where I can place a plant or (the more likely scenario) where my cats can sit.
The challenge will be coming up with something that blends into the background rather than being a decorative something that commands attention and competes with the fireplace.
So stay tuned, because if the internets can be believed, you're about to witness something that has never been attempted before.  This will be epic.  😀
Addicted 2 Decorating is where I share my DIY and decorating journey as I remodel and decorate the 1948 fixer upper that my husband, Matt, and I bought in 2013. Matt has M.S. and is unable to do physical work, so I do the majority of the work on the house by myself. You can learn more about me here.