If you're a DIYer who does house remodeling, you are very familiar with this phenomenon that occurs almost every time with a project taking longer than originally intended and costing more than the original estimate.
Well, my mom's kitchen is no exception.
This was supposed to be pretty easy — just the cabinet makeover, painting the walls, and painting the grout on the floor and backsplash to make it lighter. Oh, and she also wanted a new sink and faucet. No problem, right?
So the plan was for me to remove the sink and faucet the day before the plumber was scheduled to install the new sink and faucet. The reason I was doing this instead of the plumber is because her laminate countertop has a seam in the laminate right in front of the sink. Over the years, water has seeped into the seam and caused the particle board beneath to swell. (Why is particle board the standard base for laminate countertops? I've never understood that.)
I wanted to remove the sink, scrape the particle board to make it flat again, and re-adhere the laminate before the plumber came. That was the plan, and it sounded so easy.
The reality? Well, the sink was almost impossible to remove. I've never seen a sink that is adhered so strongly to a countertop as this one was. My niece and I tried everything — trying to cut the caulk with utility knives, and then lying on our backs on the floor and pushing up on the sink as hard as we could with our legs. The sink didn't even budge.
So my brother had the idea of using a car jack. I cut a piece of 2″ x 6″ lumber to fit between the car jack and the sink, and then I started raising the jack a tiny bit at a time as we continued to cut and scrape the caulk. It seemed to be working for a while, but then things started going sideways. Long story short, by the time the sink was completely free, the laminate had broken and crumbled in many areas.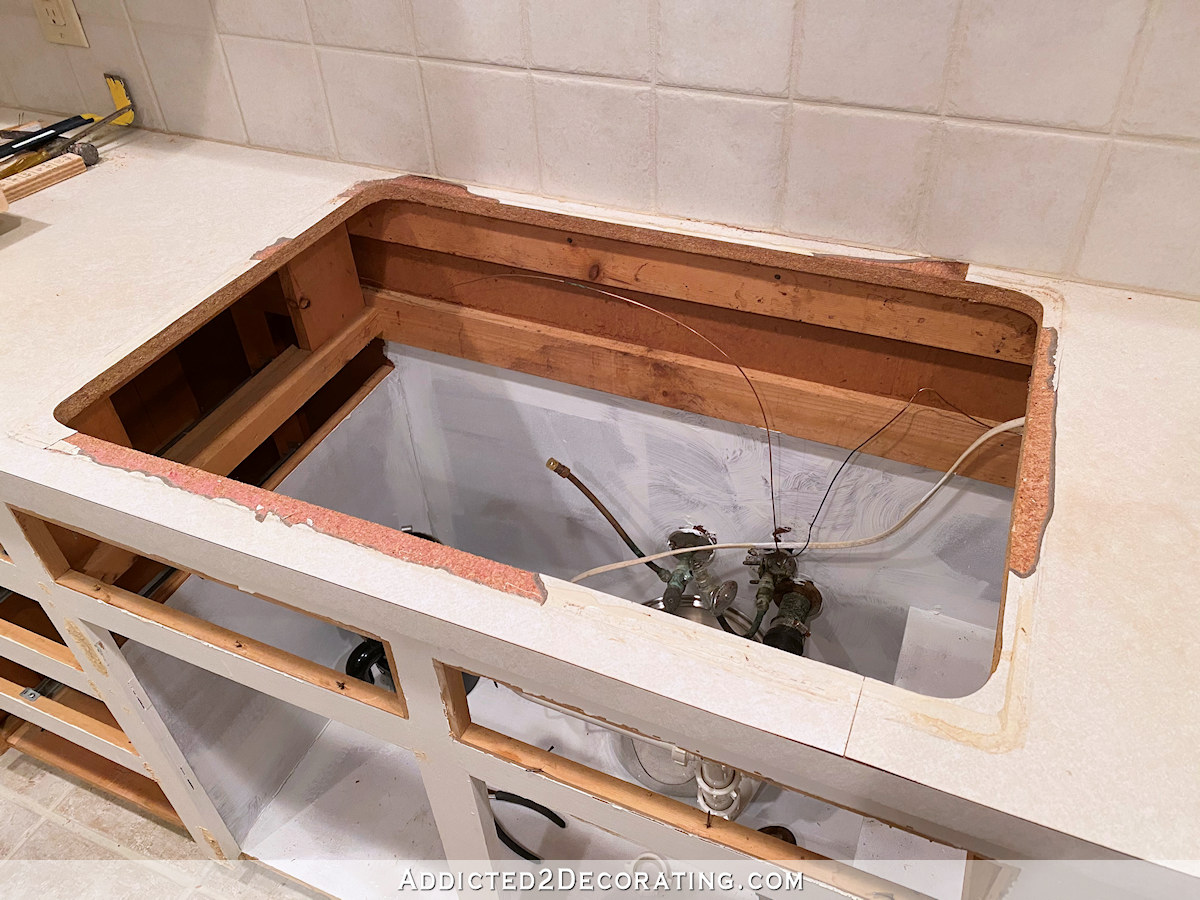 We tried the new sink in hope that it was maybe just a bit wider than the old sink and would cover those broken areas on the front and right side. If it did, I was confident I could repair the broken areas on the back enough so that they wouldn't be visible. After all, only about 3/4″ of the countertop shows back there when the sink is installed.
Needless to say, the new sink didn't cover those areas.
I tried to come up with other solutions to keep this budget makeover in budget. But we finally decided that the only real option is new countertops.
We're still going to keep this as low cost as possible. My mom really likes laminate, so that's what we're sticking with. We're going to day to pick out new laminate, and as soon as the new laminate sheets are delivered, we'll make new countertops.
I won't say that I'm not a bit nervous about it. After all, I've only ever used laminate one other time, and that was on my studio work tables.
My mom helped me put that laminate on, so I feel pretty confident that we can do this. Before I made those work tables, I watched lots of YouTube videos about making laminate kitchen countertops from scratch, and it seems pretty straightforward.
I think after it's all said and done, my mom will be glad that we replaced her 17-year-old laminate countertops with bright, shiny, new laminate. I'm excited about it, too!
If you've made and installed laminate countertops from scratch, and have any tips you think we should know before we tackle that project, let me know!
Addicted 2 Decorating is where I share my DIY and decorating journey as I remodel and decorate the 1948 fixer upper that my husband, Matt, and I bought in 2013. Matt has M.S. and is unable to do physical work, so I do the majority of the work on the house by myself. You can learn more about me here.
I hope you'll join me on my DIY and decorating journey! If you want to follow my projects and progress, you can subscribe below and have each new post delivered to your email inbox. That way you'll never miss a thing!