DIY Kitchen Countertop — Installing New Laminate Over Old Laminate
My mom and I are still moving right along on her kitchen, and we're so close to finishing! Over the weekend, I got eight of the drawer boxes almost finished. (They would have been finished except that she decided she wanted the bottoms of the drawers painted white. 😀 ) But we also got the countertops finished!! And instead of building all new countertops with new plywood and everything, we decided to install the new laminate right over the old laminate, which made this project so much faster.
When we started this kitchen project, we had no intention of doing anything with the existing countertops. Her laminate countertops were probably about 15 years old (I honestly can't remember exactly, but they're far from new), but they were still in fairly good shape. But then when we tried to remove the old sink to install the new sink, things went south pretty quickly. The sink had been adhered to the countertop so well that no matter how slowly or carefully or methodically we removed it, it caused cracks and breaks in the laminate all around the sink area.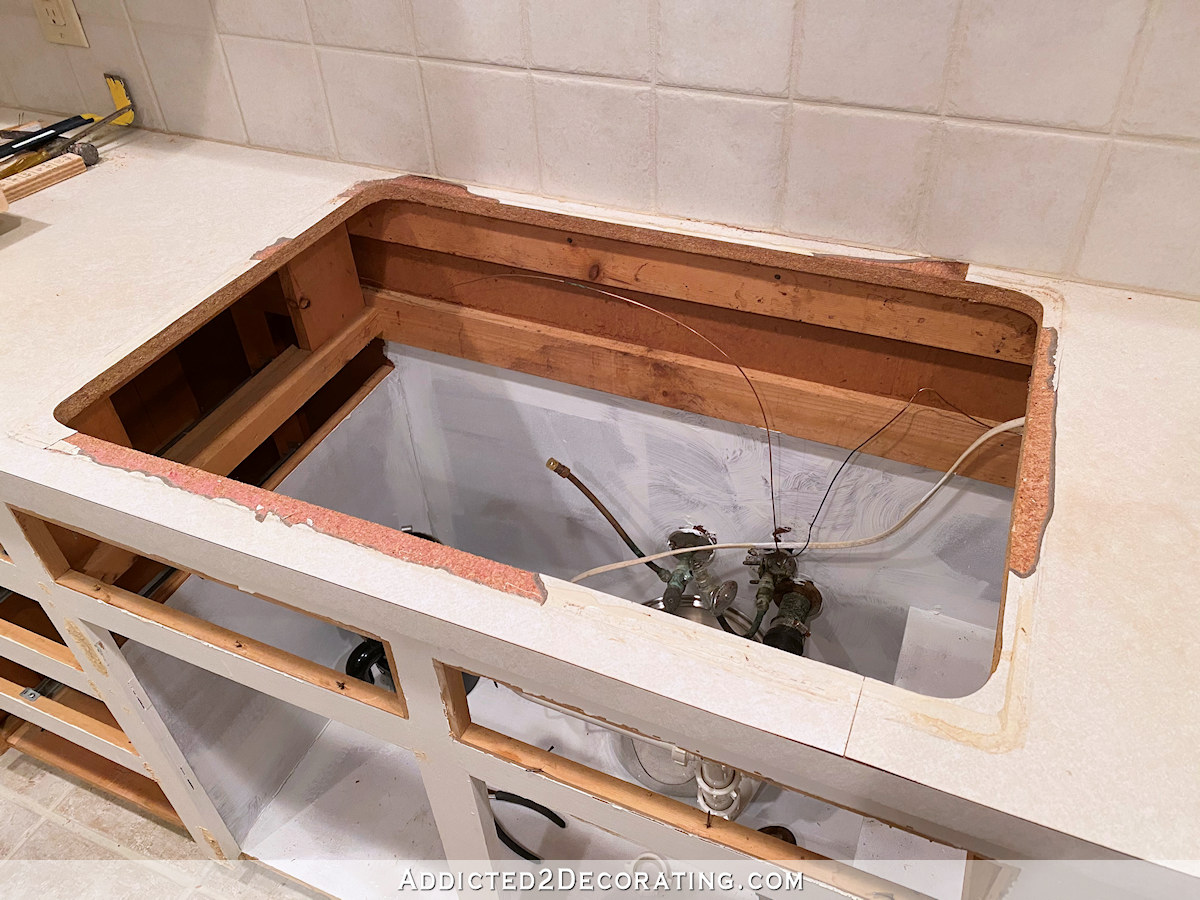 And unfortunately, those breaks were too wide to be covered by the new sink. So we ordered new laminate and prepared ourselves to build all new countertops.
Then someone in a comment on a previous post asked if new laminate could be installed right over the old laminate.
WHAT?! I hadn't even considered that option, so I went in search of answers. And the answer is YES! Yes, it sure can. I was so excited to find this out! Installing the new laminate right over the old made this project go so much faster than having to build all new countertops from scratch. And it saved some money as well.
We definitely learned some tricks along the way, so I wanted to pass those along to you in case you have a laminate countertop that could use a refresh but you don't want to go to the trouble of building all new countertops from scratch.
1. Cut the new sink hole before prepping the countertop and before installing the new laminate.
The new sink that my mom selected was bigger than the old sink, so that required me to cut the sink hole bigger. I did this before doing the prep work on the countertop, and definitely before installing the new laminate just in case the jigsaw blade chipped the laminate.
To cut the sides and the front, I used my jigsaw…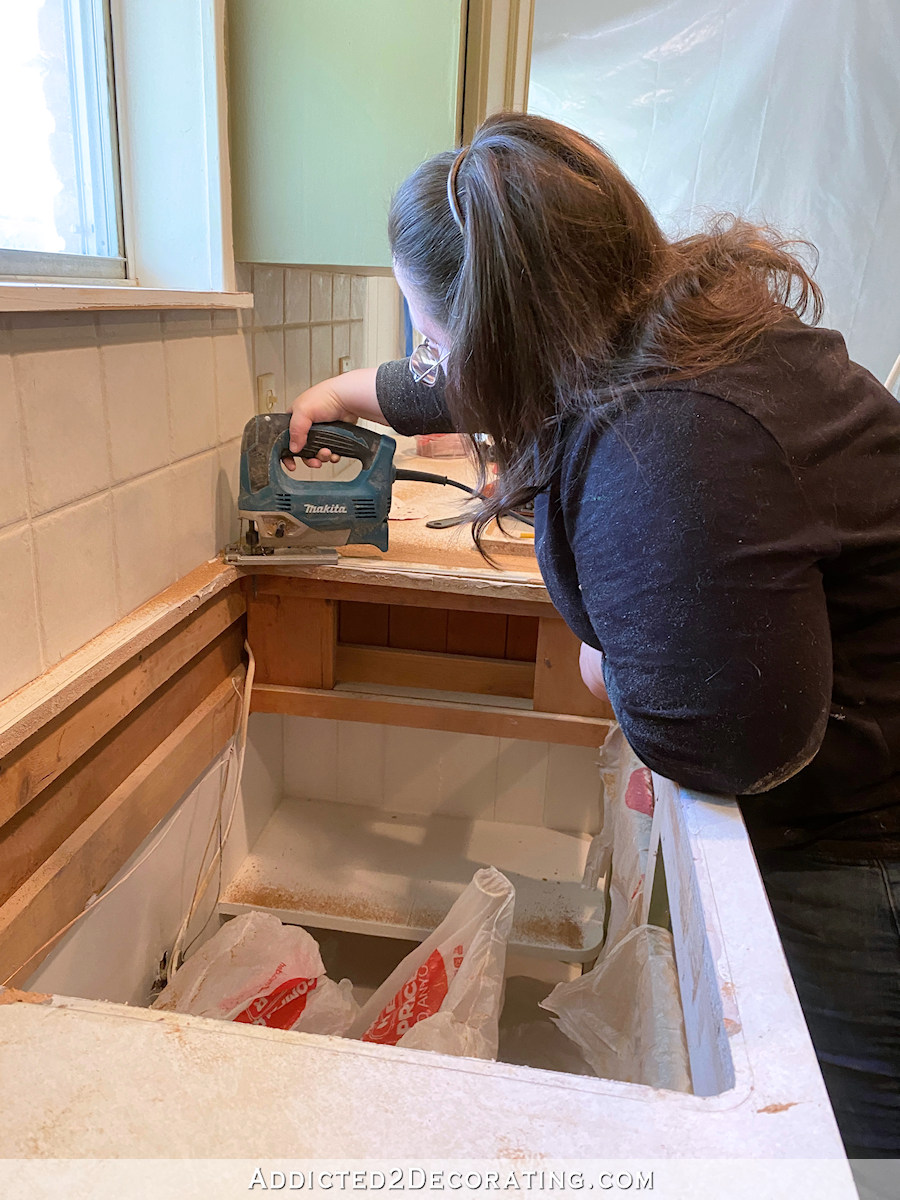 Once I got to the back edge at the wall, my jigsaw wouldn't fit, so I had to finish up that area using my Dremel Multi-Max. If you don't have one of these tools, I highly suggest you pick one up! This is one of those tools that I purchased, and then wondered how I lived so long without it. I use it constantly, and used it for several things on this specific project.
You can find a Dremel Multi-Max on Amazon or at your local big box home improvement store.
2. Scratch and scuff the surface of the old laminate.
Before installing the new laminate, the old laminate has to be scratched and scuffed in order to give it some "tooth" for the adhesive to grab on to.
I thought this would be no problem. After all, I have a pretty powerful belt sander, and I was fairly confident that that belt sander outfitted with 36-grit sandpaper would do the job very quickly.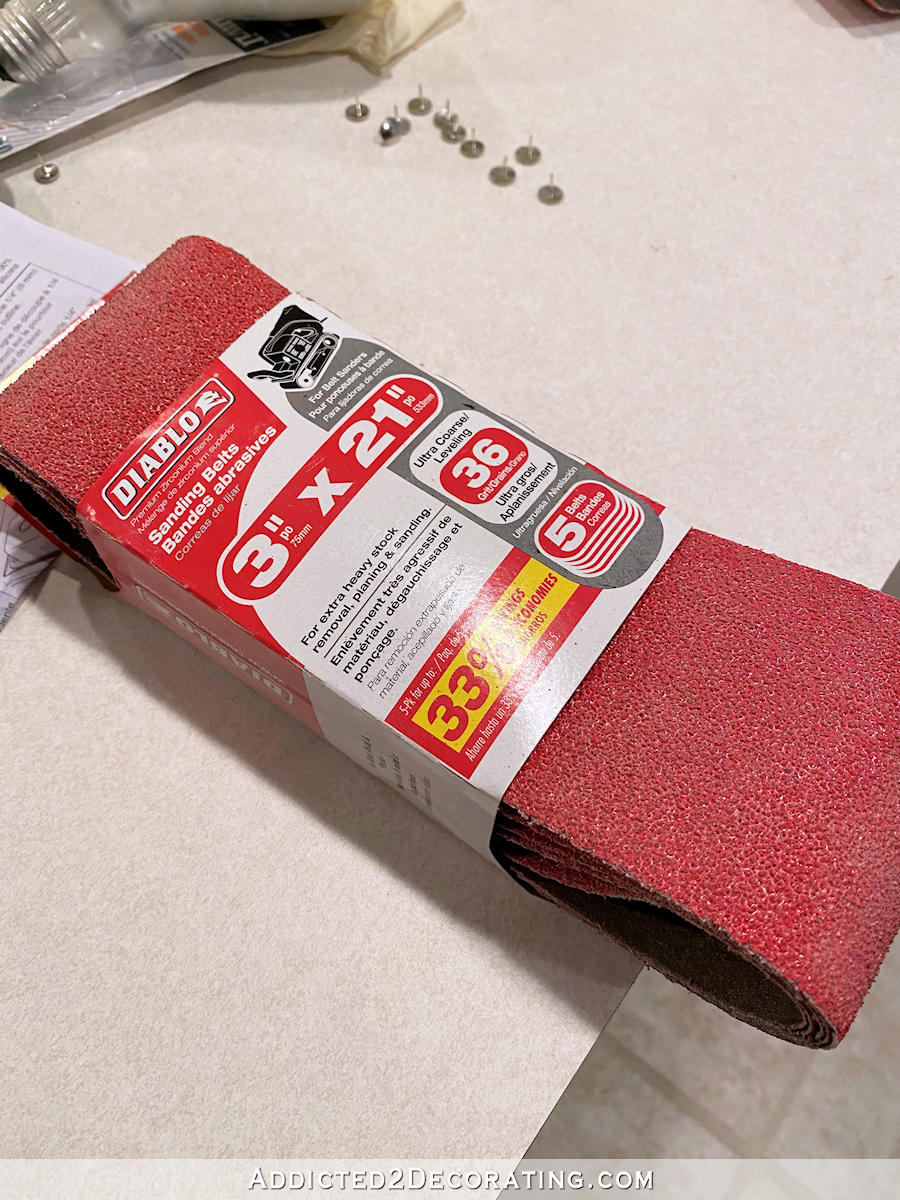 Well, no. I was wrong. 😀 Y'all, laminate is some tough stuff!!! I did sand the entire surface with this, but in some areas (most areas, maybe) it felt like it didn't even scratch the surface at all.
However, I did find that a coarse metal file worked much better.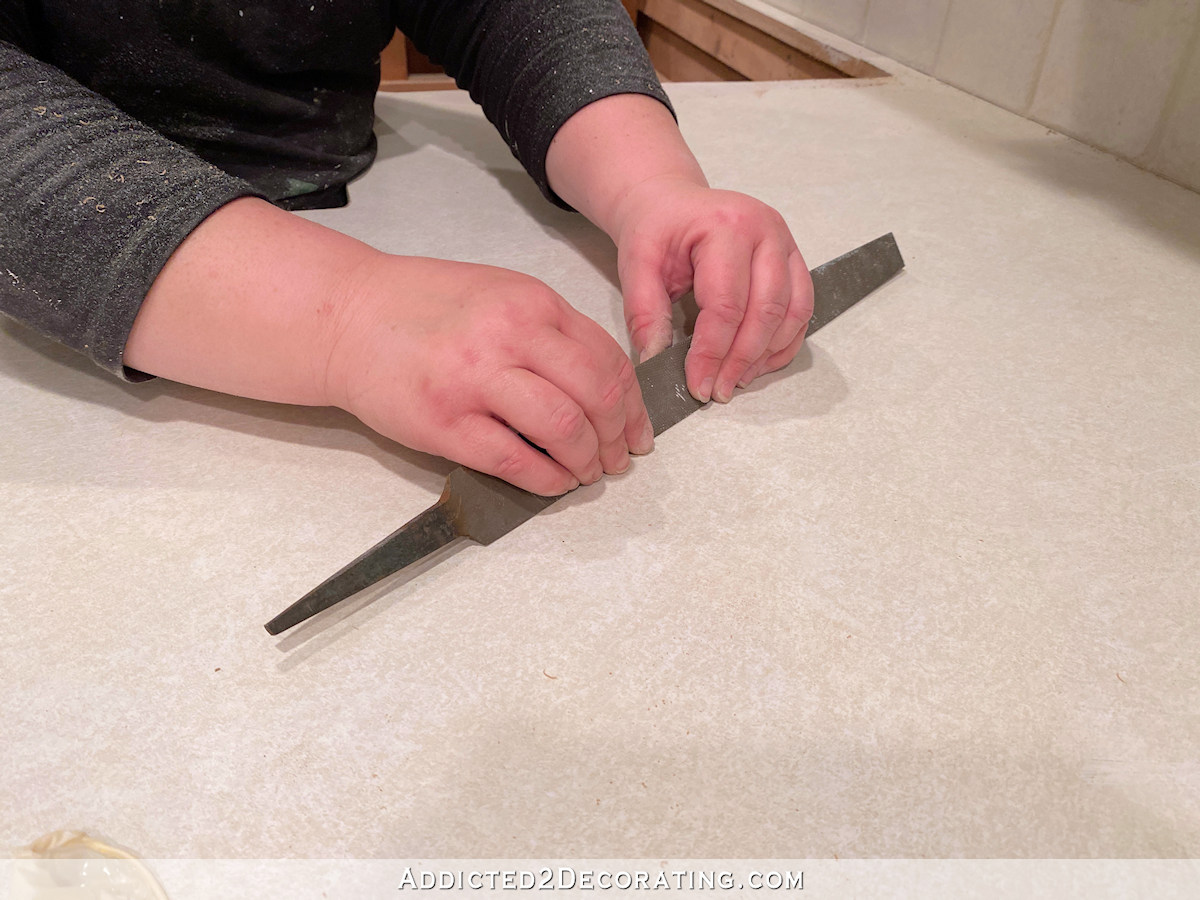 I used that file over the entire surface, moving it in swirling motion while putting quite a bit of pressure on it, and it did a great job at scuffing up the surface.
I never would have guessed that a coarse metal file would do a better job than a belt sander with 36-grit sandpaper! But that was certainly my experience.
3. Fill any cracks and broken areas with Bondo.
My mom's countertops were in pretty good shape overall, but the area around the sink needed some help. Just keep in mind that any imperfection — crack, bump, piece of sawdust, etc. — can and probably will show through the new laminate. And once the new laminate is down, it's virtually impossible to get up to remove a piece of wayward sawdust or fix a broken area.
So I used Bondo to fill in those cracks and broken areas. This stuff is so stinky and unpleasant to use, but it does the job. Once mixed, you have to work quickly to spread it on (which is why I forgot to get pictures), but then it dries in just an hour or two. I used my regular rotary sander with 150-grit sanding discs to sand the Bondo smooth.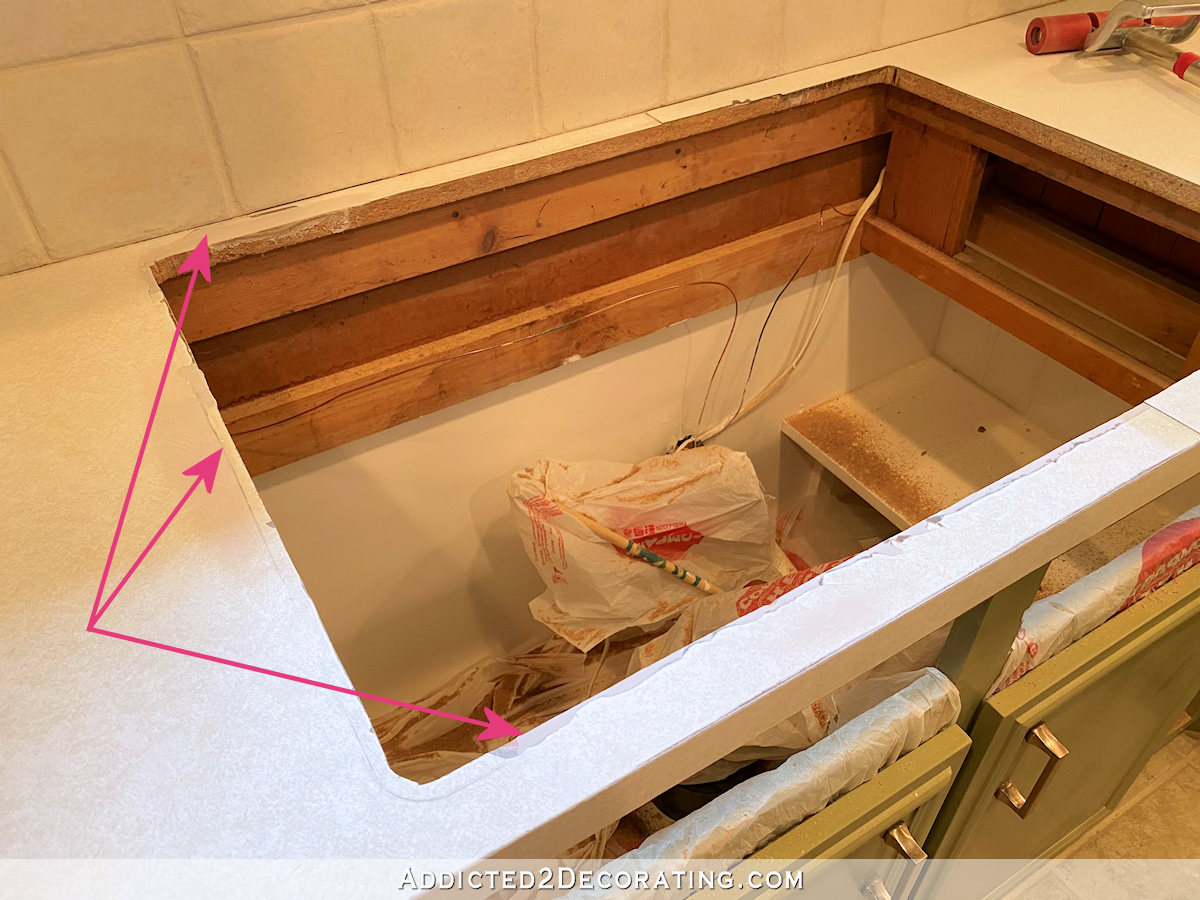 4. Cut, scribe and trim new laminate pieces.
We bought a 5′ x 12′ piece of laminate, which was enough for my mom's entire kitchen. When marking and cutting the new pieces of laminate, I made sure to leave at least an inch (sometimes more) of extra laminate on all areas around the edges. It took forever to cut the new pieces of laminate because I made the mistake of using a utility knife with a razor blade.
BIG MISTAKE! Not because it didn't work, but because it took so long.
I can't stress this enough. If you want to make quick work of cutting laminate, use a Dremel Multi Max with a carbide blade in it. It takes a fraction of the time as using a razor blade, it causes way less frustration, and there's way less of a chance of breaking or chipping the cut edges since cutting with a Dremel requires no folding and snapping of the cut lines. It cuts cleanly right through the laminate in one pass.
Once the pieces are cut, the edges that go along the wall have to be scribed to the wall before installing. This is done because the laminate edges are perfectly straight, while walls are never perfectly straight. And since this is being installed against a finished backsplash, it needs to fit as snugly as possible so that any small crack left can be covered with caulk. Without scribing and trimming, some areas of the laminate may stand away from the wall as much as 1/4 inch or more, which is way too much to rely on caulk to cover.
There are tools you can purchase especially for this process, but I simply used a piece of 1/4-inch-thick wood, and taped my pencil to it. Then I ran it along the wall while marking the edge of the laminate. I did this the full length of the wall.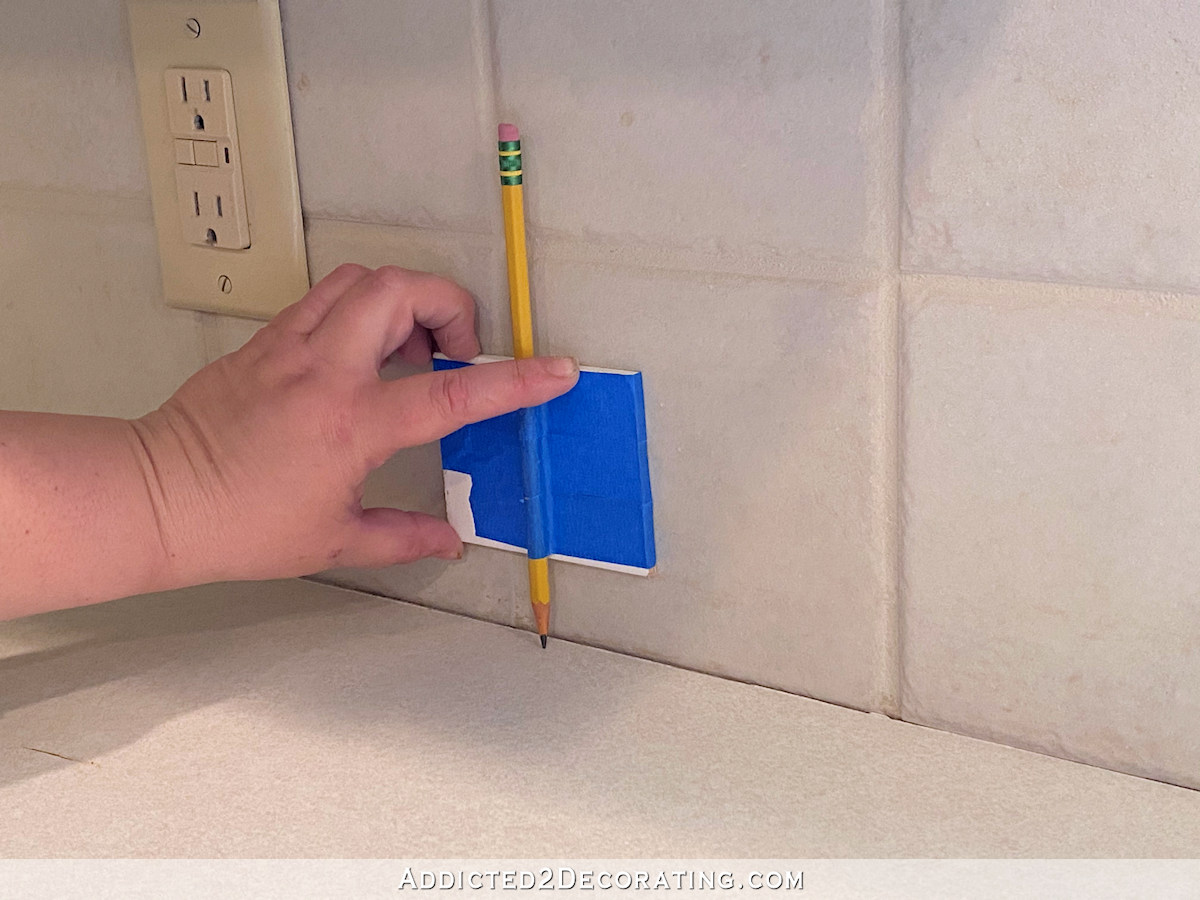 And then once I had my line drawn, I placed the laminate onto a piece of 1-inch rigid foam insulation and used my Dremel Multi Max with the carbide blade to trim along the marked line.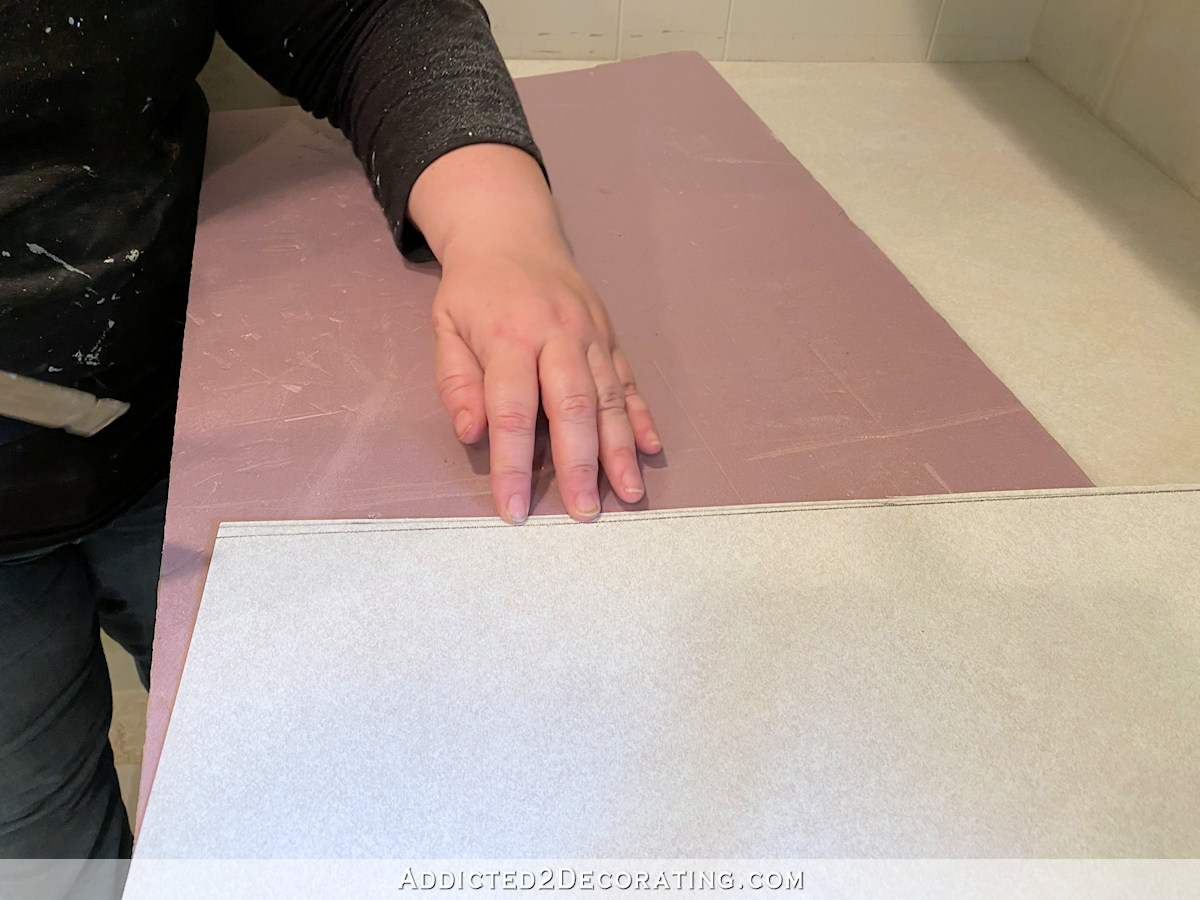 I learned very quickly that it's imperative to have someone hold the laminate while cutting it with the Dremel. Without someone securing the laminate, the vibrating blade of the Dremel can catch on the laminate and break it.
5. Install the edges first.
This is just standard procedure when installing laminate. Install and trim the edges first. But I did want to pass along a couple of tips that we learned.
First, in order to get the laminate to bend around the curves, we used a hair dryer on the hottest setting to made the laminate a bit more pliable. A heat gun probably would have worked better, but honestly, I'd be afraid of burning the laminate. Heat guns get ridiculously hot. The hair dryer on the hottest setting seemed to do the trick.
I did have one area around the curve that didn't seem to want to lie perfectly flat against the laminate underneath. So I rigged up this contraption and let it set overnight. The gaps were at the top, and I didn't have any clamps that would reach far enough. So I extended the reach of the clamps with paint sticks, and then taped them together so that the curve of the paint sticks would press against the gaps.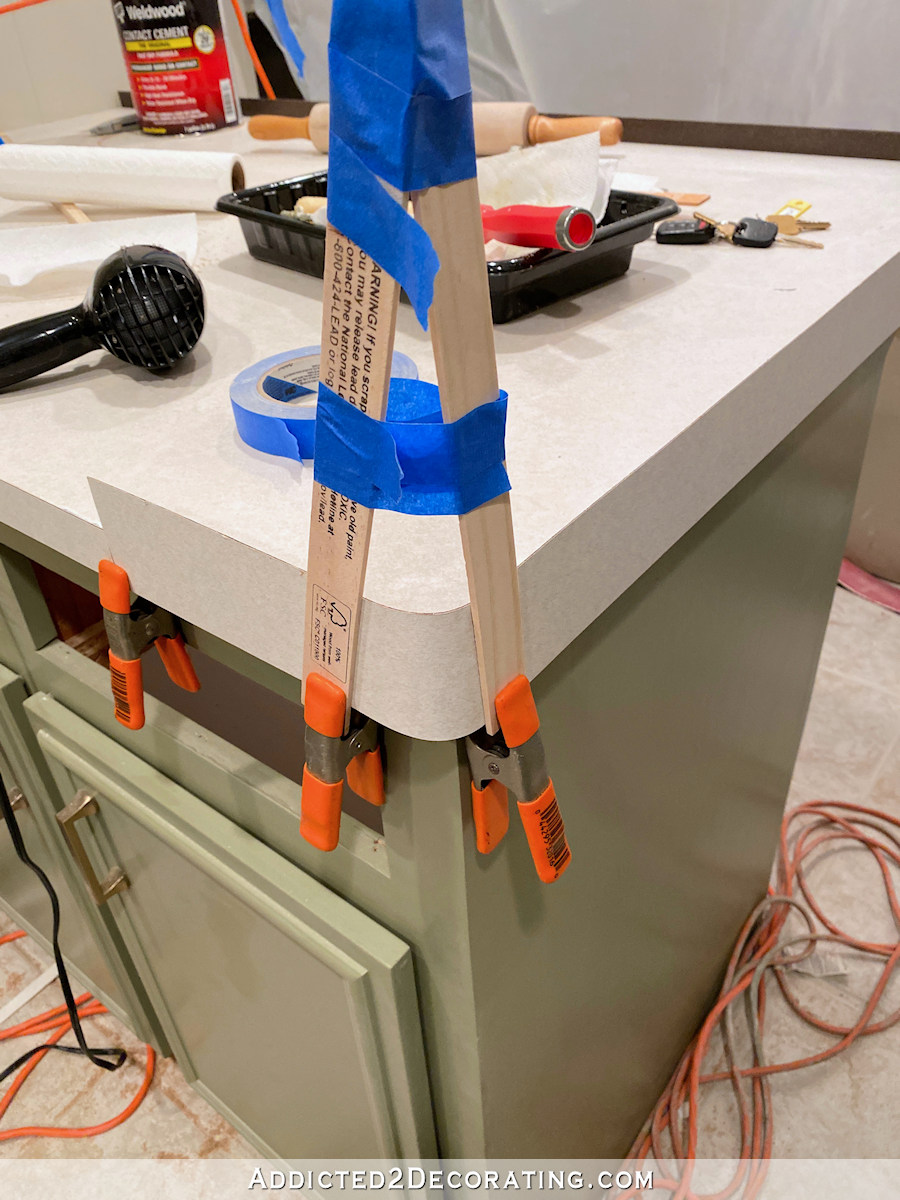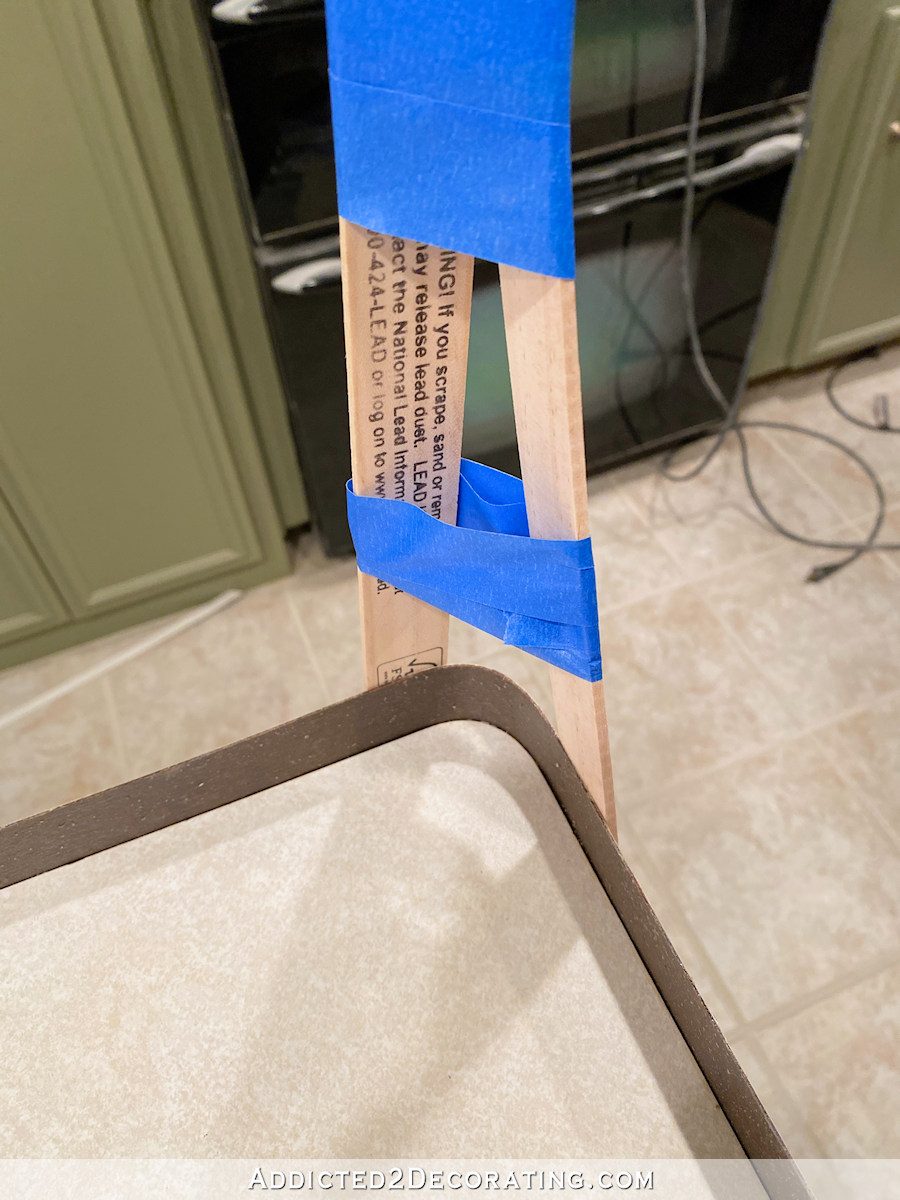 Now keep in mind that when I say "gaps," I'm talking about tiny gaps that weren't even 1/16 inch wide. They were probably more like 1/32 inch wide. Tiny gaps, but gaps enough to bother me because I wanted that laminate right up against that curve. If you have big gaps, the laminate will need to be removed and reinstalled.
But this did help to close up those gaps almost all the way. If tiny gaps remain, Bondo can be used to fill in those tiny gaps (fill, let dry, and sand smooth) before the top laminate is installed.
6. Choose the right router blade to trim the laminate.
I made the mistake of thinking that a bigger router blade with more blades was better for this job.
Nope. I was wrong.
There were two flush trim router blades that fit my little router. The one that I used for my studio work tables was the smaller one with two blades. It worked great, so I have no idea why I thought I needed to change this time.
But I saw this blade that was slightly larger and had three cutting blades instead of two, and decided that it would be better.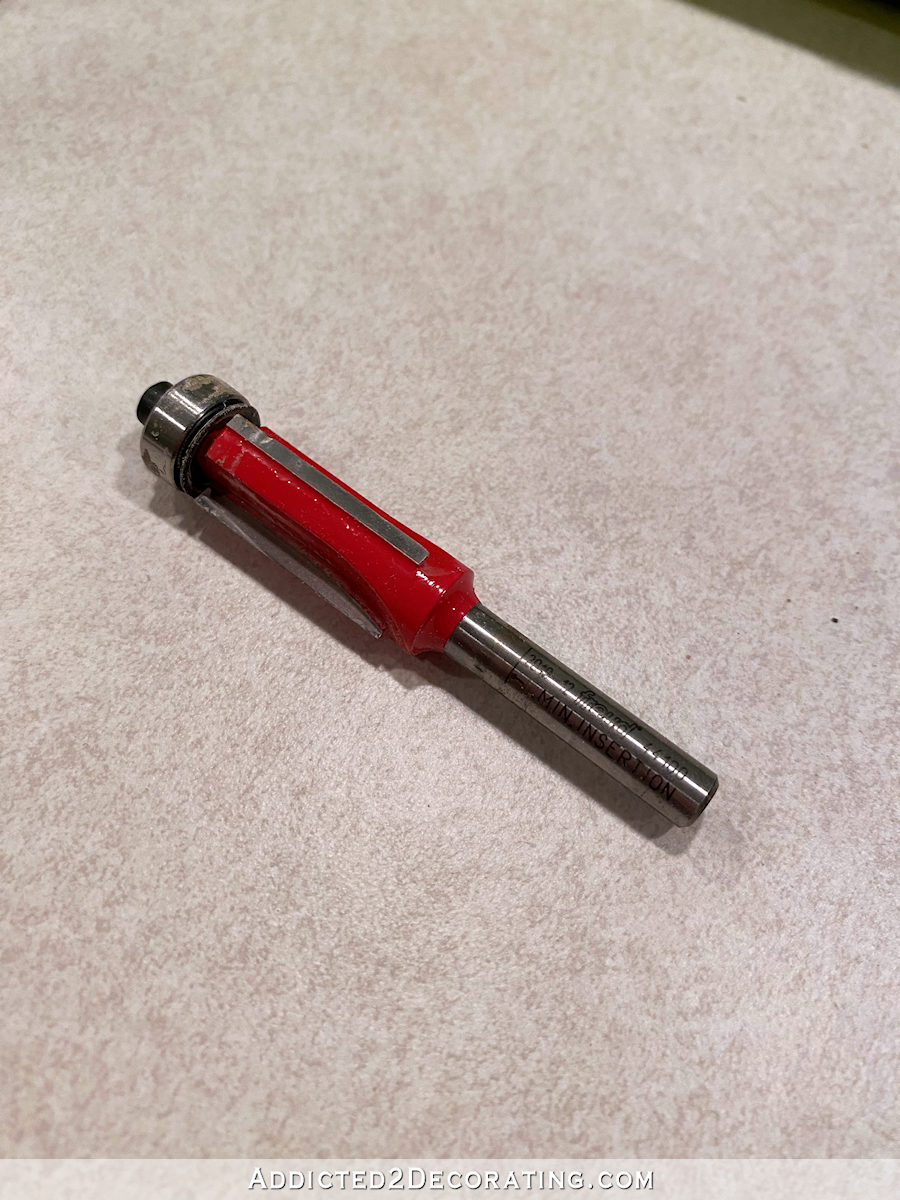 I should have taken a picture comparing the two blades. If I remember, I'll do so and add it to this post.
Anyway, lesson learned. I'll leave this big blade for woodworking projects only, and stick with the small blade for laminate. The big blade is just too too much for laminate, and ended up taking some of the top layer of the laminate off of the edge when I went around the corner.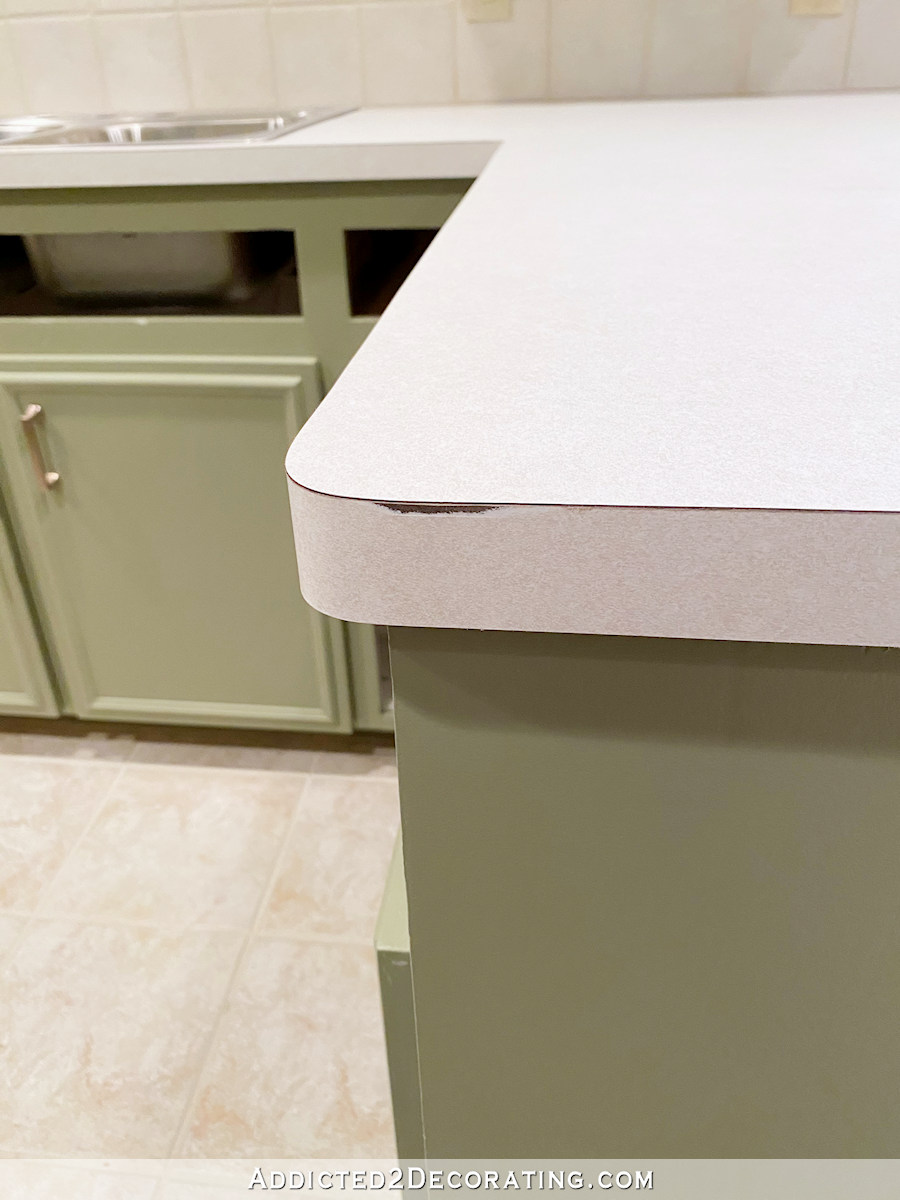 I was so disappointed by that that I could have cried. I immediately switched to the smaller blade, and things went much smoother after that.
And as far as that blemish goes, I'm quite confident that either my mom or I can work some magic with a touch of paint and clear flat topcoat, and no one will ever notice that mistake.
7. Trimming laminate against walls where the router won't fit.
Since we were installing new laminate over old laminate with the countertops in place, there were places where the router couldn't be used to trim the laminate all the way up against the wall.
I got online to see how others tackled this problem. The only ones I found used a straight edge and a razor blade. But again, I don't like that method, because it requires scoring the laminate repeatedly (which increases the likelihood of error if the straight edge slips and the blade goes off course), so once again, I turned to my trusty Dremel Multi-Max.
I didn't get a picture of this process, but this is very important.
Trimming next to walls with a Dremel Multi-Max is a two-person job!!
One person needs to hold a piece of wood or other straight edge along the edge of the piece that is being cut, while the other person uses the Dremel Multi-Max to trim the laminate.
The purpose of the piece of wood or straight edge being held firmly agains the edge of the piece being cut is because the Dremel has a tendency to grap and rip about the last 3/8-inch of the laminate if it's not being held down firmly. That will result in a break right on that corner. Ask me how I learned this. 😀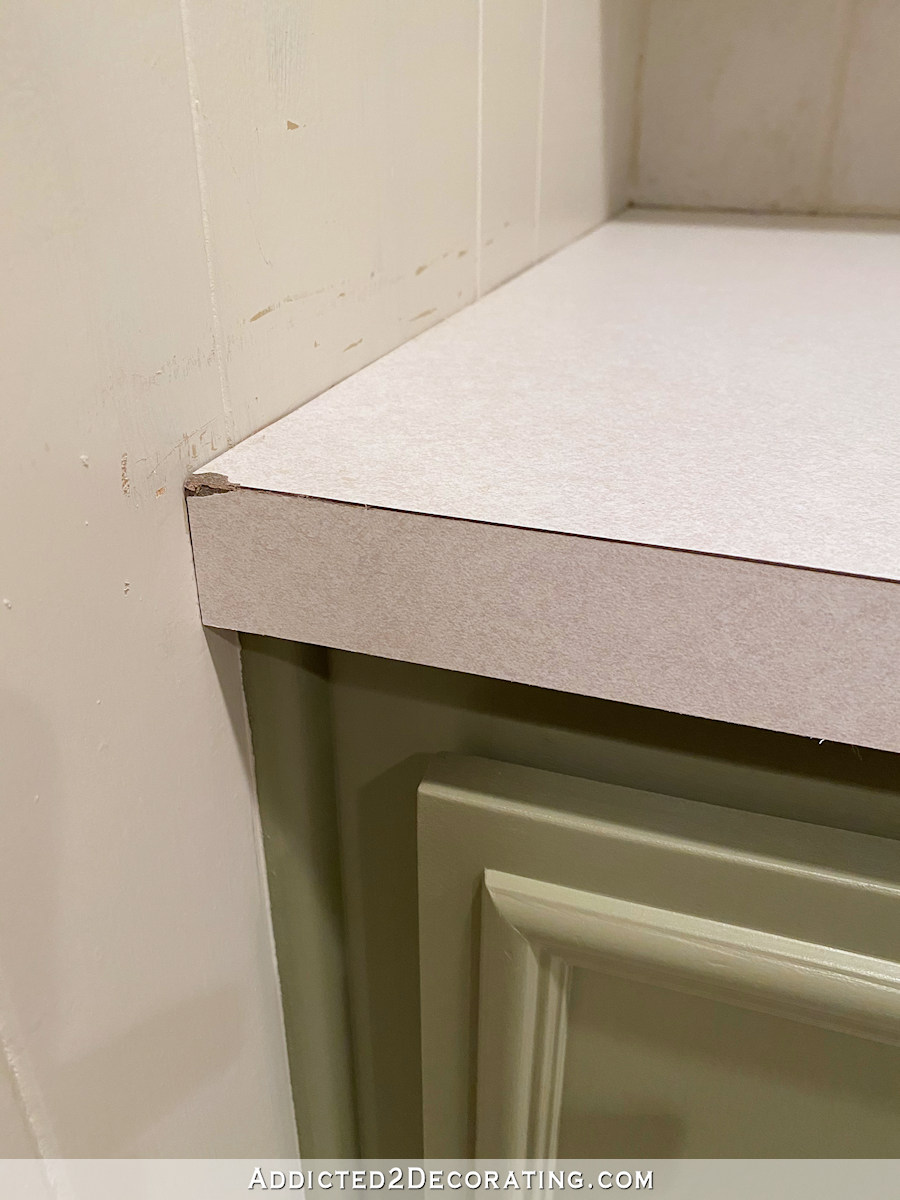 Yeah. That'll need some repair, but I'm pretty confident we can work some magic and no one will ever notice that.
A piece of wood or other straight edge held very firmly against the laminate all the way to the wall will prevent this from happening and give a clean cut to the laminate all the way to the wall.
So those are my tips for installing new laminate over an existing laminate countertop.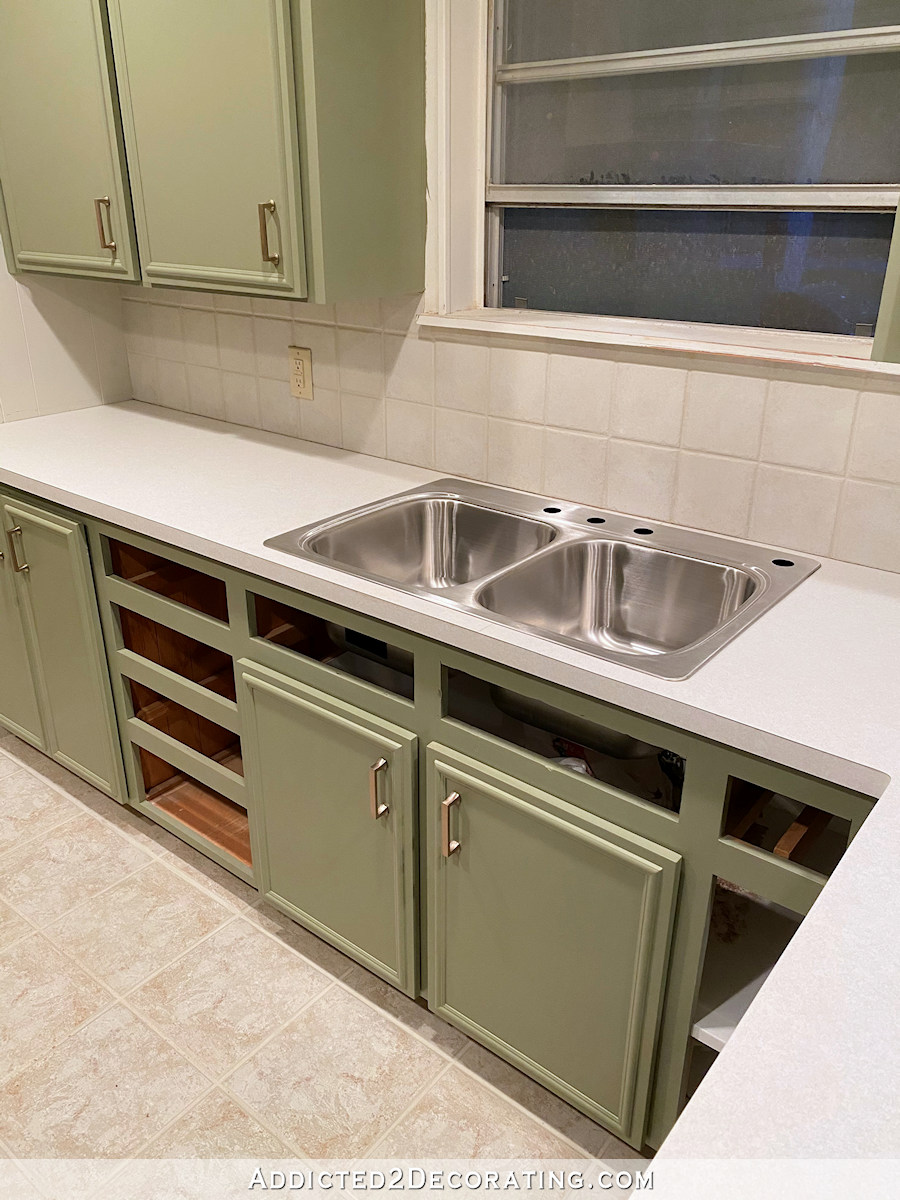 We didn't do a perfect job (although, neither do the professionals 😀 ), but I'm very pleased with how these countertops turned out.
It's not a huge difference from before. The two laminates were almost identical, but the new laminate is just a touch lighter and brighter than the old. And of course, the new has no stains on it anywhere.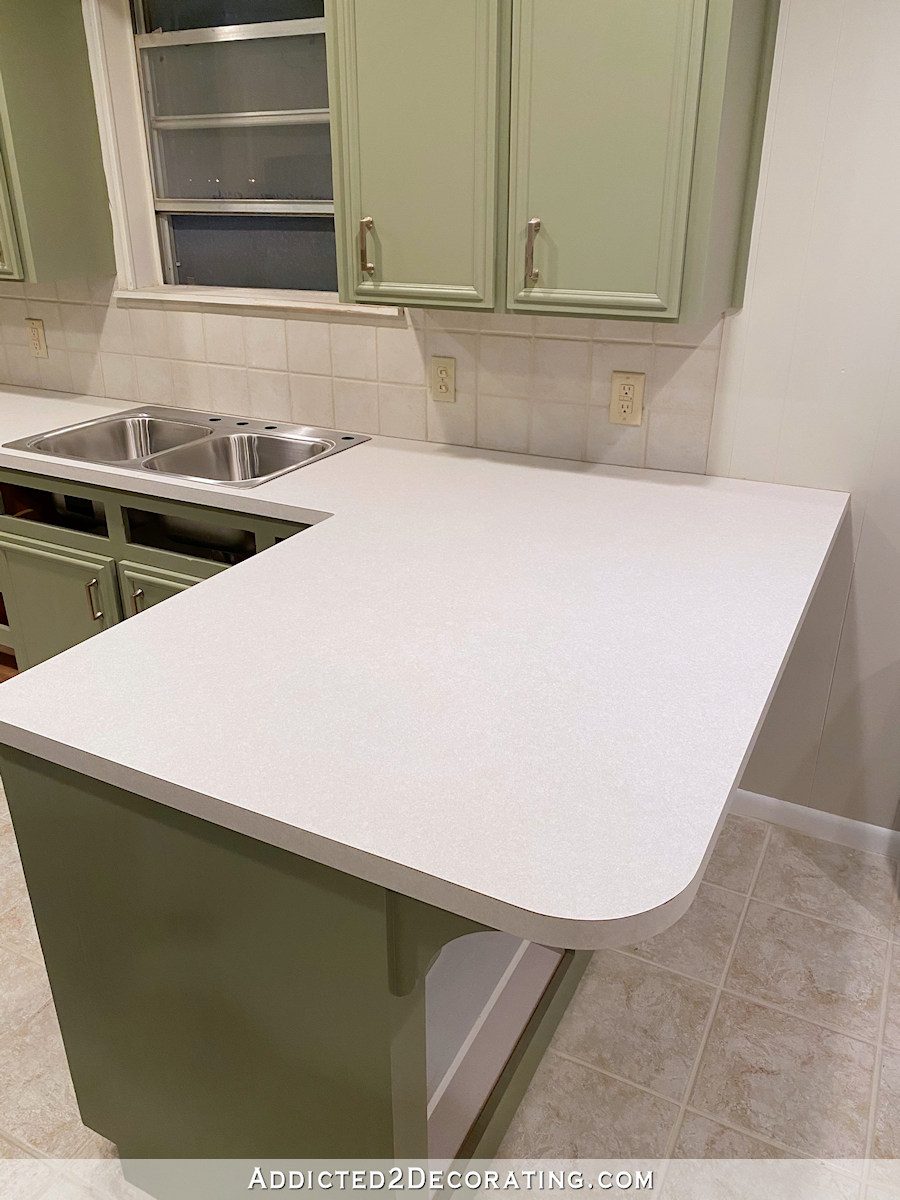 But most of all, I'm so glad that this laminate-over-laminate method was possible! I was dreading the thought of building all new countertops from scratch.
Addicted 2 Decorating is where I share my DIY and decorating journey as I remodel and decorate the 1948 fixer upper that my husband, Matt, and I bought in 2013. Matt has M.S. and is unable to do physical work, so I do the majority of the work on the house by myself. You can learn more about me here.