More Porch And Exterior Projects In Progress And Planned
You guys made my day yesterday with all of your comments and compliments on my front porch steps and railings. Thank you!
A few of you mentioned that you'd like to see a more wide-angle view from the street. I didn't want to muck up yesterday's post with those pictures, but I'll be happy to show you some today.
When I was finishing up the steps, it was a race against the weather. I wanted to finish them, get good pictures of the finished steps, and then start on the next front porch project before the rain came. And since I was starting the next project immediately, I didn't want to waste time putting away my work table and tools. So I just dragged them a few feet to the side, just out of frame, to take my front porch steps pictures. 😀 Then as soon as I had those pictures, I dragged the tools back over to the front porch and got busy with the next step on this porch makeover.
And what is that next step? Well, I decided to cover the exposed concrete with a product called Airstone. It's basically a manmade fake stone product that's about an inch thick (maybe a bit more). It can be used for exterior applications, and you just glue it on with polyurethane construction adhesive.
(I didn't use the left over Austin stone from my house because it's way too thick for this application, and would have required a pro to cut it all down and install it for me. This way was much cheaper and faster, and I could do it myself.)
Every picture that I've seen of this product shows it being installed without spaces between the stones. I initially tried that, hoping that it would work since it would have been so much easier and faster. Unfortunately, when I stood back and looked at it compared with the stone on the left side of the house, it just didn't look right. So I had to remove those stones, wipe away the adhesive, and then cut spacers out of scrap wood to go between the stones as I installed them.
I definitely think it was a good call to match the installation as closely as possible to the original stone on the house.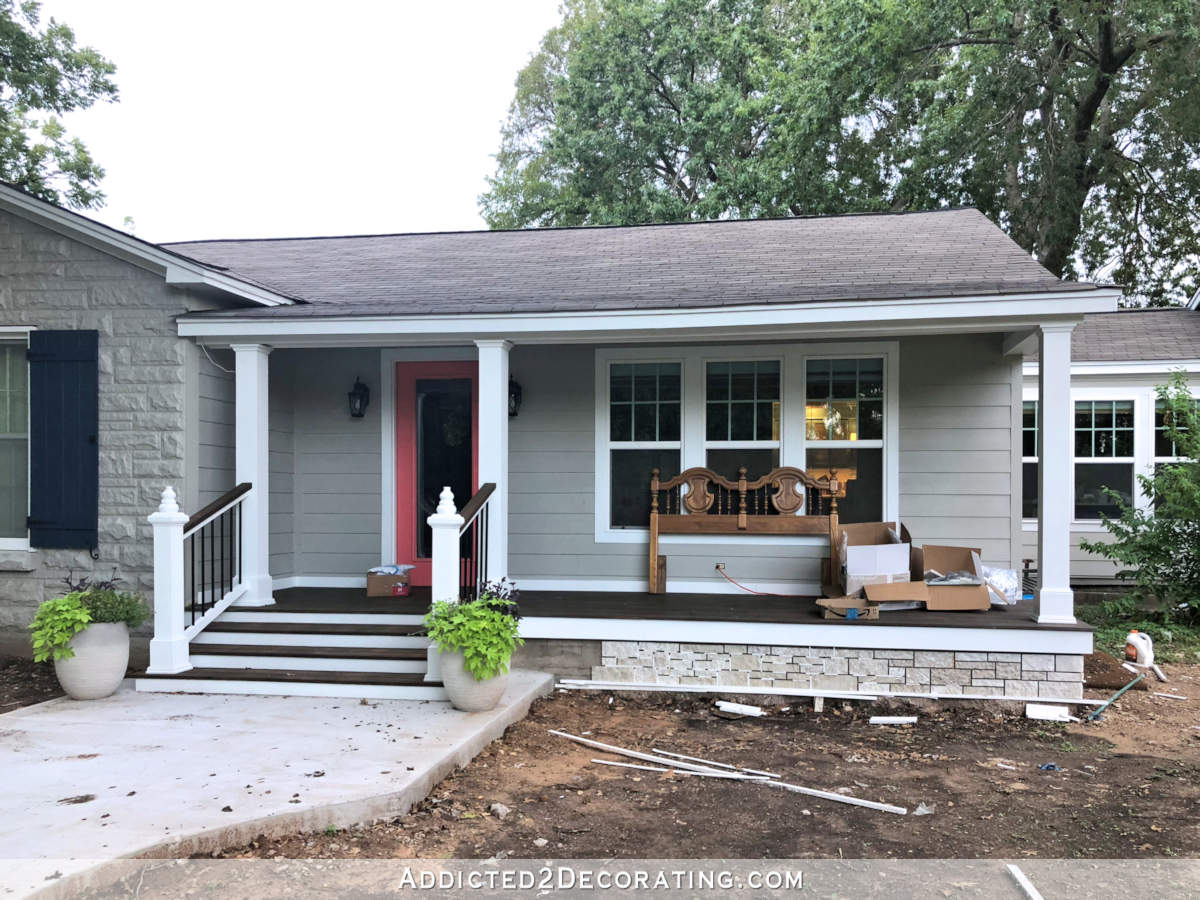 And the spaces between those stones will be grouted (mortared?) and then painted the same color as the other stones so that it all matches.
I really rejected the idea of using stone on the base of the porch for a very long time. As y'all know, I wanted some sort of white wood skirting. But after the porch steps were finished, I cut about ten pieces of leftover PVC boards and propped them up against the base of the porch to see if that's what I really wanted, and it just didn't look right. It really competed with the steps and railings for attention, and that's not what I wanted.
So in the end, stone seemed like the best option. It'll bring some balance to the stone on the left of the house, while not competing with the steps and railings.
Here's a picture I took yesterday showing more of the front of the house. My Airstone project did get rained out. I got one afternoon to work on it, and then had to race to put away tools before the rain came. That was Sunday evening, and it's been too wet to work on it since.
And while I got my tools put away in time, I just piled the Airstone boxes on the porch and left my work table and trash can out there. Excuse my mess. 🙂
I mean, I really resisted the idea of using a stone skirting mainly because I have this idea in my head that one day I want to get rid of the stone on the left side of the house completely, so I didn't want to add more. But honestly, getting rid of the stone is probably the very LAST thing on my list of things I want to do on this house. It's so low priority that if it does ever get done, it'll be years from now. And even then, it's a big if. So spending $200 on additional stone for the porch that will probably be there for years to come started to seem reasonable to me.
And I think it's going to look really good once it matches the rest of the stone.
Anyway, moving on…
A couple of people asked for more detail on the rope lighting that I mentioned yesterday. I'll share more details when I actually install the lighting, but it's simply going to tuck right behind this front fascia board and run the entire width of the front porch. It'll be hidden from view when you look at the house, but it'll provide nice additional lighting on the steps and porch area.
And while we're looking at this view, I'll point out another thing still on my "to do" list for this porch, and that is to fill the gaps at the top of the columns.
The supporting posts go all the way up (of course, since they're actually holding up the porch roof). But the trim could only go up that high because of the way that front beam is trimmed with the Hardiboard. So those gaps still need to be filled. I bought a caulk called Big Stretch to fill in there since it's kind of a big gap, but I just haven't gotten to it yet. (And do you see my sweet pup waiting for me at the door? 🙂 )
In other news, when I finished the front porch steps, I headed to the Backyard and Patio Store to get some rocking chairs for the front porch. I found the exact ones that I wanted! Sadly, they were $320 each, and having gone over my monthly project budget by about $1200 for the month of August (which is very rare for me), I didn't want to ask Matt if I could spend an additional $640 on rocking chairs.
I did find this bench on sale for $99, so I picked it up thinking that it would work on the front porch until I could get my rocking chairs.
But it's too dark for the front porch. It just basically disappeared up there. So when I removed it from the porch, I just sat it over in the miniature courtyard area (i.e., the area in front of the breakfast room windows), and it fit perfectly between the living room windows.
So I think it might stay there permanently. And that got me to thinking and dreaming about what I want to do with this area. First and foremost, I have to figure out how to get rid of this tree/bush thing that keeps growing back. I've cut this thing down to the ground at least twice now, and it comes back each time even bigger and faster.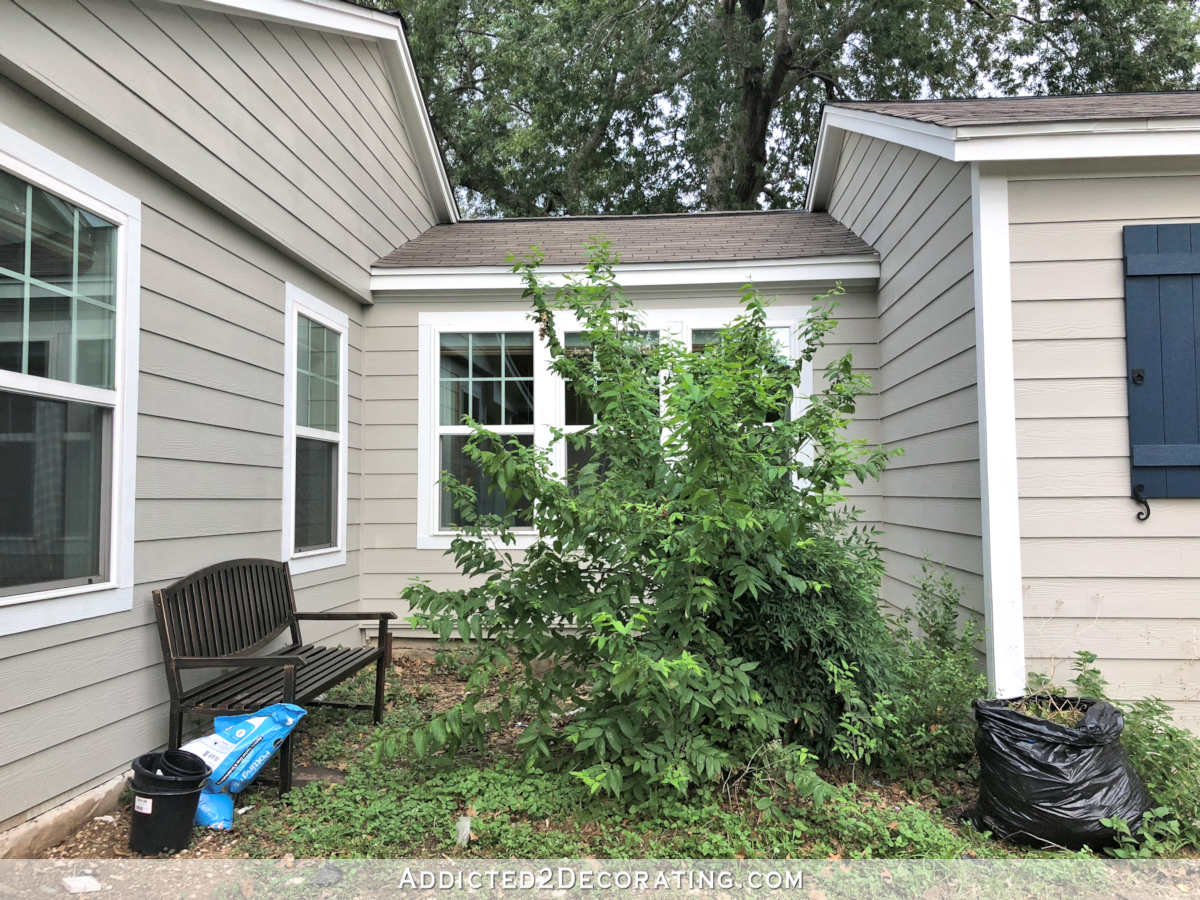 I think the only option is to pull it up by it's roots with a chain and a truck.
But once I get that out of there for good, my first project in that area will be to build a little pergola/arbor type thing over the breakfast room windows (like the type you see built over garage doors and such), and then I want to design some sort of water feature. Nothing extravagant in this small space, but I do want some sort of running, trickling water that will attract birds to come and drink and bathe/play in the water.
So that has left me, once again, without seating for my front porch. I pulled out this old headboard that I've been saving.
This headboard came from my grandmother's house, and was used in her guest bedroom for as long as I can remember. I've wanted to turn it into a bench ever since I got it a few years ago, but I've never had a space for such a bench. Now I'm wondering if I can use it on my front porch. I imagine it painted white (or maybe navy blue) with some pretty outdoor pillows in coral, blue and white.
I guess I could try it. If I build it and it doesn't work on the front porch, I could always use it in the back yard somewhere. One can never really have too much outdoor seating, right? 🙂
But what I really want are those rocking chairs. They were soooo comfortable, and I can just imagine spending time out there, rocking away with my iced tea in hand, and keeping an eye on all of the neighbors' comings and goings. 😀
Addicted 2 Decorating is where I share my DIY and decorating journey as I remodel and decorate the 1948 fixer upper that my husband, Matt, and I bought in 2013. Matt has M.S. and is unable to do physical work, so I do the majority of the work on the house by myself. You can learn more about me here.