From Carport To Workshop (Hopefully)
So, y'all, I've been doing some thinking. You know how sometimes, when you move into a new house, you have to just let a room sit there for a while to see how you're naturally going to use it? Maybe you had originally intended for it to be a guest bedroom, but then you decided to start a business, so it turned into your home office. Or maybe you had intended for it to be a sitting room, but you found it more useful as a home gym.
Well, that's where I am with the carport. As the name would suggest, when we had it built last summer, I had intended for it to be the place where I park my car and truck. But do you know how many times that's happened since we had it built last summer?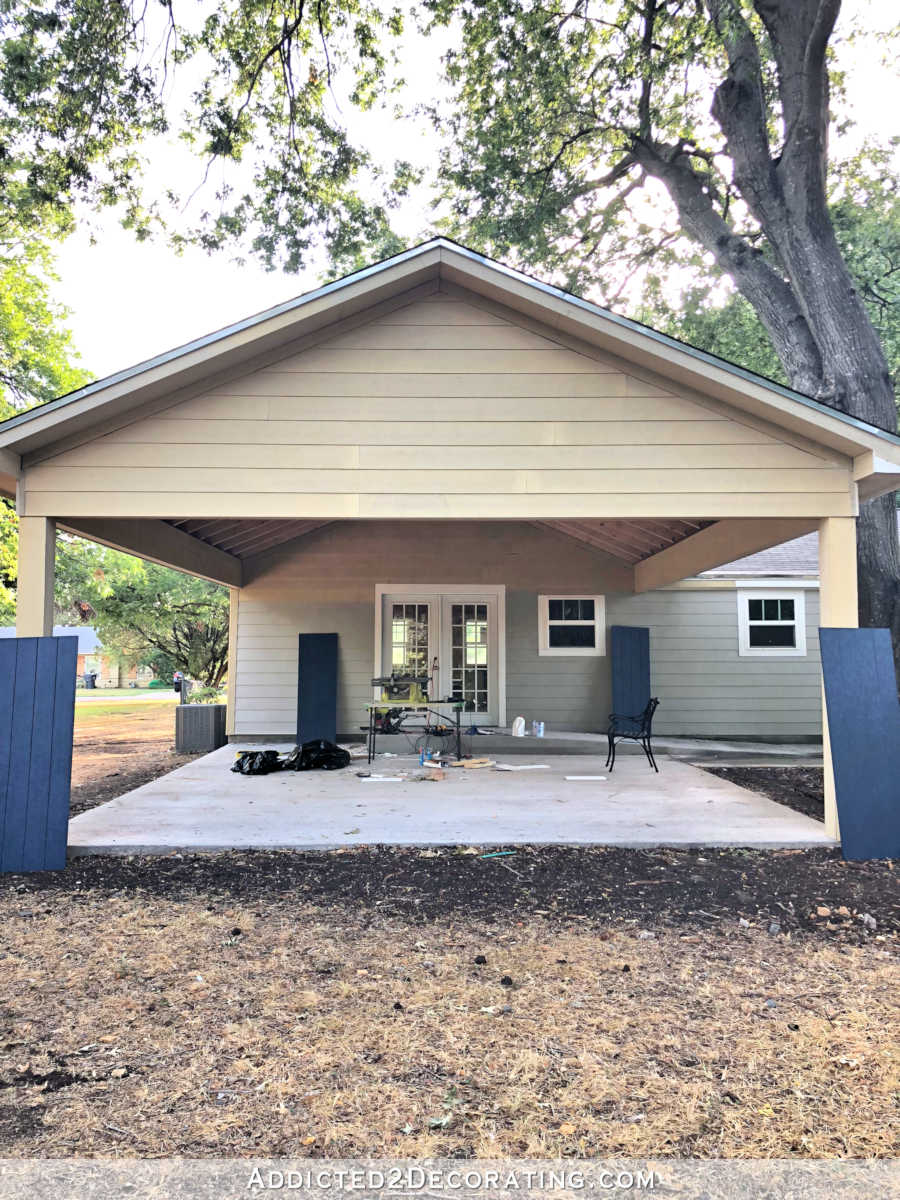 Once. I parked my truck in the carport one time in the last year, and that was only because the bed of the truck was filled with plywood and a storm was coming. Yep, I parked the truck in the carport to protect the plywood. 😀
Our plan has always been to build a separate workshop — a separate building somewhere in the back yard to house my saws, tools, extra lumber, etc.. The was a someday plan, as in, "some day in the future, we'll tackle that project." But the fact is that I may already have my workshop, because instead of parking my vehicles in the carport, I've just naturally gravitated towards using my saws out there right now.
Now of course, it's true that that's the only place I have to use them right now. I have no other option at this point. But over the last few months that I've been using my saws out there, I've realized just how incredibly convenient it is to have a workshop connected to the studio.
I was talking to my mom about it the other day when we were at lunch, and she pointed out that if I do actually start hosting teaching workshops at my house, it would be so convenient and make so much more sense to have the workshop actually right there by the studio. I couldn't agree more!
So overall, I think this is a great idea. And with the structure already in place, putting up walls would be simple. They wouldn't even be structural. And a 20 x 24 workshop would be a dream!! It has a concrete floor, which is perfect. It has a high ceiling, which I love.
But there are a few things that are keeping me embracing this idea 100%.
First, this door has the concrete ramp that we had poured for Matt. I don't have any pictures of the finished carport where the ramp shows really well, but you can see it pretty clearly in this picture that I took before the posts and roof were built.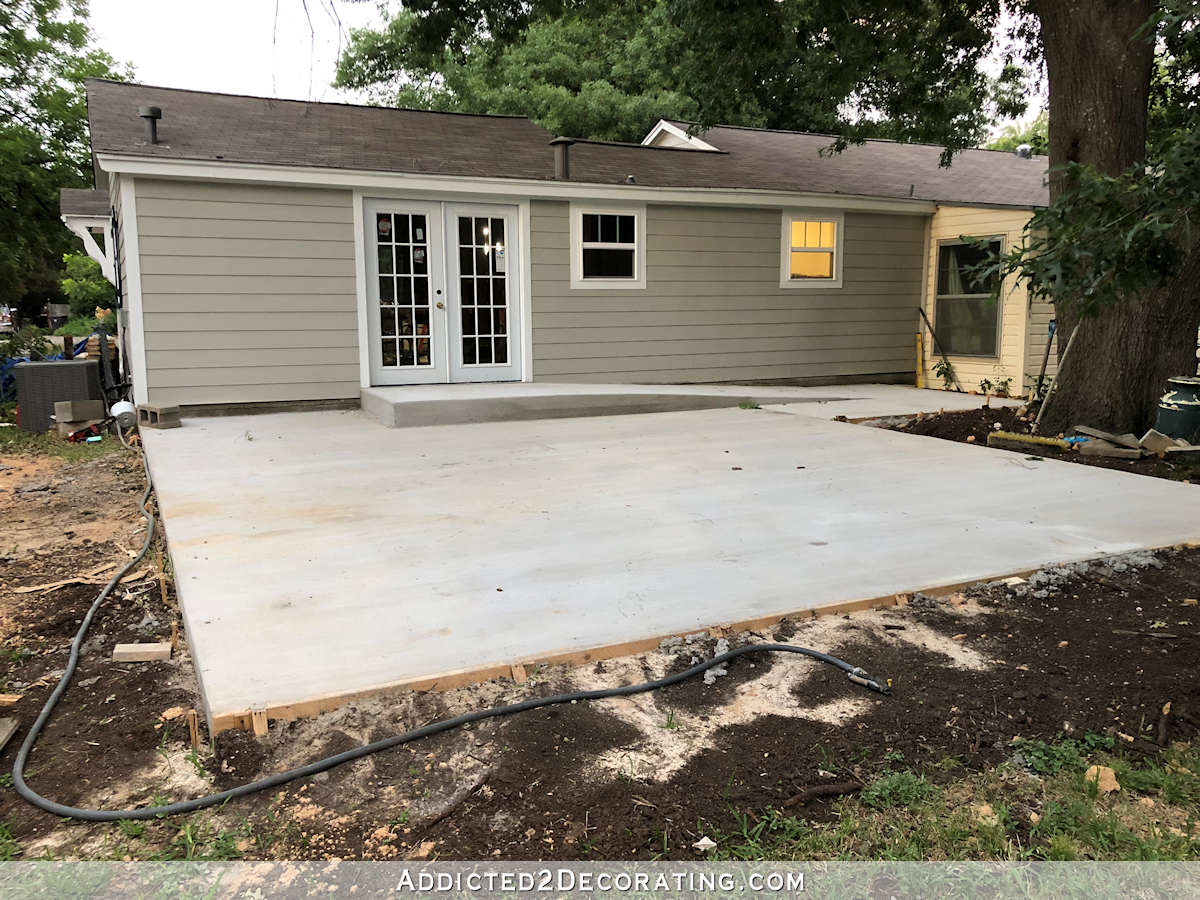 So the ramp goes outside the perimeter of the carport and then hooks back to meet the edge of the concrete foundation of the carport. Now that you know what it looks like, you can probably see it better in this picture…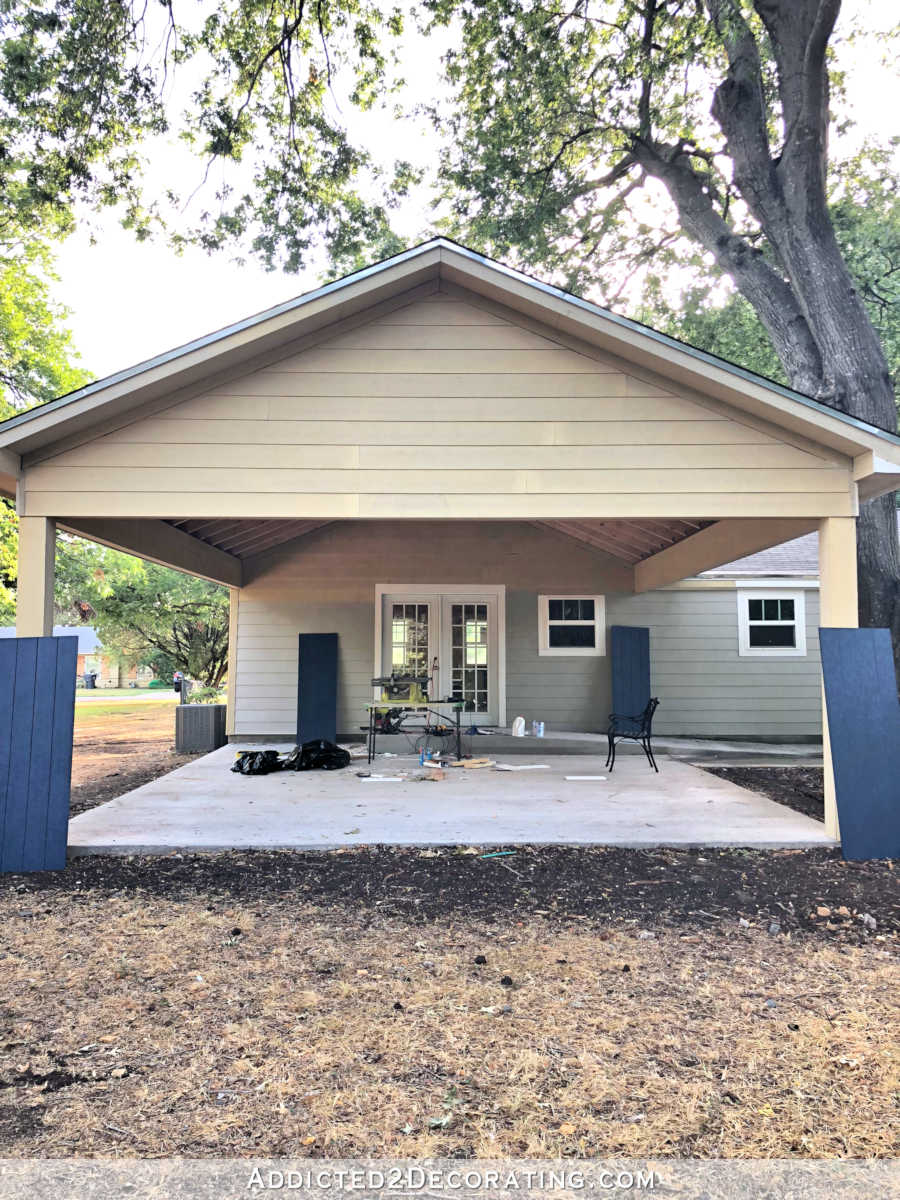 So that ramp poses two problem. First, it'll make it difficult to enclose that side. The only solution I can come up with is to have two doors — one door on the top level of the ramp, and one door at the bottom level of the ramp.
Also, we'll need to figure out another route for Matt to go once he's down the ramp, because he won't always want to go into the workshop. He just wants an area where he can sit outside and enjoy the fresh air without being in the sun.
And that leads me to the sad news. I think (no, actually I know) that the big oak tree needs to come down. You can see it in this picture that was taken when the carport was still being built…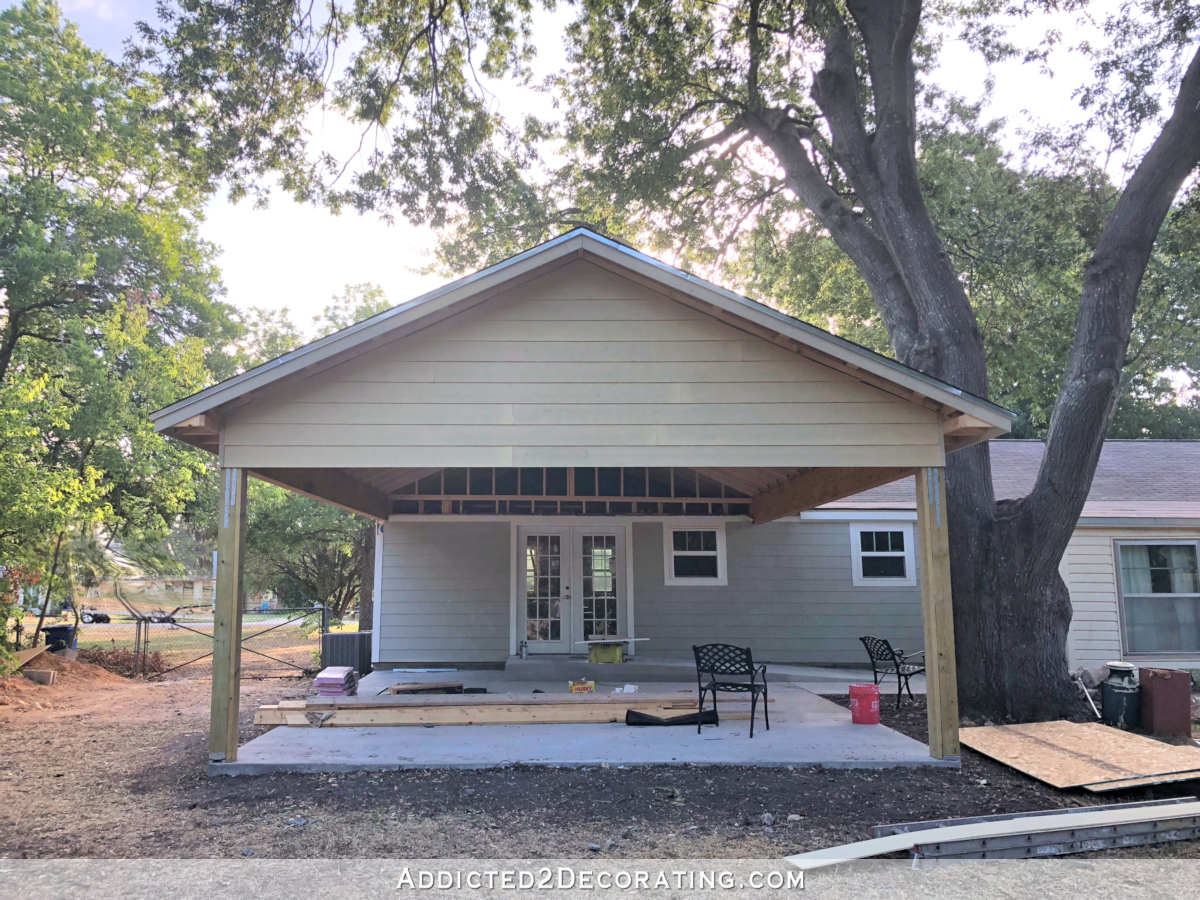 Honestly, I've been thinking that the tree needs to come down anyway. It makes me very sad to lose such a big oak tree, but since we've had the carport built, that tree has dropped two HUGE limbs. Thankfully, neither of them have landed directly on the carport, but during this last big storm we had just a few days ago, it dropped a huge limb right by the carport.
After the storm, I went outside to find that huge limb standing up vertically, with the end with the leaves on the ground, and the trunk end pointed to the sky and leaning against the roof of the carport. It didn't do any damage, but two huge limbs in the last year are enough for me. The next huge limb just might land directly on the roof of the carport or the house (that tree hangs over our house quite a bit) and cause major damage. I think the tree just isn't in the best of health.
So once that tree is down, we can have a little concrete patio poured right there, right next to the carport and directly off of the wheelchair ramp, where Matt and I can put a table and chairs and enjoy some fresh air and a meal outside. I could even build a pergola over it to give us some shade, although I think being tucked in between the carport-turned-workshop and the house, it might be shaded enough already. I'll have to see about that once the tree comes down.
That definitely solves the problem of having a place to sit and enjoy the outdoors, but I'm still not sure how to enclose the area by the ramp. If I could figure that out, I think I'd be fully on board with this plan. It just makes so much sense to use that space as my workshop, right? I mean, it's right off of the studio! There has to be a way to make this happen.
Addicted 2 Decorating is where I share my DIY and decorating journey as I remodel and decorate the 1948 fixer upper that my husband, Matt, and I bought in 2013. Matt has M.S. and is unable to do physical work, so I do the majority of the work on the house by myself. You can learn more about me here.