Last Updated on January 14, 2019 by Kristi Linauer
Don't worry. It's just pictures of my house. 😀 I've been so frustrated because I've looked high and low for "before" pictures of the front of my house and couldn't find any that showed the entire thing. I have plenty that focus on specific areas of the house, or the front of the house minus the breakfast room and the garage. But I could't find any that showed the whole thing…until last night.
I finally found a few, so I wanted to document the progress so far while we're at this "in between" stage after the garage conversion but before all of the siding is done and before the house is painted.
So here's the full view from the fall of 2013. Unfortunately the oak tree covers up the entire breakfast room section and part of the garage in this picture.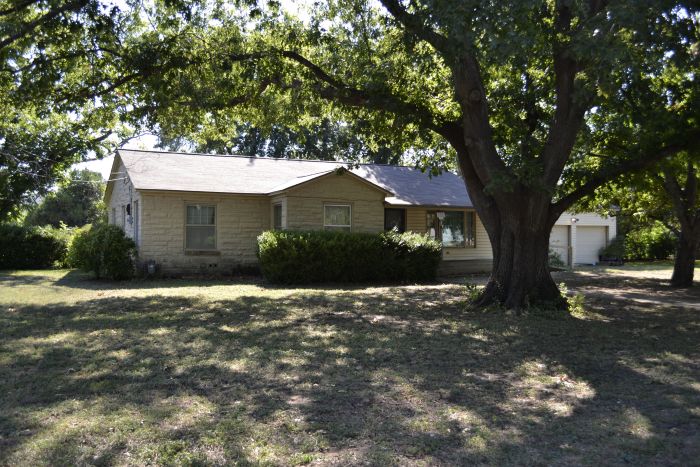 And here's a similar view from this morning. It definitely looks like a construction site, with sawhorses, stacks of lumber and siding, and a big trash pile on the right of the front yard, but it has still come a long way.
And yes, that's a window A/C in that window. 🙂 I've never used it, but I can't remove it because that's an original window and I'm pretty sure it's been painted in that position because I can't get it to close. It won't budge at all. So the A/C is the only thing plugging up that open window. 😀
Yesterday, they got all of the vinyl siding off of the front porch, which means that there's no more vinyl siding anywhere on the front or sides of my house. I've been waiting for this day for three-and-a-half years!! The front porch has been stripped down the original wood siding, with just a little bit of aluminum cladding (which is what you see hanging down on the right side of the porch) remaining on the soffits around the porch.
I couldn't find a full view of the front from the driveway side, but I'll keep looking. It the meantime, this will have to serve as the "before" view…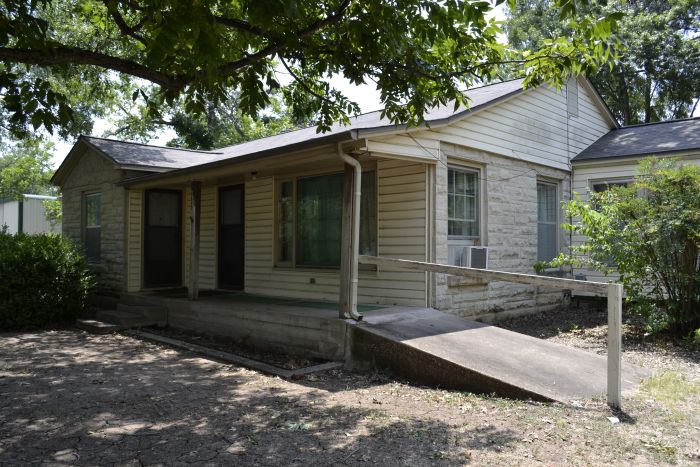 I'm so glad to be rid of that awkward stone/siding hybrid wall, but it still doesn't have siding just yet. Progress was delayed this week because of rain, so all of the siding should be finished by next Tuesday. But it's still a huge improvement with just the trim and house wrap on it.
When they do the siding on the front porch, they'll also be removing that side door on the front porch and framing in a solid wall. I'll be so glad to be rid of that second door.
And here's the straight-on view of the house from the fall of 2014…
And here it is this morning. Getting rid of that leaning pecan tree (which no longer produced pecans and was dying anyway) opened up the front yard and gave the house some breathing room. It felt like it was suffocating the house before.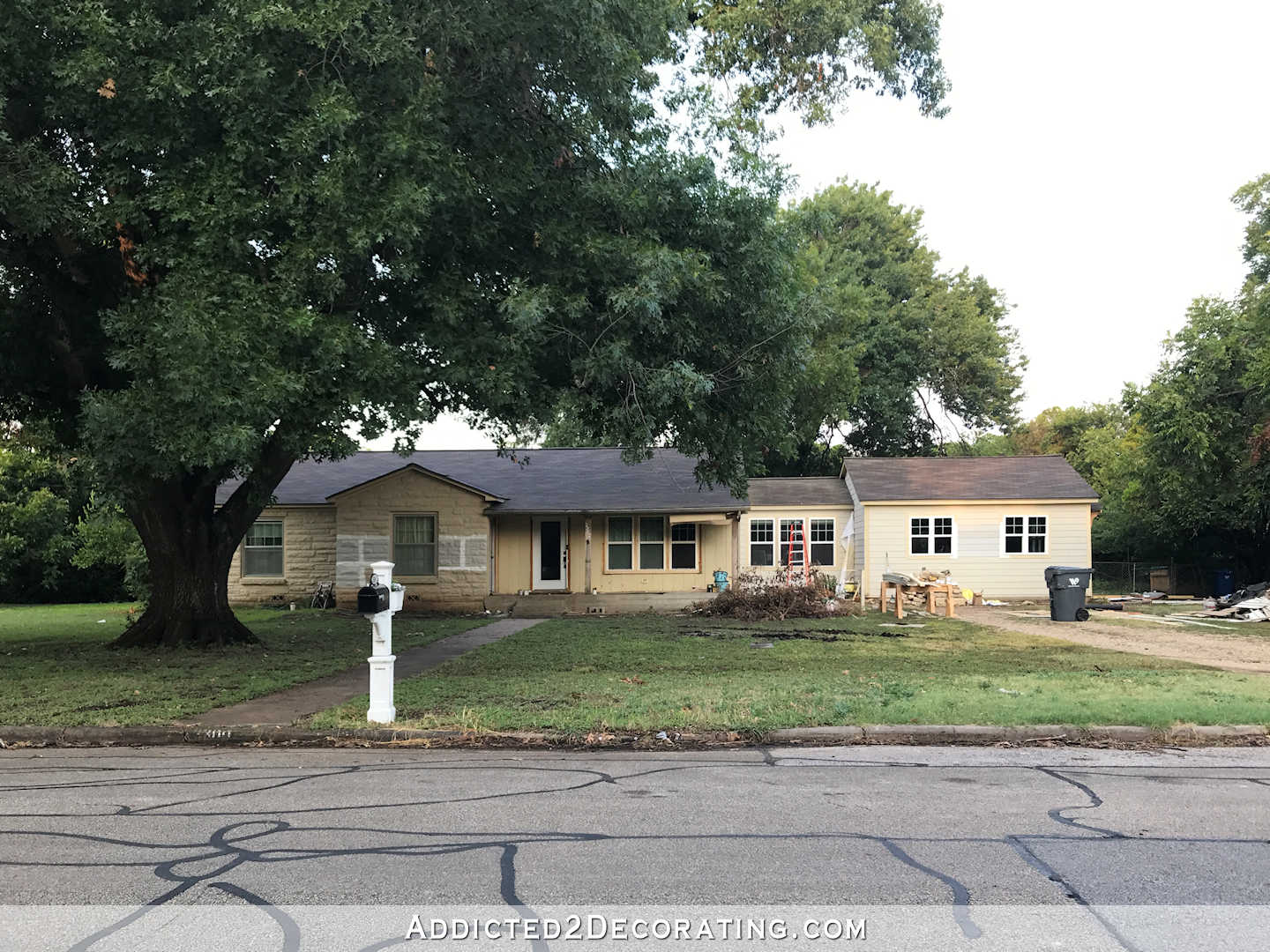 I'm really loving the progress, and it has been fun to concentrate on the exterior of the house for a while since it's been almost completely neglected since we bought the house. I'm anxious to get the house painted (although August probably isn't the best month for that) and then I've got so many little projects I want to do, like making shutters and window boxes.
We still have six original windows that need to be replaced (all on the stone side of the house), and I'd love to do that either this fall or next spring. And someday I really do want to beef up the front porch area with a double gable roof and a larger front porch. That low roof over the porch drives me a bit crazy. It's like trying to have a conversation with a person who's wearing a baseball cap pulled so low that it covers half of their eyes, and you just want to shove the cap up and out of the way so that you can actually make eye contact. That's kind of how that front porch makes me feel. I just want to shove that roof up a bit so that I can actually see the door and windows when I'm looking at the front porch.
But I really think once the siding is finished, the house is painted, and I add some character with a few projects I have planned, I'll be able to live with the front porch as it is indefinitely. I'd rather save that money for now and put it towards the addition on the back of the house. Then we can circle back around to the front after that's finished.
Addicted 2 Decorating is where I share my DIY and decorating journey as I remodel and decorate the 1948 fixer upper that my husband, Matt, and I bought in 2013. Matt has M.S. and is unable to do physical work, so I do the majority of the work on the house by myself. You can learn more about me here.
I hope you'll join me on my DIY and decorating journey! If you want to follow my projects and progress, you can subscribe below and have each new post delivered to your email inbox. That way you'll never miss a thing!