Music Room Bookcases – Three Options (Opinions, Please!)
As you know, I've been COPing the heck out of my house this week. (If you have no idea what I'm talking about, you can read more here and here.) And during this process, I've uncovered many books and decorative items that have been packed away for a while now.
Well, one of the items on this year's house goals list is to finally decorate my music room bookshelves. And since I was unboxing all of this stuff, it seemed like it would be an easy task, and something I could quickly cross off of my list.
But I didn't get it done. The reason? I'm still not sold on color. And the color of the bookcases will most definitely determine how I decorate them.
When I first built the bookcases to flank the doors that I made (yes, I made those doors, and you can click here to see how), I painted the bookcases all white, and painted the doors black. This is how that looked…
Then after I finished the entryway wall, which I painted dark teal, I decided to paint the doors dark teal as well. Then I was inspired to paint the backs of the bookcases dark teal. This is a fairly recent picture of how that looks…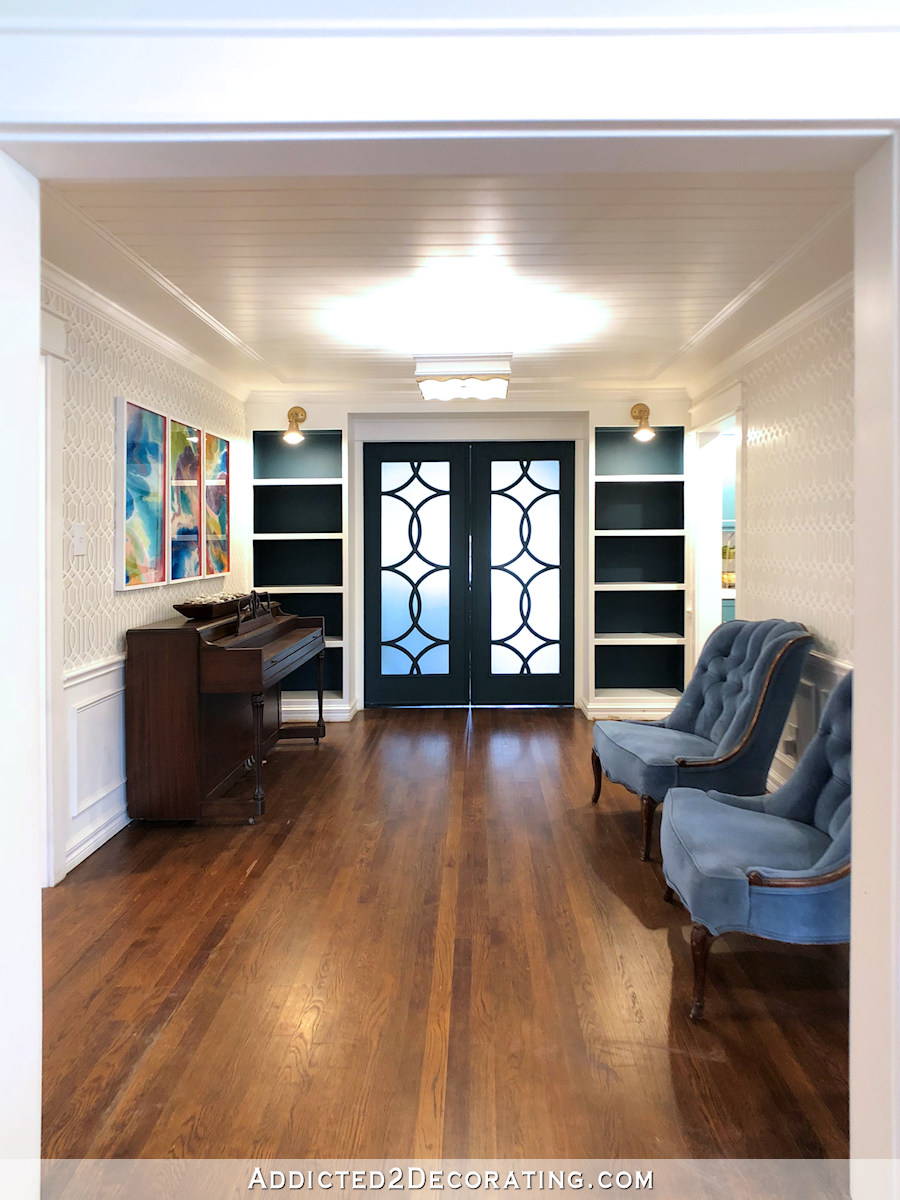 So I want your opinion, and as far as I can see, I have three options. I didn't love the white, and I'm not sold on teal for the backs of the bookcases, either. But there's a third option.
Before we consider the options, let's review what's in the immediate area. First, when you walk through my front door, this is the wall to the left. This is the wall I call my "entryway" even though it's part of one big room with my living room, and the wall is a dark teal.
I just wired my sconces and haven't had time to paint the paintable switch plate that I bought for the switch. 🙂 It'll blend in a lot more once I get that done.
From the front door and to the right (and directly opposite the entryway wall) is the living room with the teal fireplace. This is the exact same teal that's on the opposite entryway wall. This room isn't finished (hello, blue chairs that clash with my kitchen!), but the teal fireplace is staying.
And from the front door, this is the view directly ahead. The exact same dark teal that's on the entryway wall and the fireplace is on the doors and the backs of the bookcase shelves.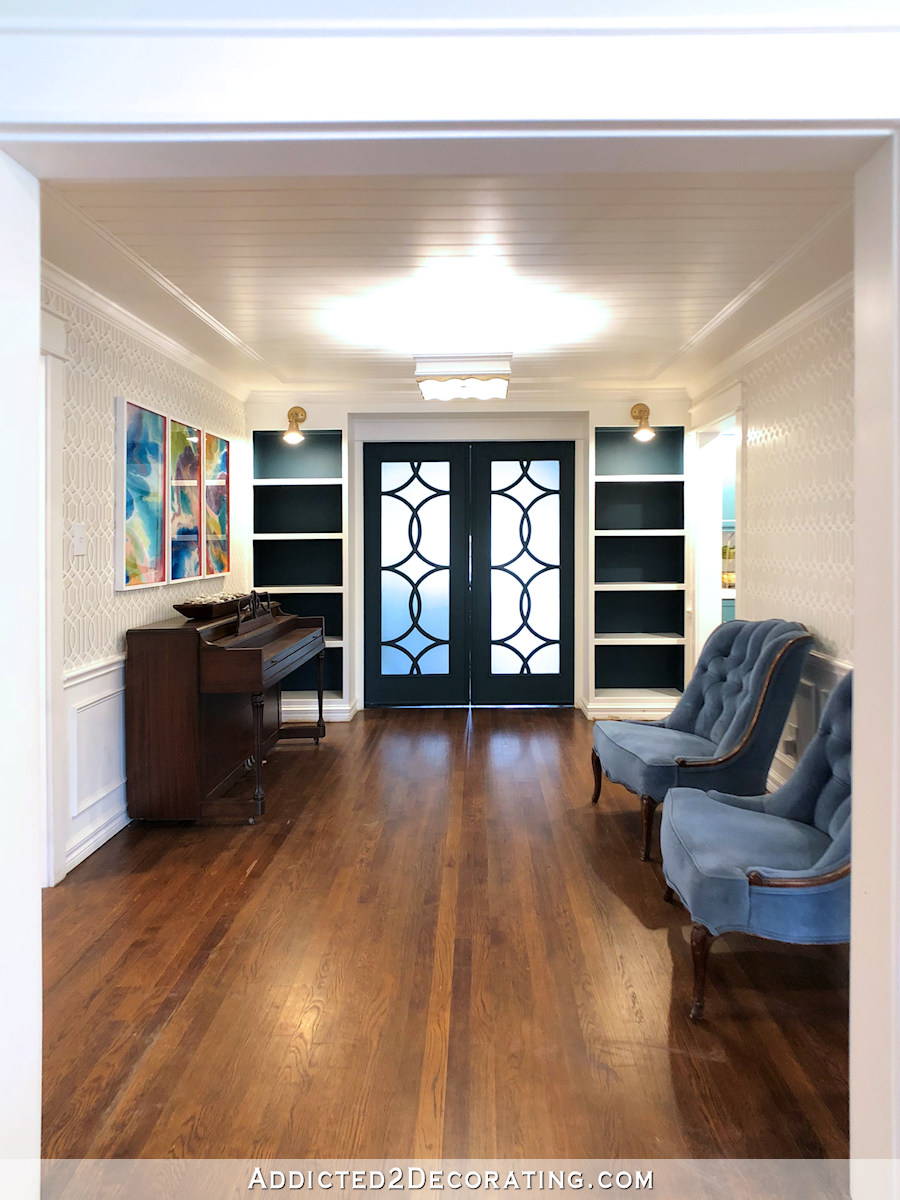 FYI, the final destination for those chairs will be the music room. I will be reupholstering them, because they clash horribly with my kitchen.
So here are my thoughts:
The white bookcases just seem blah to me, but maybe that's because I never really decorated them. I mean, I put stuff on them, but not in any thoughtful kind of way. Maybe once they're actually decorated, the white will be fine.
The bookcases with the inside painted dark teal almost seem too choppy to me. It just seems like a lot going on where I don't really want a whole lot going on because that detracts from the doors.
I still wonder if painting that entire wall — bookcases, trim, doors, everything — a dark teal would be the best option. At first I thought this would definitely detract from the doors, but then I got to thinking. It's not really the doors themselves that make the doors special. It's really the sunlight coming through the glass and showing off the design that makes the doors special. And that will be front and center on a solid wall of dark teal. Right?
Obviously, since I've never tried option 3, I don't have an actual photo of that option. I did try my best at editing a photo to see what it would look like. I'm terrible at this kind of editing, but it does give some idea of what it may look like. (Please try to ignore those clashing blue chairs.)
I have to say, that option really appeals to me. And I think it definitely makes the design of the doors the feature again, as opposed to my current bookcases with the teal just on the backs that creates a choppy and busy appearance.
Also, I keep going back to a couple of inspiration pictures. First, this amazing dark gray bookcase and fireplace living room wall from Lucy at Craftberry Bush.
And then this not-quite-so-dark bookcase wall from
So what do you think? Go back to all white bookcases? Keep them like they are — white bookcases with the backs painted teal? Or go for it and paint the entire wall teal?
EDIT:
For those of you thinking, "Why is she even thinking about this right now when she and Matt are still sleeping in the breakfast room. Doesn't she need to work on other more important things right now?"
Y'all, I can't stress this enough. I have a plan for the things that need to get done ASAP. I know what's important to both Matt and me right now. At the same time, I can't be "go! go! go!" all the time, from daylight until midnight, every single day, on the big stuff. I need downtime. And for me, often that downtime is working on a fun project. Painting is one of those mindless, relaxing downtime projects that I thoroughly enjoy. So if the mood strikes (and I sense that it will), I need a direction for these bookcases. I'm not procrastinating! I just simply can't be 16 hours a day about the big, daunting projects.
Addicted 2 Decorating is where I share my DIY and decorating journey as I remodel and decorate the 1948 fixer upper that my husband, Matt, and I bought in 2013. Matt has M.S. and is unable to do physical work, so I do the majority of the work on the house by myself. You can learn more about me here.