2020 Master List of Home Goals
For the last few years, I've been starting off each new year with a list of home goals that I'd like to accomplish during the year. Some years (2018, for example) I stay laser focused on that list. Other years (*ahem*…2019) I tend to veer off track. But I still find making these lists to be very helpful because it gives me a big, overarching picture of what still needs to be done. So this year, I hope to have a repeat of 2018, where I have a laser focus and just plow right through this list throughout the year.
I always make my lists unreasonably long. In other words, there's no way I can actually accomplish ALL of this during one calendar year. But making a way-too-long list gives me options. If I only have 10 items on my list, and all of them are projects that I'm dreading, then I'll drag my feet and find excuses to do other things. But if I have a list of 50 things, then I can almost always pick my top 10 things from that list and get them done. And that generally motivates me to tackle the things I don't really want to do.
All that to say that I don't believe for one second that I can actually get all of this stuff done. But for 2020, I want the overwhelming majority of house-related things that I accomplish to be things that are found on this list.
Front Exterior Of House
I made a LOT of progress on the front exterior of the house during 2018, and then last year, I didn't do a single outdoor project. However, we did get the rest of the windows replaced (I'll share pictures in the next few days), so there was at least some progress. So here's my list for this year…
Finish the stone on front porch
Caulk and paint the new trim on the new windows
Decorate front porch – chairs, table, plants
Build window boxes for front windows
Set up irrigation for the window boxes
Plant beds along the front of the house
Make a planting bed around the mailbox
Build steps to the side studio door
Build trellis above breakfast room windows
Remove the overgrown bush (tree?) in front of the breakfast room windows
Add a water feature in "courtyard" area (i.e., the small area in front of the breakfast room windows)
I would also love to sod the front yard, but I don't see any point in doing that until we can get our sprinkler system put in. And with all of the huge projects we have planned for this year, a sprinkler system isn't even on the radar this year. But hopefully some planter beds around the house will spruce things up.
Carport/My Workshop
This is what our carport looks like as of yesterday. Let me be very clear…this mess isn't mine. 🙂 All of the contractor bags leaning and the small pile just behind them in the foreground, and then the HUGE pile of stuff under and to the left of the carport, are all from the current bedroom/hallway remodel. The guys pile everything back here, and then my contractor has a guy who comes and picks it up periodically. They actually finished all of their interior work two days ago (on December 31st), so the guy should come and haul off these last piles next week. Only the two work tables and the miter saw table are my mess. 🙂
We've also had quite a bit of drama in the last week over that tree. In a nutshell, we hired some people to cut it down. We paid half up front. They cut down two big limbs (leaving one of them sitting on the roof of the house, and the other one next to the tree, and my 10-foot ladder by the carport), and now we're having a hard time getting them back over here to work. There's been much more drama than that, but I'll save that story for another day. 😀
Anyway, this year I hope to enclose this carport to turn it into my workshop. This is one of several HUGE projects we hope to get finished this year, and I'll probably be tackling much of it (maybe most) myself to keep the costs down. Here are the steps I've been thinking through…
Frame the walls (thankfully none have to be load-bearing)
Attach OSB to the exterior of framing
Cut holes for windows and install windows.
House wrap the exterior
Install siding on the exterior
Install the doors (two sets of French doors)
Insulate the walls and ceiling
Hire out the drywall for the walls and ceiling
Build work benches as needed
My Studio
I made quite a bit of progress on my studio last year with new whitewashed wood floors, a new desk, two amazing work tables, and some big floral wallpaper on the front wall. But this year I need to focus on the most important thing — STORAGE. I love my studio so far, but with zero storage in this room, things get piled up on my work tables to the point that they almost become unusable. So storage is the goal this year.
Storage closet – install baseboards
Storage closet – build shelves
Storage closet – install trim around door
Storage closet – paint door
Storage closet – install light
Storage closet – disguise HVAC
Storage closet – re-route air intake for the HVAC
Build cabinet on wall by breakfast room door
Build cabinets behind desk
Build cabinets on front wall
Install baseboards
Install trim around exterior door
Install trim around breakfast room door
Caulk and paint trim
Install face plates on outlets and switches
Make roll-out storage for front wall (more on that later)
Breakfast Room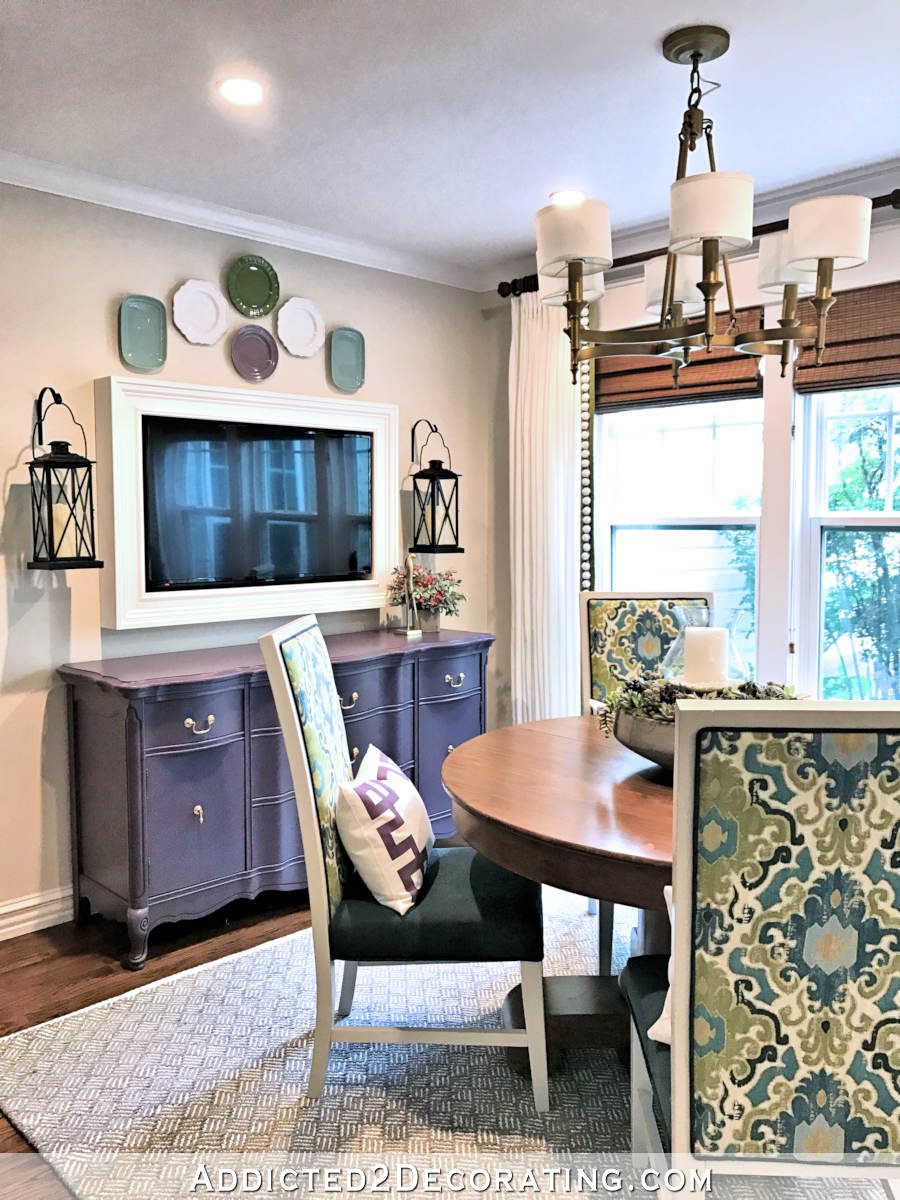 Remember when our breakfast room was finished and usable as a breakfast room? Ahhh…those were the good 'ole days. 😀 I'm not going to share a new picture of our breakfast room because it's currently our makeshift bedroom during the bedroom/hallway/master bathroom remodel that underway. Hopefully we can get the guest bedroom fixed up soon so that we can move our bed back into an actual bedroom, and get our breakfast room functional as a breakfast room again.
There are a couple of things that need to be done in the breakfast room…
Purchase or buy a new table (I gave away the one you see in the picture above)
Stain and seal the hardwood floor at the studio entrance that had to be sanded during the studio flooring install
Kitchen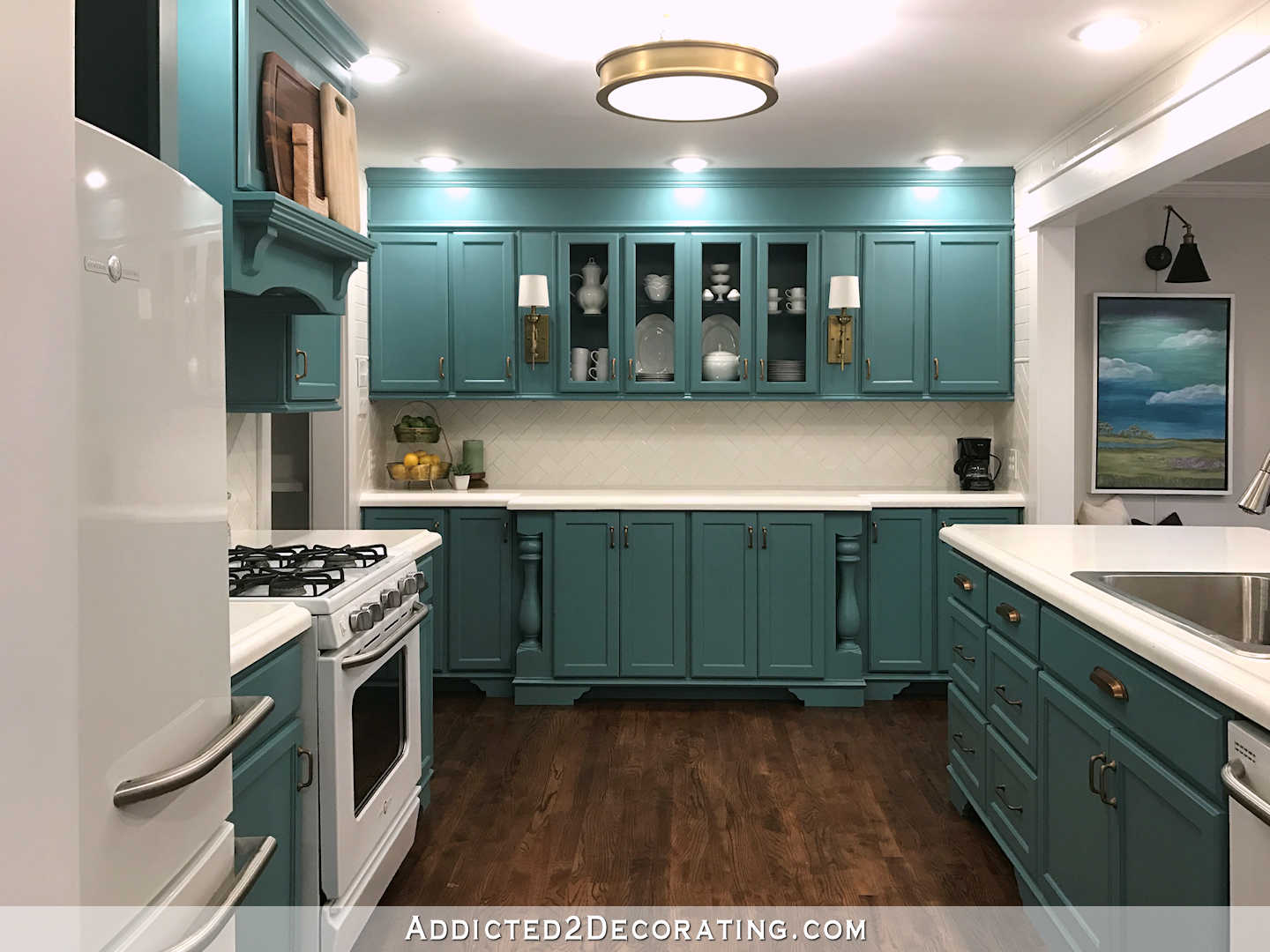 For all practical purposes, my kitchen has been finished and fully functional for quite a while now. But there are still some specific organizational projects that I'd like to do to make the kitchen even more functional for me.
Build pull out garbage and recycling bins
Build slotted pull-out drawer for my pans and lids
Build pull-out basket drawers in place of the dishwasher
Living Room
I crossed off two things from my living room list last year — making new curtains and building a coffee table (which isn't pictured above, obviously). I also got a new sofa and a larger rug. I'm off to a good start, so fingers crossed that this is the year this room will actually be finished. I mean, it's only been six years, so there's no rush, right? 😀 Here's what still needs to happen…
Reupholster two chairs
Make throw pillows
Make or purchase a side table to go between chairs
Change the color of the green scalloped mirror
Accessorize to finish
Entryway
My house doesn't have an actual entryway, but I call this side of the living room by the front door the entryway. I have two rather quick projects that need to be done on this side of the room.
Wire the sconces and the switch for the sconces
Paint the inside of the front door
I had been waiting for the bedroom remodel (on the other side of this wall) for the wiring to be run to these sconces and a switch for the sconces. I finally have the wiring in place, so everything just needs to be hooked up now, and I'll have actually sconces that turn on and off with the flip of a switch!
Music Room
My music room has been so close to being finished for a while now. I only have a few projects that need to be done!
Hallway
There was a time when my hallway was actually finished. And now it's not. Again. But this was a necessary step in order to have a squared up master bathroom, so while I'm not quite back at square one in this hallway, there's a long list of things that need to be done to put this area back together.
Install hardwood flooring
Sand, stain and seal hardwood flooring
Paint stripes on the new wall and touch up areas that were damaged on other walls
Re-install crown molding
Re-install baseboards
Install new doors on the bedrooms
Install door trim
Guest Bedroom
This room has undergone a pretty big change over the last few weeks. All of the old drywall, shiplap, polystyrene ceiling tiles, wiring, etc., was removed, and now we have new insulation, wiring and drywall. We also had one side window removed. I'm pretty excited about getting this little room finished. It'll be our temporary bedroom until we can finally add on to the house and have our new, big master bedroom. Here's what I have planned in here…
Build closets on either side of the window
Built a window seat with storage
Install trim on window
Clean, stain, and seal the hardwood floor
Paint the walls
Install crown molding
Install baseboards
Install trim around door
Paint the door
Make a headboard
Build a frame for wall-mounted TV
Build or buy a dresser
Install chandelier or ceiling fan
Built or purchase bedside tables
Make a window treatment (Roman shade?)
Accessorize to finish
Home Gym
I am ridiculously excited about this room, but there's quite a bit that needs to happen before it's actually usable as a home gym.
Install hardwood flooring that had to be removed during remodel
Refinish hardwood floor
Paint the walls
Install crown molding
Install baseboards
Install carpet tiles
Install trim around cased opening
Install trim on windows
Make window treatments (Roman shades?) for the windows
Build a frame for wall mounted TV
Install lights
Install ceiling fan
Install TRX
Install shelves and storage in closet area
Master Bathroom
This room is my biggest shame right now, but it will be my biggest triumph this year. This used to be the master bedroom, and it's now filled with boxes and stuff that had to be moved out of the other two bedrooms. I need to get this room cleared out ASAP, because we're starting demolition on this room on January 25th. And people are coming to help me, and they have the day marked on their calendars, so there's no wiggle room and no time for procrastination. Here's what needs to happen for this to turn from this mess you see above into a beautiful and functional master bathroom…
Demolition – ceiling, walls, floor, down to floor joists, wall studs, and ceiling joists
Have plumbing installed
Install subfloor
Build walls between shower, WC, and tub area
Install cement board on floor and shower walls
Install shower pan
Have drywall installed
Trim out window
Stencil or wallpaper the vanity wall
Tile the walls in the shower
Tile the walls around tub
Tile the walls in W/C
Build the vanity
Make or buy mirrors and install
Install lights
Make a window treatment (Roman shade?) for the window
Have the tub installed
Install the toilet
Accessorize to finish
So, yeah. I've got just a few things to work on this year. 😀 At least I won't get bored!
Addicted 2 Decorating is where I share my DIY and decorating journey as I remodel and decorate the 1948 fixer upper that my husband, Matt, and I bought in 2013. Matt has M.S. and is unable to do physical work, so I do the majority of the work on the house by myself. You can learn more about me here.