Last Updated on February 8, 2019 by Kristi Linauer
My DIY sliding French barn doors with the custom circle pattern fretwork panels are finally finished! I got the doors all painted (Behr pure black in a satin finish), added Gila frosted privacy film to the glass, installed the glass in the doors, and got the trim around the doorway wood filled, caulked, and painted.  (I still don't have baseboards.) 
I finally finished up reinstalling the rolling door hardware and the doors at 11:00 last night, so please kindly overlook my filthy floor that I had neither the time nor the energy to mop last night. 🙂
I don't know if this is my all-time favorite project, but it's definitely in the top three. Here's how they look!
I absolutely love how these turned out, but wow…it took a while to get here! Here are the steps I took to make these doors…
1. Install DIY hardware for sliding French barn doors.
This is how these doors looked after I added a "frame" around each door, and installed my DIY rolling door hardware…
These doors came from my office and our bedroom closet.  I'll be replacing all of our interior doors, so I wanted to find uses for the old doors I'll be removing.  I had a total of four 30-inch doors, so I used two of them here, and then I'll be using two of them on the doorway that I'll be building between the entryway and the music room.  Those doors will eventually look identical to these sliding French barn doors.
Step 2: Cut out the center of the doors with a Dremel Multi-Max
My final doors are a far cry from my original plan. I had originally thought I'd just remove the top section and install glass there.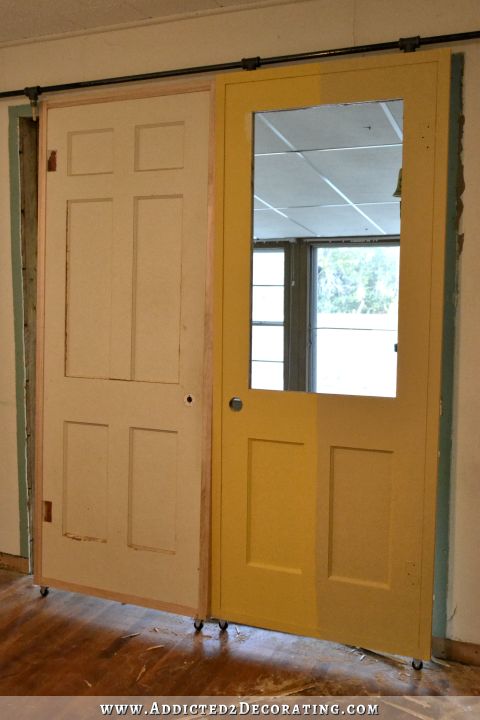 I had something like this in mind.
But something about that design just wasn't working for me. It had a very casual country vibe to it, and that just didn't look right next to my kitchen. So I proceeded to cut out the entire center part, not quite knowing what the heck I'd do from there.
Step 3: Make fretwork panels to go inside the cut out portion of the doors.
After searching for inspiration, I finally found the one — these doors from the Palazzo hotel in Las Vegas.
So I set about making my own circle fretwork panels for the sliding French barn doors out of 1/2-inch MDF using a jigsaw.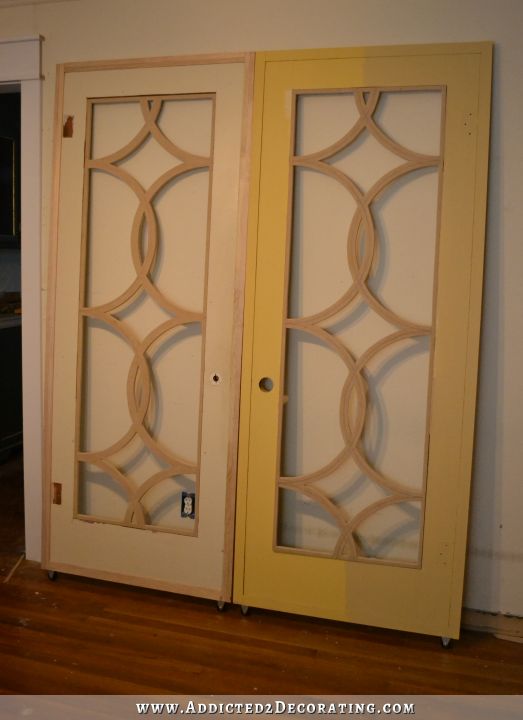 Step 4: Add trim to finish out the rough edges.
I added trim around the edges of the fretwork panel where it met the cut out opening in the door. I also added trim around the outside edges of the door face where the door met the 1″ x 2″ lumber that I attached around the edges of the doors to make them appear larger.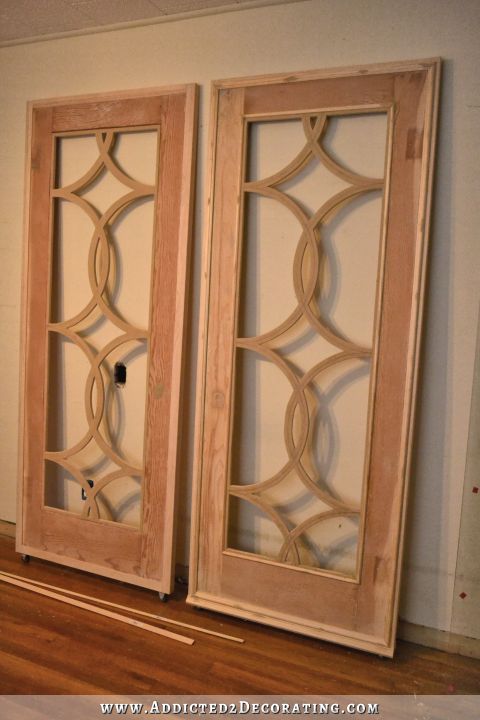 Step 5: Prime, Paint and Add Glass
And after some primer, paint, glass, frosted window film, and the cutest little peacock pulls I've ever seen (oh, okay…they're the only peacock pulls I've ever seen), I ended up here.
I took that picture last night right when I finished and then proceeded to darken the sunroom even more in my photo editor because frankly, that room and the patio outside currently look like a tornado went through. I have tools, scrap lumber and trim, old drywall that I ripped off of this wall, and lots of other junk strewn about that I didn't have time to clean up last night, but I didn't want to do the final "taaa daaaa" post without showing at least one view of the doors open. I'll get everything cleaned up and take a better picture soon. It's just too bad that these doors lead into what's probably the ugliest room in the whole house. Oh well. Y'all know it won't stay that way. 🙂
I forgot to get brass screws for my peacock pulls, so right now each pull is held on by two tiny silver screws. I'll get those switched out today. But aren't these the cutest things?! They make me laugh and remind me to not take my decorating quite so seriously. I bought them on Ebay.
The Finished Sliding French Barn Doors
So that's it!  My finished sliding French barn doors on very inexpensive barn door-style hardware.
Now I have doors that are perfectly suited to sit right next to my kitchen. And as soon as I can, I'll take a picture showing the view from the music room where you can see the door and into the kitchen. They look just right together.
And speaking of kitchen, I suppose it's time to get back to it now that these doors are finished. 🙂
Helpful sources and products:
Did you see how I made the DIY hardware for barn door-style rolling doors? You can see that here…
If you missed how I made the fretwork panels for the center of these doors, you can see that here…
And if you missed how I trimmed out the doors to give them a finished look, you can see those details here…
Update:
I ended up building bookcases around these doors so that the doors now function more as pocket doors. Here's a peek at them now…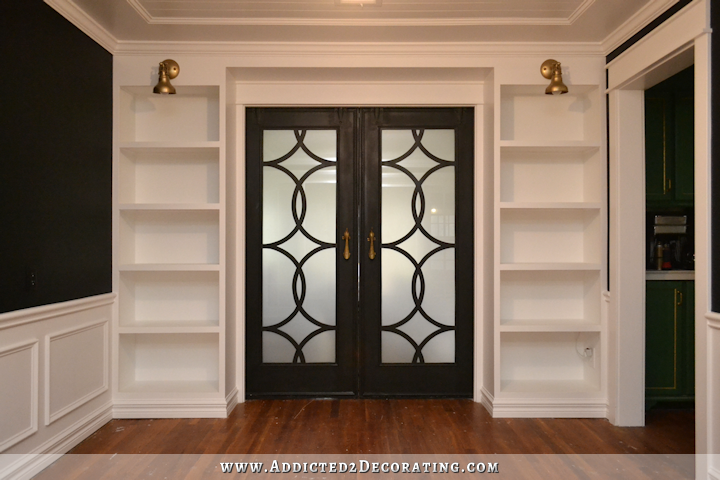 You can click here to see more pictures of how this turned out…
Addicted 2 Decorating is where I share my DIY and decorating journey as I remodel and decorate the 1948 fixer upper that my husband, Matt, and I bought in 2013. Matt has M.S. and is unable to do physical work, so I do the majority of the work on the house by myself. You can learn more about me here.
I hope you'll join me on my DIY and decorating journey! If you want to follow my projects and progress, you can subscribe below and have each new post delivered to your email inbox. That way you'll never miss a thing!