Last Updated on February 26, 2015 by Kristi Linauer
Remember a couple of weeks ago when I showed you my music room walls where I had practiced my grasscloth paint technique?  It looked like this…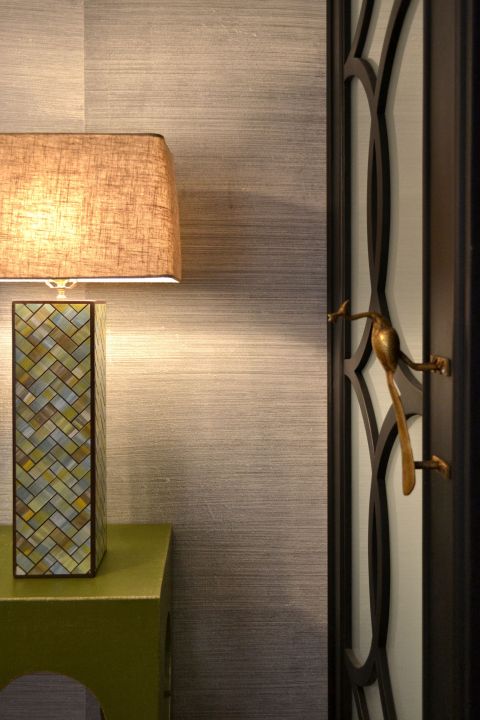 Several of you asked me if I was going to keep that in there, and just finish the rest of the walls.  Well, that answer is "no".  🙂
I was actually never intending to keep the faux painted grasscloth in there.  That experiment really was just an opportunity for me to test out the process and see if I even liked it.  So when I was ready to paint over the wall, I decided I wanted stripes.  Y'all know I love my stripes!  They didn't work out for me on my kitchen floor, but I loved the idea of having them in the next room over, either in the music room or the dining room.  The music room won the coin toss.
As I was searching for inspiration, I came across this entryway from Architectural Digest.
Those colors are too dark for my taste, but what I do love are the wider stripes accented with the narrow stripes in what appear to be a metallic finish.  That is actually Zoffany wallpaper, but I knew I could easily create something similar with paint.
I only have about half of the room finished so far, because I chose to so a really tedious design.  I probably still have at least two day's worth of work in here before the walls are finished.  Maybe three.  Or four.
Anyway, I started off by painting 10-inch vertical stripes on the wall.  I painted the entire walls in the white first (Behr's Polar Bear), and then taped off the darker stripes (Behr's Belvedere Cream) and painted those.
Then I used the narrowest painters tape I could find (.70 inch wide, found at Michael's), and placed it along the edges of the Belvedere Cream stripes as a spacer.  Then I taped on either side of that spacer.
Once I removed the narrow tape, I had my narrow stripes.  I painted those narrow sections using gold craft paint from Michael's.  It took three coats for it to cover completely!
Next came the tedious part.  I added nailhead trim in the narrow gold stripes.
I love the subtle texture that it gives to the wall!
I used a paint stick and a pencil to measure and mark the spacing for the nailheads, and then nailed them in with a tack hammer.
It really went much faster than I expected.  I thought I might be hammering in nailheads for days.  Weeks, even.
Adding the nailheads on this whole wall took four hours.  I don't think that's too bad considering I was using the individual nailheads that had to be nailed in one at a time!  And that also included the time it took for me to measure and mark all of the spacing for the nailhead placement.  Once I got a system down, it went relatively fast.
So far, I only have about one-and-a-half walls finished, with the half being the wall with the rolling doors that only has about six inches of walls space above the door trim.
There's still quite a bit more to do, but on the other walls, I still have drywall patching that I need to do from moved electrical outlets before I can finish up.  Hopefully I can get that done in the next couple of days and get these walls completely finished.  And of course, that ridiculous quarter round at the ceiling drives me crazy.  Once I get the ceiling situation taken care of (which will probably require all new drywall), I'll be adding some crown moulding.  Until then, I have quarter round.  *Sigh*
I can't wait to get these finished up, get my piano here, and get this room decorated.
I'm anxious to see what my striped walls will look like when they're a backdrop for the rest of the decor, rather than the front-and-center main attraction.
And hopefully I can get some better daytime pictures of the walls soon.  I worked late into the evening, and only got night time pics of the parts I had finished.  I think the stripes look a bit more subtle during the day with good lighting, and I prefer that subtle look.  I also need to get a pic looking from my kitchen into the music room.  The two rooms next to each other look pretty great, if I do say so myself!  🙂
UPDATE:  Here are a couple of views of the striped walls from the kitchen.  Obviously they're not finished, and I didn't get as far on them above the doors as I thought.  Wishful thinking, I suppose.  🙂
I also still need real baseboards.  But this gives you an idea of the view.
Addicted 2 Decorating is where I share my DIY and decorating journey as I remodel and decorate the 1948 fixer upper that my husband, Matt, and I bought in 2013. Matt has M.S. and is unable to do physical work, so I do the majority of the work on the house by myself. You can learn more about me here.
I hope you'll join me on my DIY and decorating journey! If you want to follow my projects and progress, you can subscribe below and have each new post delivered to your email inbox. That way you'll never miss a thing!