Last Updated on March 14, 2022 by Kristi Linauer
They say that the third time's the charm, and I'm hoping that's true with my Ikea NUMERAR butcher block countertops. Yep, this is my third time to stain and seal these things. Let's take a look at how the turned out this time, and then I'll share with you how to stain and seal butcher block countertops to achieve this look.
*This post contains affiliate links.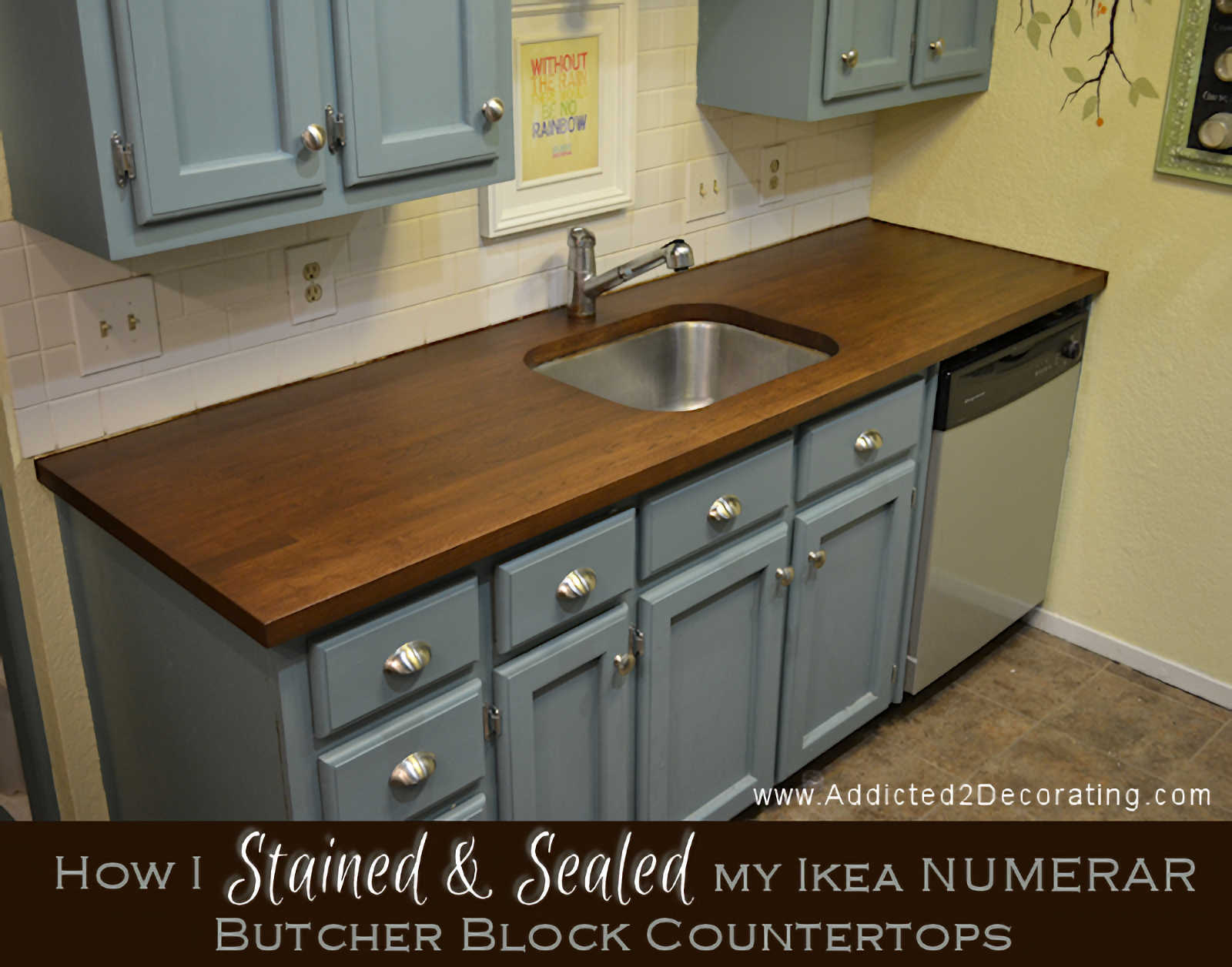 Interestingly, even with the headache of having to sand them down, stain them, and reseal them, I'd still choose butcher block again. I just love the way they look, the way they warm up the space, and the fact that they CAN be sanded and re-stained. In one weekend, I can change the color of my countertops…and the look of my kitchen…and spend relatively little money. What other countertop material can you do that with?
The last two times I did my countertops, I used Minwax stain and sealed them with Waterlox. Both times, my countertops turned out yellowish orange, and seemed to get even more yellowish orange over time. Not pretty.
So this time, I decided to try completely different products. Here's how I refinished my butcher block countertops…
I started by sanding the current finish off of the countertops with my orbital sander. I started with 80-grit sandpaper just to make the job a bit faster, and then ended with 150-grit sandpaper to leave a smooth finish.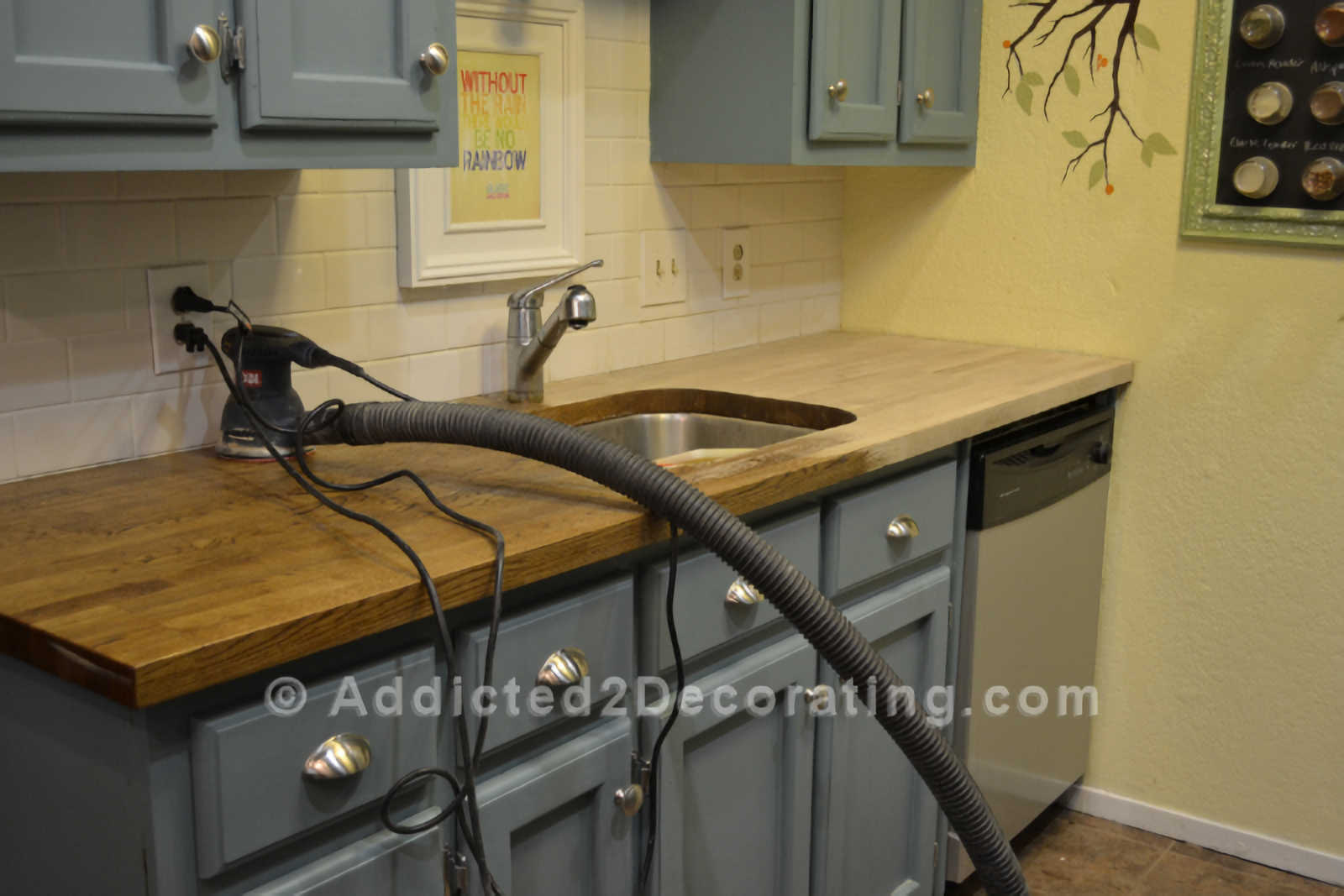 DIY Tip:
When using an orbital sander inside, remove the dust bag attachment, and place the hose of your Shop Vac over the spout thingamajig that the dust bag attachment usually attaches to. Turn on the Shop Vac, then turn on the sander and sand away. The Shop Vac will catch most of the dust.
After everything was sanded down, and the dust was wiped away, I put a coat of Wood Conditioner on the butcher block according to the instructions on the can. I used Minwax, and found it at Home Depot.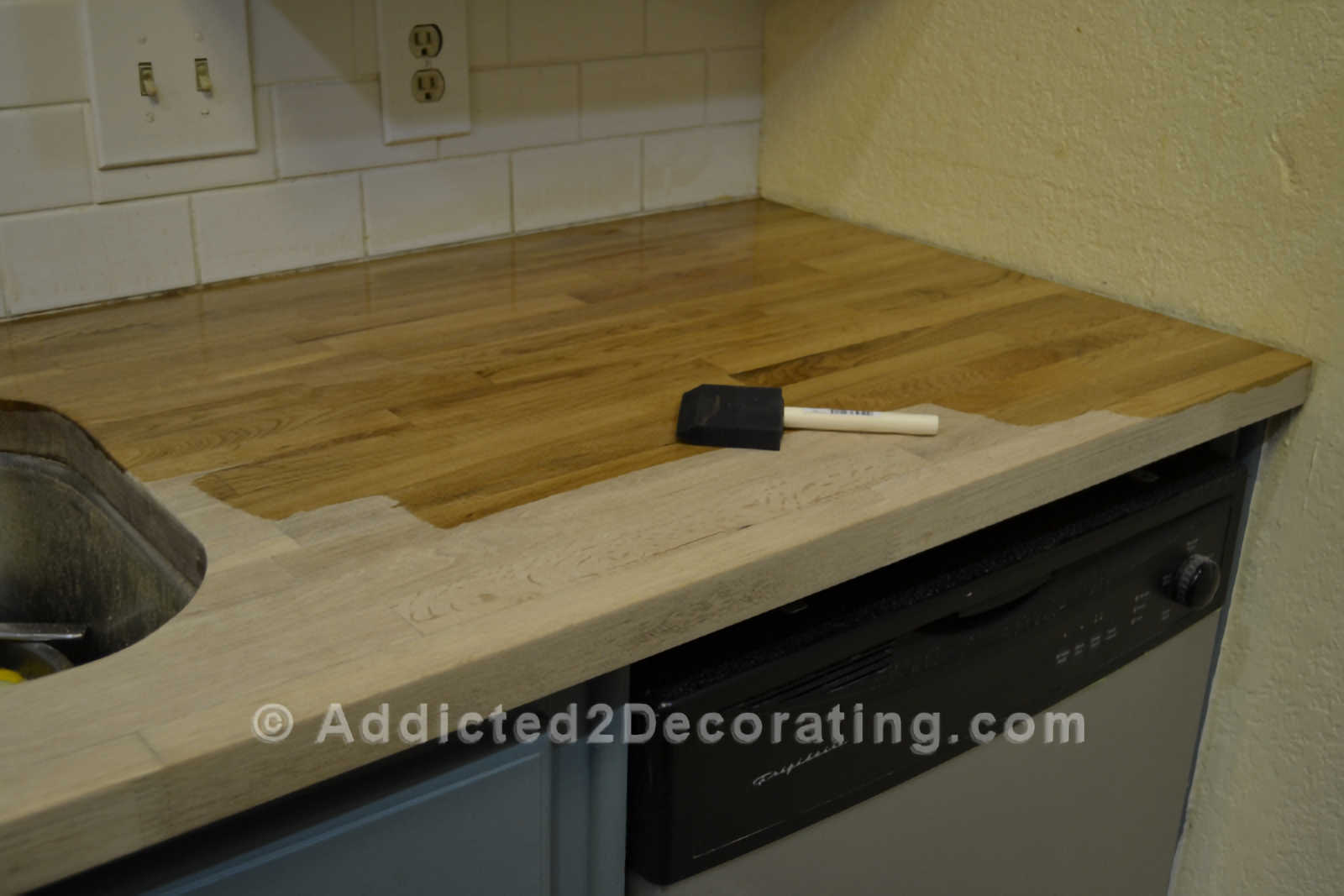 This was my first time to use wood conditioner, and I really did notice a difference. The stain seemed to go on much more evenly, and the grain blended in more with the rest of the wood when the stain was applied, which was definitely a welcome sight.
Next it was time for the stain. I used Rust-Oleum stain in Early American. It took five coats to get the rich, dark color that I wanted. I just made sure that each coat was completely dry before adding another one.
When the stain was completely dry, I was ready to seal the wood.
This is the decision that I really struggled with the most…how to seal the butcher block countertops. The first time I finished the countertops, I was very concerned about using a product that is food safe. That's why I went with Waterlox…it's food safe after it fully cures.
But after two tries with Waterlox, and after living with my countertops for 2.5 years, I realized that food safety really isn't a concern for me. I simply do not ever put food on my countertops. I use cutting boards, or plates, but I don't ever place food directly on the surface of my countertops.
So this time around, food safety wasn't an issue for me. I decided that I wanted durability first and foremost, and a close second was that I wanted something that would not turn yellow.
I narrowed down my options to Rust-Oleum spar varnish and Rust-Oleum polyurethane in a matte finish.
Both of these products are water-based. Water-based products definitely have their advantages, lack of noxious smell and quick drying times being two of the big ones. Another advantage…they don't yellow over time. SOLD!
I was leaning towards spar varnish. I figured if it was tough enough to be used on things that sit outside in the weather, then it was tough enough for my kitchen countertops. But after a quick call to the Rust-Oleum customer service number, I realized that I was about to make the wrong decision. I honestly can't remember all of the details, but the man explained to me why the spar varnish shouldn't be used indoors. I wish I could remember, but suffice it to say that he made a very convincing argument.
I went with the Rust-Oleum polyurethane in the matte finish.
Water-based polyurethane is really quite different from oil-based polyurethane. It looks streakier when it's applied, and also appears milky white. It always makes me a bit nervous in the beginning.
But somehow, it always dries without streaks, and completely clear. And let me tell you, that matte finish is simply gorgeous. I don't think I can capture it completely with a picture, but in person, I just want to stare at it. It's just beautiful.
The directions on the can said that sanding in between coats wasn't necessary. However, I did notice that after the first two coats, it seemed a bit rough in places. So instead of taking a chance in messing up my newly stained and sealed countertops with sandpaper, I decided to use brown paper (like the brown shipping paper or a brown paper bag) to sand the surface.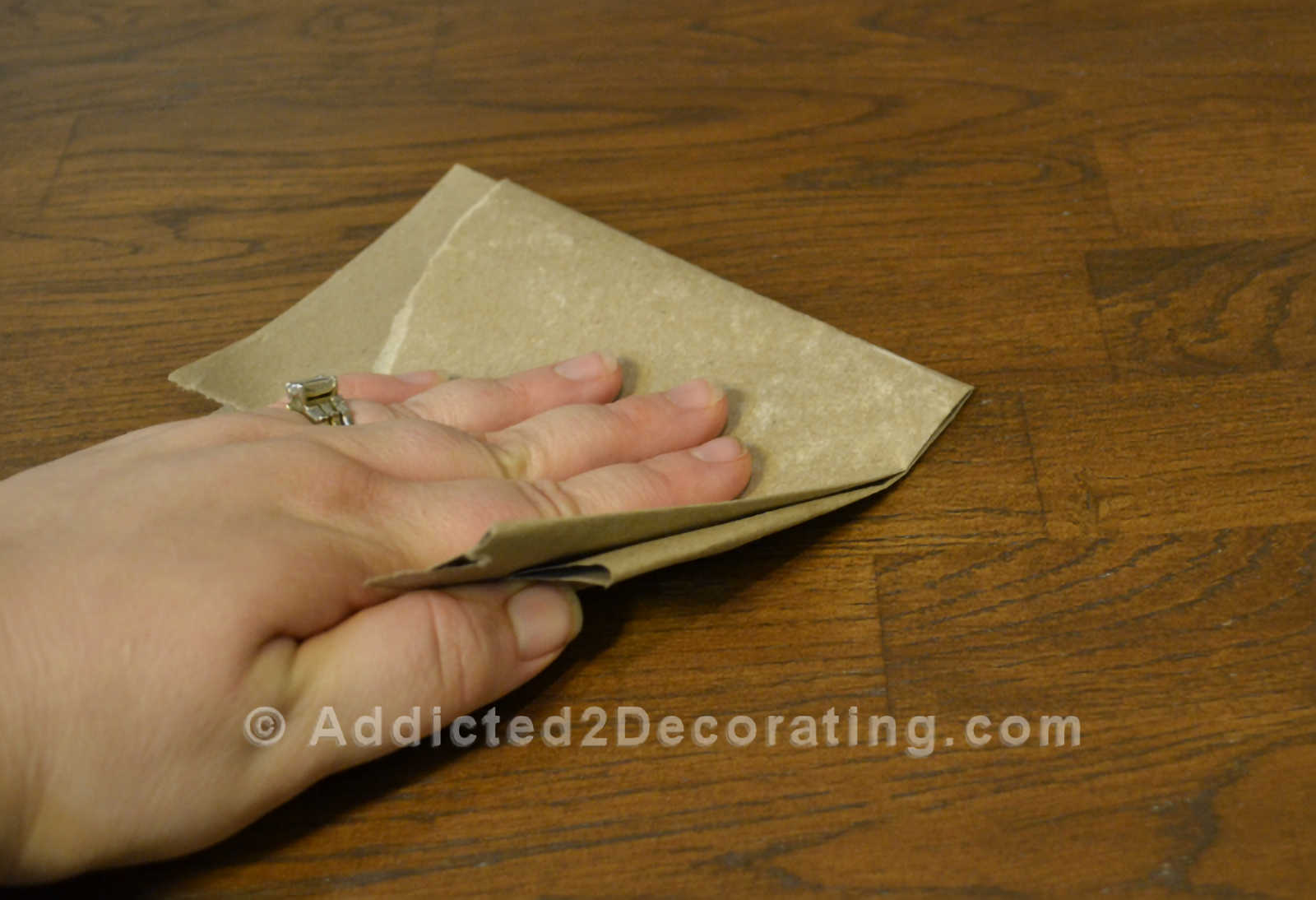 It worked amazingly well, and gave the countertop a very smooth finish. After "sanding", I wiped away all of the dust, and then gave them two more coats of polyurethane. The finished countertops look just like I hoped they would look…dark, rich, not glossy at all, and not yellow.
And this time, I'm going to do my best to be sure they stay looking beautiful!
Now I know that making a decision on how to stain and seal butcher block countertops can be quite stressful. I remember before I purchased mine, I spent hours and hours doing research online, trying to figure out what products were the best, which ones were food safe, which stains could be used, etc. With all that research, plus refinishing my own butcher block countertops three times now, I've definitely learned a few things over the years. All that to say this…if you have any questions about it, please feel free to ask. If I know the answer, I'll gladly share it!
UPDATE:
This finish was pretty, but I found it very high maintenance. Plus, I do NOT recommend using water-based polyurethane on butcher block countertops, especially if your butcher block is on your main countertops where your sink is located. When water sits on water-based polyurethane, even for just a minute or two, it turns back to that milky white color. It does turn clear again when it's dry, but it's just a very frustrating thing to deal with on kitchen countertops.
And quite honestly, after three attempts, I also don't recommend staining butcher block countertops that will be used in a kitchen. I suggest purchasing countertops made out of a wood that has a natural color you like, and then use my fourth (absolute best and easiest) method for sealing the countertops.
Click here to see how I sealed my Ikea Numerar butcherblock countertops for the fourth and final time. I wish I had used this method from the very beginning!!
Want to see other posts about this kitchen?
Click here if you'd like to see all posts about this kitchen remodel, including the final pictures of the finished kitchen.
Addicted 2 Decorating is where I share my DIY and decorating journey as I remodel and decorate the 1948 fixer upper that my husband, Matt, and I bought in 2013. Matt has M.S. and is unable to do physical work, so I do the majority of the work on the house by myself. You can learn more about me here.
I hope you'll join me on my DIY and decorating journey! If you want to follow my projects and progress, you can subscribe below and have each new post delivered to your email inbox. That way you'll never miss a thing!