My Kitchen Remodel – Sources, Cost Breakdown, and the Grand Total!
Well, hello there, strangers! Happy 2015 to you all!
I'm so excited about this year, and my new plans and goals for my house during the next year, but I thought I'd kick things off by wrapping up some unfinished business from last year. Remember when I shared my finished kitchen with y'all? And remember how I ended that post by saying that I'd share the costs and sources for the kitchen very soon?
Well, it only took me two months and twenty-one days, but here's the info! I was so curious to finally figure out how much I spent on this kitchen, because I really didn't keep track of it as I was working on it. I just knew what I wanted, I knew what I needed, and I tried to do things as inexpensively as possible.
I was hoping I could get it all done for under $10,000, including the cost of new appliances. What do you think? Did I make my goal?
If you'll remember, this was a complete down-to-the-studs remodel. The original kitchen was looking very old and dated, with awkwardly arranged cabinets and appliances that made for a very inefficient work space.  The sink was originally located on this wall, with a window that looked into the sunroom.
So I removed those cabinets…
Then after all new wiring and drywall, I installed stock oak cabinets from Home Depot.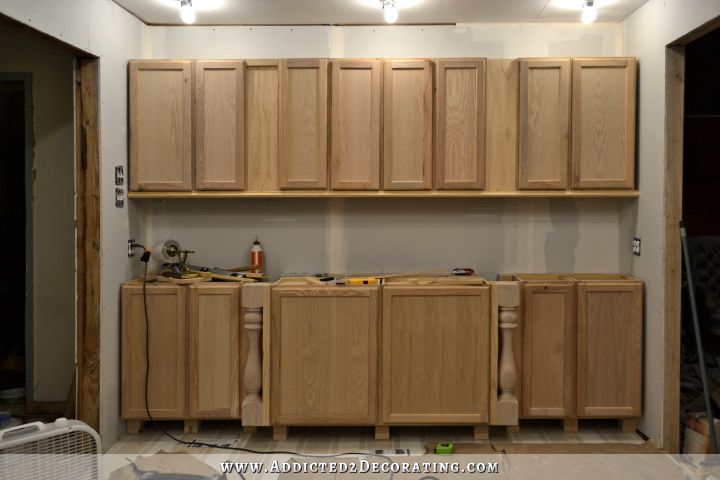 I dressed them up with some decorative columns, furniture feet, lots of trim and crown moulding, glass inserts in four of the doors, paint, gold leaf, pretty hardware, corbels, and sconces.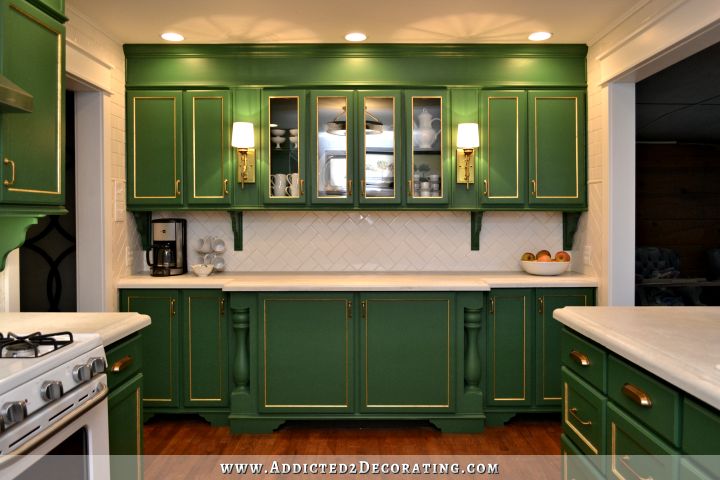 The wall opposite that one originally had upper and lower cabinets.
All of those cabinets came out, and I just tiled the whole wall.
The refrigerator was originally on this wall, along with a portable dishwasher and a single metal wall cabinet.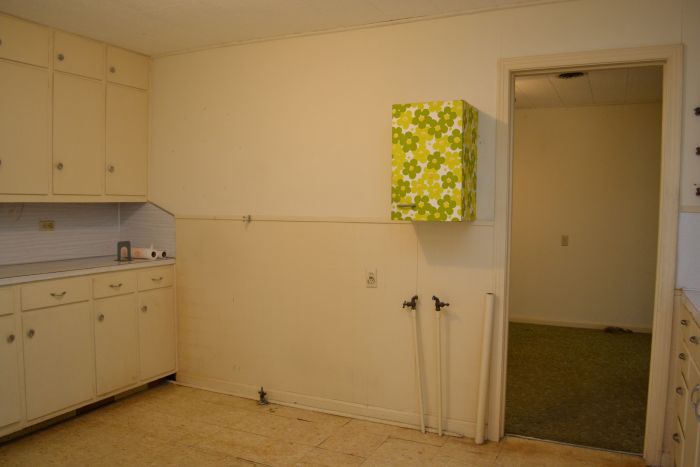 After removing all of the old drywall, adding the new wiring, and installing new drywall, I installed new cabinets on this wall.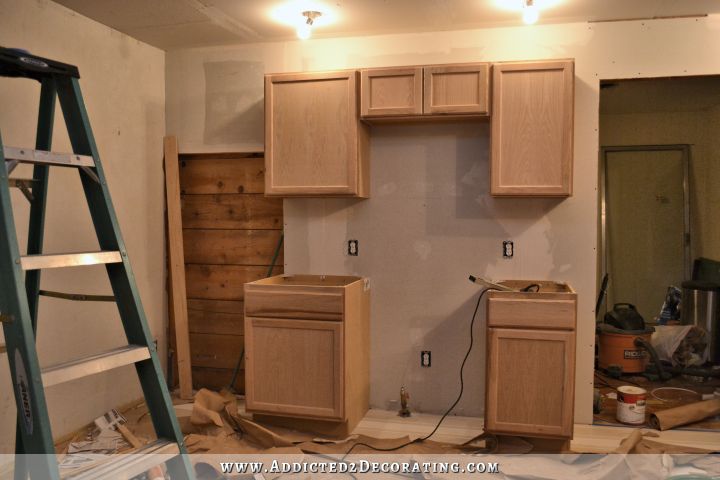 I built a refrigerator enclosure, and then added furniture feet, trim and moulding, paint, gold leaf, corbels, and hardware.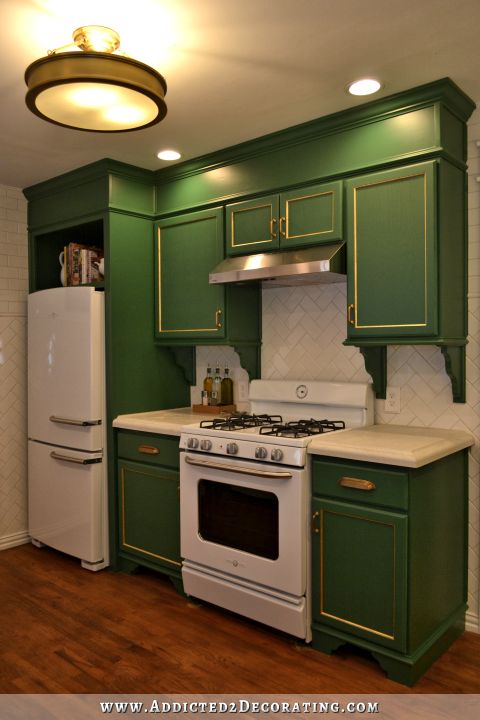 The biggest change was along this wall between the kitchen and the dining room.  There was originally a wall between the two rooms, making the kitchen feel very small and cramped.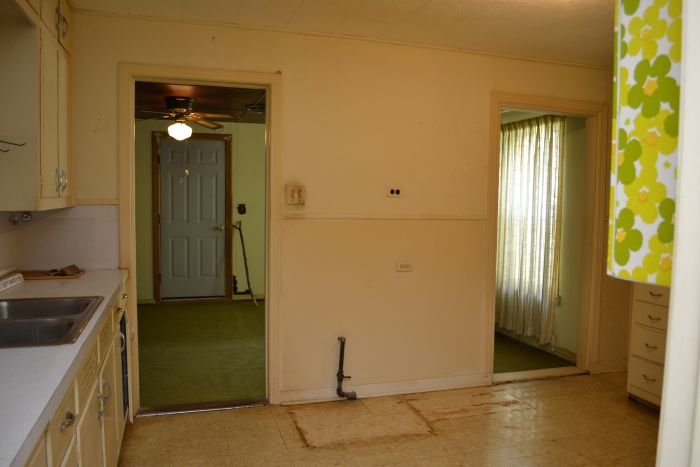 So with the help of my brother, I removed the wall and installed a header.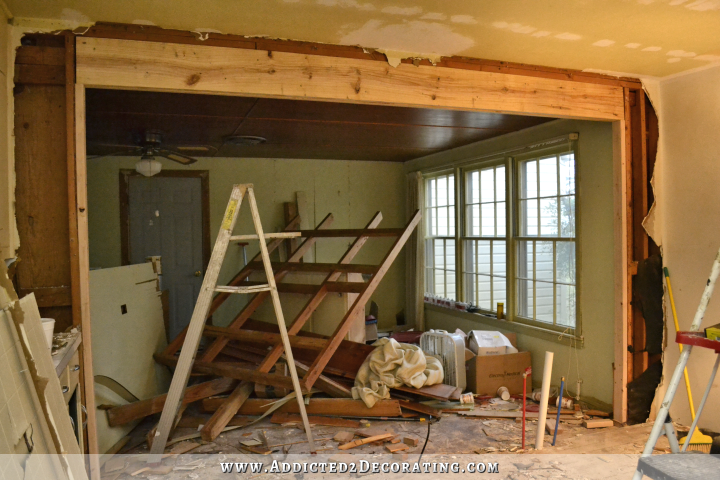 Then I added more cabinets in that spot to form a peninsula…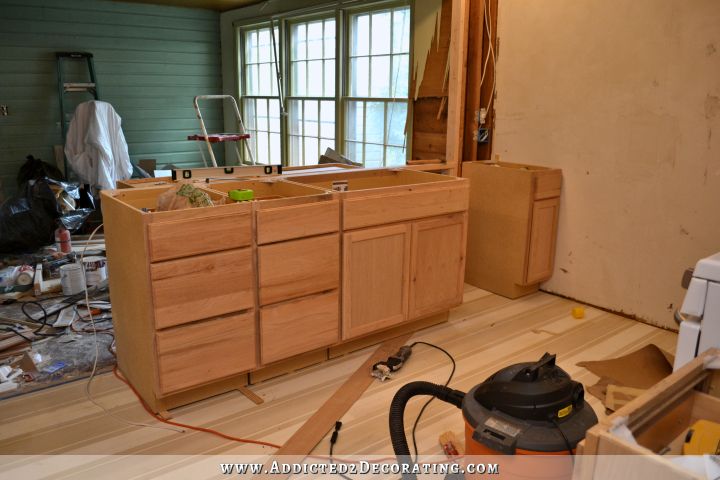 This is where I relocated my sink, and also added a dishwasher.  And again, I added all of the finishing touches to turn these stock cabinets into custom-looking cabinets.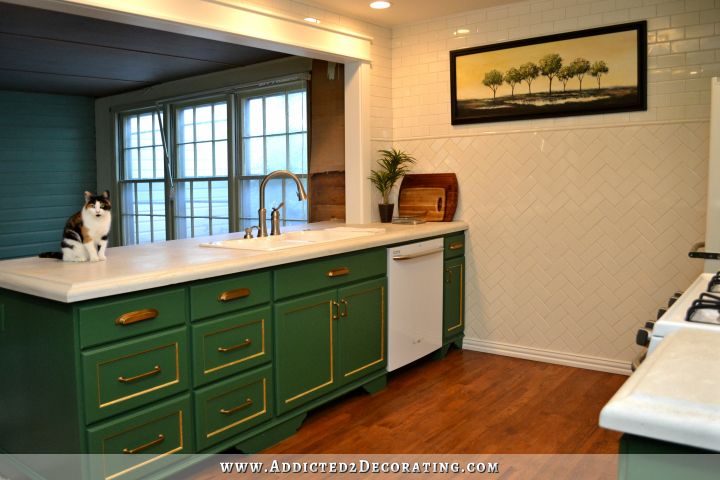 Of course, before all of the cabinet fun began, I removed all of the old flooring…
…and installed new hardwood flooring.
And then there were the countertops.  They're concrete, and they're amazingly durable and practically indestructible.  After I installed all of the concrete board and edge forms…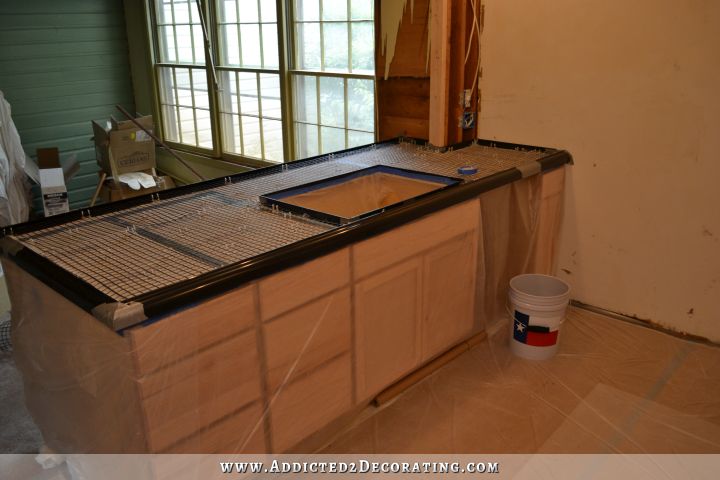 …my brother came over and helped me mix and pour the concrete.
Of course, that's the very condensed version of this remodel that took me seven months to finish.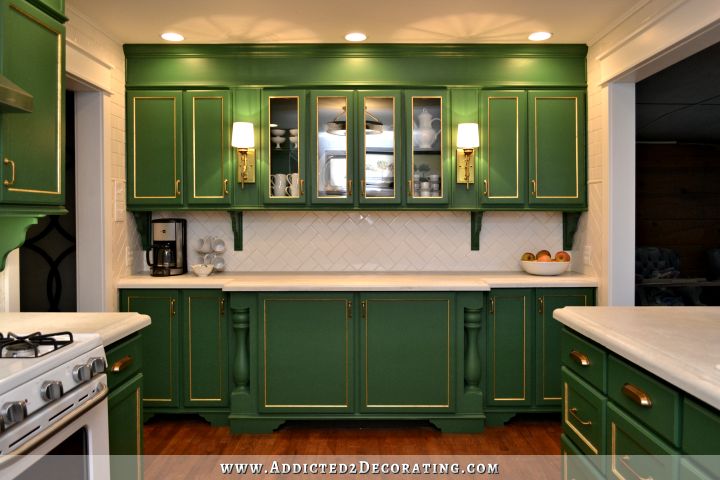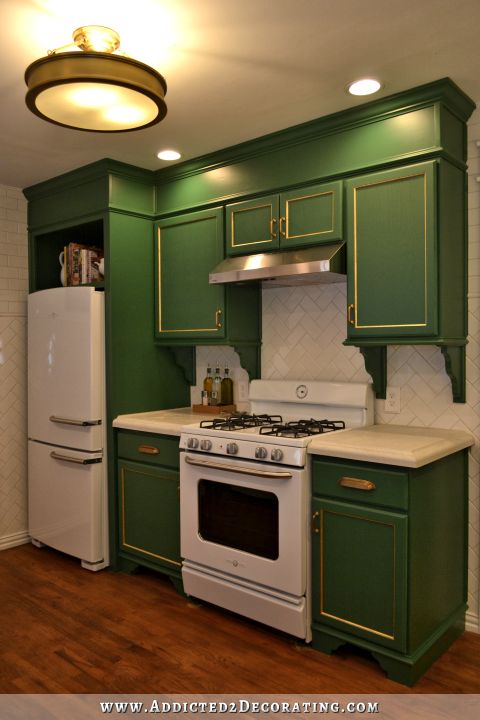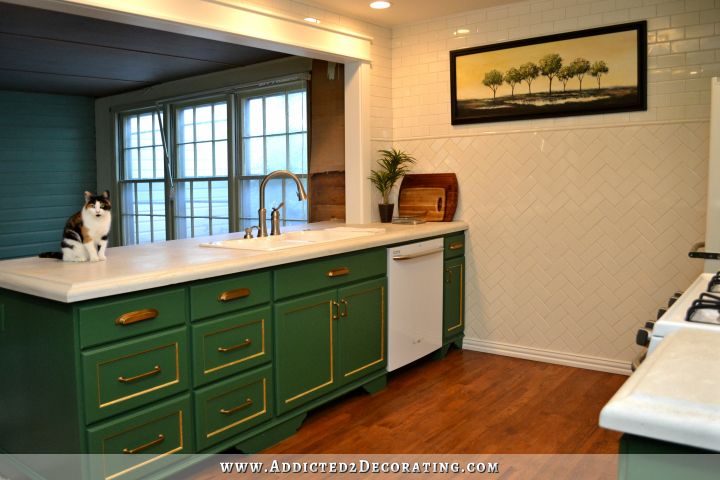 So how much did all of this cost?  And more importantly, did I meet my goal of remodeling my entire kitchen for under $10,000?
Yes!  I came in just under that goal!  Here's the cost breakdown, as well as the sources, for this remodel.  I tried to include all costs, including tax and shipping costs where applicable.
Appliances:
GE Artistry Refrigerator:  $1,285 from Home Depot
GE Artistry Gas Range: $565 from Home Depot
GE Artistry Dishwasher: $529 from Home Depot
Broan vent hood: $169 from Amazon
Garbage disposal and countertop switch:  $157 from Home Depot
Appliances TOTAL:  $2,705
Lighting & Electrical:
Main semi-flush mount ceiling light:  $240 from Shades of Light
Sconces:  $257.50 from Shades of Light (no longer available)
Recessed lights and trim kits:  $294.50 from Home Depot
In-cabinet lighting:  $40 from Home Depot
Undercabinet lighting (LED tape lights):  $150 from Home Depot
Other electrical (wiring, outlets, switches, etc.):  $150
Lighting & Electrical TOTAL:  $1,132
Plumbing:
Parts and labor for moving water lines, gas lines, installation of faucet, dishwasher, garbage disposal, etc.:  $800 from Mark Terry Plumbing in Waco
Plumbing TOTAL:  $800
Cabinets
Flooring:
Unfinished red oak wood flooring:  $600 ($3.69/square foot) from Home Depot
Flooring TOTAL:  $600
Building Supplies:
Drywall, nails, screws, drywall tape, drywall mud, etc.:  $540
Building supplies TOTAL:  $540
Coatings and Supplies:
Cabinet paint, color Sherwin Williams Derbyshire, mixed in Benjamin Moore Advance:  $90
Polyurethane for cabinets, Rust-Oleum Matte polyurethane:  $26
Miscellaneous:  $75
Coatings & Supplies TOTAL:  $191
Tiled Walls:
Subway tile:  $250 from Home Depot
Non-sanded grout in the color Bone:  $30 from Home Depot
Thinset and supplies:  $125
Tiled Walls TOTAL:  $405
Countertops:
Finishing Details:
Trim and moulding:  $400
Gold leaf:  $45
Pitted cabinet hardware in brass:  $420 from Pottery Barn
Kohler Hartland sink:  $35 from Habitat For Humanity ReStore
Delta Lakeview faucet:  $236 from Home Depot
Finishing Details TOTAL:  $1,136
Grand total:  $9,941
I made my goal!  A complete down-to-the-studs (and the ceiling joists, and the subfloor) remodel of this kitchen for under $10,000, including new appliances!
That's not too bad, right?  I certainly don't think so!  And if I had hired out the remodel to contractors, I think it would have cost me about three times that amount…at least.  Of course, I would have gone over had I not received a few items free of charge — mainly all of the concrete and forms for my countertops.  (You can read about how much those would have cost me here.)
It was by far the hardest project I've taken on so far, but it was so worth it in the end.  I've cooked in this kitchen almost every single day since I finished.  I've thoroughly enjoyed cooking in there, and the new efficient layout makes it so easy to use.
Here are a few of the DIY projects that went into this remodel, just in case you missed them. Some of them made the cut, and others weren't so lucky, but they were all part of the process.
[categorythumbnaillist 565]
Addicted 2 Decorating is where I share my DIY and decorating journey as I remodel and decorate the 1948 fixer upper that my husband, Matt, and I bought in 2013. Matt has M.S. and is unable to do physical work, so I do the majority of the work on the house by myself. You can learn more about me here.