Last Updated on December 24, 2015 by Kristi Linauer
I am so excited about the progress I made this week on my music room. Last weekend, my music room looked like this…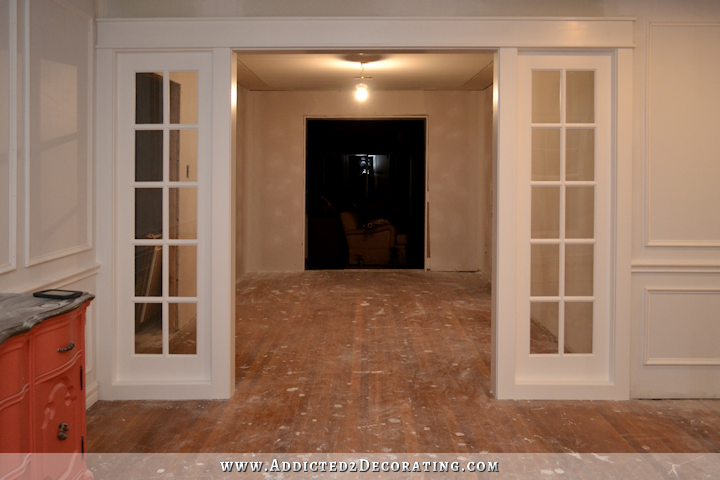 …and now it looks like this…
Not too bad for five days of work! 🙂 And I've been thoroughly enjoying actually doing the work, too. That's a nice feeling to have again after being so uninspired for several weeks.
At the rate I'm going now, I'm thinking I might actually have this room finished in a couple of weeks. Of course, I'm not talking about the decorating and accessorizing. I have two chairs I want to reupholster for this room, and I don't think I can get those done in two weeks. But I'm talking about the actual room — ceiling, bookcases, walls, trim, lighting, etc.
I am still trying to decide about my walls. I know that the upper part of the walls will be black, and the lower part will be white waincoting. When I first changed directions with my music room, and decided on black walls, I had pictured just solid black.
Traditional Bathroom
But when I mentioned my plan the other day, several of you remembered the stencil that I had purchased a while back for my breakfast room, and suggested that I use it in this room. The more I think about it, the more I like that idea.
The stencil that I purchased is from Sarah M. Dorsey Designs.
via Sarah M. Dorsey Designs
The design is very similar to Kelly Wearstler's Imperial Trellis, which has been a long-time favorite of mine. And if I did the design in black-on-black using matte and glossy paint, it would look something like this…
Traditional Hall by Brisbane Interior Designers & Decorators Highgate House
I love that subtle tone-on-tone look, and the stencil design, while not matching my door design completely, definitely complements the design. I think it could really be pretty — just enough pattern to be interesting, but not so much that it would overwhelm the room.
Interestingly, in all of my years of DIYing, I've never stenciled walls before, so the process has me a bit confused. If I do use the stencil, I should  stencil the walls before installing crown molding and chair rail, right? It seems like that would be much easier than stenciling after all of the trim has been installed. And I'm still baffled about how to get the stencil design in the corners of the room.  The stencil is made of a thick plastic and doesn't bend very easily. Is there some trick to stenciling corners?
Anyway, I'm not sure if I'll use the stencil or not. What do you think? Will it be too much, or just what the room needs?
Addicted 2 Decorating is where I share my DIY and decorating journey as I remodel and decorate the 1948 fixer upper that my husband, Matt, and I bought in 2013. Matt has M.S. and is unable to do physical work, so I do the majority of the work on the house by myself. You can learn more about me here.
I hope you'll join me on my DIY and decorating journey! If you want to follow my projects and progress, you can subscribe below and have each new post delivered to your email inbox. That way you'll never miss a thing!