Another Piano, Another Color Decision
I spent most of my weekend working on taxes, which is never fun and always stressful for me. So the last thing I wanted to do after finishing that was to turn my attention back to my very frustrating hallway cabinet project (which I'm having to make adjustments to — more on that here if you missed it). Instead I wanted to work on an easier project for a while, like refinishing my spinet piano. Remember that piano?
It's the one my mom learned to play on when she was a young girl. You can read more about it here, and see it inside their 8-foot-wide trailer where they lived. That piano is a few decades old and has spent the last several years in storage, so the finish needs a lot of work.
So I headed to Home Depot and got all of the supplies — stripper, chip brushes, gloves, after wash, etc. Then I took about an hour to take the piano apart before I was actually ready to strip a piece.
After stripping, cleaning, and sanding the very first piece, I realized that refinishing the piano might be a bit more challenging than I had hoped. The lid had a pretty veneer over the top, but the routed edges were clearly a different wood.
I had that same issue with the other piano I refinished. Here's how that one turned out…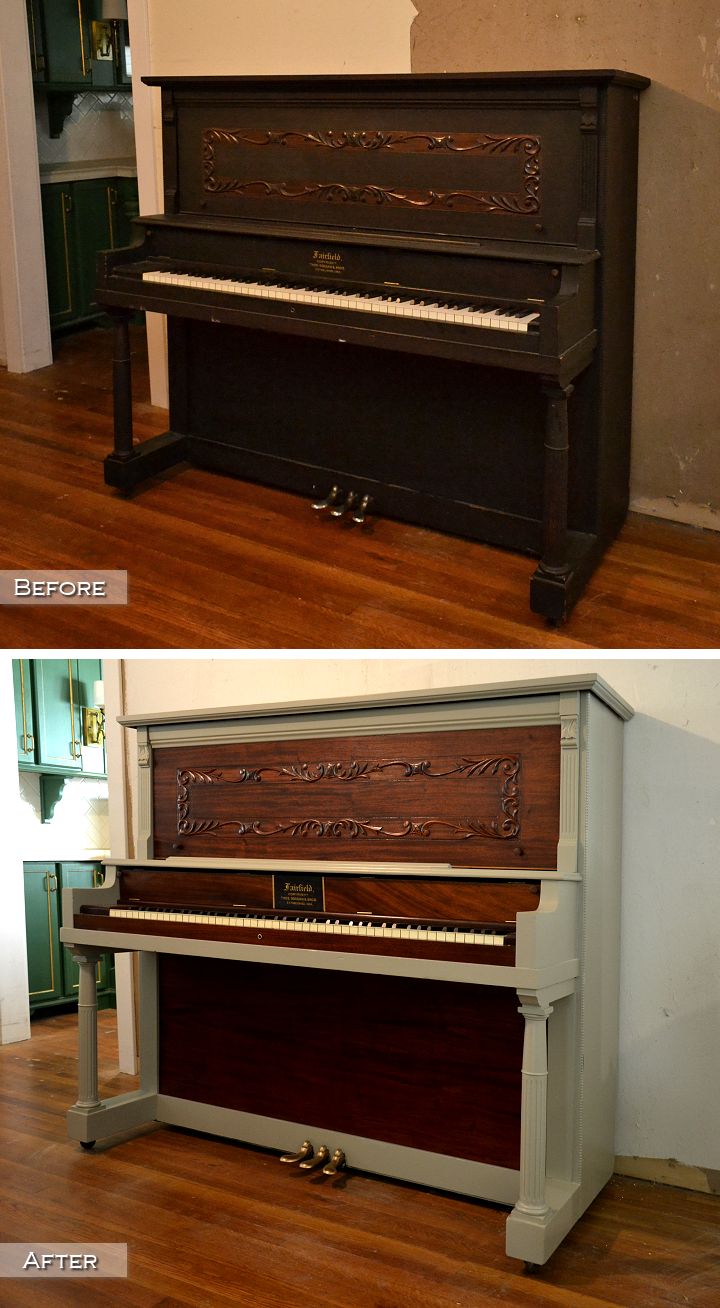 You can see more of that piano here.
The parts that I refinished turned out beautifully. But the reason I ended up painting some of the piano is because there were parts on that piano that were also different woods. The only way to get those different woods looking the same is to apply a thick finish that basically covers up all of the wood grain. And if I'm going to go to the trouble of refinishing, I'd like the grain to show.
My mom has been opposed to me painting the spinet, but after telling her about the issue with the different woods, she said I could go ahead and paint it as long as it's not some crazy color like orange or yellow. She'd rather I keep it classy.
I have no problem with that. I'm kind of over my bold warm color phase. (That's sooooo 2016! 😀 ).
I'm not really sure what I want to do. I've had my heart set on refinishing this little piano for so long now, and I'm afraid that if I don't see it through, I'll be really disappointed in myself. But on the other hand, I don't want to spend days stripping this piano just to find that it's not really worth refinishing and I should have just taken a day and painted it.
So I have a few options.
(1) I could press on with the stripping and just hope for the best. If there's quite a bit of the light colored wood, I could find a stain to make it look as close to the veneer as possible.
(2) I could strip the whole thing, and then do another combo paint and stain like I did on the upright piano.
(3) I could save a lot of time and just go ahead and paint the whole thing.
If I go with option 3, the trick will be coming up with a classy color that complements the other colors in my house and is mom-approved. She tends towards neutrals, while of course, I love color.
She approves of gray, which I think looks very pretty on this piano…
via Pinterest
But y'all know my track record with grays. In the light-to-medium gray category, I've really only ever found one gray that I like in my house, and I already have it on my breakfast room walls, my living room walls, and as one of the colors on my stenciled music room walls. I don't want it on a piano as well. I also like the really dark gray (Benjamin Moore Kendall Charcoal) that I have on my fireplace, but I don't think that color will do much for my piano.
Of course, my default is blues or teals. The piano will be right next to the kitchen with teal cabinets, right next to the entryway with teal grasscloth, and next to the hallway with dark-ish blue doors (although they're really not so dark during the day). So if I do a really dark blue or teal, then it won't all match. A blue that's a few shades darker than my hallway doors might work.
via Pinterest
And another mom-approved non-neutral color is a dark eggplant color. When I suggested it, I remembered that the 2017 Benjamin Moore color of the year is a dark eggplant called Shadow.
I did actually try a couple of lighter purple/gray paint colors that I had on hand, but they looked awful with the stenciled walls.
Those walls may be neutral, but the pattern is quite bold. So putting a large light colored piano next to it would make the piano seem a bit overpowered and the wall look top heavy. I really need a darker color to ground the piano and give it some weight against the bold patterned wall.
And then, because I do still love it and don't have any in my house yet, I tried a green that I had on hand. This is actually a very different green from what I had on my kitchen cabinets before the teal.
I'm not even sure if green is mom-approved, but if I did go with green, I'd use one that's darker and richer than the one I tested above.
So those are the options I'm considering. Part of me really wants to just paint it. It'll be much easier and faster, and then I can check this project off of my to-do list for 2017, and move on. And I've tried to convince myself that I could paint it now, and then come back later (after my house is much more finished and I don't have so many projects pending) if I really want to and strip it and refinish it. Adding one more layer of paint isn't going to make the stripping process any harder.
I think I've actually just convinced myself to paint it. And as of this minute, I'm leaning towards the eggplant color, but I'm still open to other ideas. I just need to keep it classy. 🙂 What do you think?
Addicted 2 Decorating is where I share my DIY and decorating journey as I remodel and decorate the 1948 fixer upper that my husband, Matt, and I bought in 2013. Matt has M.S. and is unable to do physical work, so I do the majority of the work on the house by myself. You can learn more about me here.