Last Updated on May 24, 2021 by Kristi Linauer
My father-in-law left on Friday, so it's back to reality for me — that reality in which I work by myself on my projects and figure out answers to problems all on my own. I can already tell that I'm going to have a very hard time getting back into the swing of things around here.
The progress that was made during his stay was very significant. Ever since Matt and I moved into this house at the end of 2013, I've felt like I was kind of spinning my wheels on some things because the fact is that I couldn't really get rooms finished until two things happened — the polystyrene tiles and 1 x 4's were removed and the ceilings were redrywalled, and the electrical was updated.
For example, in the front room (which I originally used as a living room, but now plan to use as a dining room) and the entryway, I tried to make those rooms presentable, but there was no way I could hide those ugly ceiling tiles. And the oddly placed junction box in the ceiling for the light was centered in the whole area rather than being centered over a seating area. So to remedy that, I had to swag the light to get it in the right place, which just looked makeshift.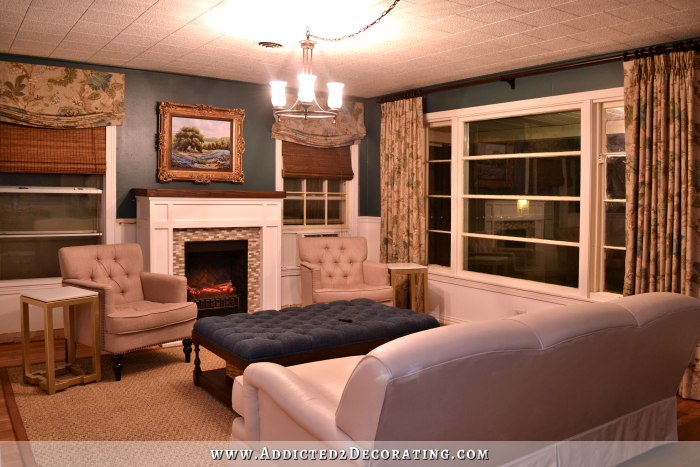 It was still a big improvement over the original state of this room…
…but it was impossible to make the room feel completely updated as long as I had ceiling tiles and a swagged chandelier. Those ceilings also held up other projects, like adding crown moulding, and the overmantel I've had planned for the fireplace from the beginning. Any kind of "improvements" I did in here in the last year-and-a-half, other than removing the carpet and refinishing the floors, just felt like lipstick on a pig, but nothing felt like it could be permanent.
What's funny is that the room actually looks quite a bit worse now than it did when I had it decorated as a living room, but now it holds so much more possibility.
I don't have any more ceiling tiles to contend with, and the lights and junction boxes are in the correct places now. Once my walls and ceilings are taped and mudded, I can actually add crown moulding, hang my dining room chandelier, build the overmantel on the fireplace, and get this room pretty darn close to finished. The only other really significant project that remains in here is replacing the windows, but that's a big cost and will probably have to wait until next year. Any large chunks of money right now are being put away for our HVAC system.
Speaking of my walls, I know you're probably wondering why they look so torn up in places. I really don't know exactly what process was used on these walls, but every drywalled wall in my house seems to be completely covered with a thick paper (about the thickness of two sheets of poster board) which was textured and then painted. It probably has about ten coats of paint on it from the past six decades.
But if you'll remember from when I tried to paint my bedroom, the walls are very textured with a random (read: ugly) texture that I wanted to skim coat.
But what I've found is that this thick paper layer, along with the texture and decades of paint layers, peels off quickly and easily, and still leaves behind a paper layer over the drywall.
The paper layer underneath looks kind of rough initially, but I tried on an area to sand it lightly, and it smooths everything out quite nicely. So the plan is to remove this thick textured paper from all of the drywall, lightly sand to remove the damaged paper layer left behind, and then skim coat the walls.
Matt keeps insisting that tearing all of this out and just redrywalling all of the walls would be easier, but I disagree. And since I'm the one doing the work, I won on this one. 🙂 Plus, keeping this and working with it is better for the environment, so the less I can take to the landfill, the better I feel about it.
Anyway, I now have four areas that have new drywall and electrical, and are ready for me to design and decorate for good. No more putting lipstick on a pig in those areas. So in addition to the dining room, I can also work on the entryway (which is pretty much the same room as the dining room)…
…and of course, the music room.
I do still have some pretty significant projects to tackle before I can really get to the pretty stuff, though. In the music room, I want to move and enlarge the cased opening into the hallway. Thankfully, that's not a load-bearing wall, but it's still a pretty big project.
And in the hallway, I'm not quite sure what I'll end up needing to do on the walls. Right now, I have one wall with new drywall, one wall where the old drywall and shiplap have been partially removed, and two walls that still have the old drywall and shiplap.
But the hallway does have new drywall on the ceiling, and updated electrical (and I moved the bathroom light into the hallway, but haven't fully assembled it yet). Those were the big hurdles, so the wall situation seems pretty easy to handle. If they require new drywall, at least I know that's something I can do by myself. Right now, I really don't see a need to remove/replace the old drywall and shiplap on the two remaining walls. Hopefully I'll be able to leave those intact and work with them.
Anyway, I really can't tell you how freed up I feel about my house now. We didn't get all of the drywalling done that I wanted to do, but I have more than enough to keep me busy for quite a while.
Addicted 2 Decorating is where I share my DIY and decorating journey as I remodel and decorate the 1948 fixer upper that my husband, Matt, and I bought in 2013. Matt has M.S. and is unable to do physical work, so I do the majority of the work on the house by myself. You can learn more about me here.
I hope you'll join me on my DIY and decorating journey! If you want to follow my projects and progress, you can subscribe below and have each new post delivered to your email inbox. That way you'll never miss a thing!