Last Updated on December 24, 2015 by Kristi Linauer
We're barely into January, and I've already changed my mind on one of my pretty big design plans.  So as far as mind-changing, it looks like this year will be no different from any other.  🙂
Remember how I was planning on building a cased opening between the entryway/living room and the music room, and then adding a second set of rolling doors (identical to the ones in the music room) to that cased opening?
Well, I've changed my mind.  After working in the music room for a few days, I decided that the last thing I want is to make that room feel too closed off and dark.  And I'm afraid that adding solid walls that jut out about 30 inches in each side, and then adding black rolling doors, will make it too isolated and dark.
Plus, I really do think that having two sets of identical rolling doors will make my doors seem less unique.  Right now with just the one set, they look kind of special, like I found a real treasure at some architectural salvage yard.  If I have two sets, I think I might lose that.
But I still want definition between the two room.  So how do I accomplish that without making the music room feel too blocked off?
I found my answer in an episode of Rehab Addict at the Lebron James project.  Pony walls with columns!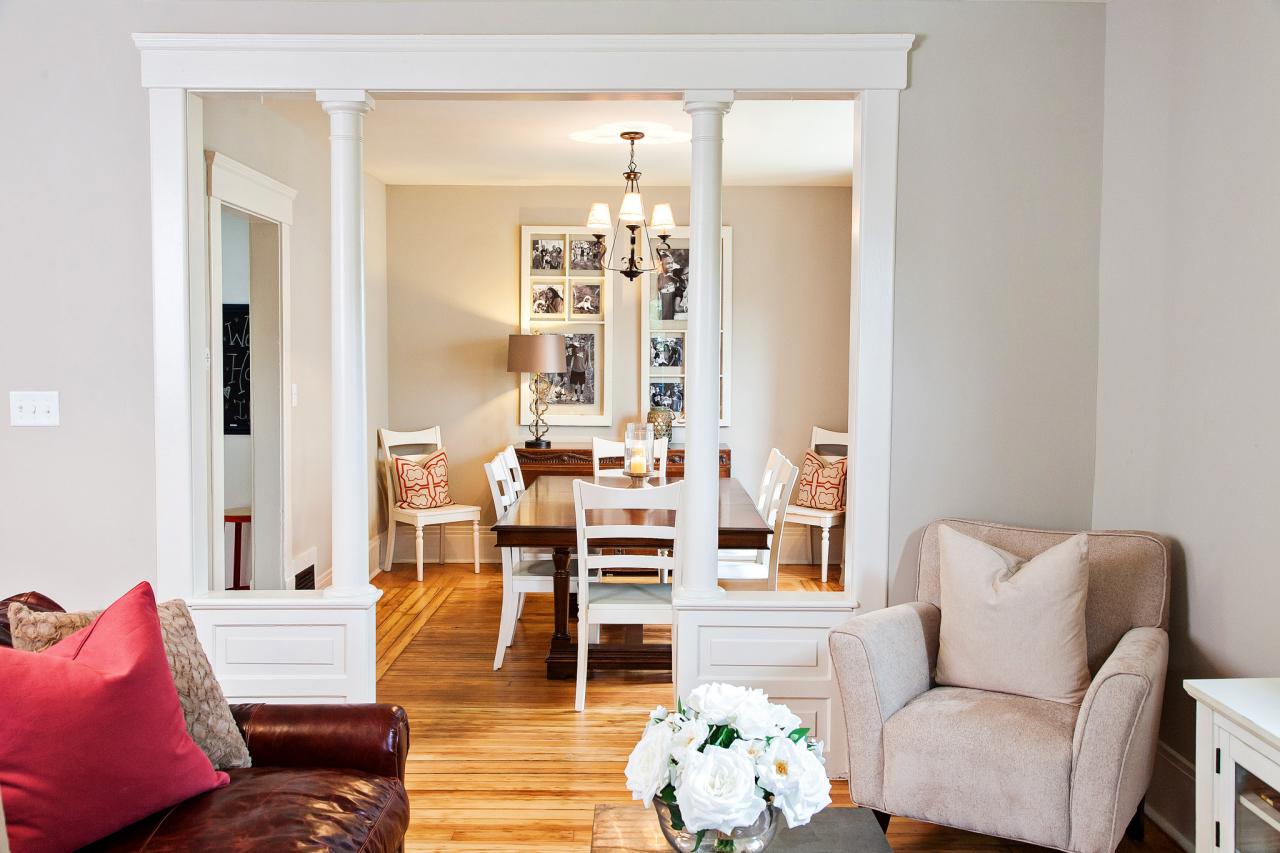 I love how that gives definition between the two rooms, while keeping everything open and bright.  Nothing feels closed off or isolated.  And I can just imagine walking through my front door, seeing the pony walls with columns straight ahead, and then the rolling doors in the distance.  The pony walls and columns will kind of "frame" the rolling doors, and I think it'll make them look way more special than if I had two identical sets of rolling doors.
So, of course, I went in search of inspiration.  I think I prefer the ones with square columns, like the one below, over the ones with round columns.
Eclectic Dining Room by Chicago Kitchen & Bath Designers Rebekah Zaveloff | KitchenLab
And I also prefer the pony walls to be shorter so that it feels more open.  I think taller pony walls like the ones below would kind of defeat the purpose in my house.
Craftsman Dining Room by Seattle Home Builders Ventana Construction LLC
And of course, my house is not craftsman style, nor do I want it to be, so I won't be adding any craftsman style columns to my pony walls.
This kind of gives me an idea of what mine will look like. But of course, instead of my pony walls and columns "framing" a fireplace, mine will "frame" my rolling doors. I think it'll look amazing!  Just imagine shorter walls and thinner columns.
Craftsman Living Room by Alexandria Architects & Building Designers Moore Architects, PC
Can you picture it?  I'm so excited about this plan!
I feel like I've been in a holding pattern on my living room for quite some time.  So much depends on me getting this wall built between these rooms.  Without it, I can't put up grasscloth or wainscoting in the living room and entryway.  I can't finish my wall treatment in the music room.
This wall definitely needs to be a priority since so many other things are riding on it.  Now that I have a definite plan, and one that I love, I'm full steam ahead.  This will be a good project to do to get my mind off of my drywall situation.  And fortunately, this wall will have pretty much no effect on the drywall situation, so I can go ahead and do it first with causing more of a drywall headache for myself.
I love starting a new big project, especially one I've been talking about and planning for quite some time now.  I've never done anything like this before, so I hope I can figure it out!
Addicted 2 Decorating is where I share my DIY and decorating journey as I remodel and decorate the 1948 fixer upper that my husband, Matt, and I bought in 2013. Matt has M.S. and is unable to do physical work, so I do the majority of the work on the house by myself. You can learn more about me here.
I hope you'll join me on my DIY and decorating journey! If you want to follow my projects and progress, you can subscribe below and have each new post delivered to your email inbox. That way you'll never miss a thing!