Music Room Walls – Trellis Or Zebra? (You Decide, I Paint)
I've been doing better with keeping forward momentum this year, but I do still get bogged down with indecision on occasion. One of those occasions occurred yesterday.
I finally painted over the black walls in the music room. Now they're bright white (Behr Polar Bear)…
…and they're ready and waiting for whatever pattern I choose to put on them. And that pattern will be done in Polar Bear and the same Classic Gray that I've now used in the living room and breakfast room, so it'll be pretty subtle.
I was planning on doing the zebra print, inspired by Thibault's Etosha wallpaper…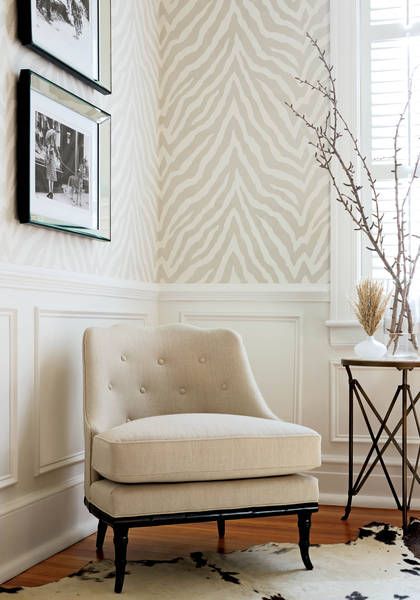 But as I was looking for the pattern that I made several months ago with that design, I also came across the trellis stencil that I purchased a long time ago, which looks like this…
via Sarah M. Dorsey Designs
I love that trellis design, and I've considered it for several projects in the past (breakfast room walls, curtains, etc.), but have still never used it. I'd love to find a place for it, so I can't help but wonder if the music room is the right place for it. And again, whichever design I go with, it will be subtle and painted in Polar Bear and Classic Gray. There won't be any crazy, bright, bold patterns painted on my music room walls.
So I did a couple of (very bad) photo edits to see which design I liked better. Of course, I can't get the colors just right, and neither of these patterns is actually to scale (especially that zebra pattern, which is smaller than this mock up), but we can all use our imaginations.
Ugh. I have no idea. I like both of them.
So which would you choose? Trellis or zebra? I'll go with the consensus on this one because I want these walls done by the end of the weekend.
On another note, I did try out the two options that I already had on hand for the entryway — the console table that I made and the credenza that I refinished. You can check out my Instagram account to see those options, and to see what I ended up choosing for the entryway. (Click here to find me on Instagram.)
Addicted 2 Decorating is where I share my DIY and decorating journey as I remodel and decorate the 1948 fixer upper that my husband, Matt, and I bought in 2013. Matt has M.S. and is unable to do physical work, so I do the majority of the work on the house by myself. You can learn more about me here.