My Big Idea For The Music Room
Last Friday, I shared with you that I had a big idea for my music room, and in order to prepare for this big idea, it required that I reinstall my doors on actual barn door hardware rather than having them roll on the floor.
Before I could get started on this big idea, I also needed to paint the hardware black, so I sprayed it with a matte black finish. I didn't get a good picture of it, but I can tell you that this hardware looks amazing painted in a matte black finish. So if you're wanting cheap barn door hardware, but the shiny silver color put you off, rest assured that you can paint it and it will look great. (You can see here what it would look like painted black.)
So now I'll tell you what my big idea is. And since I hear from many of you that you like not only to see my projects, but to hear my thought processes behind the decisions I make, I'll also share how all of this came about.
First, I'm no longer planning on using the hand drawn "wallpaper" in this room. I love that wallpaper, but I was obviously having some doubts about how it would look with everything else (obvious because I was having such a hard time deciding how to use it — full wall? wainscoting? white wainscoting? black wainscoting?). I just couldn't seem to get a plan to work in my mind. And then several of you who commented said that you didn't think the wallpaper was right for that room. I was having doubts, but I was still planning on pushing through, until…
I got an email from my mom. 😀 In her email, she stated all of the reasons she thought that the wallpaper was wrong for the music room and gave some other options that she thought would work much better.
Now here's the deal. My mom and I don't always agree when it comes to decorating. She and I have very different taste, and sometimes I just need her to trust my vision when I'm absolutely sure about something that she's not quite so sure about. But when it comes to something that I'm already having a twinge of doubt about, then I'm more easily swayed by her opinion. The fact is that while we have very different decorating taste, she knows me better than anyone (other than Matt, that is), she's been in my house, and she has a great artistic eye.
So with those earlier comments from other commenters on my blog, plus my mom's email, plus my own twinge of doubt, I decided to switch gears rather than push through with hours upon hours of tediously hand drawing that wallpaper only to be disappointed with the result. I'm kind of sad about it because I really love that wallpaper, and I even bought an overhead projector on Ebay to use to transfer the design to my walls. I'm hoping to find another place to use that design. My office, perhaps? We'll see.
Anyway, my mom mentioned a couple of other options. First, she mentioned black and white stripes over white wainscoting. She prefers vertical stripes, but I prefer horizontal.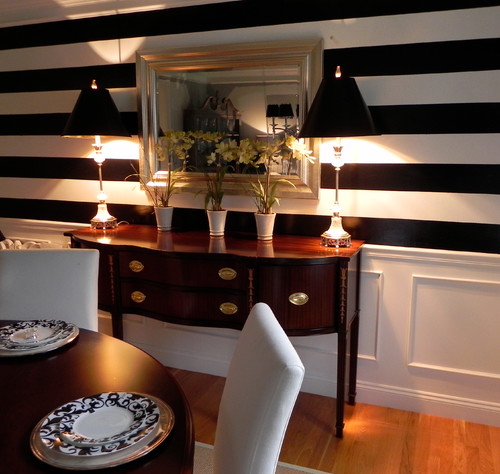 Transitional Dining Room by South Shore Decorating
Y'all know I love stripes, but I'm afraid that stripes in that little room might be overpowering. Plus, I think it's just too many stripes since I'll be using striped draperies in the dining room.
But she also suggested just a solid black above white wainscoting. I love that idea.
Traditional Dining Room
It's such a classic look, and it has been one of my favorite ideas all along. My only issue has been having black walls right up against my black doors. It's just way too much black. It turns that back wall into a dark hole, and makes my doors disappear.
So for a couple of days after receiving my mom's emails, I was racking my brain trying to come up with a way to give clear definition between my black doors and black walls in that room. One idea I had was to treat them like exterior French doors and hang draperies on either side (i.e., white draperies). But it's not an exterior doorway, and as much as I love draperies and fabric in general, that idea just seemed a bit silly to me.
I kept remembering way back to when I originally made these doors, and remembering many commenters saying that I should have made them as pocket doors. I didn't even consider that option because that wall is the original exterior back wall of the house, and the front and back walls of this house are carrying the heaviest load. In other words, in order to make pocket doors in that wall, it would take some pretty major construction that I wasn't willing to do.
But pocket doors would have solved the issue, because with pocket doors, you can always see the door casings. In my case, my door casings are all white, and that would separate the doors from the walls. But since my doors slide open in front of the casings and cover up the casings, there's no separation between the doors and the walls unless the doors are completely closed.
*Sigh* If only they were pocket doors all of my problems would be solved.
Now another issue I've had with this room is just the whole layout. It was originally intended to be the dining room, but as I've mentioned before, using this room as a dining room just isn't practical for us. It's a small room, and putting a big dining table and chairs right in the middle would make maneuvering through that room impossible for Matt.
So that's why I decided to make it a music room with an upright piano. That way the middle of the room could be kept clear for easy maneuverability for Matt. But what does that leave me with? A piano on one wall, and a couple of chairs on the other wall? It just seemed so plain and lacking in purpose and interest. I've been desperately wanting to add some bookcases to that room, but where? Flanking the piano on a side wall? That's way too much for a side wall in that small room. Behind the chairs on the other side wall? Still too much, and any bookcases on the side walls would make that room feel incredibly unbalanced.
Every time I thought about bookcases in that room, the only logical place for them seemed to be flanking the doorway. But of course, I kind of made that option impossible since I installed barn doors instead of pocket doors, right? If I put bookcases on the walls flanking the doorway, then my doors wouldn't open.
So after racking my brain for a couple of days, trying to figure out how the heck to make all of this work, it finally dawned on me. A light bulb went on in my brain, and I realized that I CAN have my bookcases flanking the doorway, and I CAN have my pocket doors! And since the bookcases would be painted white to match all of my trim and wainscoting, I CAN have my black walls and they won't interfere at all with my black doors!
The solution was so simple! Rather than building the bookcases right up against the wall, I will build them out from the wall about four inches. This gap behind the bookcases will be just enough room for the doors to slide open, simulating the look of pocket doors. Can you picture it?
Contemporary Living Room by Amsterdam Media & Bloggers Iris
Mine won't look exactly like that, but they'll be very similar. And when I'm done, all of the door hardware will be covered completely, with the exception of the brackets that are actually attached to the doors. But those are now painted black and are hardly noticeable since they blend right in with the doors.
I've been struggling with this room for so long, and I finally feel like I have a concrete plan that I can move forward with.
Addicted 2 Decorating is where I share my DIY and decorating journey as I remodel and decorate the 1948 fixer upper that my husband, Matt, and I bought in 2013. Matt has M.S. and is unable to do physical work, so I do the majority of the work on the house by myself. You can learn more about me here.