Fluid Acrylic Abstract Painting + Simple Modern DIY Frame
My fireplace has a new piece of artwork now. This weekend, I wanted a fun and relaxing project to work on, and making a piece of artwork seemed like just the thing. I decided to try my hand at fluid acrylic abstract painting, and let me tell you…I'm pretty sure I have a new favorite hobby! Here's how my first attempt turned out.
This has to be one of the most enjoyable projects I've ever done. It's absolutely mesmerizing watching how the different colors move and swirl and blend and interact with each other.
And as the painting was drying, I made a very simple frame.
To do the painting, I used Behr paint (which is 100% acrylic) in the various colors that I had left over from my mural wall. (If you missed my mural wall, you can click here to see that.)
I poured each color into a 2 ounce tasting cup, and mixed each color with Liquitex Pouring Medium, which I purchased on Amazon*.
I didn't measure exactly, but the ratio was probably 2 parts pouring medium to 1 part paint. And then I added just a very small amount of water (no more than a teaspoon) to each color to make the paint even more fluid.
For my "canvas," I purchased a half sheet of 1/2″ MDF from Home Depot for $4.95, and had them cut it to the size I wanted, which was 27″ x 35″. I primed it with latex primer before starting on the artwork. Once the primer was dry and sanded, I simply poured the paints onto the canvas in random patterns, and then began to move the paints around by various methods — tilting the canvas in different directions, using a blow gun attachment on my air compressor (I have this one), and blowing specific areas through a straw.
It's a very messy process because paint runs off of the edges of the canvas. I was expecting a mess, so I worked in my garage with a plastic drop cloth spread out under my work table. (I wasn't concerned with getting paint on my work table, but I didn't want it all over my garage floor.)
Once the paint was in a pattern that I liked, I placed the canvas perfectly flat and as level as possible in an undisturbed place to let it dry. It took about 24 hours to completely dry to the touch, so I had to be very patient. That was the hardest part. 🙂
While the painting was drying, I made a very simple frame out of scrap 1″ x 2″ lumber. I used my table saw to cut a rabbet into each piece.
You can see the end profile on this piece, although it looks a bit distorted on the actual piece of lumber since the end is cut at a 45-degree angle. Refer to the little diagram in the corner of the picture to see how I cut the 1″ x 2″ lumber to form a rabbet for the canvas.
I put the frame together with wood glue and 1″ nails in my nail gun.
Here's a close up of the back of the frame.
I used Rust-Oleum spray primer and flat black paint on the frame, and then placed the canvas into the back of the frame, resting inside the rabbet and held inside the frame with a few nails. Then I used an Ook picture hanging kit (I used this one) from Home Depot to hang the picture.
This was such a fun and relaxing way to spend a couple of hours of my weekend.
And the detail is amazing. I wish y'all could see it in person to really get an appreciation for the intricate detail, but I did take a few close-up pictures for you to see. If you click on these close up pictures, a larger image will open up in a new tab so that you can see it even closer.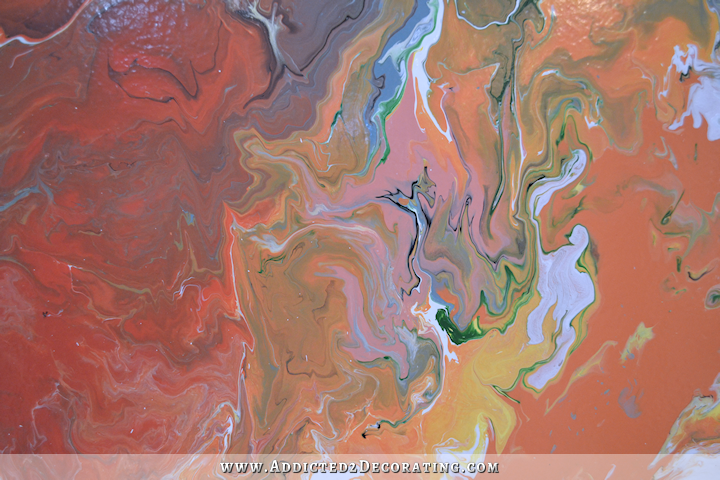 Isn't that amazing how those colors just swirl and mix together? I feel like I could stare at and study the intricacies of those patterns for hours. I enjoyed this so much that I ordered a gallon of the Liquitex Pouring Solution, and I'm looking forward to many more hours of quiet solitude in my garage watching beautiful colors of paint swirl and mix and marble. It's such a fun way to decompress at the end of the week.

Addicted 2 Decorating is where I share my DIY and decorating journey as I remodel and decorate the 1948 fixer upper that my husband, Matt, and I bought in 2013. Matt has M.S. and is unable to do physical work, so I do the majority of the work on the house by myself. You can learn more about me here.