Last Updated on June 6, 2021 by Kristi Linauer
I finally tackled a project that I have been excited to tackle for a while now — I painted my upright freezer. Have you ever wondered, "Can you paint a refrigerator?" Well, I'm here to tell you that you can. Whether it's a refrigerator or an upright freezer like mine, you can give it a customized look with paint, and it's not even difficult!
If you'll remember, the original look of the freezer was quite utilitarian — solid white with a thick plastic handle.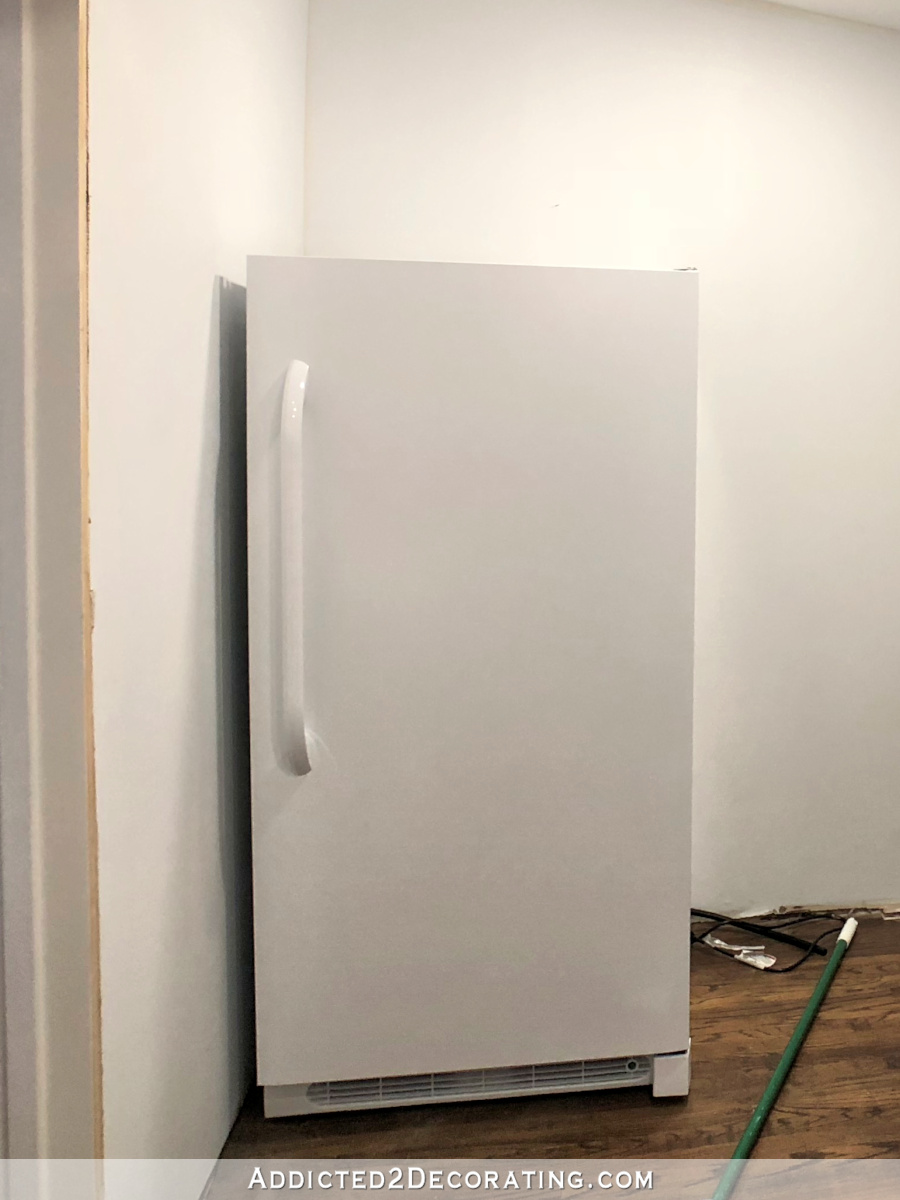 And now, that same freezer has a beautiful dark teal finish on it with a new, beautiful brushed brass handle.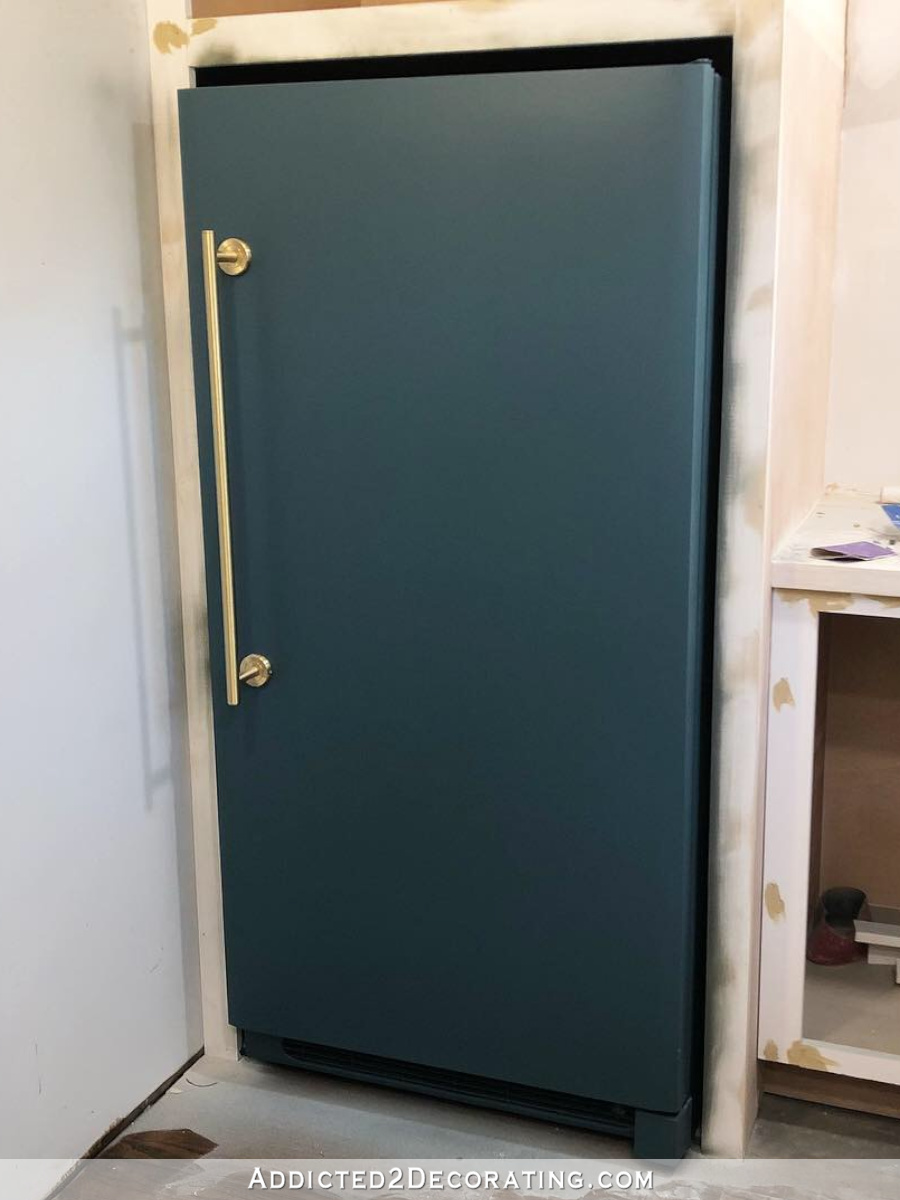 So much better, right?! And the best part is that this was so easy! Seriously, it was way easier than I had anticipated.
I did paint the entire thing — sides, top and front. But this room is pretty small, and once I pulled the freezer out into the middle of the room to work on the sides and top, it was impossible to get pictures. So you'll only see pictures of the progress on the front of the freezer.
But let me show you how I did this…
How to paint a refrigerator (or upright freezer)
1. Remove the handle(s).
Before I could get to any of the painting process, I removed the original handle from the door. These are almost always attached with little screws that are visible on the sides of the handle where they connect to the door. You'll probably need a little Allen wrench to get those screws out.
Once the handle is off, you'll see some little posts that the handle was attached to. I wasn't sure how those little posts were attached to the freezer door, so I just left them and moved on for now, although I knew they'd eventually have to come off since they didn't work with my new handle.
If you don't plan on switching out the handle, you'll need to leave those little posts right where they are.
2. Sand the existing finish on the refrigerator or freezer.
With the handle off, I was ready to get started on the refinishing process. I started by sanding the smooth factory finish using 60-grit sanding discs on my rotary sander. If you're looking for a new sander, click here to see the one I have and use regularly. It's a Dewalt variable speed 5-inch rotary sander, and it's the best one I've ever owned (and I've owned a few over the years 😀 ).
My freezer has a texture to it, so this is what it looked like after I sanded.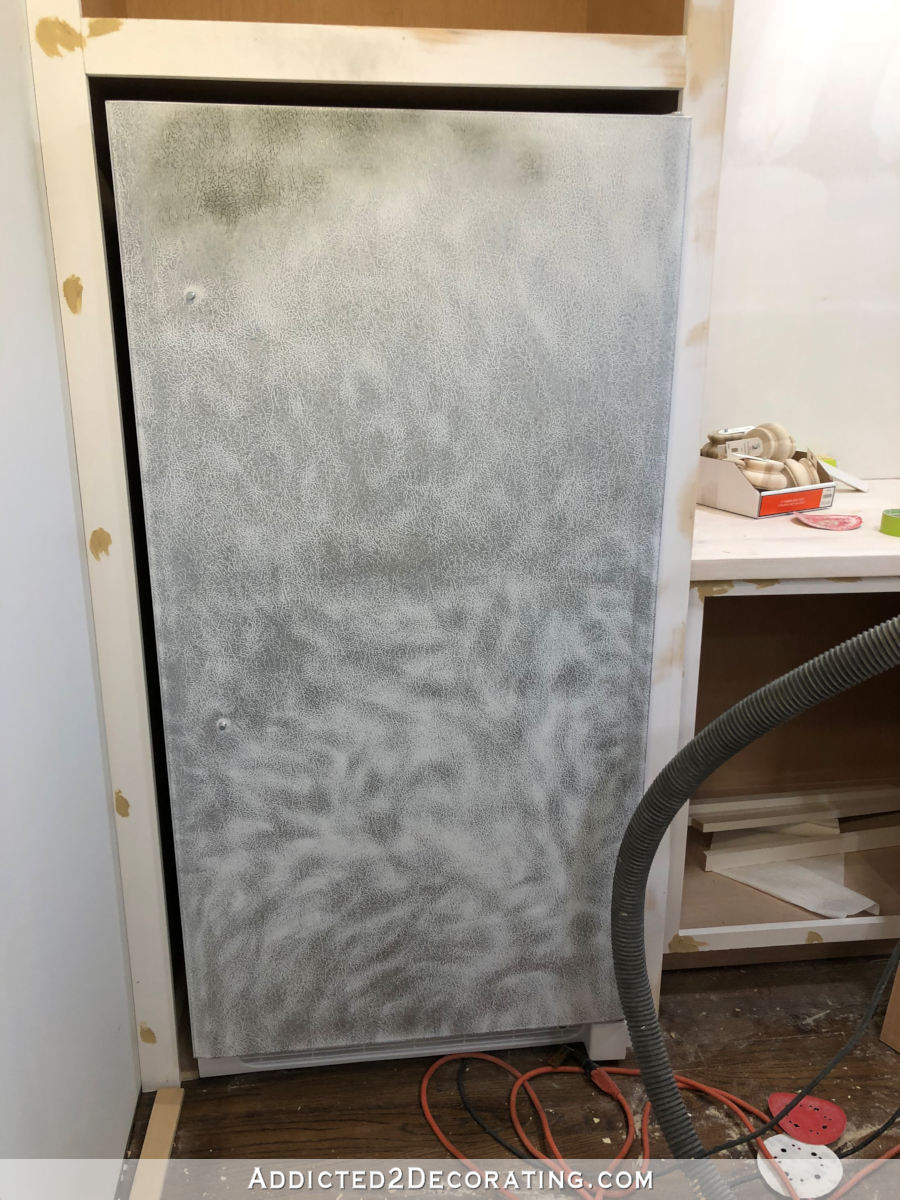 The sanding went much faster than I thought it would. Those 60-grit sanding discs made very quick work of it.
You can see the little posts for the handle on the picture above. I needed to get those off and get the hardware for the new handle installed before I moved on to the next refinishing steps, and I quickly realized that they just twist out. They're actually little screws with posts on them. They came out pretty easily using a pair of pliers to get a firm grip on them as I twisted them out.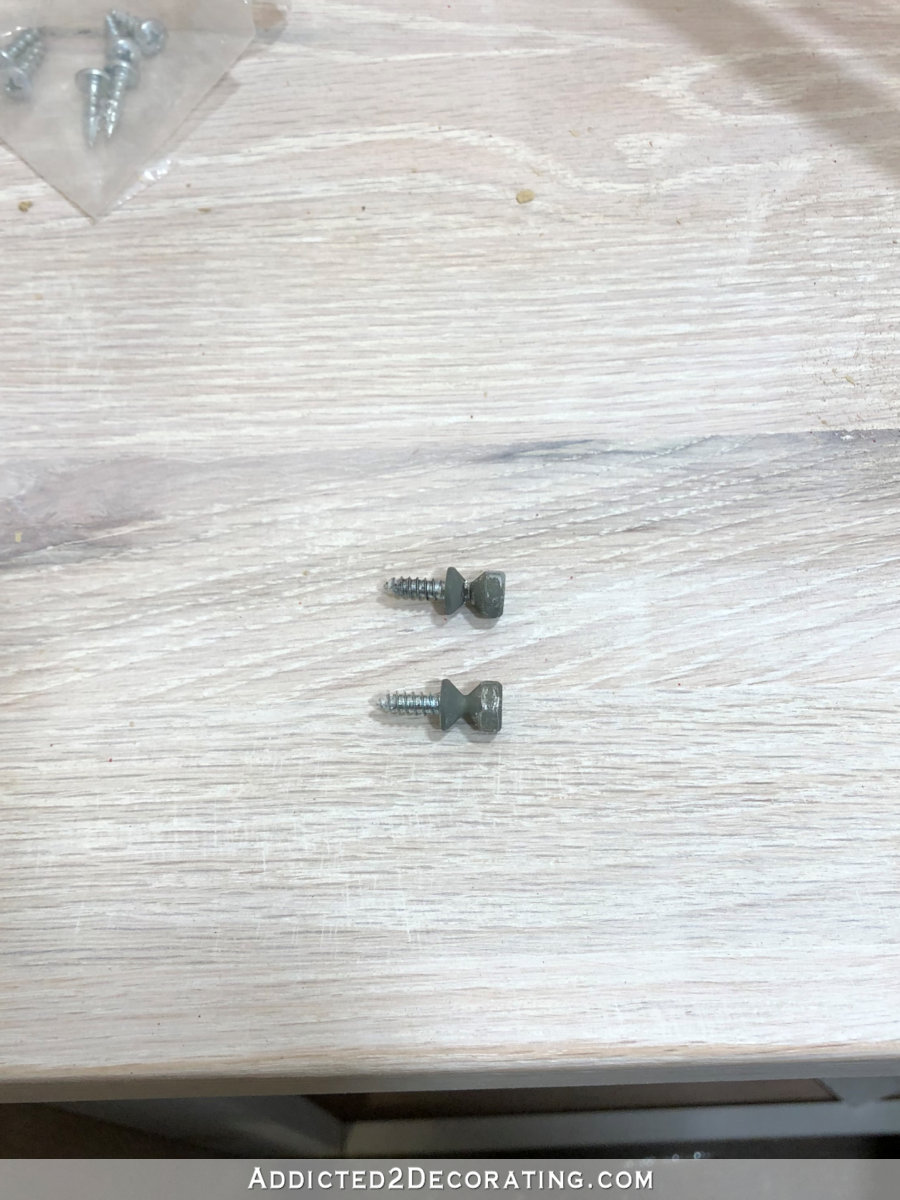 3. Install brackets for new handle (optional).
After seeing the screw ends of those posts, I felt pretty confident in attaching the mounting hardware for the new handle using #8 1/2-inch screws. I wanted to attach the mounting hardware at this stage because I figured if I did it after the freezer was painted, I would risk scratching the new finish. Better to do it now before/during the priming stage so that any scratches could be touched up before the final finish went on.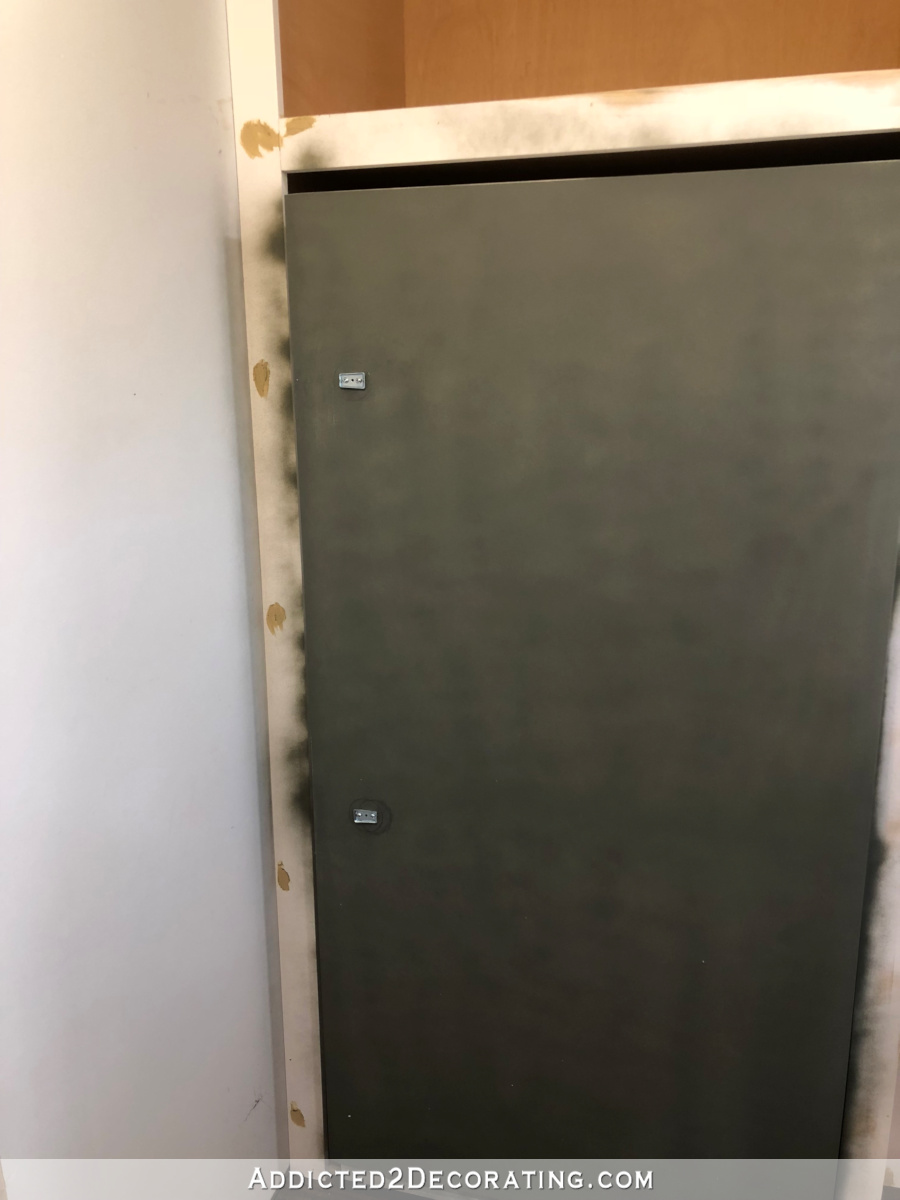 5. Use a spray primer to prime the surface of the refrigerator or freezer.
I used a self-etching spray primer that I found at Home Depot. I think I used about three cans in total.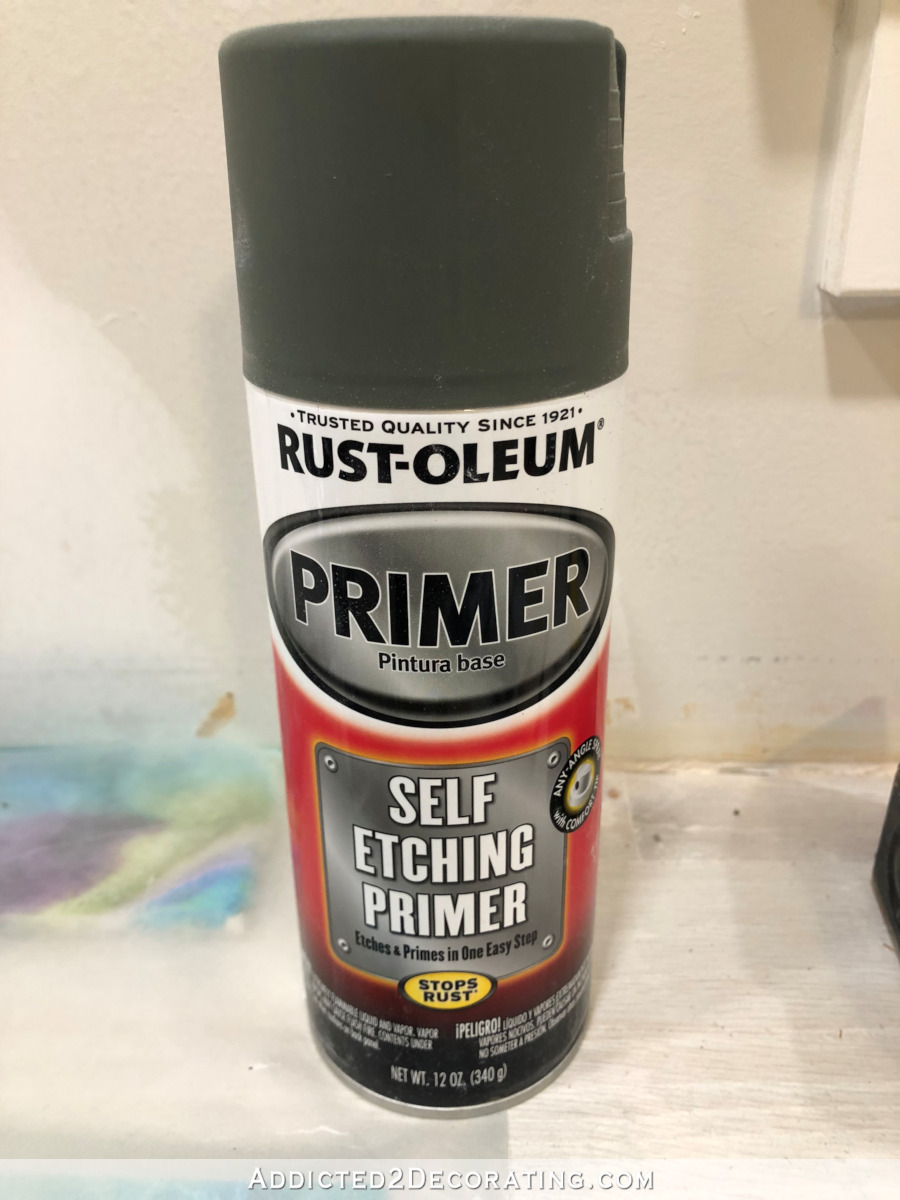 After letting the primer dry thoroughly, which I think took a couple of hours, I sanded the entire surface by hand with 400-grit sandpaper. That sounds way more labor-intensive than it actually was. It only took about 30 minutes to sand the entire thing.
6. Paint the refrigerator with a sprayer or roller.
With the freezer primed and lightly sanded, I was ready to apply the final finish. For this, I just used regular Behr latex paint in an eggshell finish.
For the sides and the top, I used my Critter sprayer, which you can find here. I highly recommend this sprayer. It's inexpensive, and does a beautiful job. It's what I use to paint cabinets and other small projects as well.
On the front of the door, I actually did a second and final coat using a small 6-inch roller that is labeled for "smooth surfaces.". Since my freezer has a textured surface, this worked perfectly. If I were painting a refrigerator with a smooth surface, I'd skip that step and just do a second and final coat with the sprayer.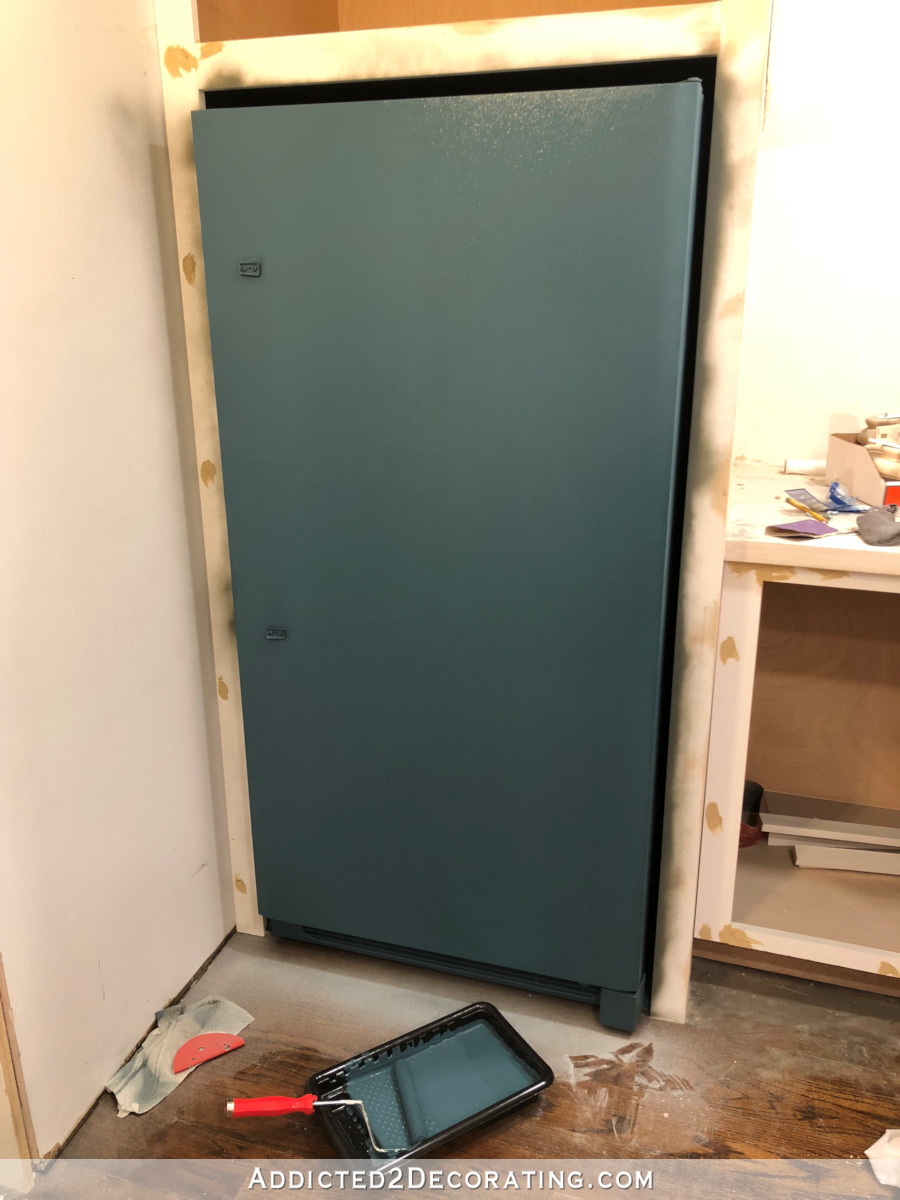 7. Attach the handle.
Once that dried completely, I attached the new handle onto the mounting hardware that I had installed.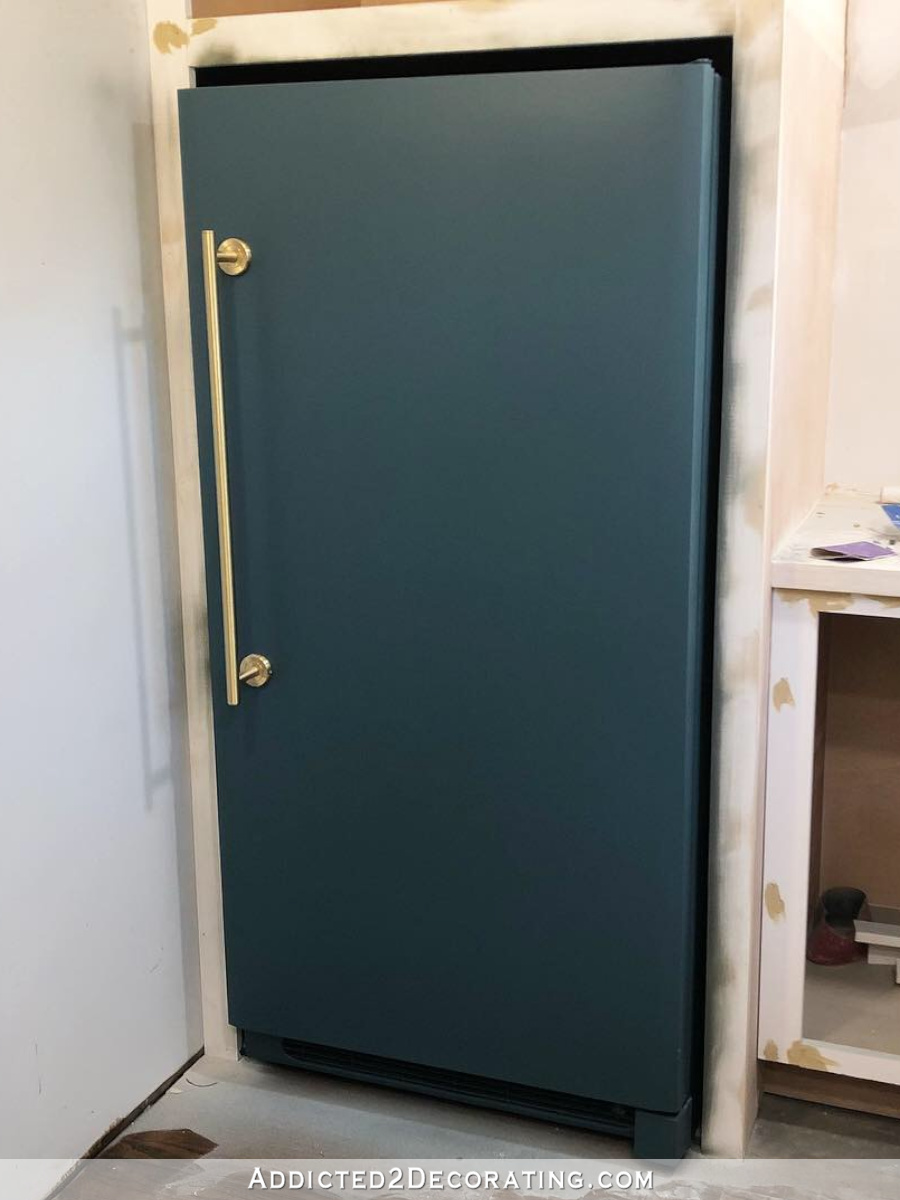 And that's it!
Painting a refrigerator or freezer – additional tips for a quality finish…
Before priming and painting the freezer, I didn't tape anything off, like the plastic seal around the door. Since I was painting my freezer a dark color, I didn't want that white plastic seal showing, so I just painted right over it. I just made sure to keep the freezer door closed the whole time I was painting so that it acted as it's own taped off area. The outside areas of the plastic seal (i.e., the parts that show when the doors is closed) are now painted, but the inside parts are still white, and they still seal to the original factory finish.
I did remove the grill below the door in order to paint it. It was attached with two screws that I easily removed, and then I sprayed it using the Critter. That way I could get a good finish on it without spraying paint into the area with the motor and other mechanical parts of the freezer.
I'm still deciding on whether or not to use a clear topcoat. If I do, I'll use a General Finishes topcoat, which is my absolute favorite. It's so superior to Minwax Polycrylic that they're not even in the same league, and it's way better than any Rust-Oleum water-based clear coat that I've ever use as well. General Finishes Topcoat is what I used on my kitchen cabinets, and I'm amazed at how durable it is and how easy it is to clean. I buy mine here on Amazon. On the other hand, while a plain, unprotected latex paint finish is less durable, it's much easier to touch up. If I get a chip or a scratch, it'll take two minutes to touch it up and be on my way. With a protective topcoat, touching up a scratch or chip is quite a bit more work. So for now, I'm just going to live with the plain painted finish and see if I think I might prefer the added protection of a clear topcoat.
Regarding the handle, I actually used a towel bar. You can click here to find the exact handle/towel bar I used. To find the right size, I just measured the distance between the original handle posts and used that measurement to find a new handle. Even though I knew I would be removing the original posts, I also knew they would leave holes that would either have to be repaired with Bondo or be covered up with the new handle. I didn't want to mess with Bondo (especially since my freezer has a textured surface), so I just made sure that I bought a handle that would cover the holes.
That's all the info I can think of to share with you about how to paint a refrigerator or freezer, but I'm sure I left something out. If you have more questions, just let me know!
---
---
UPDATE:
My pantry is finished! Want to see the entire project from start to finish? You can find every single post about the pantry build right here…
Or you can skip to the end and see how it turned out. Here's a peek of the finished pantry…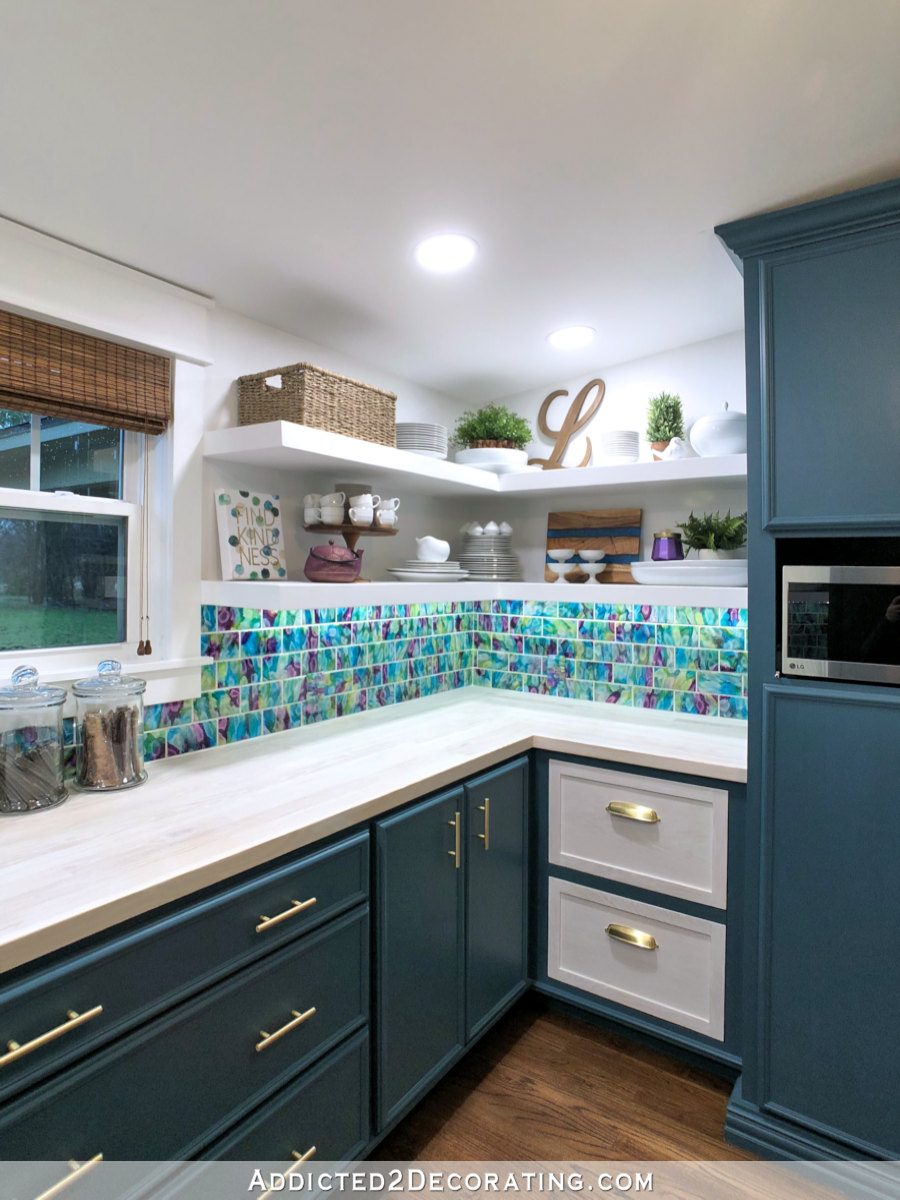 You can see more pictures on the before and after post right here…
Addicted 2 Decorating is where I share my DIY and decorating journey as I remodel and decorate the 1948 fixer upper that my husband, Matt, and I bought in 2013. Matt has M.S. and is unable to do physical work, so I do the majority of the work on the house by myself. You can learn more about me here.
I hope you'll join me on my DIY and decorating journey! If you want to follow my projects and progress, you can subscribe below and have each new post delivered to your email inbox. That way you'll never miss a thing!