DIY Black & White Horizontal Striped Draperies – Part 1
Well, I procrastinated as long as I could, but my black and white horizontal striped draperies for the dining room are finally underway. I don't know why I make a big deal of sewing in my mind. I've got it in my head that I really dislike sewing, so when I have a sewing project that needs to be done, I drag my feet as long as I can. But I generally find that once I get started, it's actually pretty enjoyable and even relaxing, and a nice change of pace from the harder and more strenuous projects I take on (like the building projects that tend to be my favorite).
Anyway, I've had a few of you tell me that you are waiting for me to do this project so that you can have directions for your own striped draperies. So I hope I can pass on some helpful tips and tricks.
Before I began on the draperies, I installed the drapery hardware (including the rings) so that I could measure the exact finished length before starting on the draperies. This is simple a matter of using a measuring tape to measure from the floor to the inside bottom of the drapery pin ring, which is the small ring that that's attached to the bottom of the main ring that goes around the drapery pole. That tiny ring on the bottom is what the drapery pin slides through.
Once you have that measurement, you can add add or subtract as much as you want depending on the style you want. For example, if you want your draperies to puddle on the floor, you can add up to 12 inches or so, depending on how much of a puddle you want. If you want your draperies to break on the floor, add an inch. If you want your draperies to be right at the floor, but not break, then subtract about 1/4 inch.
To be clear, I couldn't find any striped fabric that would work for my draperies. I wanted a specific number of stripes (exactly seven stripes), and I wanted each stripe to be close to exactly the same length. So finding a fabric with stripes that would work out to exactly seven stripes per panel, with each stripe being the exact same height, and that would perfectly fit my needed finished drapery length of 88.75 inches, would just never happen. So I purchased solid black linen and solid off-white linen and pieced them together to make my own stripes.
So once I had my finished drapery panel length, it was just a matter of dividing that finished length by the number of stripes to give me the finished length (i.e., without accounting for the extra fabric needed for seams or hems) of each stripe. Mine came to something like 12.68, so I just rounded up to 12.75. We're not building rockets here. 😀 That tiny discrepancy in measurement won't matter in the end.
And finally, I added in the amount needed for seams and hems. On the top and bottom black stripes, I added 5/8 inch for one standard seam allowance. But those stripes also needed allowance for a hem (standard hem for the bottom stripe, and header for the top stripe), so I added eight inches to both for a cut length of 21 3/8 inches for the top and bottom stripes. On the other stripes, I just needed to add an allowance for two standard 5/8-inch seams, which made the cut length 14 inches for those stripes. Here's a visual (on a very unfinished panel) for those of you who are visual learners like I am:
So for one single-width drapery panel, I needed 2 black stripes at 21 3/8 inches, 2 black stripes at 14 inches, and 3 white stripes at 14 inches.
The biggest challenge on this project is cutting all of the stripes as perfectly straight and square as possible. This is the easiest way I've found…
First, I fold the fabric in half lengthwise so that the two selvage edges are together, making sure that there are no pulls or wrinkles along the folded edge. If the folded edge pulls and wrinkles, that means that the selvage edges aren't together evenly. I just adjust them until the folded edge lies perfectly smooth and the selvage edges line up with each other. Then I place a framing square along along the folded edge, and mark and cut along the bottom of the framing square.
That method is the easiest I've found for giving me as straight and square of a starting point as possible.
DON'T EVER TEAR YOUR FABRIC!!! I've seen people do that, thinking that fabric always tears straight and square, and it just doesn't. Plus, tearing the fabric also stretches the fabric. If you start with a torn end, you'll end up with draperies that look like the cheapest of cheap clearance curtains. Take the extra time and effort to start with a perfectly straight and square end, and it'll make a huge difference in how your draperies turn out.
Once I had a straight and square end to start with, I just used a straight edge (generally a piece of extra wood trim, since I always have plenty of that lying around) and a measuring tape to measure out the stripes. I took my time to measure in several places all the way across just to be sure it was as straight and square as possible before marking and cutting.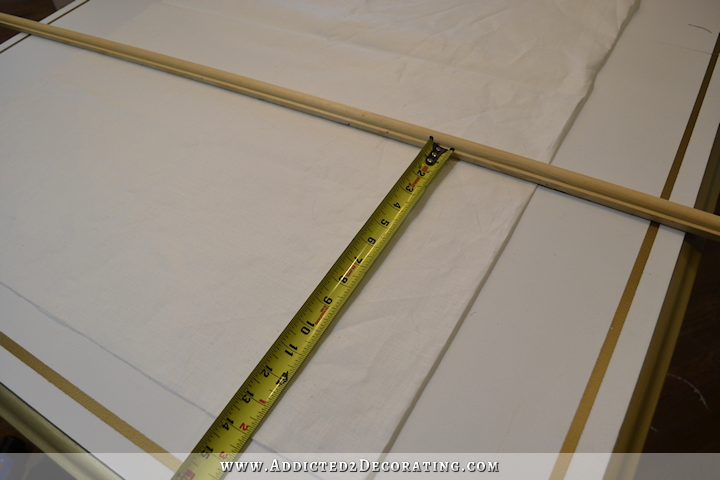 When I had the straight edge perfectly in place, I marked the fabric with a pen or pencil. And yes, I marked right on the fabric. It won't show since it'll be hidden in a seam. Then I removed the straight edge, and pinned the two layers of fabric together before cutting. I find that the pinning is very important to prevent the fabric layers from crawling and shifting as I cut.
As I cut the strips, I marked each one so that I would know which side was the right side, and which edge was the top.
It's very important to always do this when cutting solid fabrics or patterned fabrics where the pattern doesn't have an obvious top and bottom.
You always want to keep the fabric going in the same direction because some fabrics have a very subtle nap or directional sheen that may not be obvious until you get your draperies finished and hung, and then it becomes glaringly obvious that one stripe (or one drapery panel) is sewn with the fabric going in the opposite direction from the others and looks slightly (or not so slightly) darker/lighter/duller/shinier than all of the others. Just always be sure to mark your panels or strips so that they're all coming off of the fabric bolt the same way. I do this by always putting two straight pins (just in case one falls out) in the top left corner of the right side of the fabric. That's my system, but you just find your system and stick with it so you'll always know the direction the fabric needs to go when you start sewing.
Now just one more very important piece of advice when making draperies — cut off the selvages!
On just about every fabric I've ever seen, the selvages are pulled and puckered. It may not be much, but it's enough to make a difference in the side hems of your draperies if you leave them on. You can see what I'm talking about on this black strip that I cut.
Just take the extra time and cut the selvages off so that the fabric can lie perfectly flat instead of being pulled and puckered along the edges. That will give you the best end results, and will give your drapery panels the best chance of hanging perfectly straight along the side hems.
When I was cutting the black strips, I cut the strips and then cut off the selvages. When I was cutting the white, I did it in the opposite order — cut the selvages off of the whole length of fabric, and then cut the strips. I'd recommend the second way, as it makes cutting the strips much easier, faster, and more accurate.
And the rest is pretty self-explanatory. I pinned the strips together (making sure to use a longer black strip at the top and bottom for the hem/header), seven strips to a panel, and sewed them together.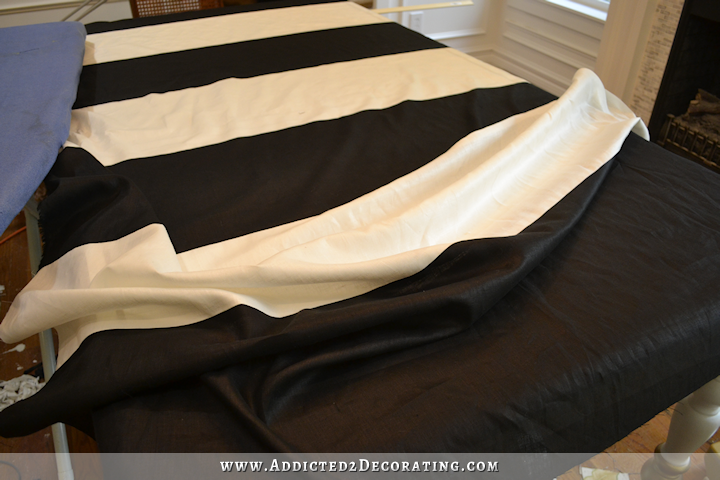 Once they were all sewn together, I pressed the seams open and flat to give a really nice, crisp appearance on the front.
And that's as far as I've gotten so far. 🙂 I did pin one of the panels up onto the drapery rod just so I could get an idea of what the striped draperies will look like. Of course, it's not hemmed, there's no header in it yet, and it's not lined. This is just the face fabric.
I love it! 🙂 I'm so glad I went back to the striped draperies. It's what I've wanted all along, and I think I would have been disappointed with anything else.
UPDATE: The draperies are finished! Click here to see how they turned out…
Addicted 2 Decorating is where I share my DIY and decorating journey as I remodel and decorate the 1948 fixer upper that my husband, Matt, and I bought in 2013. Matt has M.S. and is unable to do physical work, so I do the majority of the work on the house by myself. You can learn more about me here.