Double Pedestal Dining Tables (That I Actually Like!)
Well, y'all had just a few opinions on my dining table! 😀 I haven't quite gotten through the 520+ comments (I'm over halfway through them, and I will read every single one!), but the consensus seems to be (1) I need to ditch the farmhouse style table, (2) a double pedestal table is the better option, as is an oval table, and (3) the double pedestal table I have is better than the farmhouse table, but isn't the best option because the pedestals are too ornate/overdone/bulky.
So that leaves me with two options. I can either make new pedestals to go on one of the existing tables, or I can buy a brand new table.
I'm open to either option, and I'm even open to splurging on a really nice table. We all have different definitions of splurging. For me, a splurge on a dining table would be anything that costs over about $1500, and I probably couldn't bring myself to spend more than about $2500. But if I'm going to splurge on a dining table, I need to really love that dining table. I'm obviously not going to splurge on something I have to settle for.
And therein lies my biggest problem. I've looked at hundreds of dining tables online, and I can't find any that both suit my needs (expandable up to at least 100 inches) and that I find attractive. I've come to realize that I don't like anything overtly traditional, but I also don't like anything too streamlined and modern. I like a happy medium.
So with that in mind, there are a few that caught my attention. My favorite is probably this one from E Custom Finishes.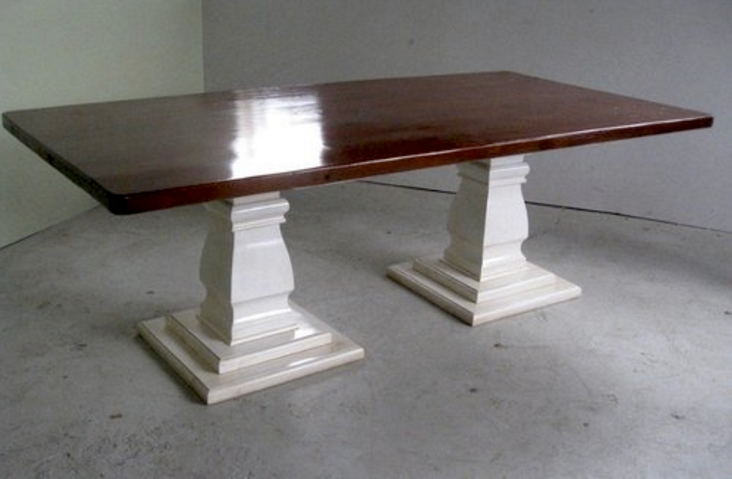 via ECustom Finishes
I don't particularly like the top, and it doesn't extend, so that won't suit me. But I absolutely love those pedestals!! I like that they're not overly ornate, and they're not exactly traditional in style. I would call those transitional in style.
This table comes in at a close second place for me.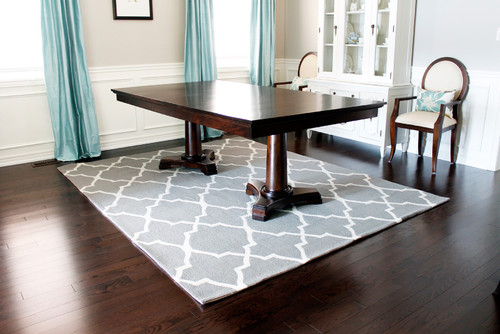 via Houzz
Obviously, that one is more traditional, but it's not overly ornate, carved, curvy, etc. I like the simplicity of the pedestals. I like the pedestals on the first table much better, but I do like that the pedestals on the second table don't take up as much floor space.
This table also caught my eye. To be clear, I don't like glass-top tables, and it wouldn't work for me anyway since I need an extending table. But I do really like the pedestals on this table.
I think they're too big and bulky for my taste, but I like the style quite a bit.
And that's pretty much it. I kid you not. Out of hundreds and hundreds of double pedestal tables I looked at, on Pinterest, Houzz, various online stores (Pottery Barn and such), and on a general Google search, this pretty much sums up everything that I like.
So you can see why the idea of splurging on a brand new table that I love, while it's a nice idea, probably isn't going to happen? So far, I haven't even seen a table that I completely like 100%. Either I like the bases, and dislike the table top. Or I like the whole table, but it's the wrong size. Or its the right size for everyday use, but doesn't extend.
But I'll keep looking. I haven't quite given up just yet. In the meantime, I might also try my hand at some DIY pedestal ideas.
Addicted 2 Decorating is where I share my DIY and decorating journey as I remodel and decorate the 1948 fixer upper that my husband, Matt, and I bought in 2013. Matt has M.S. and is unable to do physical work, so I do the majority of the work on the house by myself. You can learn more about me here.