Last Updated on December 24, 2015 by Kristi Linauer
We still haven't closed on the house, but I have faith that everything will work out.  So much so that I bought my first furniture for the house!
As I've mentioned before, I'm pretty much going to be starting over from scratch.  I don't want to take anything from the condo with me except for our clothes, my tools and some sentimental items.  There may be a few other things, but as far as furniture and decorative items that I've used in the condo, I don't want any of them.
That means that we may be living without furniture for a while.  And really, for the most part, I'm okay with that.  But the one thing that I did want was a table and chairs for our breakfast room (oh, how I wish I could show you pictures!!!) where we could eat our meals.  So yesterday I found one that I liked on Craigslist, and I bought it.
Unfortunately, the seller removed the pictures before I could grab them off of Craigslist, but the set I bought looks almost identical to this other one that I found…

(This is NOT the set that I bought, but mine looks almost identical.)
The wood on the set that I bought doesn't look this dark…or shiny and new.  Mine is more of a lighter oak, and definitely looks like it has some age to it.  But it does have the claw foot pedestal table base, pretty carving on the apron of the table, and six spindle press back chairs.
I bought the set for $275.  That was for six chairs, the table, and one leaf.  I priced new sets like this online, and they came to about $1100, so I think I got quite a deal.
The top is a gorgeous wood (or at least, it will be), so I'll definitely be refinishing it with stain and polyurethane.  The rest I will be painting.  (Too much matching wood looks depressing to me.)  I have no idea what color I'll be painting it yet, but I did find this beautiful example on Serendipity Vintage Furnishings.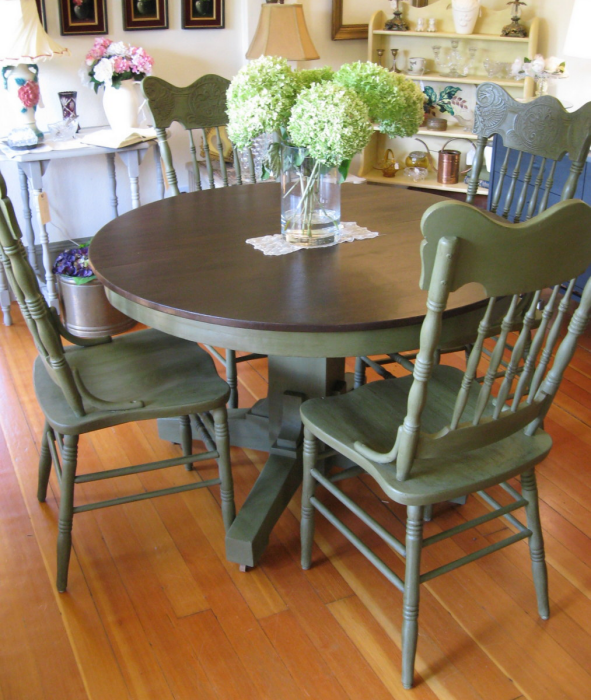 That one is painted in Chalk Paint in the color Olive.  I like it a lot, but I've always been partial to a white table base with a stained top, so I might end up going with that.
I also really love how this press back chair was refinished by Houston Faux Finishes…
The stained seat would definitely be more durable than a painted seat, but of course it would also take more work.  I was hoping to purchase a paint sprayer to easily paint the spindly chairs, but if I decide to stain the seats, then all of that would have to be taped off before spraying, plus it would have to be sanded perfectly down to bare wood so that it can be stained.  Like I said…a lot more work.
I also want to replace the two chairs the ends of the table with upholstered chairs.  Again, I'm not sure yet exactly what style, but I really like that look of having captains chairs upholstered, while the side chairs are wood.  Plus, six matching chairs at a table is just a bit much for me.
So who's shocked at my purchase?  I figured at least some of you would think, "What?  That's not Kristi's style at all!!"  😀
I feel as if I've done a complete 180-degree turn with my style and my taste.  I used to love…LOVE…contemporary stuff (hard to believe I ever like that style now…that was a few years before the blog).  Then I really liked more transitional interiors (that was my Candice Olsen phase, whose style I still really like).  Then my taste went to the more handmade/ecclectic/mish mash look, which is what I have in the condo (I really have no earthly idea what style I'd call the condo).  And now I feel myself being drawn more towards the antique/traditional/classic styles.
Mainly, I just don't want to move into a 1950s house (that I'm going to try to make look more like a 1900s to 1920s house) and fill it with a bunch of shiny, new stuff.  I want to fill it with items that have age and character.  Items that look like they have a story behind them.  Items that have been collected over time rather than purchased at the local furniture store just last week.
But I do still love color.  So let's hope I can do this well — blend the classic with the colorful — without it looking hokey, childish, and cheap.  I think I can.  🙂
Addicted 2 Decorating is where I share my DIY and decorating journey as I remodel and decorate the 1948 fixer upper that my husband, Matt, and I bought in 2013. Matt has M.S. and is unable to do physical work, so I do the majority of the work on the house by myself. You can learn more about me here.
I hope you'll join me on my DIY and decorating journey! If you want to follow my projects and progress, you can subscribe below and have each new post delivered to your email inbox. That way you'll never miss a thing!