Can I Vent About Appliances For A Minute?
Good morning, all!  Well, first of all, let me apologize in advance if my attitude this morning seems a bit off.  I had such an incredibly frustrating weekend (related to my "other job").  On top of that, I feel like I'm consistently running at about 95% of my total stress capacity lately.  I wake up almost every morning in a panic, and that's NOT a pleasant way to start a day.  Plus, I slept very poorly last night.  Roll all those together, and you get a very grumpy Kristi.  🙂  So be forewarned.
Very soon, Matt and I will need to purchase a new refrigerator, gas range, washer and dryer.  And I'm sure I'm leaving out something, but my brain is too foggy right now to remember.
So I've spent hours over the last two weeks pouring over the appliance offerings at Lowe's, Home Depot, Best Buy, and other stores, reading customer reviews, comparing features, etc.
Here's my conclusion:
Appliances these days are made to be shiny and pretty, and it's the finish that costs the thousands of dollars.  The actual quality of the appliances is lacking, nothing is built to last anymore, and whether or not they'll even work when you get them out of the box and plug them in is anyone's guess.  Appliance buying today is kind of like playing roulette.
The whole appliance shopping experience has been one huge frustration for me.
First of all, why the heck don't we have more affordable color choices?!  It's 2013, for goodness sake!!
White, black, and stainless steel.  That's about all the color choices we have here in the good 'ole U.S. of A.  Unless you want to pay about $10,000+ for a gas range, and another $8,000+ or so for a refrigerator.
Why?!
I long for the day when beautiful appliances like these colorful glass front refrigerators will be available at reasonable prices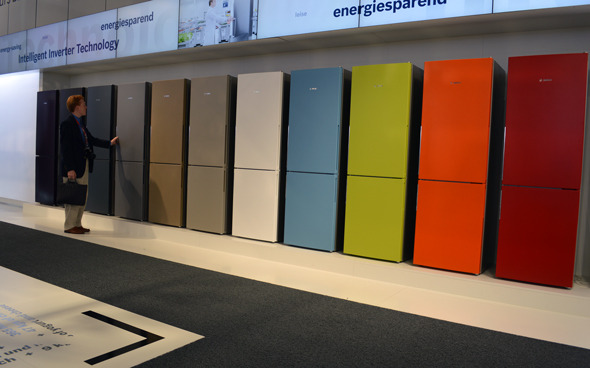 Photo via Reviewed.com
Now I know what you're saying.
"Kristi, have you checked out the new Slate color?  Or what about the new White Ice!"
Yes.  I've checked them both out.  That leads me to another frustration.
A full suite of matching, quality, highly-rated appliances with actual options?  Nope.  Doesn't exist.
I'm not a huge fan of stainless steel.  Just…no.  (Stainless steel appliances are right there with granite countertops for me.  Never had them, don't like them, never want them.)
And black and white both seem so…well…boring.
So I thought I'd go with the GE Adora line in the newish color called Slate.  I actually really like it.  Really, really like it, in fact.
And the most amazing thing is that this gas range has a five star customer rating at both Home Depot and Lowe's!!
So what's the problem?  Well, when it comes to a matching refrigerator, you get basically once choice of style.  French door refrigerator on top, freezer on bottom.  You can choose whether or not you want a water/ice dispenser in the door.
When I polled all of you over on Facebook about your choice of refrigerator style, the overwhelming response was that this configuration was the favorite.  The problem is that I simply don't think it'll work for Matt.  In fact, for him, I think this is the least convenient configuration.  (Sadly, because it's my favorite.)
Plus, our kitchen in the house will be so small that I really wanted a counter-depth refrigerator.
The ideal refrigerator for us (or, for Matt) would be a fridge/freezer side-by-side, counter depth, with no ice maker/water in the door.  (After reading literally hundreds of reviews on different fridges, I noticed that the overwhelming majority of negative reviews were all about in-the-door ice makers, so I can do without.)  The configuration/depth that we need simply isn't available in this new color.  It's French door or nothing.
So then I thought that perhaps the White Ice would work.  It's really a pretty and interesting finish…not your grandmother's white appliances.  🙂
And this one is also highly rated.
They do have a side-by-side refrigerator, but it's not counter depth, and it has an ice dispenser in the door.  I can live with that if I must (I'll just have the service department on speed dial), and I can even live without it being counter depth if I must.
But what I don't want to do is purchase an appliance that has a four-star rating at Home Depot, and a one-star rating at Lowe's. (Three of the total six reviews were negative.)
Okay…so then I thought that maybe I was just being too picky about the color.  Perhaps stainless steel wouldn't be the end of the world, and as long as I had a great quality, durable, long-lasting appliance, I could live with it.
So I googled "highest rated refrigerator 2013" to see what the highest rated side-by-side refrigerator is.  I came across this website that said the Samsung RSG309AARS was the highest rated side-by-side refrigerator, scoring a 10 out of 10 points in categories like appearance & capacity, storage & features, water & ice dispenser, energy & warranty, and help & support.
That sounded great!  So I searched for it on the Home Depot website, and this is what I found…
Yep, that "highest rated side-by-side refrigerator of 2013" has not one, but two one-star customer ratings at Home Depot, and both of them are because of that darned in-the-door ice maker/dispenser and poor customer service in getting the ice maker issues resolved.
So to heck with it.  I'm frustrated, I'm over it, and I'm done appliance shopping for now.
Rather than spend thousands of dollars on appliances that may or may not work out of the box, and may or may not keep on working the first month I own them, and don't even come in the size and configuration that I want…
Instead I think I'll head down to my local used appliance store, pick up a stripped down, no-bells-or-whistles (and for goodness sakes…no electronics, no computers, no motherboards) refrigerator for a couple hundred dollars.  Then I'll head to Home Depot and pick up a few cans of RustOleum spray paint in Midnight Blue…
…and I'll see where that gets me.  At least that way, if my refrigerator craps out in a year, I can take comfort that I only spent a couple of hundred dollars rather than a couple of thousand dollars on a refrigerator that was a size and configuration that I didn't want in the first place.
*Sigh*  Okay…rant over…for now.  🙂
Addicted 2 Decorating is where I share my DIY and decorating journey as I remodel and decorate the 1948 fixer upper that my husband, Matt, and I bought in 2013. Matt has M.S. and is unable to do physical work, so I do the majority of the work on the house by myself. You can learn more about me here.