Dining Chair Plan – Combining Patterned Fabric and Solid Vinyl
I've been giving a lot of thought lately to how I want my dining chairs to look. If you'll remember, my step-sister gave me four wingback chairs a while back.  (She also gave my my buffet and dining table, so she has almost completely furnished my dining room and entryway.  😀 )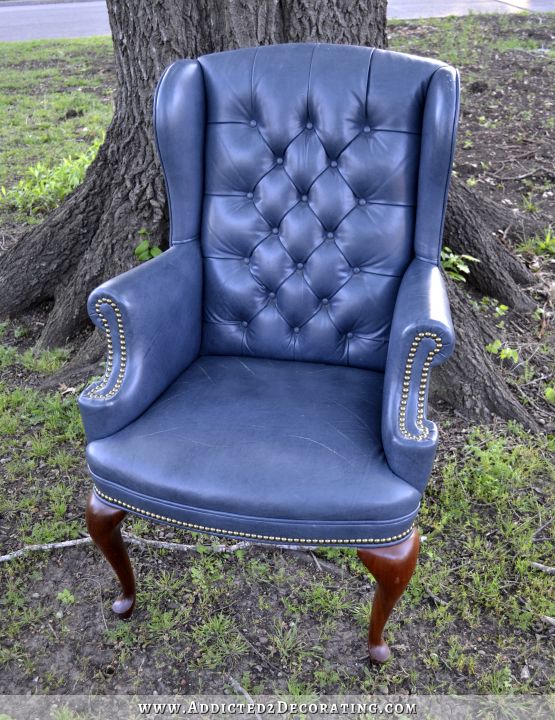 I had planned to use all four around the breakfast room table, but as my plans progressed (and changed, as usual 🙂 ), and I decided that I do want a dining room after all, I liked the idea of using two of these chairs as captains chairs at the dining table.  Before I reupholster them, I plan to modify the shape a bit.  First of all, the "new" chairs won't have tufting.  But the main change I plan to make is to reduce the bulky look of the wings and arms, and pretty much reshape them completely so that they're more understated and streamlined.  I'm generally not a fan of rolled arms, and these come up too high anyway, prohibiting the chair from sliding up underneath the dining table.  I started removing the nailheads, vinyl and foam a couple of days ago, and reshaping the arms looks to be a fairly easy project.  But I'll share more on that later.
Anyway, you know that I'm planning on using the P Kauffman Pattern Play Tutti Frutti fabric on those chairs.  I've already purchased this fabric, and I love how colorful and playful the pattern is.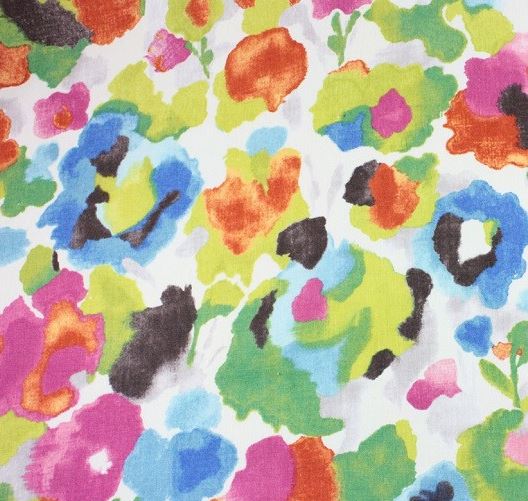 But the other day, I was at the local upholstery shop, and just as I was walking out the door, a bolt of green vinyl caught my eye.  I got a sample, brought it home, and sure enough…it matched my kitchen cabinets (and the green in that fabric) almost exactly.  So now I'm trying to figure out how I can incorporate this awesome green vinyl into my dining chairs.
At first I thought I might save it to use on my side chairs, but the more I think about it, the more I'm convinced that I want slipcovered side chairs.  I think.  (Don't hold me to that.  I've looked and looked and looked, and still haven't found side chairs that are quite what I want.)  But the captains chairs will definitely be upholstered, meaning that they'll be harder to clean when they get dirty.  It just makes practical sense to use the vinyl on those. (Mark this day on the calendar!  I'm making a decision based on practicality!! 😀 )
So as usual, I went in search of inspiration.  And the more I looked at chairs upholstered with two fabrics, the more I really liked the idea.  The most common way to do this seems to be using one color (generally solid) on the seat, arms, and front of the chair back, and then using a second fabric on the back and sides of the chairs.
via Traditional Home
I love this next example because the patterned fabric on the back of these chairs is the exact Robert Allen Bella Porte fabric that I bought, but mine is in the Watercress color, and this is the Citrine.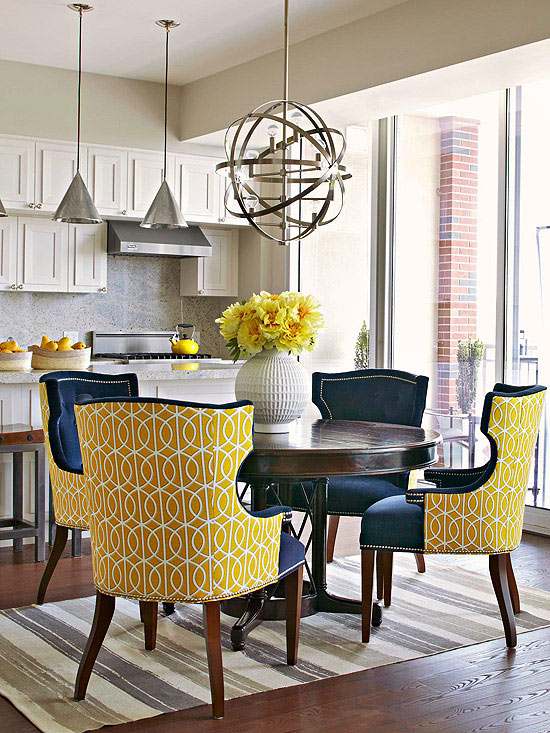 via BHG
I considered for a split second using my Bella Porte fabric on the captains chairs since I really like this look, but I pretty much have my heart set on using the colorful watercolor print on mine.
I really like the look of this one as well, with the patterned fabric on the seat and front of the chair back, and the solid on the back and sides.
Contemporary Dining Room by Mill Valley Interior Designers & Decorators GEORGE Interior Design
But that wouldn't really make sense on mine since my pattern is a fabric, and my solid is a vinyl.  It makes more sense to put the vinyl on the parts of the chair that will get more wear and tear.
Beach Style Dining Room by New York Interior Designers & Decorators MuseInteriors
Another idea would be to use the green vinyl just on the seat, and use the colorful fabric everywhere else.
Contemporary Dining Room by Shawnee Interior Designers & Decorators Tran + Thomas Design Studio
So I'm not exactly sure what I'll end up with at this point, but I enjoy the dreaming and planning almost as much as I enjoy the doing and seeing the finished product.  🙂  I'm 99% sure that my chairs will have that awesome green vinyl on them.  But before I can get to any of that, I need to get to reshaping those arms.  I hope it's as simple as I think it'll be!  If I'm successful, I'll share the details with you.
Addicted 2 Decorating is where I share my DIY and decorating journey as I remodel and decorate the 1948 fixer upper that my husband, Matt, and I bought in 2013. Matt has M.S. and is unable to do physical work, so I do the majority of the work on the house by myself. You can learn more about me here.