Last Updated on December 24, 2015 by Kristi Linauer
I have at least one more full day of sanding ahead of me.  Perhaps even two.  So instead of dragging that topic out with more "progress" posts (because let's face it, y'all just want to see the finished floor, right? 😉 ), I thought I'd move on to another topic.
Y'all, I agonized over those floor plans for the house for days.  Every spare moment I could find was spent tweaking this, moving that wall, arranging this that way, moving this door from here to there, and so on, and so forth.  I poured over every single one of your suggestions, and really considered all of them.  Then I went to the house, and just stood inside, wandered around, took more measurements, pondered, and let the house "speak" to me.  (That sounds so ridiculous, doesn't it?  Let the house "speak" to me?  But I swear to you, that really is what it felt like.)  And then I came home and scoured Houzz for inspiration.
After all of that, here's the finalized floor plan that I came up with.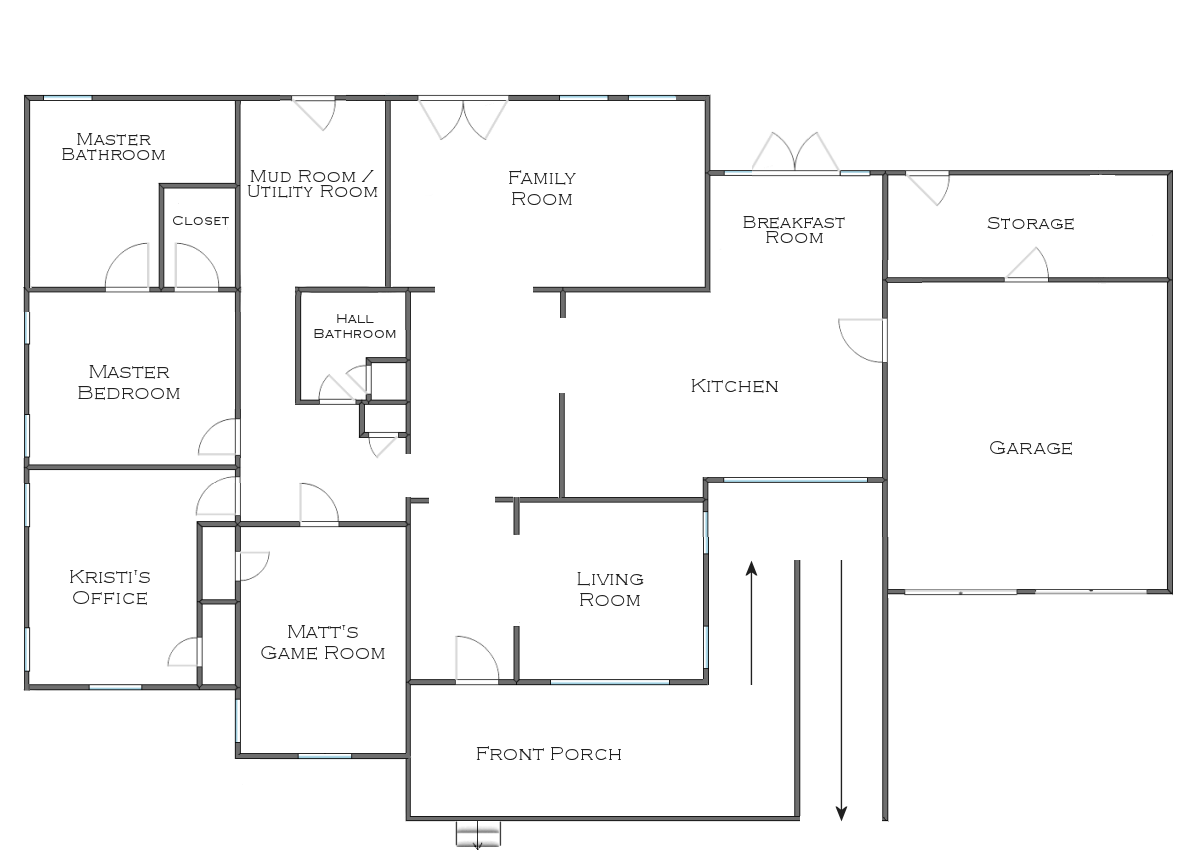 And just to refresh your memory, here's the current floor plan…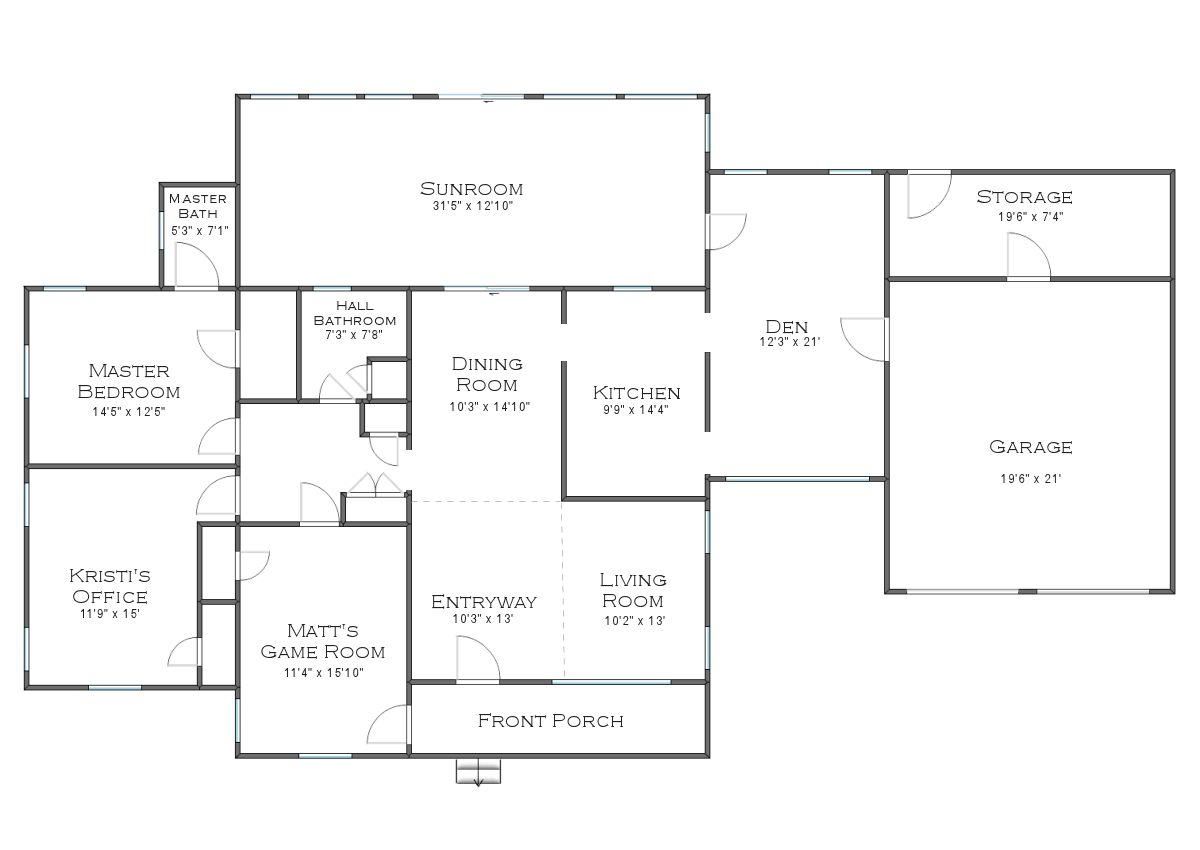 And here's a quick-view of the two floor plans. Just move your mouse pointer on and off of the picture to see the before and after.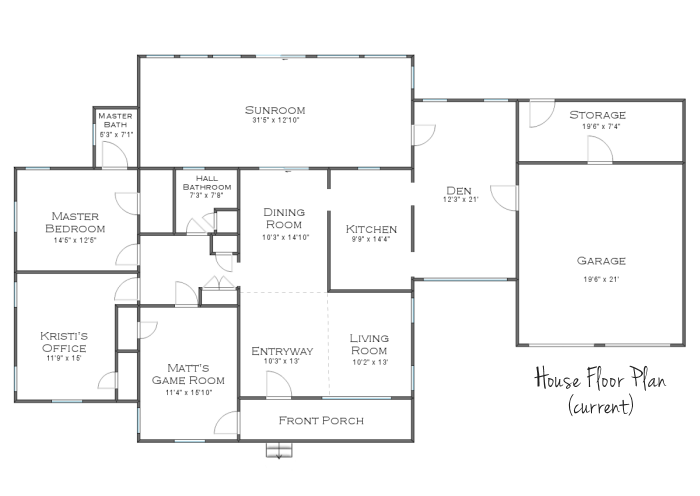 Here are the biggest changes you'll notice from my original plan and the two or three interim plans:
1. There's no dining room.
The more I thought about it (and especially after re-reading all of your comments on the A2D Facebook page about dining rooms), the more I realized that a formal dining room was a waste of space. If I ever need to entertain more than six people (the number that will fit around the Craigslist table that I'll be using in the breakfast room), then I'll have plenty of space to set up a large temporary table. But the rest of the time, I'd like that space to be something we'll use regularly.
2. There's no faux wraparound porch.
On one of the interim plans, I had replace the large window in the den with French doors that led out to a sort of wraparound porch in the front. But a couple of you pointed out that we probably would never really use that space.
The more I thought about it, the more I realized how true that is. Sadly, we're not really a sit-on-the-front-porch-and-chat-with-neighbors society anymore. So rather than pour money into creating something like that in the front, I'd rather spend that money on creating a nice back yard, complete with a deck or two off of the house, including one off of the breakfast room. And the front porch will simply be extended as much as it needs to be to make it easy for Matt to safely enter and exit the house.
3.  I relocated the utility room / mud room.
One of my biggest issues with the first floor plan, and then the interim floor plans, was the location of the utility room and mud room.  They just seemed so far away, and the mud room location actually created the need for an additional half bath.  That would cost a fortune since new plumbing would have to be run to that side of the house, and that side is all concrete foundation rather than pier and beam.
So with the new location, it puts the utility room closer to our bedroom (which just makes sense to me), and it creates a more direct path from the back yard, through the mud room, and to the existing bathroom.  No need for a costly addition.
---
The thing I'm the most excited to get started working on is the entryway, and creating some definition between the entryway, the living room, and the area that was originally the dining room.
Right now, it's all one big, open area. I know lots of people love big open floor plans. I don't. I prefer definition between spaces. But let me emphasize, I don't want it to feel closed off, but just defined.
When I came across this entryway by Regan Baker Design via Houzz, I stopped in my tracks.
I love everything about this entryway, from the color of the hardwood floors (I'm desperately hoping that mine will end up similar to this in color), the board and batten walls, the simple baseboards and trim around the doors, the front door, and the wall color.
Of course, my entryway will be wider and longer, and rather than the standard width doorway being off to the right of the entryway, I want a really large opening into the living room.
Now let me share my embarrassing brain fart moment.
Actually, it wasn't just a moment. It was several days. Two or so months, even.
For at least two months now, I've had the vision in my head of what the area would look like leading from the entryway into the living room. I wanted the doorway to be really large, really open, and also to include a multi-pane window on each side of the opening. You know…kind of like a stationary French door that is actually part of the wall on either side of the opening.
And for at least two months now, I've been racking my brain trying to figure out what those would be called, and what kind of windows I'd need to order.
Seriously. I've Googled everything from "interior multi-pane windows" to "interior sidelights" and "interior multi-pane sidelights".
And I couldn't find anything. Nothing.
I almost gave up, and started gathering other ideas. In fact, just yesterday as I was watching the latest episode of Covert Affairs, I took a screenshot of this half wall design that I thought might work.
It's nice, and I really like it, but after having my heart set on the other design for so long, it just felt disappointing to settle for something like that.
But I couldn't figure out what those inset windows are called, so how in the world could I locate them if I don't know what they're called?!
And then last night as I was clicking on links from Facebook, I came across an awesome living room before and after post from Jennifer Rizzo, and my heart skipped a beat when I saw this picture. It's almost exactly the look I want to create!
So I frantically scoured the post, wondering where in the world she found those amazing windows, and what the heck are they called?  And what did she use to create that look?
French doors, of course!!!
Y'all, I felt like the biggest idiot ever. 😀 Seriously, all I could do was sit there and laugh at myself. I know I have a tendency to make things way more complicated than they need to be at times, but this has to be one of my biggest "dumb" moments ever.
So I headed over to the Home Depot website and found exactly what I need — this bi-fold French door.
I have no idea at this point what size I'll be needing, but it comes in several sizes.  Right now, I'm thinking of getting the 30-inch door, which will give me two 15-inch panels.  But I'll have to measure everything out and see if that size will work.
So there you have it.  My completely dumb "brain fart" episode of trying to figure out what interior, stationary French-door-type windows would be called.  😀  *Sigh*  Embarrassing, but funny.
Addicted 2 Decorating is where I share my DIY and decorating journey as I remodel and decorate the 1948 fixer upper that my husband, Matt, and I bought in 2013. Matt has M.S. and is unable to do physical work, so I do the majority of the work on the house by myself. You can learn more about me here.
I hope you'll join me on my DIY and decorating journey! If you want to follow my projects and progress, you can subscribe below and have each new post delivered to your email inbox. That way you'll never miss a thing!