My Garage Workshop "Must Have" List So Far
Y'all left some amazingly helpful comments on my last post about organizing a garage workshop, and for the last two days, each time I've taken a break, I've been reading over those comments (some several times), clicking on more links, and looking up the names and ideas you told me about.  And of course, those names and ideas have lead to even more links and more amazing ideas.  I never knew there were so many ideas out there for organizing garage workshops!!
I don't have everything figured out yet (I have plenty of time to design my workshop before I'll actually be ready to get started*), but a general design is starting to formulate in my head, and I've come across a few garage workshop "must have" items that I'm almost 100% sure will eventually be in my garage workshop.
The first, as several of you suggested, is a long wood worktop.  I was originally thinking concrete, since my kitchen countertops are virtually indestructible, but so many of you made a great case for wood.  It's much cheaper, it's softer so it will take impact from hammering, it's easily replaceable, etc.  You've convinced me.  Plus, I love how it looks.  Here's Sandra's wood worktop from Sawdust Girl:
I really love her shallow drawers, also. But so many of you made a good case for using storage items that were more portable so that the actual storage container (rather than a bunch of individual tools) can be taken out, carried into the house, and then brought back and put away. That idea sounds really great to me, and I came across this storage unit that might be just perfect for that. I like that the containers are clear, so you can see at a glance what's in there. Of course, I would label all of them as well. I just love how tidy that looks!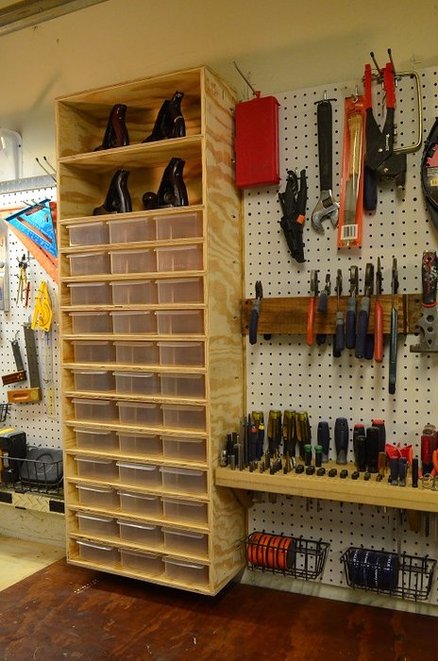 I was already planning on lots of pegboard storage, but then I came across this ingenious design that really maximizes pegboard space with sliding doors. I also like the storage along the bottom for those small items like screws, nails, washers, etc.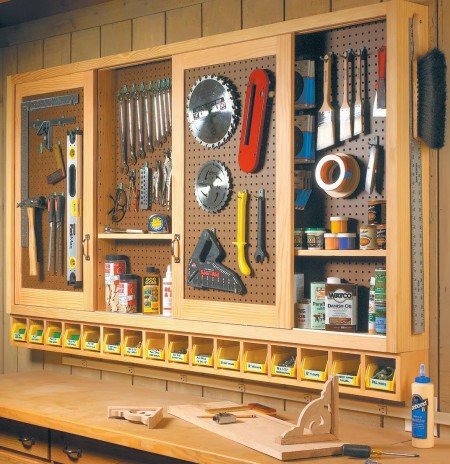 I also really like this pegboard storage design with the hinged doors.  It would keep most of the dust out, which is great, but I can also see myself just leaving the doors open all the time because of the hassle of opening and closing them.  So I'm not sure that this would work for me.
After looking at several different designs for lumber and plywood storage, I think this rolling cart is my favorite design.  I like that it has storage for large sheet goods, as well as lumber, and smaller pieces of scrap plywood and MDF.
I came across this YouTube video that shows how to build something almost identical to that rolling cart.
The thing I'm probably THE most excited about is building this miter saw workbench.
I originally saw this one from a link that someone left in a comment, but I think the built-in design would limit the length of items you can cut, and sometimes stuff like crown moulding can be really long.  But this rolling mobile design solves that problem!
And this air compressor cart is an absolute must-have. In fact, since my air compressor is one of my most-used tools, and I'm constantly having to lug it around from room to room, I will probably make this one sooner than later.  I'd like to modify the design so that it has storage for my nail guns and staple gun.
And finally, someone just this morning sent me a link to this garage makeover to remind me that garage workshops don't have to be boring! 🙂 And since I'll be spending a great deal of time in my workshop, and I love color, I can assure you that I'll be adding some color and pattern in my garage somehow.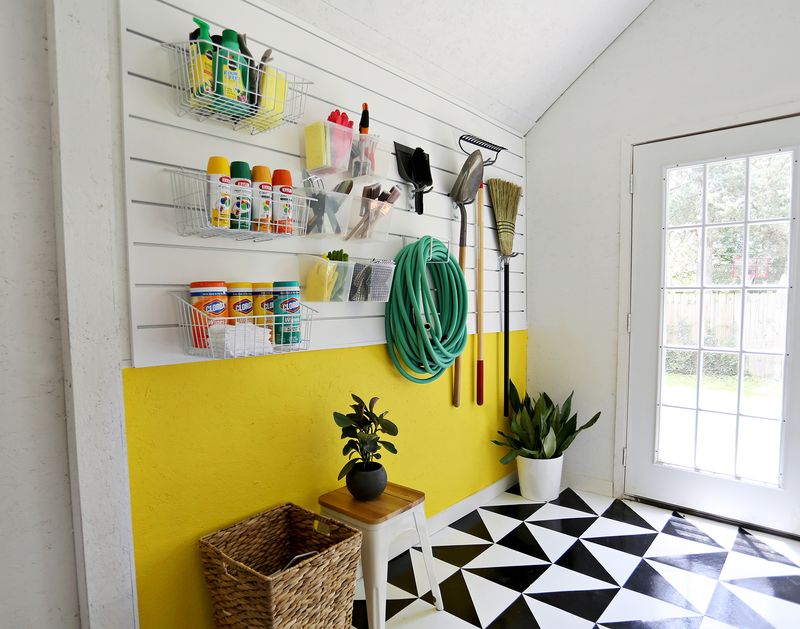 So those are the storage and design ideas that have made it onto my "must have" list so far. I know that as I continue to plan my workshop, I'll be adding other ideas to the list as well. It's hard to believe that I've been DIYing for as long as I have (over 20 years), and I've never had a workshop of my own! I'm having so much fun dreaming about and planning this.
Oh, and one last thing I came across that isn't really about design or storage, but have y'all seen this Foreman pocket hole tool from Kreg?
Oh my gosh! I had no idea that such a tool even existed until last night!  I was watching this video, and saw this guy using this machine in absolute amazement at how fast he was drilling those pocket holes.  I couldn't figure out what the heck it was, but I was pretty sure I saw the Kreg logo on it, and sure enough!  I got on the Kreg website, and there it was!  I had never seen one before, and didn't even know such a thing existed, but now I must have one.  So of course, I'll need to make a special spot in my workshop for my Kreg Foreman machine.  😀
*To be clear, this garage workshop project is a future project.  When I said that I will be using the old kitchen cabinets in my garage temporarily, I meant that I will actually be using the cabinets I have now, but I just won't be keeping them as part of my permanent workshop design as I had originally planned.  One day…in the future…I want to upgrade and completely organize and build custom workshop. 
What I did not say or mean was that I was going to completely drop everything else (entryway, dining room, and music room) and start building a custom workshop immediately.  The only reason I'm even thinking about, and working on, my garage right now is because my father-in-law is here.  And as I've said many times before, when he comes, I drop whatever I'm doing and I focus on projects that need to be done, and that I can't do on my own.  That project, right now, is purging, organizing, insulating and drywalling my garage to make it an actual usable space rather than a storage room packed full of stuff I can't even get to.  Now that that's almost done, I can move all of the tools and building products out of my house, get some organization in my house, and actually have room to work on my entryway, dining room, and music room.  That makes sense, right?  But in the meantime, I do have fun dreaming and planning my future garage workshop.
Addicted 2 Decorating is where I share my DIY and decorating journey as I remodel and decorate the 1948 fixer upper that my husband, Matt, and I bought in 2013. Matt has M.S. and is unable to do physical work, so I do the majority of the work on the house by myself. You can learn more about me here.