Last Updated on December 24, 2015 by Kristi Linauer
After a week-and-a-half, my garage still isn't completely clean and organized.  Those of you who said this project might take the whole three weeks of my father-in-law's stay may have been right.  🙂  But quite a bit of progress has been made!  All of that stuff that completely filled the garage before…
…has now been whittled down to a relatively small pile in the middle, and we've gotten the lower cabinets situated on the far wall.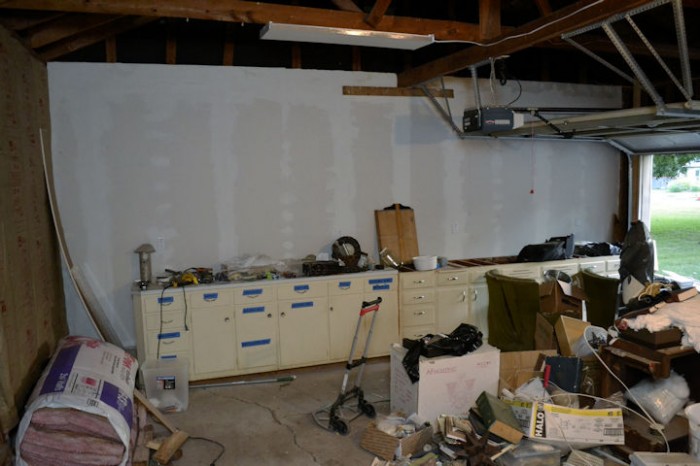 I've also got new insulation, new drywall, and four new outlets on that side of the garage.
As I started organizing my tools and supplies in the cabinets (you can see my temporary blue painters tape labeling system 😀 ), I quickly realized that those cabinets that I've been planning on using in here (which were the original kitchen cabinets) may just have to be a temporary storage solution.  I've had garages before, but that was before I had all kinds of tools to store, so this is really my first time to try to organize a workshop.  I hadn't realized just how much drawer storage is needed for all of those smaller tools and supplies that I've accumulated.  In fact, I'd say that I could use almost that entire wall filled with nothing but small (shallow) drawers, and very few (if any) actual cabinets.  I really like how the lower right side of this wall with the shallow drawer storage looks…
Contemporary Garage And Shed by Chicago Closet Designers and Professional Organizers Encore Garage
What I have now is way too heavy on the cabinet storage, which I really don't need, and way too skimpy on the drawer storage.  So now I'm planning on building something custom for the garage — and entire 21 feet of gloriously organized drawer storage for my tools and supplies.  I think I'm more excited about this than I was about my kitchen! Is it strange that my kitchen has stock cabinets and my garage will have all custom built storage?  I guess we can see where my priorities are.  😀
So with this new revelation that I'll need all new custom-built storage, I've been planning.  And dreaming.  Like I said, this is my first time to design and organize a workshop, so I'm trying to think through and anticipate everything I'll need in here, but I feel like a fish out of water with this.  I don't necessarily hide the fact (or apologize for the fact) that I tend to be a "form over function" kind of person.  But with the garage, it has to be all about function, efficiency, and organization if the goal is to make my life easier and eliminate the chaos from inside my house.
You know how there are designers that specialize in kitchen design?  I kind of wish there were designers who specialize in garage workshop design.  I'd call one and schedule a consultation ASAP!  But since I've never heard of such a person, I'm afraid I have to tackle this one on my own.  Of course, I'm sure that some of you have workshops at your house, so you can let me know what has worked, what you'd change, and various things I need to think through before I start my serious planning and designing.
Here's what I'm thinking so far:
1.  I really do want lower cabinets stretching along that entire far wall of the garage (about 21 feet) with mostly shallow drawer storage for things like tape measures, utility knives, wrenches, screwdrivers, drill bits, painting and dust masks, gloves, etc.  I'd like a few deeper drawers for small power tools like my Dremel Multi-Max and such.  And I might also add a couple of cabinets for things like my electrical tool bag.
2.  On top of those lower cabinets that stretch along that entire wall, I want a solid surface worktop — an amazing 21 feet of uninterrupted countertop space.  I'm actually thinking concrete again, because concrete countertops are virtually indestructible.  And indestructible is certainly what I want in my workshop.
3.  Above the countertop on that long wall, I'd like to install wall shelves specifically for things like paint cans, spray paint, etc. — things that I don't use often, but that I want sitting on open shelves so that I know what I have.
4.  On the wall to the left of the long wall (which would be the back wall of the garage), I want to hang a peg board.  I had originally planned to put a peg board above the long cabinet, but I'm so short that reaching things on a peg board above the lower cabinets would be very inefficient.  I'd have to have a ladder to reach almost everything on there except for the very lowest items.  So I'll put it to the left of the long worktop, and I'll use that for things like extension cords, paint rollers, framing squares, hand saws, levels, etc.
5.  And finally, in the middle of the garage, I'd like to build at least one (maybe two) work tables on locking casters for things like my miter saw and table saw.  I think each large tool would need its own table, right?  That way I'm not constantly having to move one over to use the other.
I won't need storage for lawn and garden items in the garage.  We have a shed in the back yard that's completely empty and can be used for those things.  So this will pretty much be exclusively for my house-related DIY tools and supplies.
What am I missing?  What have I forgotten about?  If you have a workshop, and you've got some tips to pass along to me as I plan the design and organization of my workshop, I'd love for you to share with me!  What's your favorite thing about your workshop?  Or what do you wish you could change?
Addicted 2 Decorating is where I share my DIY and decorating journey as I remodel and decorate the 1948 fixer upper that my husband, Matt, and I bought in 2013. Matt has M.S. and is unable to do physical work, so I do the majority of the work on the house by myself. You can learn more about me here.
I hope you'll join me on my DIY and decorating journey! If you want to follow my projects and progress, you can subscribe below and have each new post delivered to your email inbox. That way you'll never miss a thing!