June Progress & July Goals
The year is officially halfway over. Six months down, six to go. And while I'm pretty pleased with what I've accomplished during the first half of 2017, I feel like I need to pick up the pace just a bit if I'm going to get through my entire list of goals for this year (which you can see here).
The main goal I had for June was to get my garage and storage room completely cleared out. Completely. As in, there could be nothing at all left in there by the time they're ready to start on the garage conversion beginning July 5th. My brother and I made lots of progress on that project, and then I went and injured my back and arm and couldn't finish it up. So I hired some guys to come finish it up for me. BEST DECISION EVER!
First they had to clear out and organize the sunroom to make space for the items that had to be removed from the garage. That was a huge project in itself. Then they had to clear out the garage and storage room. They got here at 9:00am on Saturday and were finished by 1:00. I was absolutely amazed at how fast they worked!
So my top priority for June did get finished. It got finished on July 1st (oops!), but it did get finished before the July 5th deadline, and that's the important thing. It's not pretty to look at yet, but here's the progress…
This is the view from the breakfast room door looking towards the front of the house where my long desktop and two big windows will be. They've actually already done some work. The garage doors have been removed, and concrete footings have been poured in those openings.
And they cut away the drywall where the door will lead out to the side of the house (where the driveway will eventually be), and the window will go in the "office" area of the studio. I actually don't understand why they didn't remove all of the drywall since it's sitting on the concrete footing, and they'll need access to the concrete footing for the floor joists.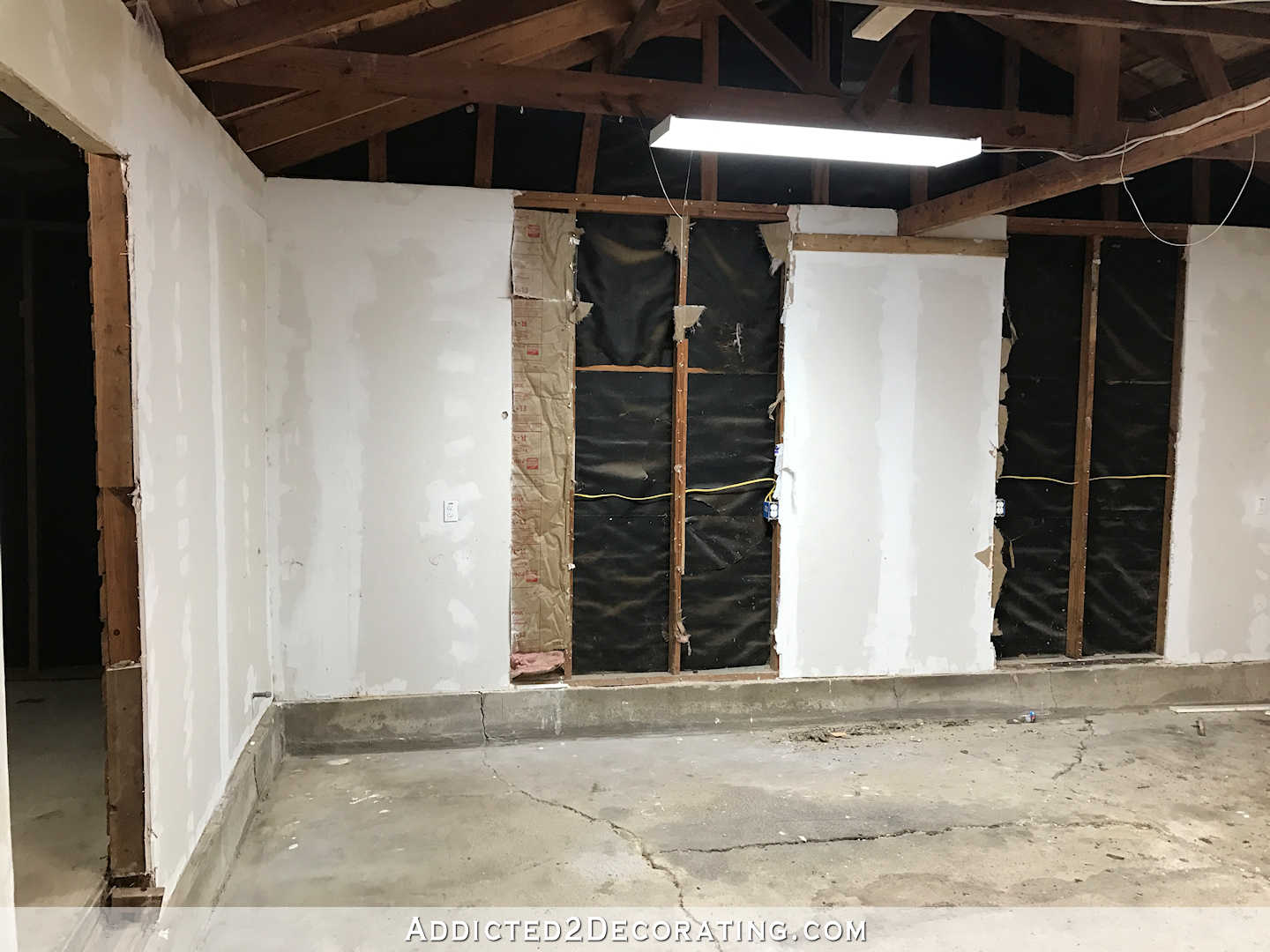 And standing at the front looking towards the back, this is the current view….
The wall in front (the one with the drywall) will have a 6-foot-wide cased opening in it, and the wall in back (with just the tar paper) will have French doors that lead outside to where the carport will eventually be.
And that brings us full circle back around to the wall with the breakfast room door on it.
And the storage room in the back is also completely cleared out. The massive furnace has been removed in order to make room for the half bathroom that will go on this side. The pantry is on the other side of that wall.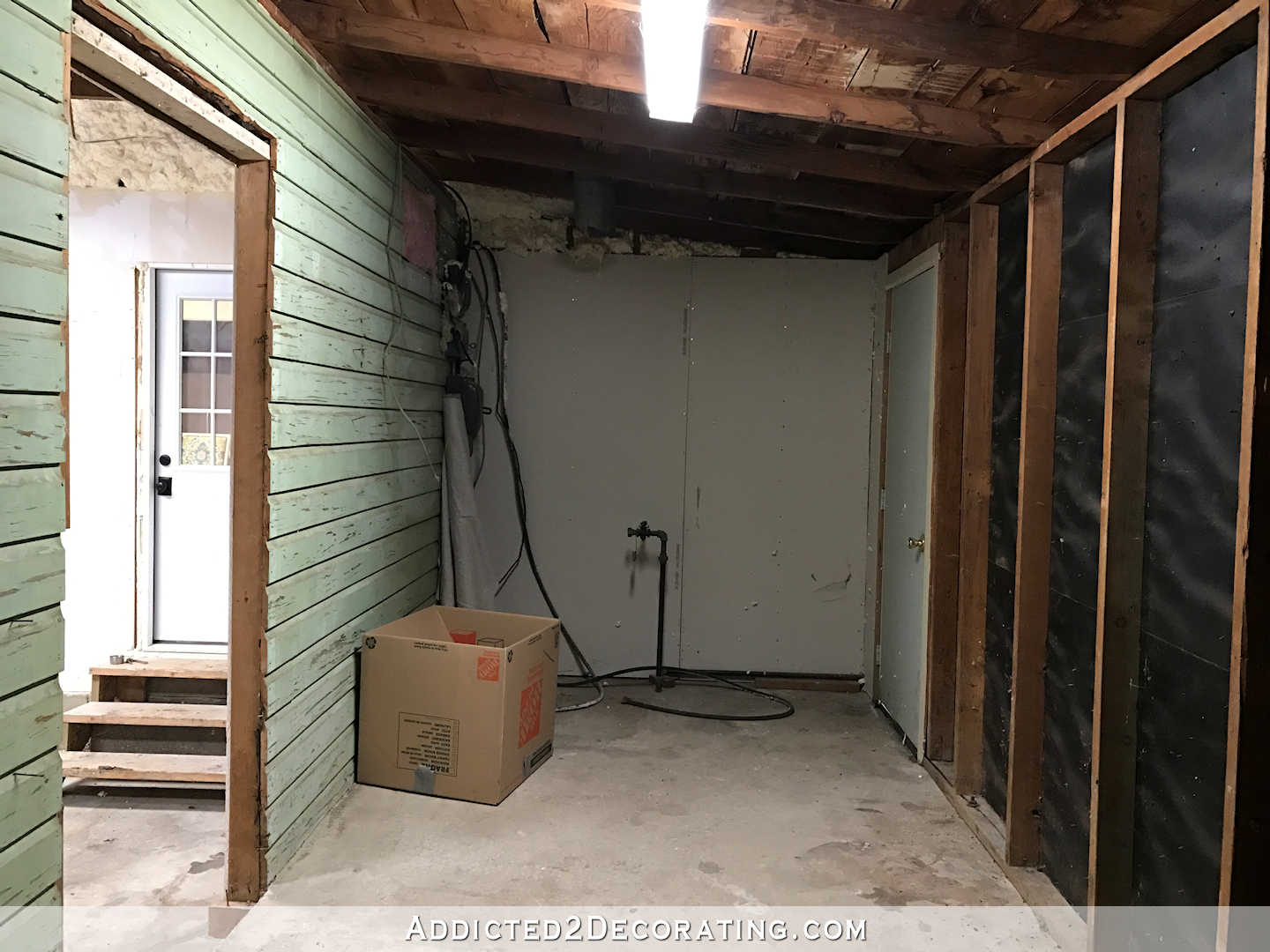 I had considered having water run into the pantry for a sink, but I've decided against that. I've also decided against having a sink directly in the studio. The half bathroom will be just right there, a few steps away through a cased opening and to the left, so I'm going to put a really big utility sink in there instead.
And then on the other end of the storage room is where I'll have a mud room right off of the entry from the carport.
I feel like a big weight has been lifted from my shoulders now that the garage and storage room are cleared out and ready to go. And I also got all of my plans for the room drawn out, which has been another weight off of my shoulders. You can click here to see the plans if you missed them.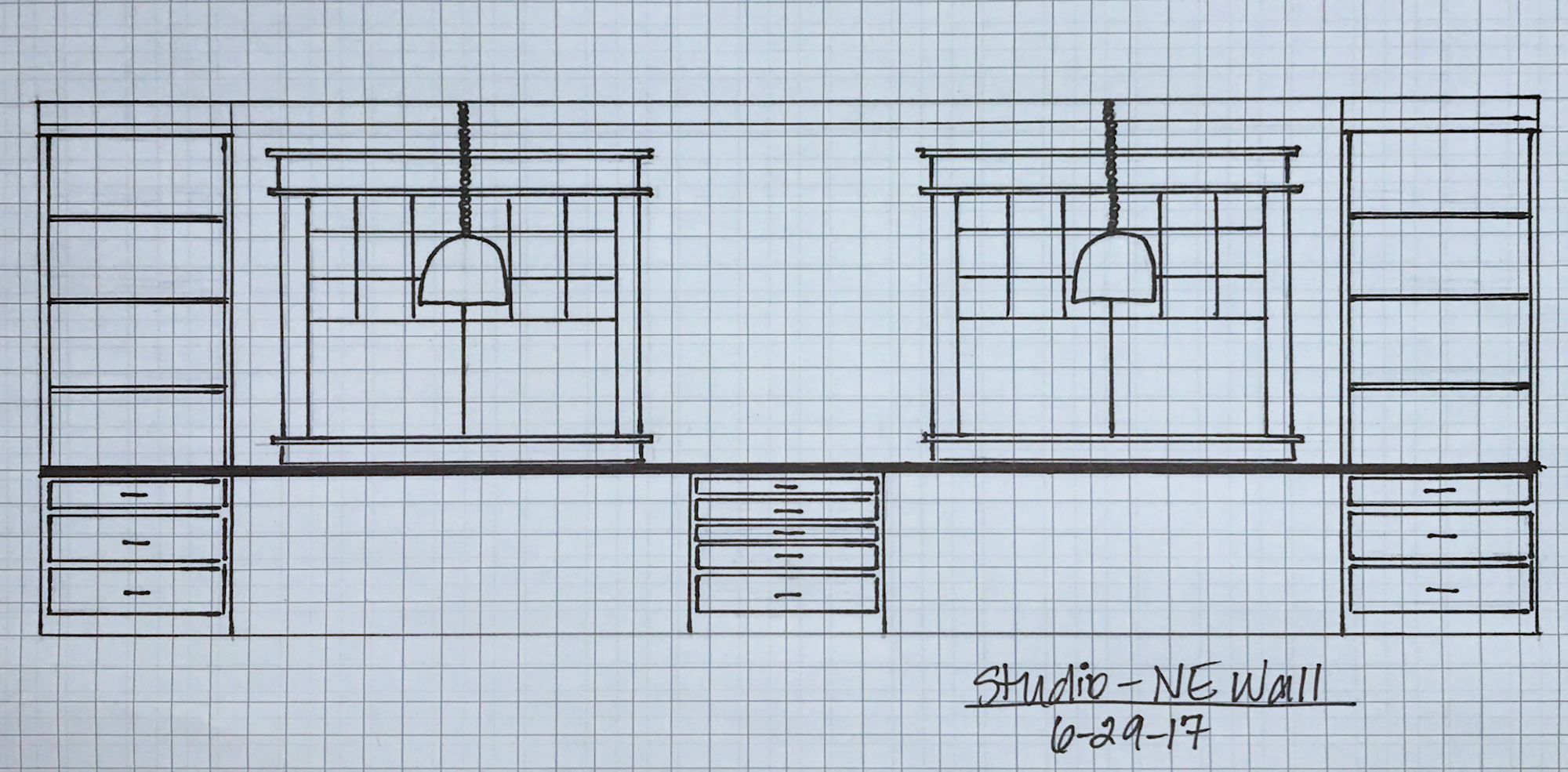 And you know what's amazing about that? Ever since I finished the drawings and handed them over to Chuy to get the doors and windows ordered, I haven't done a single bit of second-guessing myself. That's very unlike me. 🙂
The second biggest item on my June "to do" list was to finish my kitchen, which I did in the first week of June. I still haven't replaced the glass in the four cabinet doors (I keep forgetting!!), but other than that, it's done. You can see more before and after pics here.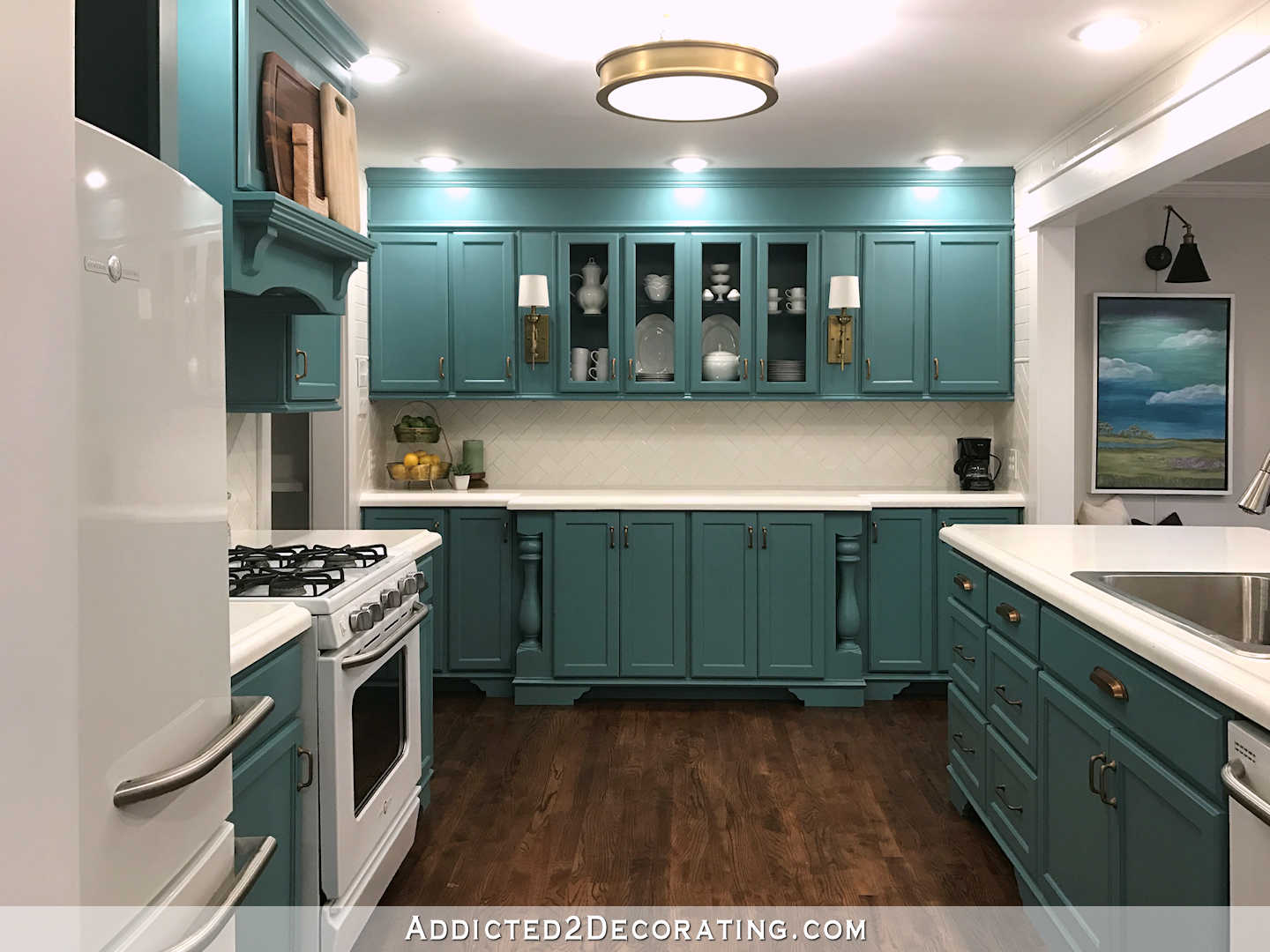 The garage/storage room and the kitchen were the two non-negotiable items on my June "to do" list. Other than that, I just allowed myself the freedom to work on any creative projects I felt like tackling, and I really wanted to concentrate on walls.
I got my entryway and living room painted…again. The light blue I had chosen last year to go with the dark blue kitchen cabinets ended up clashing with the teal cabinets, so I got those rooms repainted BM Classic Gray. And I also installed the grasscloth accent panel on the entryway wall (more on that here and here).
The biggest wall-related project I tackled was in the music room. No more black walls…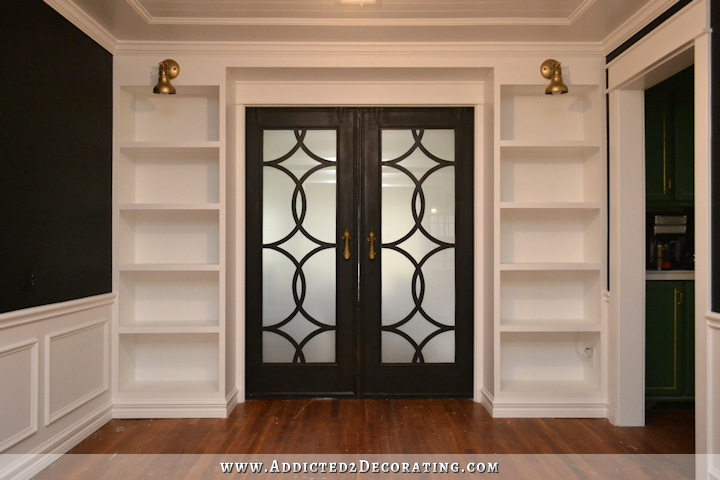 …because I've traded those in for stenciled trellis walls in Behr Polar Bear and BM Classic Gray…
I still haven't finished up the small areas around the doorways since I've been trying to rest my arm and back. So while I did get most of it done, I still can't cross it off of my "to do" list just yet.
As far as creative, pretty, fun projects go, I feel like June was a pretty slow month. But I'm okay with that seeing that the biggest June goal was in preparation for a HUGE remodel to begin in a coupe of days.
So what are my goals in July? I honestly have no idea. To be quite honest, I don't know what to expect with the work going on in the studio. Other people will be doing the actual work for now (I'll take over once the "shell" of the room and the plumbing rough-in are done), but I'm sure I'll also be micro-managing and hovering. I'll probably annoy a few people with that, but since it is my house, I make no apologies for my micro-managing and hovering. 🙂
Other than that, I really don't know what I'll actually be capable of doing this month. My back and arm still aren't at 100%. I'd say I'm operating at about 85% right now, with a bit of pain still in my shoulder and arm, and some general weakness in my arm. The last thing I want to do is push it too hard and re-injure myself. That pinched nerve pain I experienced for five days was excruciating, and I'd rather not ever have to endure that again.
So it'll probably be another month with some not so clear cut goals. I don't like that, because I've learned this year that I work better with VERY clear goals and a deadline. But until I'm back at 100%, I really can't hold myself to clear goals and deadlines. But if I could hold myself to a clear list of goals for the month, it would probably be:
Finish stenciling the music room walls
Refinish the credenza for the entryway
Make artwork for the entryway wall
Finish the draperies for the living room
Start reupholstering the sofa
Finalize plans for the pantry
So we'll see. I make no promises, but I'll give it my best shot. 🙂
Addicted 2 Decorating is where I share my DIY and decorating journey as I remodel and decorate the 1948 fixer upper that my husband, Matt, and I bought in 2013. Matt has M.S. and is unable to do physical work, so I do the majority of the work on the house by myself. You can learn more about me here.