Last Updated on December 24, 2015 by Kristi Linauer
I really struggled with coming up with an idea for my bathroom mirror frame, but making a decision only took me about three days.
The shower curtain design, on the other hand, has had me stumped for at least two weeks now. I think I'm making this decision much more difficult that it should be, but clearly I need help.
If you'll remember, I have this fabric that was provided by Fabric Warehouse Direct.
This fabric was the jumping off point for the whole bathroom, and it's where I got the color for the vanity.
So this fabric will make up a good portion of the shower curtain.
Until a couple of weeks ago, I had just planned on using it just like it's shown above to make a simple vertical striped shower curtain.  But then a couple of weeks ago, it dawned on me that I could take it up a notch, and make something a little more interesting.  So I got online to look for ideas, and that's where my trouble began.  There are so many great ideas, and now I can't decide on one!
I do love a vertical stripe, but I also love a horizontal stripe, and this DIY shower curtain from Craftaholics Anonymous make me think that I might want horizontal stripes in my bathroom…
But in the hallway just outside the bathroom, I have these curtains covering my washer and dryer closet.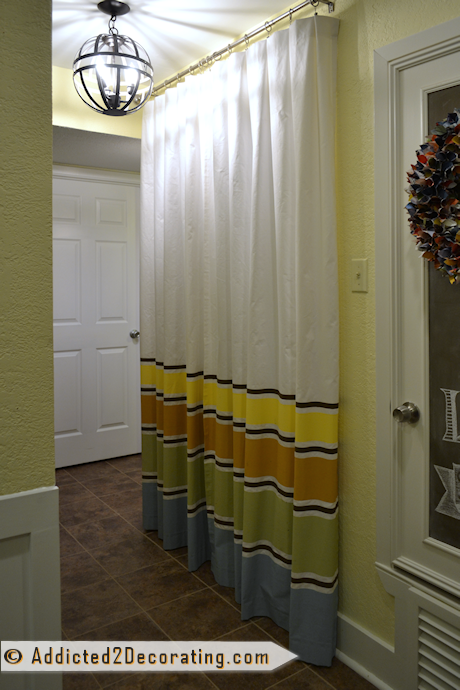 Would that be too much?  Too many horizontal stripes going on in such a small space?
One of my absolute favorite shower curtains that I came across was this one from Pottery Barn.
I know I don't come across as an overtly "frilly-loving" girl, but I do love me some ruffles, especially when they're more understated, like on the Pottery Barn shower curtain.
There are a few ways I could interpret this look for my own bathroom.
First, I could use the yellow striped fabric for the main shower curtain and the ruffled parts, just like the Pottery Barn shower curtain.
OR, I could use the yellow stripe for the main part, and then do the ruffled rows in teal.  That would help to bring the wall color down to other parts of the room.
OR, I could use the yellow stripe for the main part, and use plain white for the ruffled rows.
See how I make this so difficult for myself?  It shouldn't be this hard!!
I also love this one from Canadian House and Home.
And if I do that one, I'd use white for the main part, and then use the yellow stripe for the top part and the ruffles at the bottom.  Or would I?
So there it is…the craziness in my head now "out there" for you to witness.  Help me…please.  🙂
Addicted 2 Decorating is where I share my DIY and decorating journey as I remodel and decorate the 1948 fixer upper that my husband, Matt, and I bought in 2013. Matt has M.S. and is unable to do physical work, so I do the majority of the work on the house by myself. You can learn more about me here.
I hope you'll join me on my DIY and decorating journey! If you want to follow my projects and progress, you can subscribe below and have each new post delivered to your email inbox. That way you'll never miss a thing!