I had hoped to have a beautiful picture to show you of my new framed mirror hanging above my bathroom vanity, but unfortunately, I don't.
You see, when I'm doing a makeover and sharing it with you in real time, sometimes those "beauty shots" just aren't possible. And when I try my hand at cutting a mirror at 9:30pm, and realize that while I do have many skills, mirror cutting is not one of them…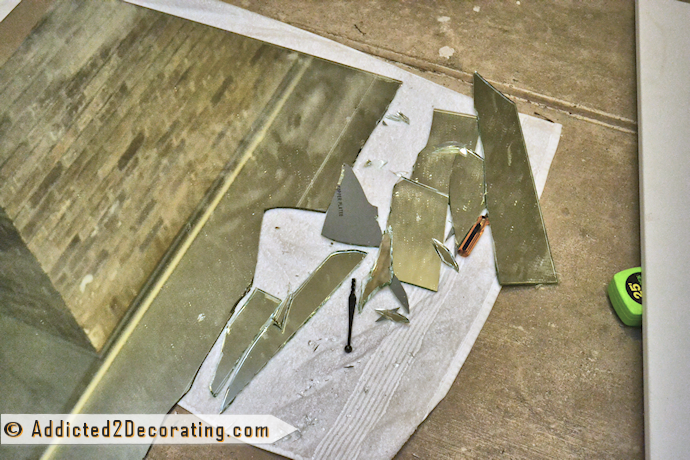 …and when I find myself still grouting my new mosaic tile mirror at 12:45am…well, it becomes apparent that that "beauty shot" is nothing but a dream, and the best I'll be able to give you is a picture of my finished frame, sans mirror, leaning against the brick outside. 🙂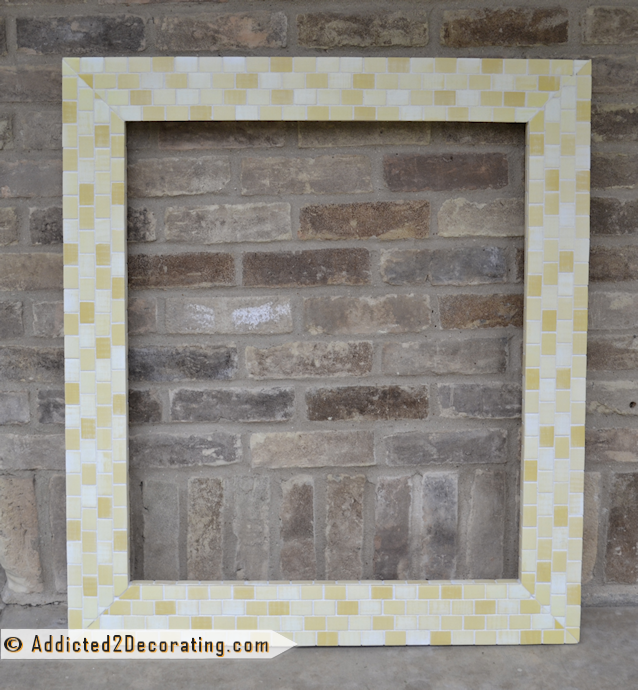 So I hate that you won't get the full effect of the framed mirror hanging over my vanity (yet), but at least you can see how the frame turned out!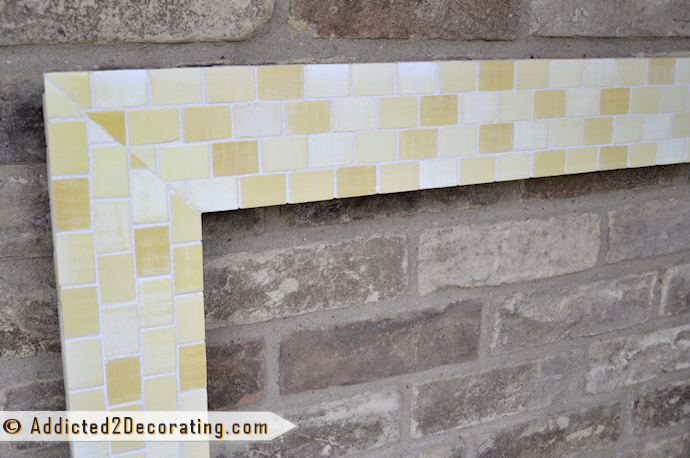 I started with the color of my vanity (the darkest yellow on the frame), and painted random tiles using a craft paint brush*. Then I mixed some of that color with white, and painted more random tiles. Then I mixed in more white, and painted more random tiles. Then I repeated it one more time. Any remaining tiles were painted white.
When I finished that, the colors looked so harsh and "flat". They had no depth or dimension to them, and real tiles are seldom one perfectly solid color. So I did some dry brushing of all of the colors onto all of the tiles using a 2″ paint brush*. I was amazed at the difference it made! It gave the tiles depth and color variation, and also softened the colors and made them blend beautifully.
I'm not sure if you can tell from this picture (since I took it well after the sun went down, and I was working by the light of my front porch light), but I'm hoping you can see the effect of the dry-brushing.  It made a very subtle difference, but enough to make me go from really not liking it at all, to absolutely loving it.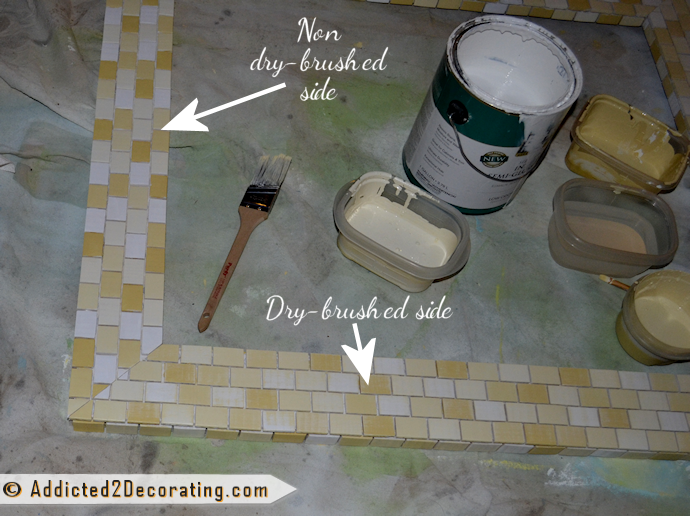 Then I sprayed about four coats of this stuff onto the frame…
After it was completely dry (I waited about four hours), I grouted it. I just used plain white pre-mixed grout*.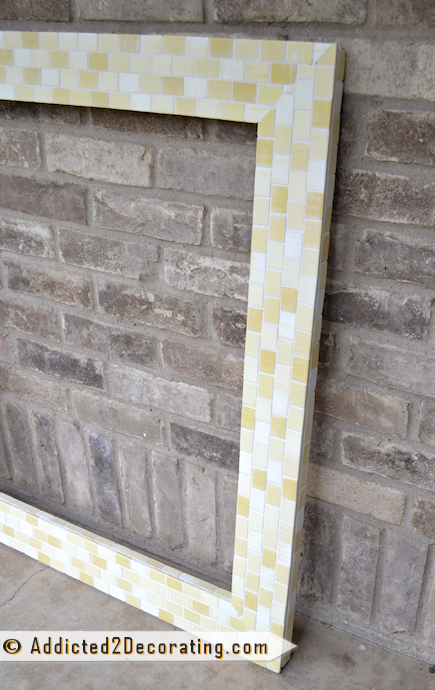 I really love how it turned out, and it looks amazing with my yellow vanity, next to the dark teal wall. I'll show it to you as soon as I can.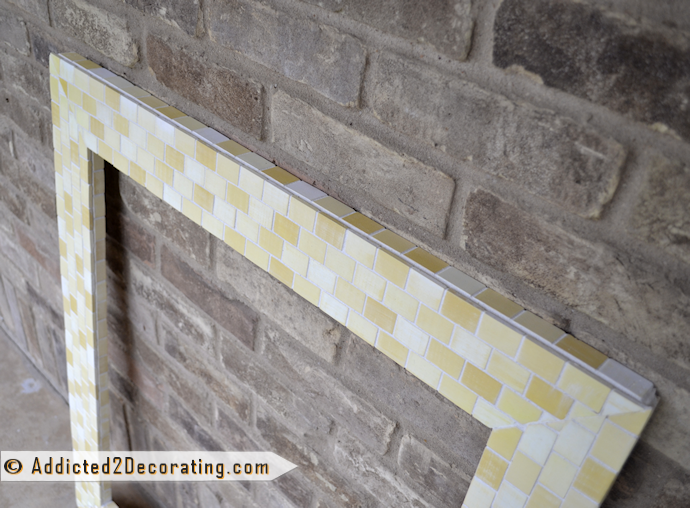 But for now, I need a nap. 🙂
Psst…Did you miss the first two posts on this project? If so, you can click here to see how the mirror was constructed, and then click here to see more detailed info on the construction (as well as an "in progress" picture).
Post contains affiliate links.
Addicted 2 Decorating is where I share my DIY and decorating journey as I remodel and decorate the 1948 fixer upper that my husband, Matt, and I bought in 2013. Matt has M.S. and is unable to do physical work, so I do the majority of the work on the house by myself. You can learn more about me here.
I hope you'll join me on my DIY and decorating journey! If you want to follow my projects and progress, you can subscribe below and have each new post delivered to your email inbox. That way you'll never miss a thing!