Bathroom Makeover Day 17: Floral Hand Painted Floor Cloth
Yesterday, I finished up one more big project for my bathroom makeover.  I made a floral hand painted floor cloth.
You have no idea how hard it was for me to not do stripes.  Stripes are my go-to design for projects like this.  They have great impact in a room, and they're incredibly easy to do.  And most importantly, I love how stripes look.  But this time, I forced myself to do something different.  I made myself step out of my comfort zone and tackle a different kind of design altogether.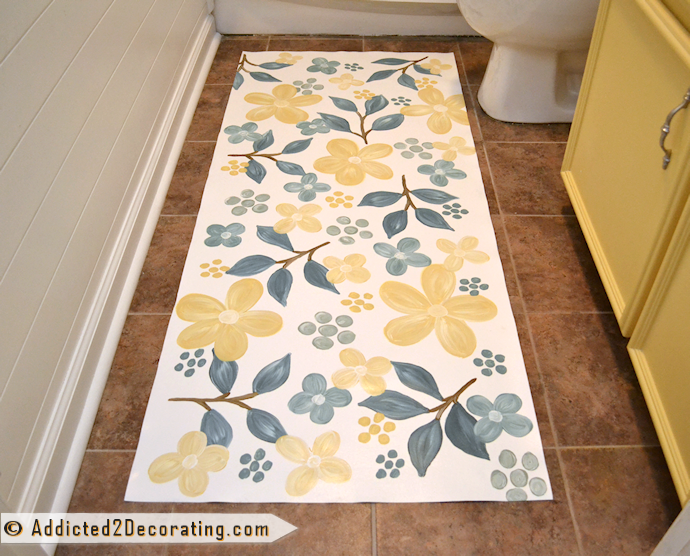 The design was inspired by this fabric from Calico Corners that a reader suggested as an accent on my shower curtain on this post.  (Thanks, Nancy!)
I loved the idea of big, bold flowers and leaves, but I wanted mine to have a little more variation in color.  So I ended up using four different paint colors (not including the brown for the stems), and I mixed in lots of white for more variation.
I painted the whole thing freehand, and as you can see, the shapes are really very basic, like the kind I drew in elementary school.  🙂  But it's the white paint that really gave these little flowers and leaves life.
I essentially used the same method that I used to make this floor cloth for my kitchen.  But this time, I made sure to select a vinyl floor remnant that was perfectly smooth on back.  (My last one had little "dimples" all over the back, which were basically dirt suction cups, and made it a nightmare to clean.)
But if you're not artsy, and don't think you can paint your own flowers and leaves,  you can always use this easy method for making a floor cloth from fabric.
So that leaves me with one major project left in this bathroom makeover — the shower curtain.  And sadly, I'm still not settled on a design.  I'm clearly making this much harder than it should be!!  I think I'll head over and read all of your suggestions again and see if I can make a decision.
Addicted 2 Decorating is where I share my DIY and decorating journey as I remodel and decorate the 1948 fixer upper that my husband, Matt, and I bought in 2013. Matt has M.S. and is unable to do physical work, so I do the majority of the work on the house by myself. You can learn more about me here.