Y'all, I did it! Remember how my studio looked on Thursday?
Yeah. It was crazy and overwhelming. I said I'd clean it up in two days, and I did. Here's how it looks now…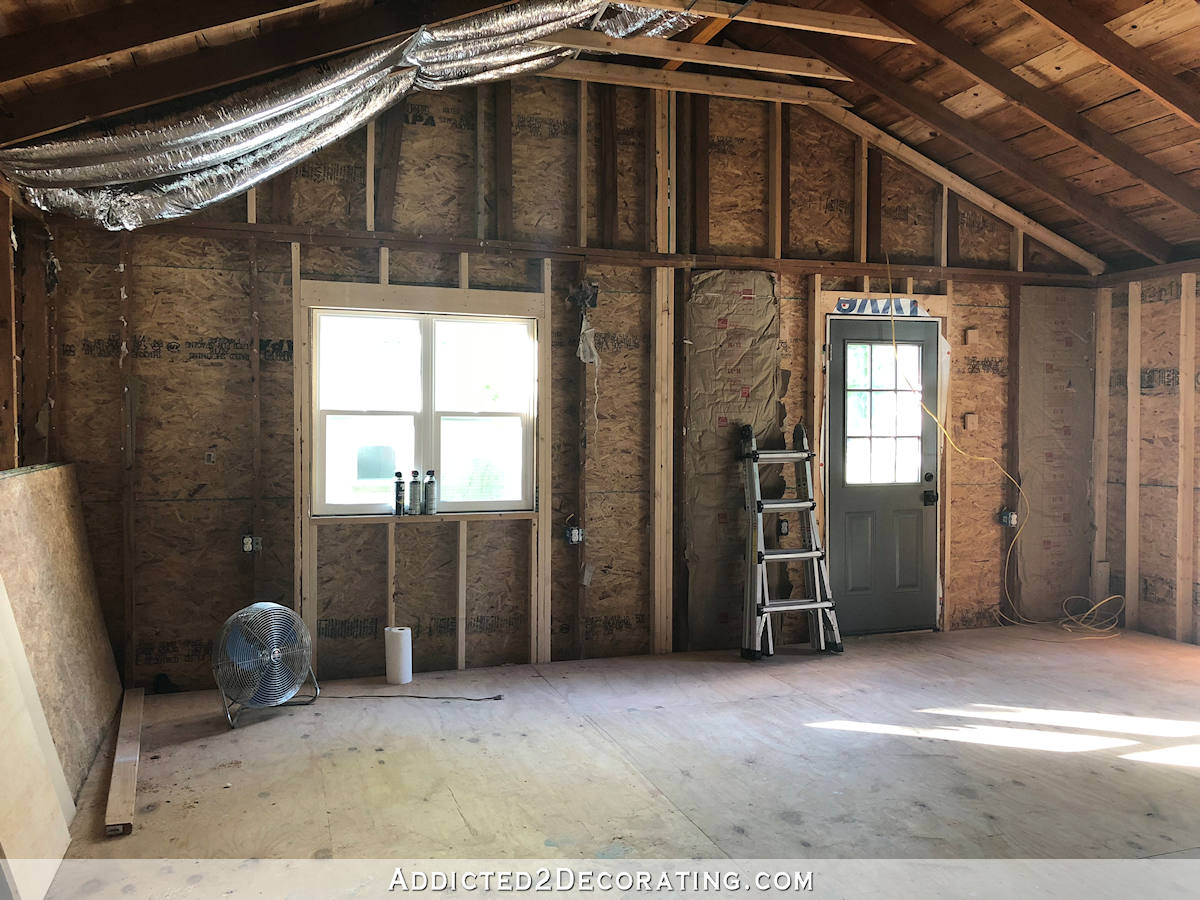 In full disclosure, I also said I'd start on Thursday, but I didn't. I have no idea what I spent the day doing, but it probably had something to do with dreaming about and planning my carport that will be built very soon (barring any unforeseen circumstances). And then I didn't tackle it on Friday either. I generally take Fridays off, so I didn't feel too bad about that.
Then on Saturday, I planned to really buckle down and get busy in here. I finally got started at 3:00 that afternoon. And yet, somehow quite miraculously, I was still able to get it all cleaned out (with the exception of a few items here and there that I can't find spaces for elsewhere) by about 5:00 yesterday.
I had hoped to get started on the electrical today with my brother's help, but we've postponed it until tomorrow. I just wasn't feeling prepared, and this is something I don't want to rush. I feel completely confident in my electrical wiring abilities. But the part that makes me nervous is all of the decisions that have to be made way before the actual wiring can even start.
How many circuits will be needed for these rooms? What will go on each circuit? Where exactly do I want the lights? And where will the lights be switched? Do any of these need to be three-way switches? What about electrical outlets? Have I considered everything I'm going to need? Have I forgotten something crucial (like adding exterior outlets)? And what will I be using them for? Should they be divided onto two circuits, or is one circuit enough? How many of each item will I need to purchase? And what am I forgetting?
All of that preliminary stuff is enough to send my perfectionist tendencies into overdrive and get me perpetually stuck in the planning/revising/tweaking phase. But I've given myself a deadline to get it all figured out and get to Home Depot with my shopping list today by 5:00. That'll give me time to get home, organize my tools and Home Depot purchases in the room, and maybe even get some junction boxes put into place before I go to bed tonight. That way, we'll be ready to go tomorrow morning when my brother gets here.
But it's been a while since I've talked about the plan for the studio (I think), and some of you who are just tuning in may have missed it, so let's review. Here's a floor plan for reference.
This is the side wall of the studio. The window looks out to my neighbor's house, and the door is the one with the portico over it.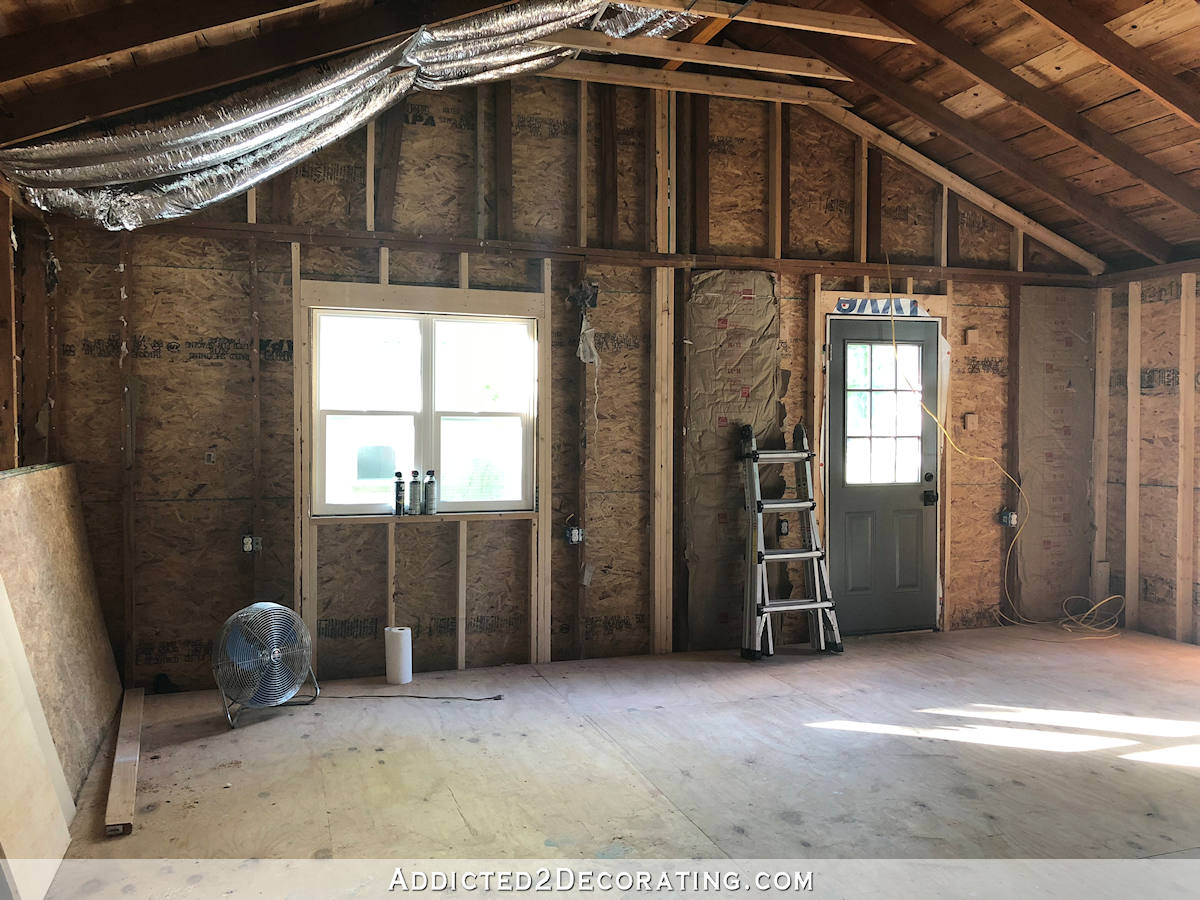 This wall will be my "office" area, with a floating (i.e, not built in) desk and built in cabinets on the wall.
This is the front wall of the studio. The windows look out towards the front yard and what used to be the driveway area.
This whole wall is going to be built-in cabinets and one large desk area where I can spread out and work on projects. And in the future, if I ever decide to hire someone to work alongside me on my blog and any other endeavors, this can be their desk space.
The wall to the right of the above built-in cabinet and desk area is where I plan to park my rolling workroom table when I'm not needing it pulled out into the room for big projects.
This back area, with the French doors that look out towards the back yard (and my ever-growing trash pile 😀 ) is the area that will see a big transformation when the carport is built. See how low the ceiling is above the doors?
That wall is right at seven feet tall, and it makes this back area feel very closed in and cave-like. It's much better now that there's lots of light coming in, but when it was a closed in storage room, it was awful. But even with all of the light, I still don't like it.
I also don't like that it's not built correctly. Whoever built this area used a single 2 x 4 as the top plate of the wall.
Top plates on walls are supposed to consist of two 2 x 4's. So when the carport is built, all of this will be corrected. The wall will be raised to a standard eight feet, and the new top plate will be built correctly.
Last Friday, I also mentioned that the addition of the carport, the removal of this flat roof, and the addition of a new (much taller) roof that will be tied into the original roof might also fix one more problem that's been bugging me. I was talking about this mess of ductwork for the HVAC system, and especially that one coming out the side.
Since this area has no attic space at all, there was really no other option for the ductwork. The problem is that the one coming out the side extends past where I want to put a wall and a pocket door to create a closet at that end of the space. I'd have to build a separate box sticking out from the wall to enclose that duct, and I've just been dreading it.
But now that this low roof will be removed, and there will be some space above the ceiling joists with the new roof, I'm hoping and praying that there might actually be enough room for the ducts (or at least that one duct) to go straight up instead of sticking out to the side. That would sure make things easier (and prettier) for me.
So yay! I'm actually making progress! I almost have my electrical plan finished. I just need to go over it again (or twenty more times 😀 ) to be sure I'm not forgetting anything. I'm excited to get started on it tomorrow!
Addicted 2 Decorating is where I share my DIY and decorating journey as I remodel and decorate the 1948 fixer upper that my husband, Matt, and I bought in 2013. Matt has M.S. and is unable to do physical work, so I do the majority of the work on the house by myself. You can learn more about me here.
I hope you'll join me on my DIY and decorating journey! If you want to follow my projects and progress, you can subscribe below and have each new post delivered to your email inbox. That way you'll never miss a thing!