Wiring The Studio, Part 1 (Electrical Basics – Circuit Breaker Panels, Circuits, and More)
The studio is finally ready to be wired for electricity! That'll get me one step closer to having an actual functional work space, and it's a huge step towards getting this room completely finished.
I've had quite a few people (enough to surprise me) ask me to talk about basic wiring. Let me be clear that I'm not going to give you a tutorial on how to wire your house for electricity. There's too much liability involved in that, and you really need to check your local building codes, permit requirements, etc., before tackling a job involving electricity. And if you feel like it's over your head, even if you have a permit in hand, please, please, for the love of safety and life itself, hire a professional.
But I do think knowledge is power, and once the mystery of electrical wiring was explained to me, I felt like I had a much stronger working knowledge of how my whole house works. I love how empowered I feel each time one of these mysteries — house framing, electrical, plumbing, window installation — becomes less mysterious to me and I actual understand how everything works.
Understanding these things also helps when talking to contractors and subs so that you can better understand what they're talking about, better communicate problems with them, and possibly know more about what's involved in fixing problems so that you won't be easily ripped off.
Knowledge is power, my friends. So let's start with some electrical basics, shall we?
First of all, somewhere your house has a circuit breaker panel (also called a load center, or a breaker box panel, or "that big metal wall box with the power flippy thingamajigs". If your house is old and the electrical wiring hasn't been updated, then you might have a fuse box (or boxes). But if you have a relatively new house, you'll have a circuit breaker panel. Mine is located inside the closet in the guest bedroom, and it looks like this…
Totally scary and intimidating, right? 😀 That's only until you know what you're looking at. Then it's way less scary (but no less dangerous — be very careful where you put your hands!!).
At the top, you'll notice two super thick black wires coming down and attaching to two rather large connector nut thingies. (I'm pretty sure that's the technical term. 😀 ) Those big wires are coming in from outside and supplying electricity to my entire house. My house has 200 amp service, which means that at any given time, I can be using 200 amps of power, which would never happen.
Let's think about that practically. A vacuum cleaner probably uses 10-12 amps. A hair dryer is somewhere around 12-15 amps. A clothes dryer might use around 30 amps. A single-bulb table lamp with an LED light bulb uses around .17 amps. (Amps x Volts = Watts)
So my 200 amp service to my house could supply electricity for almost 1200 table lamps all turned on at the same time. Or I could use my hair dryer, clothes dryer, and vacuum cleaner at the same time, and still have enough amps left to power over 800 single-bulb table lamps with LED bulbs.
But let's not do that, okay? 😀
So you might be asking, "If I have all of that power in my house, then why do some things flip the circuit breaker and make me lose power?"
Well, that's because not all of those 200 amps of electricity are available to all areas of your house. And that's where "circuits" come in.
What is an electrical circuit?
If you look at my circuit breaker once again, you'll see two columns of thin black things with wires running to them, and each of them is labeled with 15amp, or 20amp, or 30amp, or 50amp, etc.
Those are the circuit breakers, and each circuit breaker provides a specific amount of amps to a specific room or a specific area of your home. The most common circuit breakers used are 15 amps and 20 amps, although things like clothes dryers and HVAC systems require dedicated circuit breakers that are much bigger (around 30-60 amps each, depending on the what the circuit is supplying electricity for).
So while my 200 amp service could certainly power a clothes dryer, a hair dryer, a vacuum cleaner, and 800 table lamps at once, I wouldn't be able to do that all in my living room since my living room only has 20 amps available to it via one circuit breaker. So I'd have to use the hair dryer in the bathroom, the vacuum cleaner in the living room, the clothes dryer in the sunroom, and the lamps spread out evenly throughout the house.
Make sense? 🙂
So in a nutshell, an electrical circuit is simply a series of outlets and/or switches that are all powered via one circuit breaker. And even if you never do any electrical work in your own house, it's still good to have a general idea of the circuits in your home so that you'll know if you can plug in your table saw and your air compressor and be using those things while your someone else is running the shop vac.
Planning the electrical circuits
Now that we understand circuits, I'll show you how I planned my circuits for the studio, half bath, mudroom, and carport.
The first step was to draw out the room. I used both a floor plan and elevation drawings to get an idea of where I wanted everything. I used my floor plan drawing to plan out the ceiling lights, ceiling fan, and pendant lights, and to determine where all of those things will be switched. I personally hate three-way lighting (i.e., a light that can be controlled by two different switches, generally on opposite sides of the room), but code also requires that you be able to step into a room and flip a switch for lighting before you actually have to walk through the room. So I made my recessed lights switched at the breakfast room doorway, and the ceiling fan with light switched at the portico door. The other pendant lights are just additional task lighting.
And then I used my elevation drawings of each wall to determine where I wanted my electrical outlets.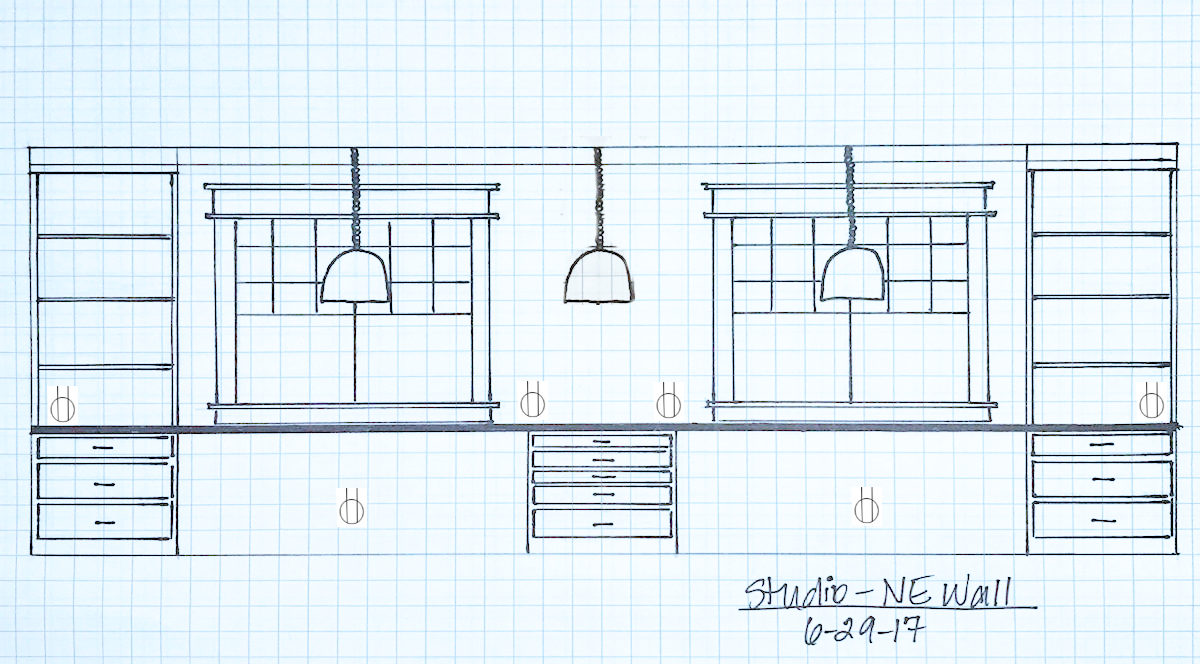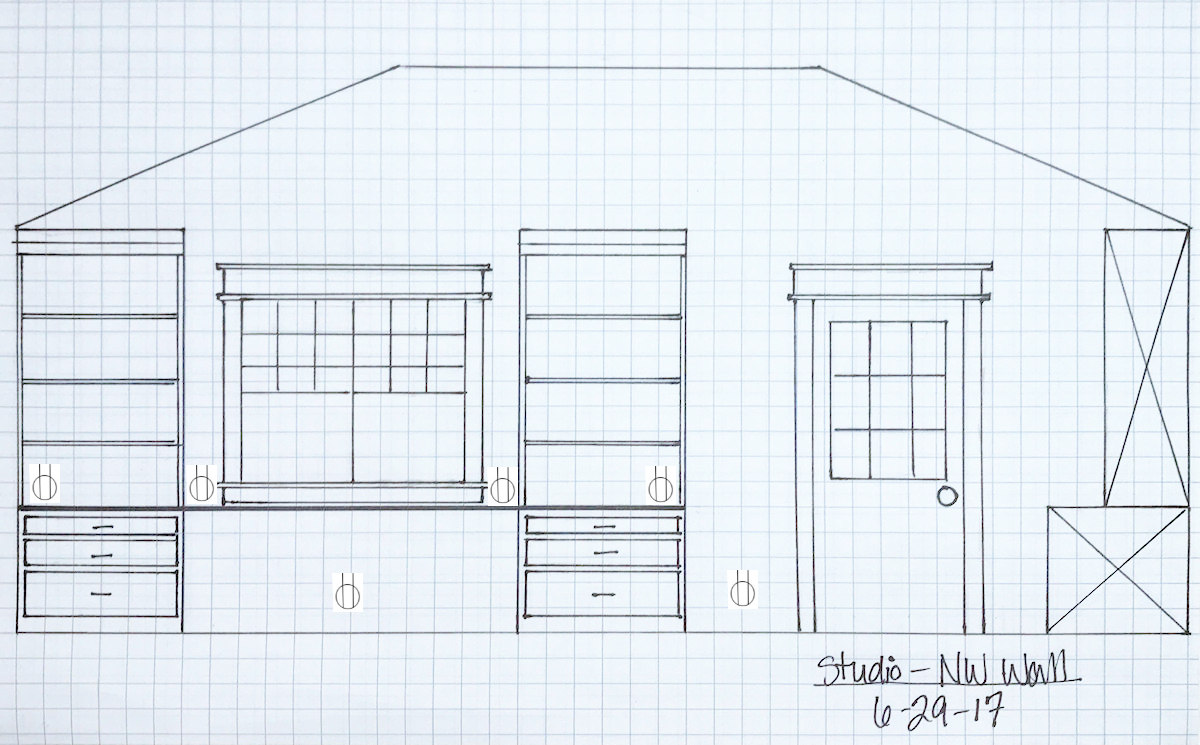 Some of these things are determined by code requirements. For example, on a long stretch of wall, you need to have an outlet at least every 12 feet. And if you have a wall space at least two feet wide, you're supposed to have an outlet.
Other placements are determined by how I'll use the room. For example, I might want to keep chargeable tools inside the cabinets, so I'll need an outlet. I might want to put a printer in a lower cabinet in my "office" area, so I'll need an outlet for that.
It's important to really take time to think through all of the ways that you'll use a room, and even plan for possibilities that might not be relevant right now. I don't actually have any rechargeable tools right now, but I might in the future. Or I might use those outlets to install some in-cabinet LED tape lighting in the future. We'll see. But at least I know those outlets will be available to me if/when I need them.
After I had my drawings all marked up, I then made an exhaustive list, room by room, and section by section, of all of the outlets, and lights I would need. Mine looked something like this…
Half Bathroom:
Exhaust fan with ceiling light
Wall light above mirror
Regular outlet
Outlet for toilet (yes, my toilet has to be plugged in 😀 )
Carport:
Mudroom:
Ceiling light centered on doors
Wall sconces
Outlet
Closet light
Studio:
8 recessed lights
ceiling outlet
ceiling fan with light
My studio list was quite long, so I'll spare you the rest. 🙂 But after I had my very exhaustive list written, sectioned out by rooms, and I also had my drawings in front of me, I was then ready to plan out my circuits.
Some circuits are determined by code. I found this article to be very helpful. Beyond that, it's just a matter of determining how the room will be used, and how many things you think might be plugged in and used at the same time. For example, a workshop that is filled with power tools, and that is used by more than one person at a time might require several circuits just for that one shop. But your home library that's filled with books, where you go to read and get away from it all, and where the most powerful thing used might be a vacuum cleaner once a week, would probably be fine with one 20-amp circuit powering the whole room, including lights and outlets.
So circuits are determined in part by code, but also by how the room will be used.
Using my exhaustive list and my drawings, I determined that my carport, half bath, mudroom, and studio, as well as the portico light and the four outlets I want to put on the exterior of the studio, will take a total of five 20-amp circuits. Since I already have one circuit breaker in my breaker box labeled "garage receptacles" and another labeled "garage lights" and neither of those is currently being used (and haven't since the garage-to-studio conversion started), I can reuse those. So I'll have to add three new circuit breakers to my box.
That means that each one of those circuit breakers will have a long electrical wire (called conductors) going from the circuit breaker in the guest bedroom closet, up into the attic, across the whole width of the attic, and down into the studio (or half bath, or carport) to power the specific circuit (or series of outlets and/or switches).
Just in case you're curious, here's how I planned my circuits:
My electrical circuit plan
Circuit 1:
1 Bathroom ceiling exhaust fan w/light
1 Bathroom wall light above mirror
1 Bathroom outlet
1 Bathroom toilet outlet
Circuit 2:
8 Carport lights (LED recessed on dimmer) (.92 amps total)
4 Carport outlets
Circuit 3:
8 Ceiling lights (LED recessed on dimmer) (.92 amps total)
3 Pendant lights above project desk
1 Ceiling fan w/light
1 Portico light
1 Desk pendant light
1 Mudroom light
2 Mudroom sconces
1 Closet light
Circuit 4:
2 Exterior outlets, courtyard side
2 Low outlets on workroom table wall
2 Under desk outlets on project desk wall
2 In-cabinet outlets on project desk wall
2 Above-desk outlets on project desk wall
Circuit 5:
2 Exterior outlets, portico wall
1 Ceiling outlet
1 TV outlet, workroom table wall
2 Mudroom outlets
1 Office wall outlet by door
2 Office wall outlets, upper cabinets
2 Office wall outlets, lower cabinets
2 Office wall outlets, above built-in credenza
1 Outlet to right of cased opening to mudroom
1 Outlet in cabinet to left of cased opening
The general rule of thumb is to have around 10 outlets on a circuit (again, depending on how they'll be used). You'll notice I have more than that on Circuit 5, but I'm okay with that because, quite frankly, some of those outlets probably will never be used, and the things I do have planned for that area (cell phone charger, printer, laptop computer, desk light) use very little electricity. So I'm adding the additional outlets just in case.
I asked my brother, "Can you think of any reason I'd need an outlet in the closet?" He responded, "Yes. Because if you don't have one in there, you'll wish you had one because you'll need it. But if you go ahead and put one in there now, you'll probably never need it." 😀 Yep. Same concept for several of the outlets I've listed above.
Is your head spinning yet? I sure hope not, because the electrical wiring fun is just starting! 😀
Update:
Want to see the next step in wiring an electrical circuit? You can find that here…
Addicted 2 Decorating is where I share my DIY and decorating journey as I remodel and decorate the 1948 fixer upper that my husband, Matt, and I bought in 2013. Matt has M.S. and is unable to do physical work, so I do the majority of the work on the house by myself. You can learn more about me here.