Sometimes My Procrastination Pays Off (Big, Exciting Progress On The Horizon!!)
While I really hate to do or say anything to encourage my fellow procrastinators of the world in their procrastination, let me just say that sometimes my own procrastination pays off. And y'all, this time it has really paid off in a big way.
I'm getting my carport…NOW!
Okay, I know you're thinking, "What do these two things have to do with each other?" Well, let me explain.
First, you know very well by now that I've been dragging my feet on the whole electrical stuff in my studio. And now you know why I've been putting that off.
But here's the plot twist. In the two weeks since I received the quote from the electrician, and then sat on my hands and made no progress on the studio, my neighbor has been having some work done on his house. He had an awesome covered patio built with a roof that tied in with his existing roof. I've been amazed these last two weeks watching this structure being built, and seeing how they tied it in so seamlessly with the existing roof. The entire time, I've been thinking to myself, "That's literally EXACTLY what I want, except I want to use mine as a carport!"
So I've been watching his covered patio being built, and dreaming about (and now very easily picturing) my own carport built the exact same way. Then yesterday, I posted about my messy studio.
I promise you'll see how these two things tie in very soon. 🙂
As many of you rightly pointed out, I need a place to use my saws. And once my studio is finished, I won't be able to use them in there anymore. (I hate using them in there anyway, because that sawdust gets tracked into the breakfast room, and it's impossible to keep clean.)
Since we moved into this house, any time I needed to use my miter saw or table saw, I'd drag them outside and set up shop on the front porch. That was easy to do when the front porch looked like this…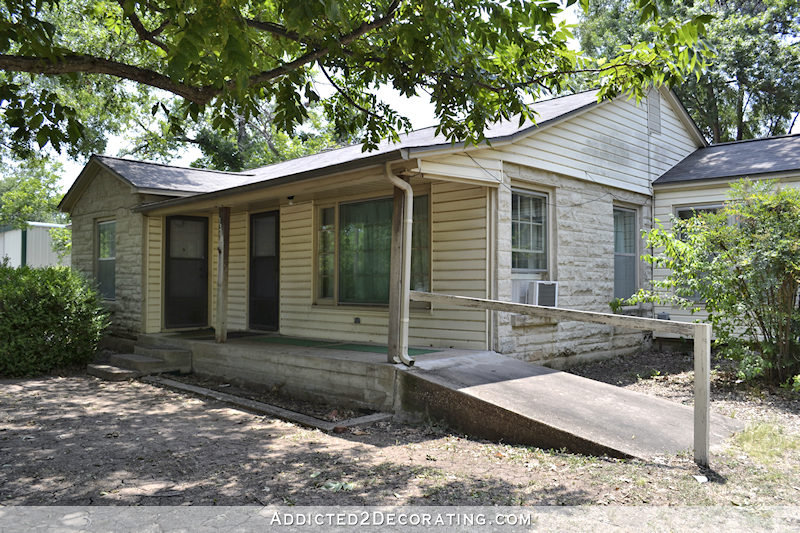 I mean, let's face it. There was no way I was going to make it look worse with my saws spraying sawdust everywhere. When it looks like that, what's a little sawdust, right?
But now that my front porch looks like this…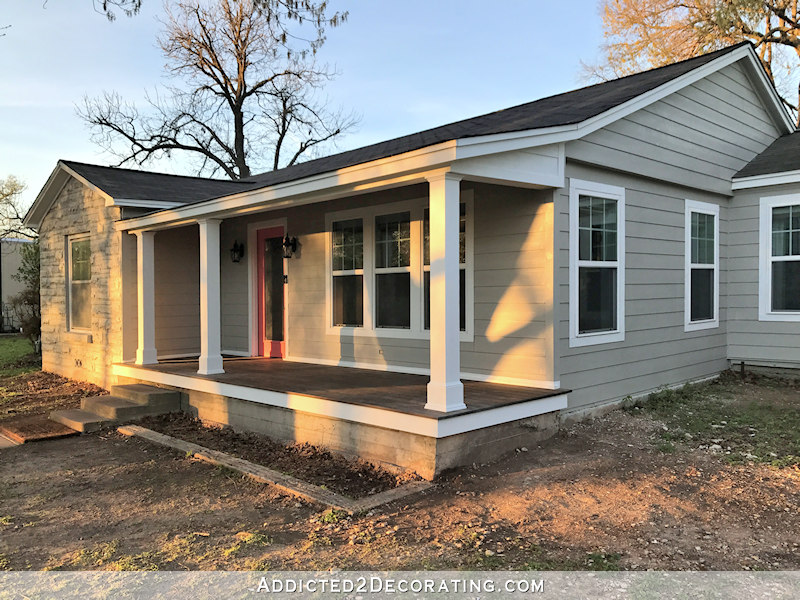 …there's no way I'm putting my miter saw or table saw on there. I've put far too many hours, spent way too much money, threw a few too many tantrums, and cried way too many tears in pursuit of that porch transformation (which still has a way to go to be finished) to do something stupid like dragging heavy saws across the porch and spraying sawdust everywhere.
So Matt and I were brainstorming yesterday about where I could set up my saws between now and that "someday" when I'll be able to build my workshop in the back yard. We discussed turning the guest bedroom into my interim workshop. I could certainly make it work, but again, I wasn't thrilled with using my saws in an area where sawdust would be tracked through the house. I've been dealing with that for seven months now, and it's frustrating.
Then it dawned on me. If we could go ahead and build the carport, I'd have a place to work! There would be electricity and lights out there, so I would no longer be limited to only working until the sun went down. (That was an issue with the studio since it doesn't have electricity, and during the winter, that meant having to stop working around 5:00 because it got too dark in there.) And since it'll have a roof on it, I would no longer be limited by the weather like I have been when I set up shop on the front porch.
In addition to all of that, it's much cheaper (I'd guess about half the price) than building my workshop, and it would give me a place to park my vehicles so I'll stop parking them in front of the studio.
So it's a win/win/win type of situation, but that's not even all!
Yes, there's more! And this very well might be the most exciting part of all!
I'm going to try my hardest to describe how this carport will be built. Right now, the gable side of the roof on my studio is on the side of the house (i.e., facing my neighbor's house). The roof for the carport will be built with the gable perpendicular to the studio gable, so that the gable on the carport faces the back yard.
The basic structure of the roof will be very similar to this picture…
via Pinterest
Don't pay attention to the windows or garage door placement on that picture. I'm simply talking about the roof structure. On my carport, the entrance for cars will be on the same side as the studio door and side window. Hope that makes sense.
So why is this exciting? Because this will enable me to get rid of my absolute least favorite part of my house — a part that I thought I was going to have to just deal with and live with — the flat roof that extends over the back part of the studio where the mudroom and half bath are.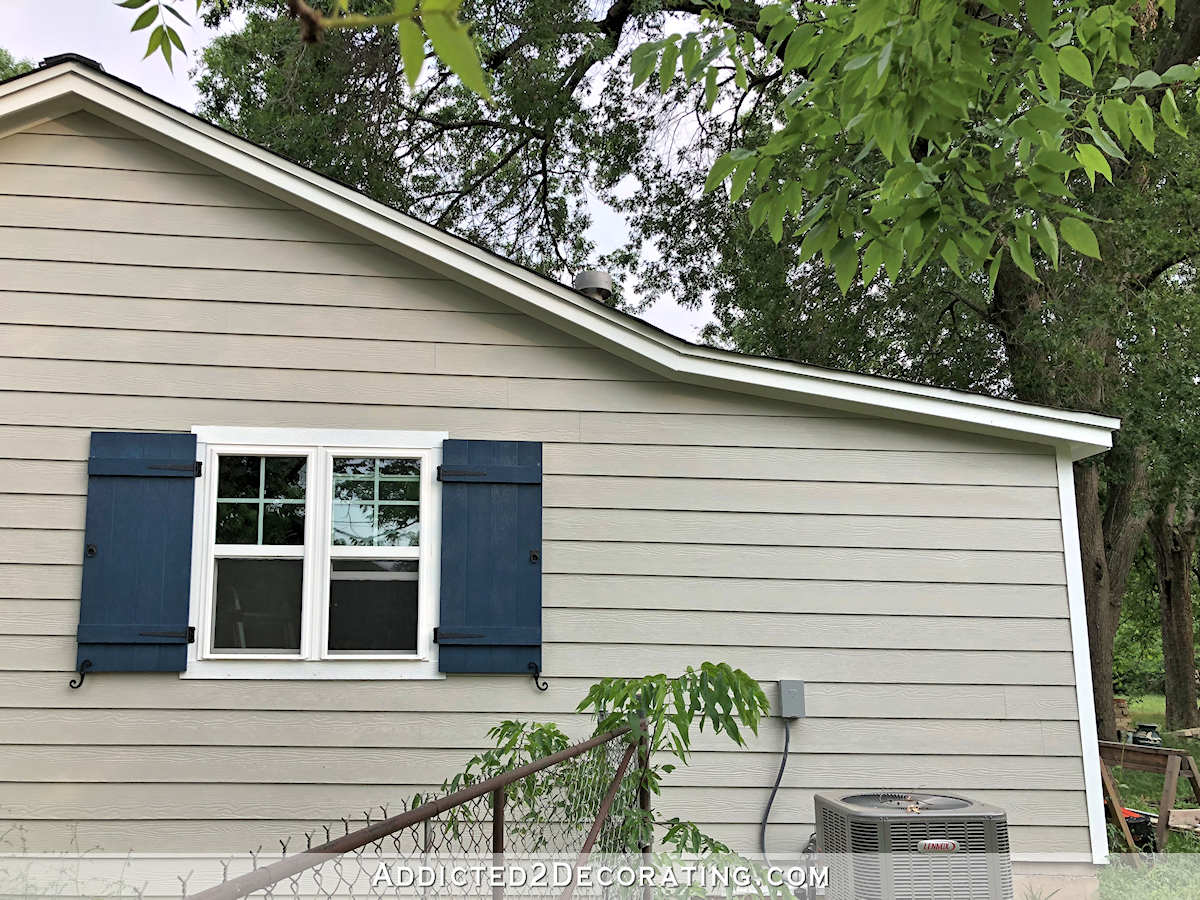 That back section is not an original part of the house/garage. That was added later, and when it was enclosed, whoever did it just tied the roof for the addition in to the existing roof at the lowest point, and then angled it just enough to shed water.
The result is that the ceiling in that back part of the studio is eight feet at its highest, and about seven feet on the back wall with the French doors.
I hate it. Not only do I hate the low ceiling inside, but I've always hated how it looks from the outside. (Excuse my junk. This is where I pile stuff that needs to go to the landfill or metal recycling place, and I'm overdue for a trip.)
I mean, there's just no way to make that roof look good, and you can see that it comes just to the top of the doors and windows.
If you look to the far right in this next picture, you can see that the same flat roof extends over the pantry, as well as the sunroom. I'm not concerned about the sunroom since we've been planning on tearing it down and rebuilding that whole section ever since we bought the house. But I thought I was stuck with the rest of it.
Well, it turns out that I'm not. The carport roof will tie in (like in the illustration above) with the original roof, and cover over the flat roof completely. This means that we will be able to get rid of the flat roof altogether. Well, at least the part over the studio. That 12-foot section over the pantry might still have to stay, but I can live with that. (For reference, the French doors go to the studio. The window to the right of the doors is the half bath at the back of the studio. And the window to the right of that is in the pantry.)
So if we're getting rid of the flat roof at the back of the studio altogether, you know what that means, right? It means that the walls can be raised to normal height!!! No more 7-foot wall at the back of the studio! No more awkward roof line sitting right on top of my doors and windows!
Y'all, I am so excited. I'll have a covered place to park my vehicles (especially important on days when bad weather is in the forecast). I'll have a lighted and covered place to use my saws. But this will also do wonders for the aesthetics not only on the exterior, but also on the interior at the back of the studio. And it might also solve another headache of a problem, which I'll share with you at a later date if this does, in fact, solve the problem.
So how does all of this tie in with my procrastination? Well, I'm so glad that I haven't yet had the room (specifically that back area with the half bath and mud room) drywalled yet! And drywall is one thing I wouldn't have dragged my feet on had the electrical work been finished, since I've vowed never to do drywall again, and I completely trust my drywall guys to do a great job.
So in this case, I have to say, my procrastination paid off. Sometimes things just work out the way they're supposed to. And the guy will be here in about 25 minutes to talk over the details. This is exciting!
Addicted 2 Decorating is where I share my DIY and decorating journey as I remodel and decorate the 1948 fixer upper that my husband, Matt, and I bought in 2013. Matt has M.S. and is unable to do physical work, so I do the majority of the work on the house by myself. You can learn more about me here.