My Top Suggestions For Beautiful, Professional-Looking Draperies
Well, my dining room draperies still aren't finished. But it's not for lack of trying! I worked on them quite a bit this weekend, but only got three of the four done.
I've said before that I'm kind of slow when it comes to sewing, and that's not just because of my procrastination. 🙂 I'm actually slow once I get started, especially on drapery panels. I just like to really pay attention to details since any little mistake or oversight (like not trimming off the selvages, or not getting fabric perfectly straight and square) can have a pretty big effect on the outcome.
So I have one more panel to finish today, and I'll show you how all they all turned out tomorrow. In the meantime, I wanted to share my top suggestions for creating beautiful, professional-looking draperies.
Always line your draperies
Drapery lining makes all the difference in the world in the finished look of your draperies. Unlined curtains can look thin and cheap, and when the sun streams through the fabric, the colors can look distorted and every seam and thread on the back can be visible from the front. It's just not a good look.
And it's an even worse look from outside your home, where anyone looking at your windows can see the back side of the fabric, any seams, and the back side of the side hems.
Lining drastically changes the look, and while I suppose any lining is better than no lining at all, I personally prefer blackout lining. Blackout lining has a rubbery backing on it, and doesn't let any light through at all. Even on panels that are purely decorative and won't ever be closed, I always use blackout lining simply because of the difference it makes in the appearance of the fabric. It keeps the colors true and undistorted, hides the appearance of seams and threads from the front view, and gives a nice, clean, finished look from the outside of the house.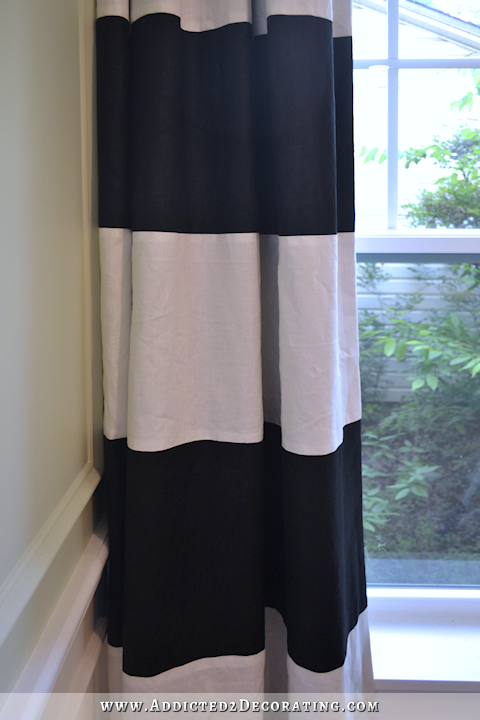 It also adds weight, both literally and visually, which makes the drapery panel look more substantial and luxurious.
Don't forget the return
Drapery returns — where the top outside corners of the drapery panels are attached to the wall — always give a more finished, professional look to a drapery panel. I wrote a post about how to do a drapery return several years ago, and it's still one of my most popular posts! Here's the difference it can make. Here's how most people hang their draperies…
The problem with that is that if your window is positioned in such a way that you get a side view, you can see right between the drapery panel and the window.
That's just not a great look. But adding a drapery return will close up that gap.
Always use header tape
Header tape, also called buckram, is the woven interfacing-type stuff that goes in the top hem of the panel.
I buy mine at Joann Fabric, but it's available at most fabric stores (both brick-and-mortar and online), and it's very inexpensive. When it's sewn into that top fold of the drapery panel, it gives the fabric enough body so that the top header stays upright, rather than the header drooping and sagging under the weight of the fabric.
A droopy, sagging drapery header is almost always a bad look, with the exception being very thin, lightweight, gauzy fabric panels that are intended to give the room a very casual, breezy look. But that's a very specific look for a very specific type of style. 99.9% of the time, even sheers look much better with header tape used in the top.
Pay attention to the pleats and folds
When it comes to how you treat your pleats and folds, there's really not a "right" and "wrong" way, but it's important to give attention to this detail because the way in which the pleats and folds are treated can have an impact on the overall look of the room.
Let me explain what I mean. 🙂
Right now, my dining room drapery panels have "untrained" pleats and folds. I simply finished sewing the pleats, hung the panels, and just let the folds fall where they wanted to fall on their own.
There's nothing at all wrong with that look, but just keep in mind that "untrained" folds lend a more casual, untailored look to a room. Again, if that's the look you're going for, that's perfectly fine. (I still haven't decided if I want this casual look or a more tailored look in my dining room. We'll see.)
But if your room is more formal, or you prefer a more tailored look, then you should "train" your pleats and folds so that they look more polished like this…
In order to achieve that look, it just takes some time and patience to fold the fabric from each pleat so that it's even from the top to the bottom of the panel. And you have to do that with every single pleat. (If you don't have pleats, just fold the fabric so that the folds are evenly spaced on the whole panel). It generally helps to have a helper who can hold the folds in place. Once the folds are in place, use a scrap piece of fabric to tie around the panel to hold the folds in place, and leave it for a couple of days.
I generally tie mine in three places — top, middle, and bottom — and sometimes it helps to use a steamer or steam iron to really help the folds stay in place. After a day or two, remove the ties, and your drapery panel shoudl have perfectly trained pleats and folds for a very tailored look.
Hang them high and wide
I love draperies so much that I never think a room is finished with out them. And because I love them so much, I'm always shocked when someone tells me, "Oh, I don't like curtains on my windows." What?! How can that be?!
But about 99% of the time, they follow up that sentence with, "I don't like to block the view," or "I don't want anything blocking the sunlight." Aaaahhhh, okay. I get it. The problem isn't that they don't like draperies. The problem is that they're hanging them wrong.
Draperies look their absolute best (in my humble opinion) when they're hung high on the wall, and wide on the window. Not only does that make the ceiling look taller, and the window look bigger, but it also doesn't block the view or the light.
via Homegoods
In my mind, draperies should act more like frame on a piece of artwork. If you have a beautiful oil painting of a landscape, and you take it in to be framed, you wouldn't choose a frame that covers up several inches of the painting on each side, right? You'd choose a frame that just barely covers the painting (maybe 1/4 inch on all sides) just enough for the painting to be secure in the frame, but any decorative part of the frame would add inches of height and width to the overall look of the artwork rather than being placed over the artwork.
It's the same concept with your draperies. Don't cover up any of the beautiful landscape that you see through the windows. Instead, use your draperies to frame that landscape, only covering up as much of the edges as necessary in order to create that beautiful frame.
And finally…
Don't use clip rings
Yes, I know I used clip rings in the photo of the drapery return above. This is a "do as I say an not as I do" kind of situation. 😀
Leave the clip rings for the young girls decorating their dorm rooms and first apartments. Because the fact is that even if you can cleverly hide the clips on most of the fold and pleats, there will always be one or two clips (e.g., on the leading edge) that can't be hidden. And this is definitely something that separates the DIY look from the professional look.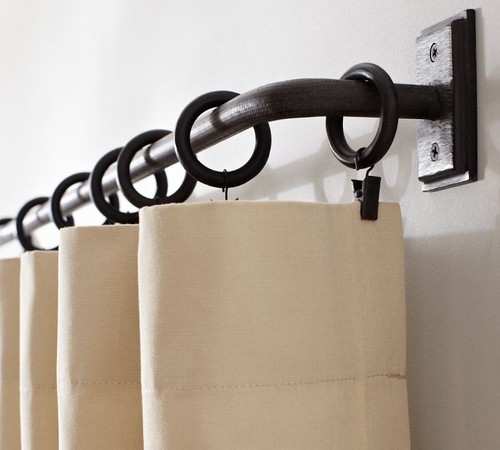 traditional curtain rods
It really doesn't take any more time, effort, or money to use the clipless rings and actual drapery hooks, the finished look will be much more professional and polished.
Addicted 2 Decorating is where I share my DIY and decorating journey as I remodel and decorate the 1948 fixer upper that my husband, Matt, and I bought in 2013. Matt has M.S. and is unable to do physical work, so I do the majority of the work on the house by myself. You can learn more about me here.