Last Updated on May 21, 2016 by Kristi Linauer
Well, y'all. If you showed up today hoping to see my finished dining room draperies, I have bad news. They're still not finished. And the reason (at least in part) is because I spent yesterday afternoon shopping for and selecting a new sewing machine…a good machine. A fancy machine. A sewing machine that will make sewing much more enjoyable for me, and that will make my projects much easier and faster to complete. Here's what happened…
Yesterday, I headed to JoAnn Fabric to pick up a few items to finish my dining room draperies. I happened to walk by the Husqvarna Viking sewing machine section (which is kind of a store within a store) and the sales woman was creating a beautiful paisley design on an embroidery machine.
We talked for a bit, and as I stood there watching this amazing machine, I kept thinking of how much fun it would be to own something like that. And as she kept showing me more and more of the projects she created with it, like this gorgeous embroidered pillow…
…I became more convinced that I needed this machine!
I knew it would be expensive, so I reminded myself to keep calm, cool, and collected, and not to show any sign of shock on my face, as I asked her the price. I expected something like $4-$5,000. Ummmm…yeah. It was over $14,000!! There was no way to hide my shock. 😀
I could never in my life bring myself to pay something like that for a fancy sewing machine. Never. But for a very long time now, I've wanted a brand new, nice sewing machine.
Here's the deal. I know I've said time and again that I don't like sewing. Well, that's just simply not the truth. I dread starting a sewing project, but every time I finally get started, I realize that I really do enjoy the process quite a bit. It's relaxing. It's easy. And it's a great change of pace.
The part that I DON'T enjoy is wrestling with my machine to get it to do what I want it to do! And the reason it's such an issue is because I've never sewn on a really nice machine.
Out of all of the types of DIY projects that I do, I've been sewing the longest. While I'm pretty much self-taught in just about everything else, I actually did receive hands-on teaching when it came to sewing. My mom taught me how to sew when I was quite young, and I remember making my very first piece of clothing (a dress that I was very proud of) when I was in fourth grade or so.
So I've been sewing for over 30 years, and while I love creating, and I love being able to save thousands of dollars by making my own lined draperies, pillows, etc., wrestling with the actual machine generally brings me to tears at least once during each project. And if you were to see the machines I sew on, you'd understand why.
My current machine (before last night) is this Necchi machine that used to be my grandmother's.
To be quite honest, this thing is a workhorse. Out of all of the machines I've use, this one is the best. But you can see it only does 10 basic stitches and four button holes. I love that it'll sew through many layers of fabric with no problem at all, but my main issue with this machine has always been how slowly it sews. I think it's just because it's old, but I can press the pedal all the way down, and it just kind of chugs along at a very slow pace. That makes my projects take way longer than they should to complete.
Before this one, I owned two different Kenmore machines from Sears, each of which cost about $120. They looked something like this…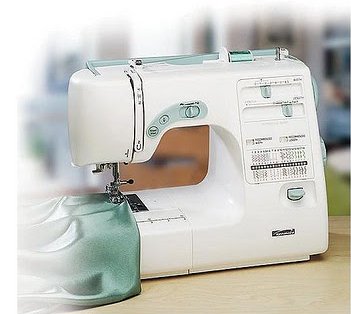 In other words, these were very basic machine, only a step or two up from the machines made for kids. Those are fine for people who rarely sew, or just want to work on small projects (like making a pillow here and there), but it's really not great for big projects. And my biggest complaint with one of them was that in order to use the blind hem stitch, the fabric had to be to the right side of the needle. That means that in order to blind hem a drapery panel, I had to feed the entire panel through that work space to the right of the needle. It was frustrating, and made me dread making draperies.
Each of those machines lasted for about two year before giving out.
And before that, for about two years, I sewed on a vintage 1940s or 1950s Singer machine that looked very similar to this one. Not kidding.
That was actually another workhorse, but it just didn't have the functionality that I wanted or needed. I don't think it did blind hem stitches at all, so it wasn't really practical for making draperies…although somehow I did make it work for a couple of years.
So yesterday, after picking myself up off the floor from hearing the $14,000+ price tag for the sewing/embroidery machine, I asked the nice sales woman what type of machine would be good for someone like me. I explained what type of sewing I do, and she showed me two different machines. I don't even remember what the other one was. It didn't seem very user friendly, to be quite honest.
But when she showed me the Husqvarna Viking Sapphire 960Q, it seemed like exactly what I wanted. And the more she demonstrated it, the more I kept wondering how in the world I was going to get Matt on board with me buying a new not-so-cheap machine.
And once again, I reminded myself to be calm, cool, and collected, and not show any shock on my face, as I asked her the price. The regular price is $2800 (ugh…I didn't think Matt would go for that), but this model just happens to be on clearance, making way for the new model, so the clearance price is $1999. And the beautiful thing is that even though it's on clearance and this model won't be made anymore, it still comes with a full warranty and the company guarantees that all of the parts for this machine will be available for at least 20 years. Wow!
I took all of the info and headed home, wondering on the way how I was going to convince Matt that I needed a $2000 sewing machine. Well, he didn't need any convincing. I got home and told him about it, and he said, "Well, why don't you go get it?" I said, "Really? Right now?!" He said, "Kristi, you need to learn to splurge sometimes." 😀
So I'm now the proud owner of a brand new sewing machine. A great sewing machine. The kind that makes sewing an absolute joy. The kind that you don't have to wrestle with and curse at and cry over in order to get a project finished!
It has a fancy touch screen with all of the stitch settings and options, and it does over 300 different stitches. THREE HUNDRED!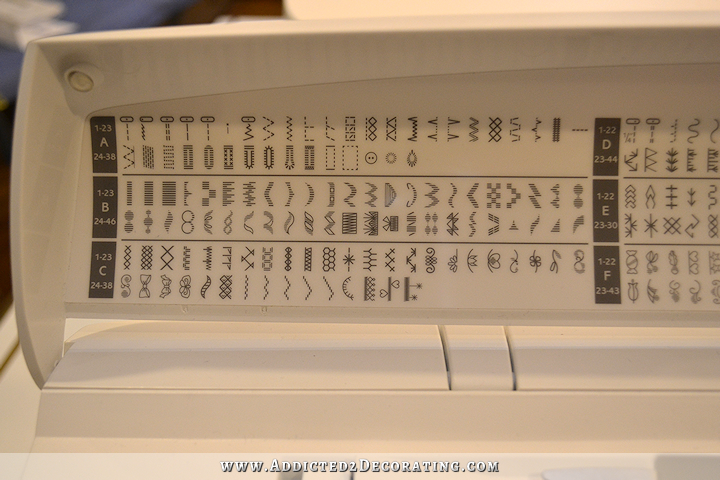 Once I finally got it home and unpacked last night, I didn't really have much time to play around with it, but I did test out a few stitches that looked really interesting to me.
It's going to take some time to get myself out of the habit of pulling the fabric through the machine. This one feeds itself very well, and pulling it messed up the stitches. I'm not used to a machine that actually feeds itself properly. 😀 I also think that using a thicker fabric or stabilizer on the back will make the decorative stitches come out better.
So I have a lot of learning to do, and I'm so excited! It came with 12 different feet, and to be quite honest, I don't know what most of these do or how to use them. And that buttonhole foot (the big one at the top of this photo) looks very intimidating to me. I've never seen a buttonhole foot like that before.
And because I'm not a person who reads owners manuals, but I want to get everything out of this machine that I can, I actually signed up for classes. That should be fun…and interesting! I've been sewing for over 30 years, but I would imagine that I have a ton of stuff to learn when it comes to these fancy machines.
I can already tell that this machine is going to go a very long way in changing my attitude towards sewing. It's actually fun and easy to use. Oh, and while it does come with a regular foot pedal, it's actually not needed! In all of the sewing and testing I did last night, I didn't use the pedal even once because it also has a convenient start/stop button right there on the front of the machine that you can use, along with two buttons that will increase and decrease the speed. Amazing! And the automatic needle-down option will be so nice to have, along with the button that you push to cut the threads. No more searching for a pair of scissors to cut the threads each time I finish sewing.
It was definitely a splurge, and I don't like to splurge like this very often. But I think this is one of those purchases that I'll look back on in a few years, and wonder how I sewed for so long on those other machines. I can actually see myself looking forward to sewing now!
Addicted 2 Decorating is where I share my DIY and decorating journey as I remodel and decorate the 1948 fixer upper that my husband, Matt, and I bought in 2013. Matt has M.S. and is unable to do physical work, so I do the majority of the work on the house by myself. You can learn more about me here.
I hope you'll join me on my DIY and decorating journey! If you want to follow my projects and progress, you can subscribe below and have each new post delivered to your email inbox. That way you'll never miss a thing!