Tips For Installing Beautiful (Almost Flawless) Trim Molding
First of all, thank you so much for all of your sweet comments about my Phase 1 progress on my living room yesterday! (See what I'm doing there? I've decided to live in a delusional state where those 530+ comments had nothing to do with a giveaway, and everything to do with my living room progress only. 😀 )
I had a couple of you ask for a tutorial on how to do the wainscoting.
Let me clarify that I didn't actually install wainscoting in this room. Not yet, at least. So if you see something that looks like wainscoting, it might be shadows being cast from the new chandelier.
Wainscoting is part of my final plan for this room, but it's not part of my Phase 1 plan. I'll wait until that one wall is extended three feet or so, and I build the other wall with the grand entrance into the room (the one where I want to install stationary French door panels on each side of the entrance).
Until then, I simply put up one row of trim molding (i.e., a chair rail), and I painted one color above it, and another color below it.  There's not really much I could give in the way of a tutorial for that.  Simply cut some chair rail molding, decide on the height that you want it (I put mine so that the bottom of the molding was 38 inches from the floor), and attach the trim to the wall.  I always use Loctite construction adhesive along with 1.5-inch brad nails using my nail gun.
But what I can share with you are four or so tips that I've learned about how to install nearly flawless trim molding.
1.  When joining two pieces of trim molding, use a 45-degree mitered joint rather than a 90-degree butt joint.
This one tip alone will make a huge difference in your finished trim. Most new DIYers, when joining two pieces of trim together to form a longer piece, will cut each piece off at a 90-degree angle, butt them up next to each other (thus the term "butt joint"), and call it good. Those types of joints will almost always show in the finished product (and reveal that the installer was a novice at installing trim).
Instead, always cut each piece at a 45-degree angle before fitting them together.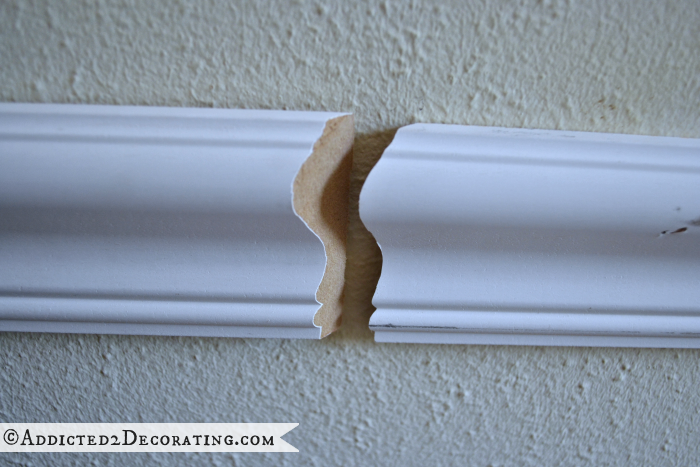 You'll be amazed at the difference. Not only does the joint fit together much nicer, but it's so much easier to fill, sand, and make that joint disappear.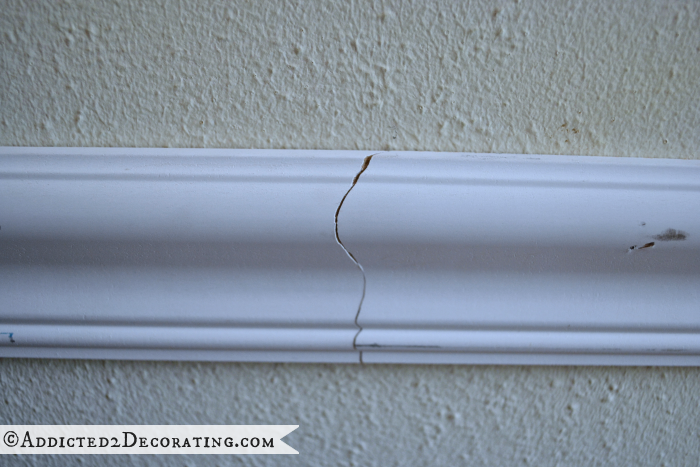 2.  Never end trim molding with a blunt 90-degree angle.
Most of the time, trim is continuous around the room, or it butts right up against other molding (like around doors and windows), and those areas are almost always fine cut at a 90-degree angle.
However, there are times when you might want to stop the trim in an area where it doesn't butt up against another trim.  An example would be a chair rail molding that is interrupted by a window that does not have trim around it (i.e., a window with a simple drywall return rather than a decorative molding casing).
In a case like this, you never want to end the trim with a blunt 90-degree angle. Instead, cut the end of the trim at a 45-degree angle…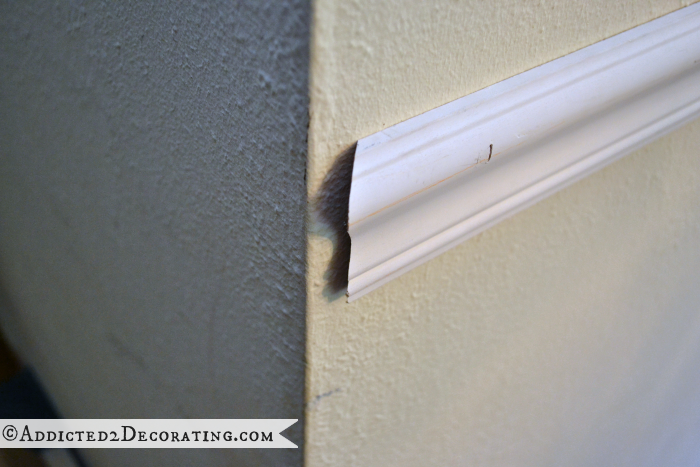 And then cut a return that goes back to the wall…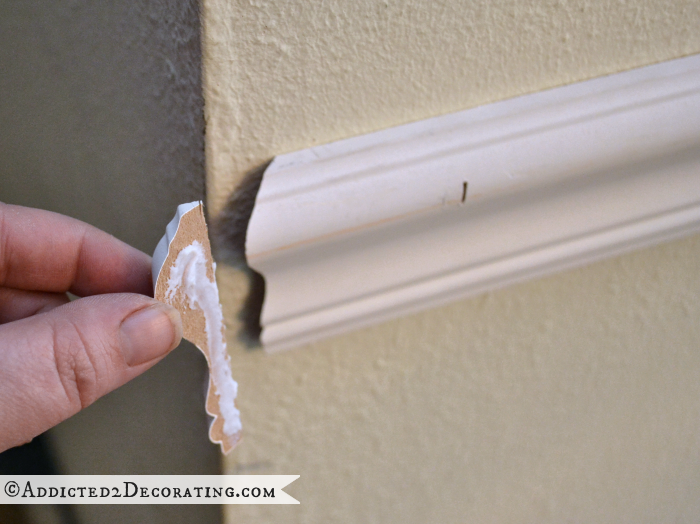 It's a tiny piece, and a tiny detail, that makes a huge difference in the finished product.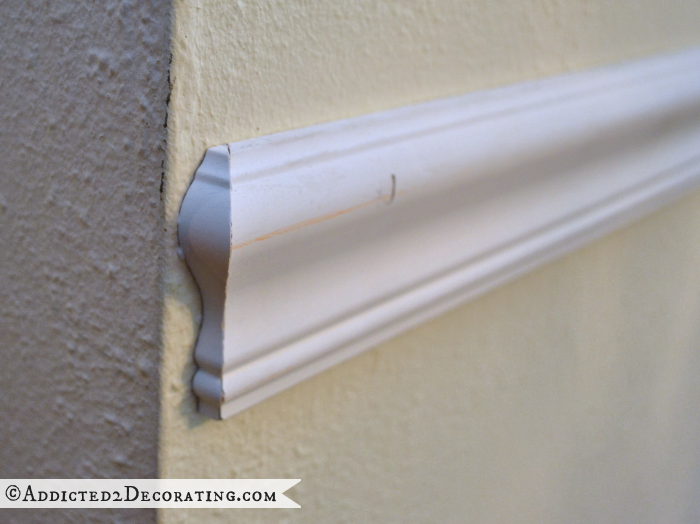 (Obviously I could have done that a little better so that it ended right at the corner. Oops. 🙂 I've learned some tricks along the way, but I'm still far from a pro.)
And just in case you're wondering, I would do this even if I were working with a squared off trim, like a plain and simple 1 x 3.  I know it seems like it wouldn't make a difference with trim like that, but it does.  I failed to take the time to do this in the condo, and I regretted it each time I looked at it.
3. Use wood filler instead of caulk on the flat areas of the trim.
This is where the pros and I differ. 🙂 I always, always use wood filler to fill areas on the flat areas of trim. What I mean by "flat areas" (since my trim obviously isn't flat here) is any areas where the finished trim would need to be perfectly smooth. This includes nail holes, areas where two pieces of trim are joined on a flat wall, etc.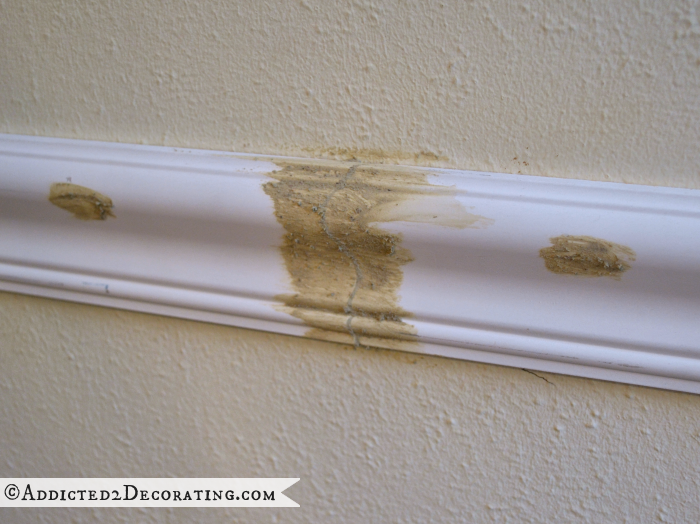 I love to use wood filler on these areas because wood filler can be sanded. Caulk can't be sanded. You'll find that both caulk and wood filler shrink just a bit when they dry. With wood filler, you can go back and add just a touch more, let it dry, and then sand it to a perfectly smooth finish using fine (150-grit or higher) sandpaper. With caulk, you can add more if the first bit shrinks, but you'll very rarely find someone who can get a perfectly smooth finish with caulk. It's fairly simple to do with wood filler, though. (Just be sure to prime it before painting!!)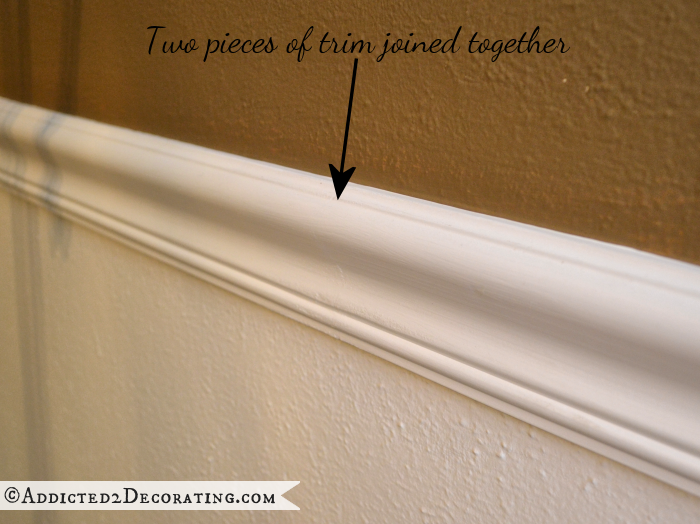 The combination of the 45-degree joint and the wood filler will result in a nearly flawless joint.
Be sure that you do any wood filler-ing and sanding before you do any caulking.
4. Use caulk on inside corners and areas where the trim meets the wall or other trim.
If you try to use wood filler in inside corners, you'll make yourself crazy trying to sand it. Seriously. That's a job for caulk. Caulk also works perfectly to fill in those tiny spaces where the trim meets the wall, or where the trim is butted up against other trim (like that around doors and windows).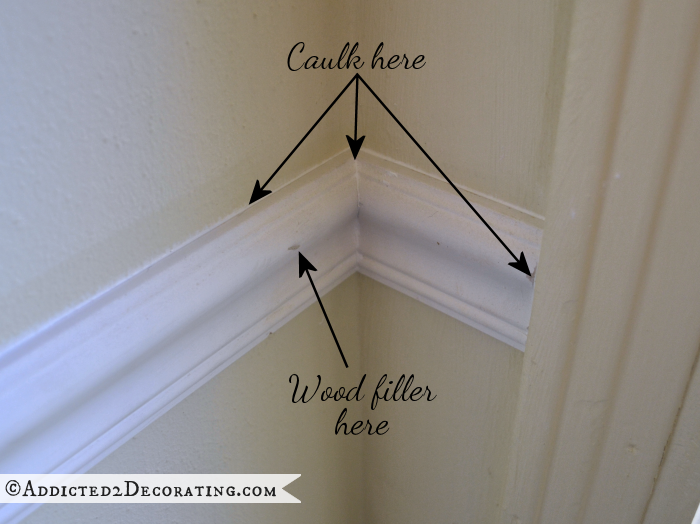 Now when it comes to outside corners, whether or not you use wood filler or caulk will be determined by how perfectly you cut your mitered corners. If they fit together like a glove, then caulk will do. If they don't quite fit together perfectly, you might opt for wood filler so that you can sand down the imperfections and fake a perfect corner. (I have plenty of experience with that on projects like table tops, where I put trim along the outside edge of the table top. Rarely do my outside corners match up perfectly, so it's wood filler and sanding to the rescue.)
I hope those tips help you! And if you have others you'd like to pass along, please feel free to leave them in the comments. I'd love to learn from your experiences.
Also, as I mentioned above, I've learned some tips and tricks along the way, but I'm definitely not a pro.  While I'm very pleased with the return that I cut for my chair rail where it ends at the outside corner of the wall, I know that there may have been a better way to do that molding since I was planning on painting with a dark color above and a light color below.  I'd love to hear from any of you more experienced people.  How would you have handled that?  Should I have wrapped that trim around the corner just two or three inches and then ended it there?  Something about ending it right at the corner like that bugs me, so I'd love to know how some of you more experienced people would have done it.
Addicted 2 Decorating is where I share my DIY and decorating journey as I remodel and decorate the 1948 fixer upper that my husband, Matt, and I bought in 2013. Matt has M.S. and is unable to do physical work, so I do the majority of the work on the house by myself. You can learn more about me here.