DIY Black & White Horizontal Stripe Draperies (Lined & Pinch Pleated) – Finished!
I finished my dining room draperies! This is a BIG project marked off of my dining room "to do" list, and it feels so good to have them done after procrastinating so long on them.
If you missed part 1 of how I made these draperies (the part where I pieced together the face fabric using solid black and solid white linen), you can click here for those details.
I did not do a tutorial on how I finished the draperies (the part where I hem the panels, add the lining, and sew in the header and pleats) because I already have two very detailed tutorials that demonstrate that process. You can see the first one here…
…and here…
…and the other one here…
The first one is a double-width drapery panel, and the second tutorial is a drapery panel using three different fabrics on the face. But regardless of what you do with the face fabric (one single solid piece of fabric, pieced fabric to make stripes, double width, etc.), the process of hemming, adding the lining, and adding the header is all the same.
Anyway, here's how my black and white striped dining room draperies turned out!
I love them! I'm so glad that I went back to the black and white stripes that I've wanted for so long. I had changed my mind for a while there because I was so afraid that four panels of stripes would be overwhelming to the room. Now that they're finished and installed, I don't feel like they overwhelm the room at all.
And of course, once I get my furniture and other fabrics in here, they'll just be one of many layers in the room, rather than being so front-and-center like they are in an empty room.
Also, in order to lessen the amount of fabric and stripes, I did something that I generally never do. I only used on width of fabric for each panel on the wide front window.
That's generally a decorating faux pas in my book, because even if draperies are going to be stationary and purely decorative, they should still at least look like they could be functional. And that means that they need to be wide enough to cover the window (generally the fabric needs to be 2.5 to 3 times the width of the window on pinch pleated draperies). But I took a chance on using one width. I'm still getting used to it, but I think it'll look fine in the finished room, and it's probably something that guests in my house would never notice.
Also, in my last post showing how to piece together the face fabric, I explained how to arrive at your finished length for the panels and explained various ways that panels can be finished (e.g., puddled, breaking on the floor, just above the floor, etc.) and how to figure each one.
I like for my drapery panels to hang just above the floor, without breaking on the floor at all. So after measuring from the floor to the pin loop on the drapery ring, I subtracted 1/4 inch to arrive at my finished length. You generally need to account for the fact that draperies will hang just a bit longer once you get them hung and get the wrinkles steamed out.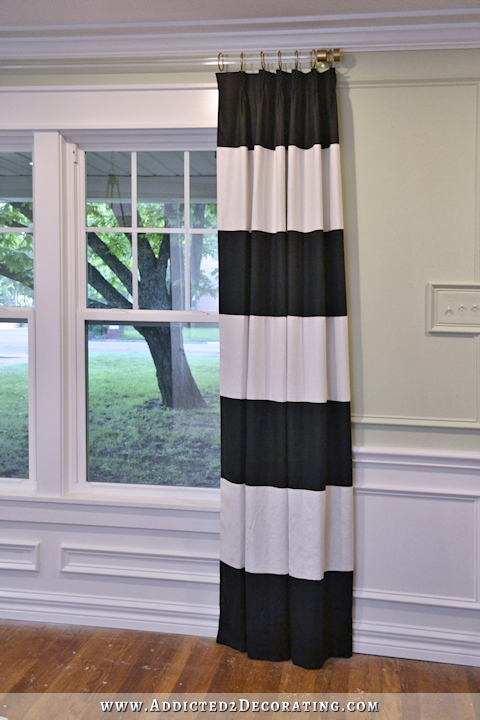 And of course, I can't NOT mention this awesome drapery hardware that I learned about from A Storied Style and Hunted Interior.
The acrylic rods are from Nationwide Plastics in Dallas. You have to call to order, and their number is (214) 239-3870. I ordered the 1.5-inch cellcast rods, and they cost about $69 for an eight-foot rod. They'll cut them for you free of charge, but if you want the ends polished (i.e., if you don't want to use caps on the ends like I did), there'a an additional charge of about $15 per rod. For four rods, I also paid about $30 for shipping, but of course, I'm just 90 miles south of Dallas, so it might be more for those of you not in Texas. This company is very nice and incredibly helpful on the phone, and they were very patient to answer all of my questions over three different phone calls before I actually placed my order.
(Side note: The terms Lucite and acrylic are often used interchangeably. Lucite is a brand name of a company, but it's often used as a general term to describe acrylic products. Kind of like Sheetrock and drywall are often used interchangeably, but Sheetrock is an actual brand name.)
The brackets and end caps are from Buy Railings.  I used the Polished Brass Flush Center Post 1.5″ OD (item #00-342/1H) for the brackets, and those fit the acrylic rods perfectly. For the end caps, I used the Polished Brass 2″ OD (items number 00-600/2).  These were NOT a perfect fit because these are actually made to be used inside the ends of brass rails, so they don't make any end caps that fit perfectly OVER the ends of 1.5″ diameter rods. I just used a bit of hot glue on the ends of the rods, and centered the caps as perfectly as I could. There's about a 1/16″ space between the inside of the caps and the acrylic rod. I doubt anyone would ever notice that.
And finally, the rings came from Overstock.
Just two more final notes:
The brass brackets and end caps are VERY brass. The kind that has a slight hint of red. I'm not really a fan of bright, shiny brass, but it's nothing that a bit of antique brass Rub 'N Buff can't fix. That made them closer in color to the rings, which are an antiqued gold color.
And most importantly (and I can't believe I didn't see anyone else mention this about these rods), yes, these rods will bow if you put too much weight on them. On a long window like I have, I would not use these rods with double-width lined draperies, and I certainly would not use them if I were actually going to open and close my draperies every day.  Now a double width of thin, light, unlined curtains would probably be okay to open and close every day on these rods.
So I guess it's good that I decided beforehand to just use stationary, decorative panels, and to only use one width. 🙂 If I hadn't decide that beforehand, and had still been planning on using double-width panels that I'd open and close every day, I would have been incredibly disappointed and frustrated that no other blogger had mentioned this in their posts about these acrylic rods.
So, consider yourself warned. 🙂
EDIT: I will have to find a solution for privacy, since these are just decorative. Right now, I'm considering some simple, solid white Roman shades. I'd like something that will kind of disappear when they're open, and just blend right into the window trim so that they don't compete with the draperies.
Addicted 2 Decorating is where I share my DIY and decorating journey as I remodel and decorate the 1948 fixer upper that my husband, Matt, and I bought in 2013. Matt has M.S. and is unable to do physical work, so I do the majority of the work on the house by myself. You can learn more about me here.