Now that my house is painted, I can't stop daydreaming about, and planning for, my outdoor projects. I'm so excited to tackle some of these this year. The really big  and expensive projects, like getting a new driveway, will probably have to wait. But I can still do quite a number of much more budget-friendly projects to add some major curb appeal to the house.
If you missed the post yesterday showing the house as it was when we bought it compared to how it looks now with the new siding and new paint, you can click here to see it. But here's the front view as it is now…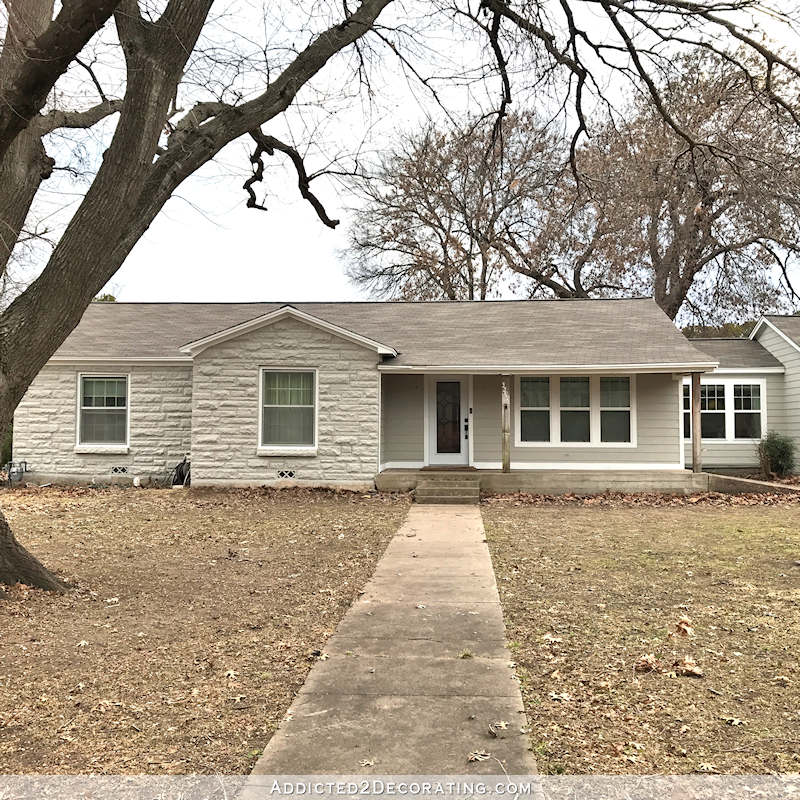 All day yesterday, something was bothering me about the front porch (other than the sagging roof line on the porch roof, which will be fixed soon). I came back and looked at the pictures about 10 times before I finally realized what seems "off" to my eye. It's the side wall on the front porch where that second door was closed up.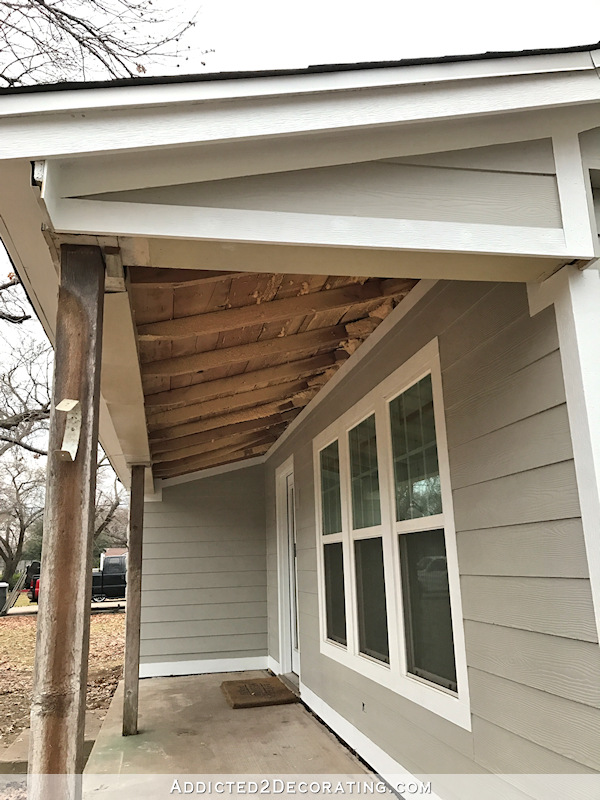 From that angle above, it looks just fine. But from the front of the house, it looks off to me. And I finally realized that the reason is because that one very small wall really should be stone, not siding.
Well, I just happen to have a whole stack of stones that they took off of the side living room wall, so I'm having a stone mason come today and tell me if adding that stone right there is even feasible, and if so, how much he'd charge me to do it.
So as I was mulling over that idea, as well as the other 100+ exterior and front porch ideas swimming around in my head, I finally climbed into bed around 11:00 with my phone in hand so that I could scroll through Instagram for a bit before falling asleep. And as I was quickly scrolling through Instagram, one post stopped me in my scroll, and I had to go back and take a closer look. It was the before and after of a recent Fixer Upper posted by Joanna Gaines. Did you see this?!
What?!?! That looks like someone copied the middle section of our house, pasted it onto another lot, and gave it a makeover, right? It's so similar!
And for the record, do you notice how the cedar shingles wrap around to that side porch wall? That confirmed to me that mine should, in fact, be stone.
So that really started my wheels spinning. I was too tired to do any photoshopping last night, but I got up this morning and got busy. (For the record, I don't actually use Photoshop. I use a program called Paint Shop Pro that you can find on Ebay and Amazon for a fraction of the price. And I do very quick mockups, so they're nothing like the quality my Photoshop expert mom does, but they at least give me an idea of how something will look.)
I love the landscaping, the railing, the columns. So I copied those and pasted them onto the picture of the front of my house, along with the dark blue shutters and window box that I found on Pinterest the other day, just to see what it would look like.
Oh my. Y'all, if I can get my house to look like this in reality, I won't even bother with that big, expensive front elevation/porch remodel that I had planned. I would be perfectly content with this.
Combine that with what I have planned for the studio…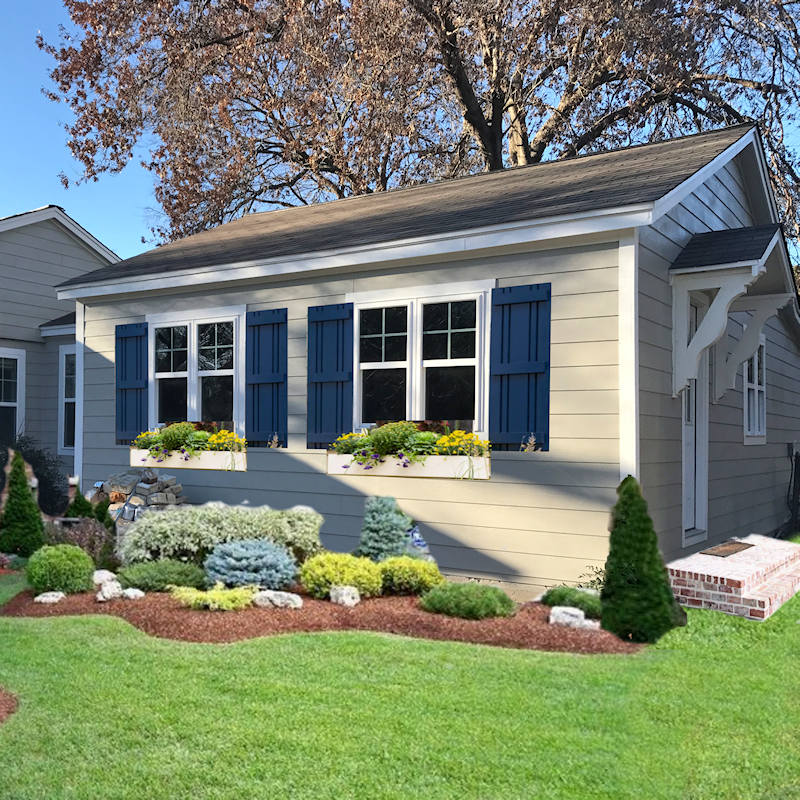 …and you can start to get a vision for what this house might look like when I get all of these outdoor projects done.
A few more things…
The ramp on the front porch is going to be removed.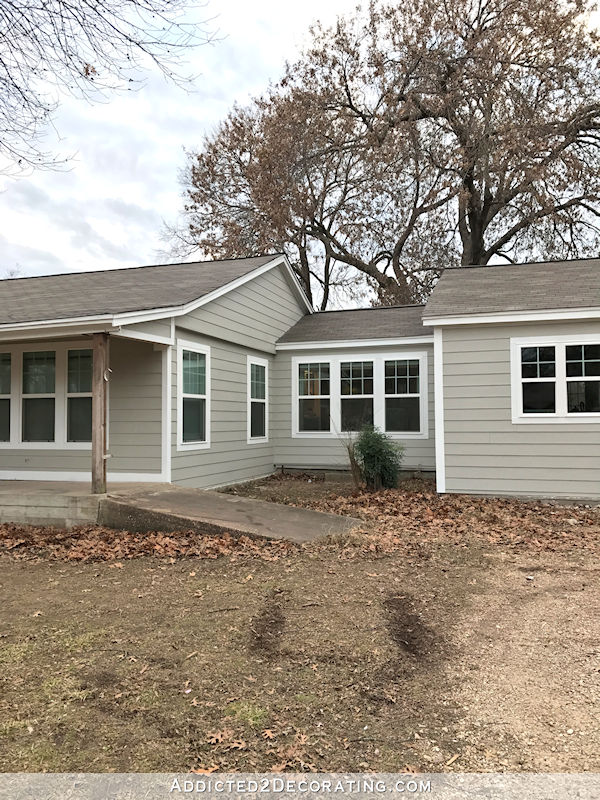 We currently have a ramp from the music room doors to the sliding door at the back of the sunroom. And when we do the driveway and carport in the back, we'll also have another ramp from the studio to the carport. So another ramp in the front of the house isn't needed.
I also plan to cover the current concrete porch with wood so that I can have a traditional stained wood porch. And I love the idea of a wood porch and brick combination, similar to this…
I don't plan on replacing the sidewalk completely…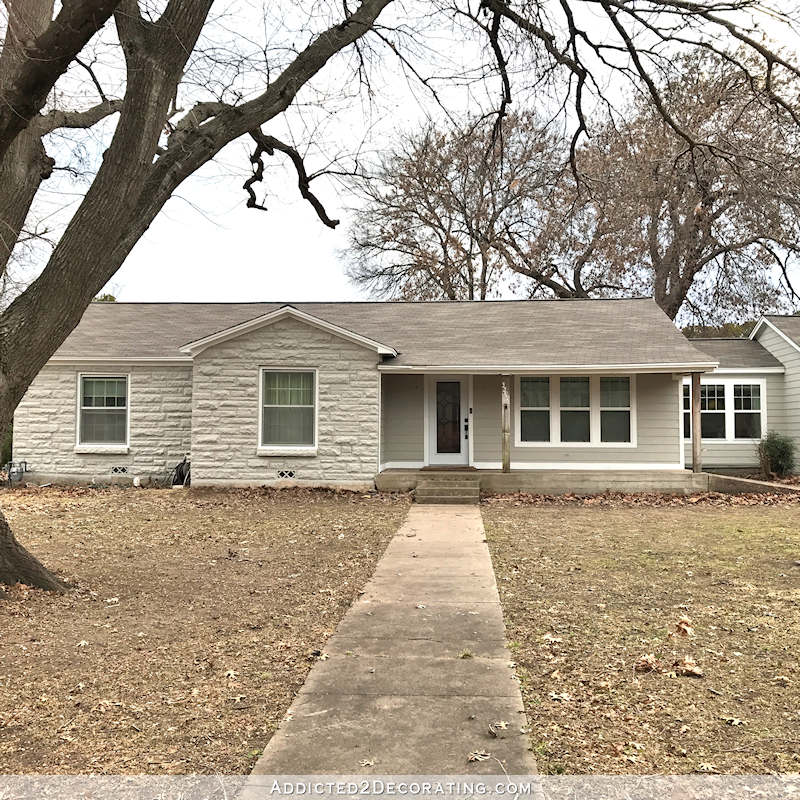 …but I would like to look into having it resurfaced (maybe stamped to look like stone?) and then I'd like to widen it visually with something like bricks or pavers on each side, along with plants of some sort lining the edges on both sides. I love that look, but I know nothing about plants so I have no idea what to use that would be low maintenance. Monkey grass? Basically this — concrete, pavers, and plants lining the sidewalk — except that I want the plants only edging the sidewalk and not taking over the entire yard.
So I have plans. Big plans. 😀 And I'm so excited to get started on them!! But today is not the day. It's 19 degrees outside (feels like 11), and that's hibernation weather for this Texas girl. I'll just have to keep dreaming and planning and photoshopping until warmer weather gets here.
In the meantime, I have plenty of other projects to work on. My new living room drapery fabric arrived yesterday, so I have some sewing and other indoor projects to keep me busy for now. If you missed the sneak peek of the new fabric, you can check it out on my Instagram.
Addicted 2 Decorating is where I share my DIY and decorating journey as I remodel and decorate the 1948 fixer upper that my husband, Matt, and I bought in 2013. Matt has M.S. and is unable to do physical work, so I do the majority of the work on the house by myself. You can learn more about me here.
I hope you'll join me on my DIY and decorating journey! If you want to follow my projects and progress, you can subscribe below and have each new post delivered to your email inbox. That way you'll never miss a thing!