Six Inspiring House Exteriors (and My Potentially Shocking Final House Color Choice)
For the longest time now, I've had my heart set on a non-neutral color for the exterior of my house. I've had my eye on either light yellow (which I tested out on my house in this post), and then I thought about a really light bluish aqua color (like the house at the end of this post).
But when I couldn't decide which one I liked better, I decided to go to Houzz.com and just search "painted siding exterior" and flip through as many pictures as I could, as fast as I could, and see just which ones grabbed my attention.
I was actually a bit shocked at the results of that little experiment. It wasn't the blues or the yellows or the greens that caught my eye. It was the grays. Yep, gray.
This was the first one to grab my attention…
I loved the combination of the gray siding, bright white trim, and barely-gray stone. And then I saw this one…
And then this cutie…
The really light gray houses appeal to me more than the darker ones, like this Benjamin Moore Seagull Gray…
And this one with Sherwin Williams Silverplate…
And of course, the two-tone gray house with the bright orange door caught my eye.
Gray used in interior decorating is a new thing for me, and even now I can only use it minimally (like the absolute lightest gray I could find for my breakfast room and living room walls) and combined with lots of color.
But gray on exteriors has been a favorite of mine for about two decades. In my early and mid-twenties, I always dreamed of having a light gray house with white trim, black shutters and a red front door. So when Matt and I built our first home in Albany, Oregon, right after we got married, and he asked what colors I wanted on the house, I knew exactly what I wanted. And I got my gray house with white trim, black shutters and a red front door.
So I've decided to go with gray siding (and stone!) and white trim. I'm not quite sure if I'll go with black shutters this time, and I'm about 99% sure I won't do a red front door. Right after we bought this house, I did a few different mock ups, and I remember this one being a crowd favorite on my A2D Facebook page…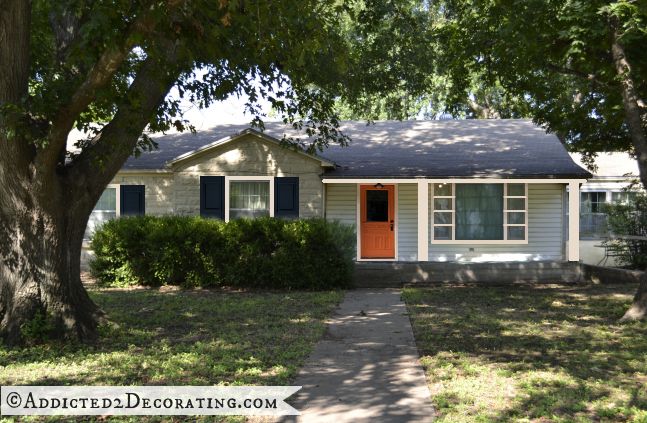 And it's still a favorite of mine with the coral front door and the really dark midnight blue shutters, so I might go that direction this time.
So I headed to Sherwin Williams to look at grays. I started out with a stack of about 25 gray paint chips, and quickly narrowed them down to my five favorites. I chose (1) Repose Gray, (2) Silverplate, (3) Knitting Needles, (4) Mindful Gray, and (5) Colonnade Gray. Here they are around 5:00pm on the breakfast room side of the studio next to the trim color, which is Extra White (i.e., Sherwin Williams' base color).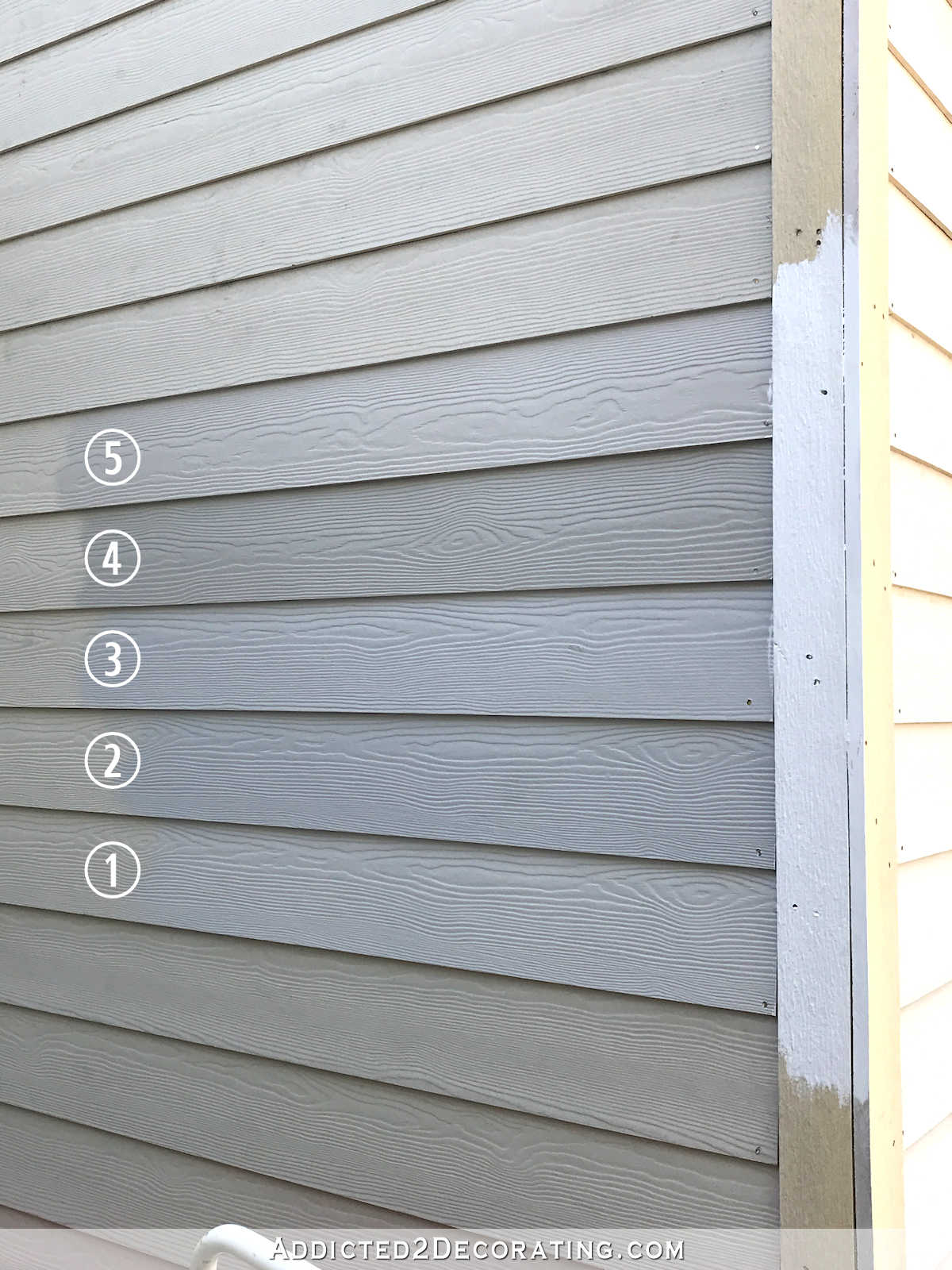 I had a favorite almost immediately, but I also wanted to see them on the front of the studio…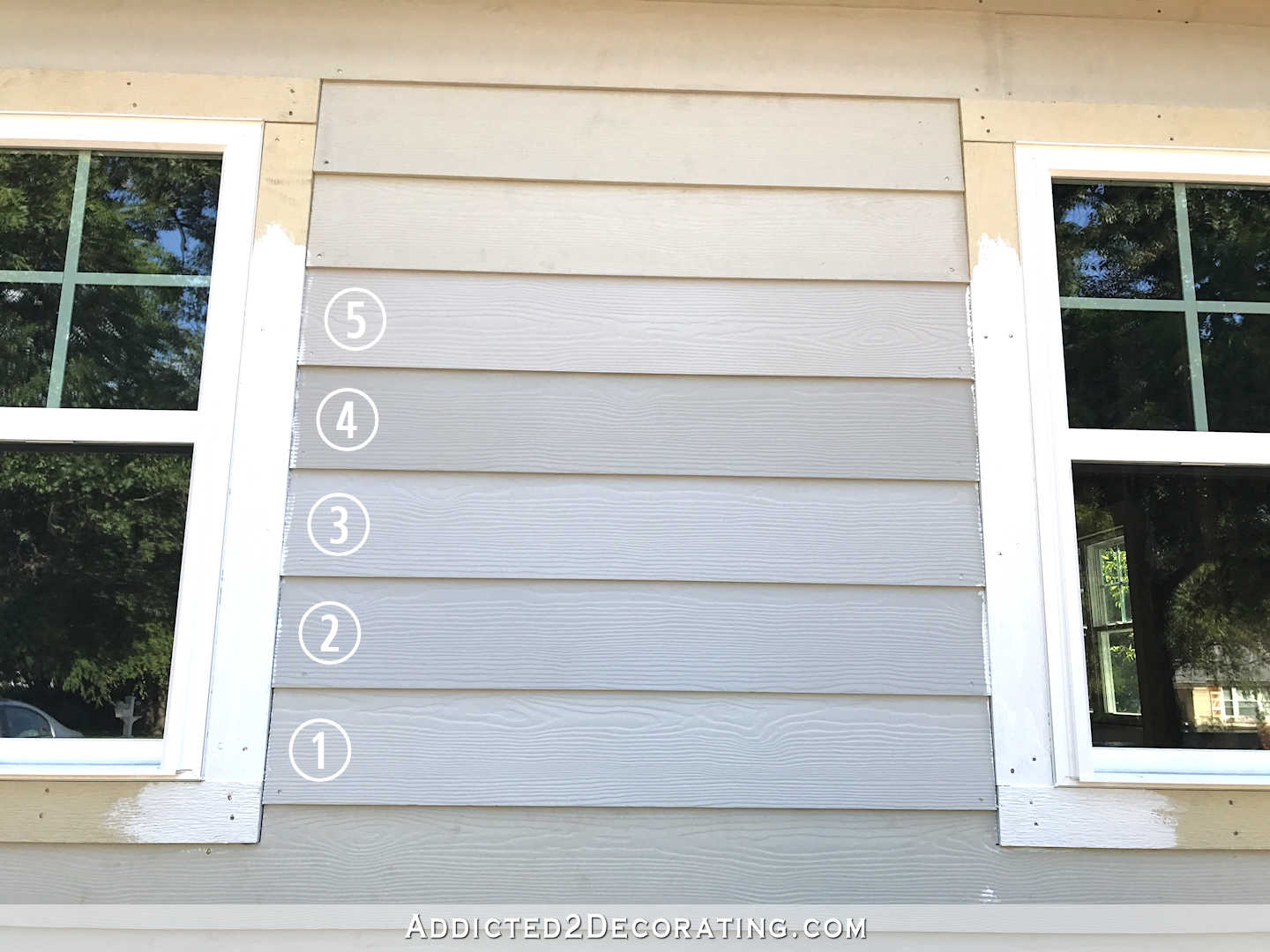 …and on the stone…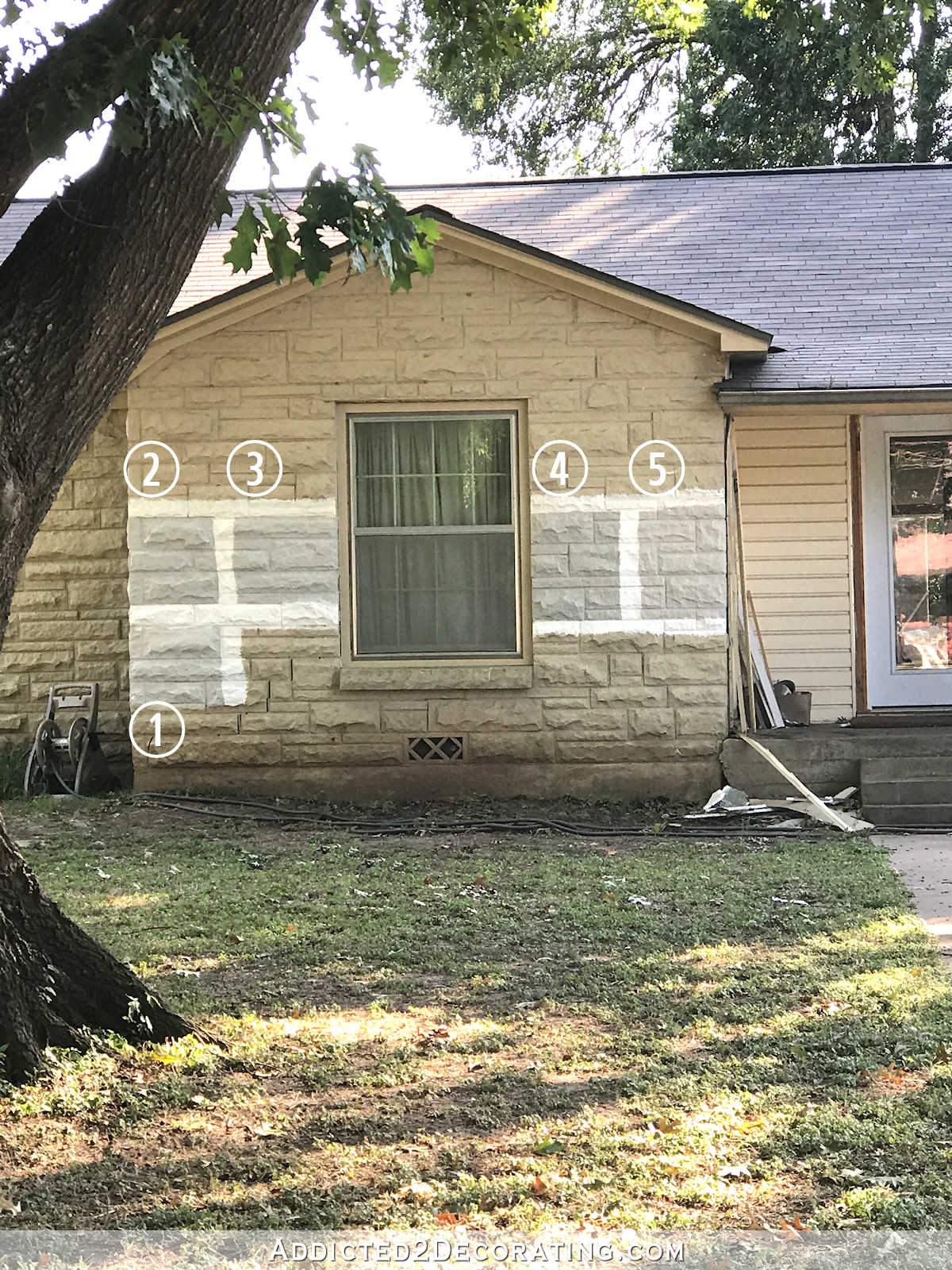 (Forgive the mess. The siding is being torn off of the front porch right now.)
Here's a closeup of the colors on the stone in the 5:00pm-ish light.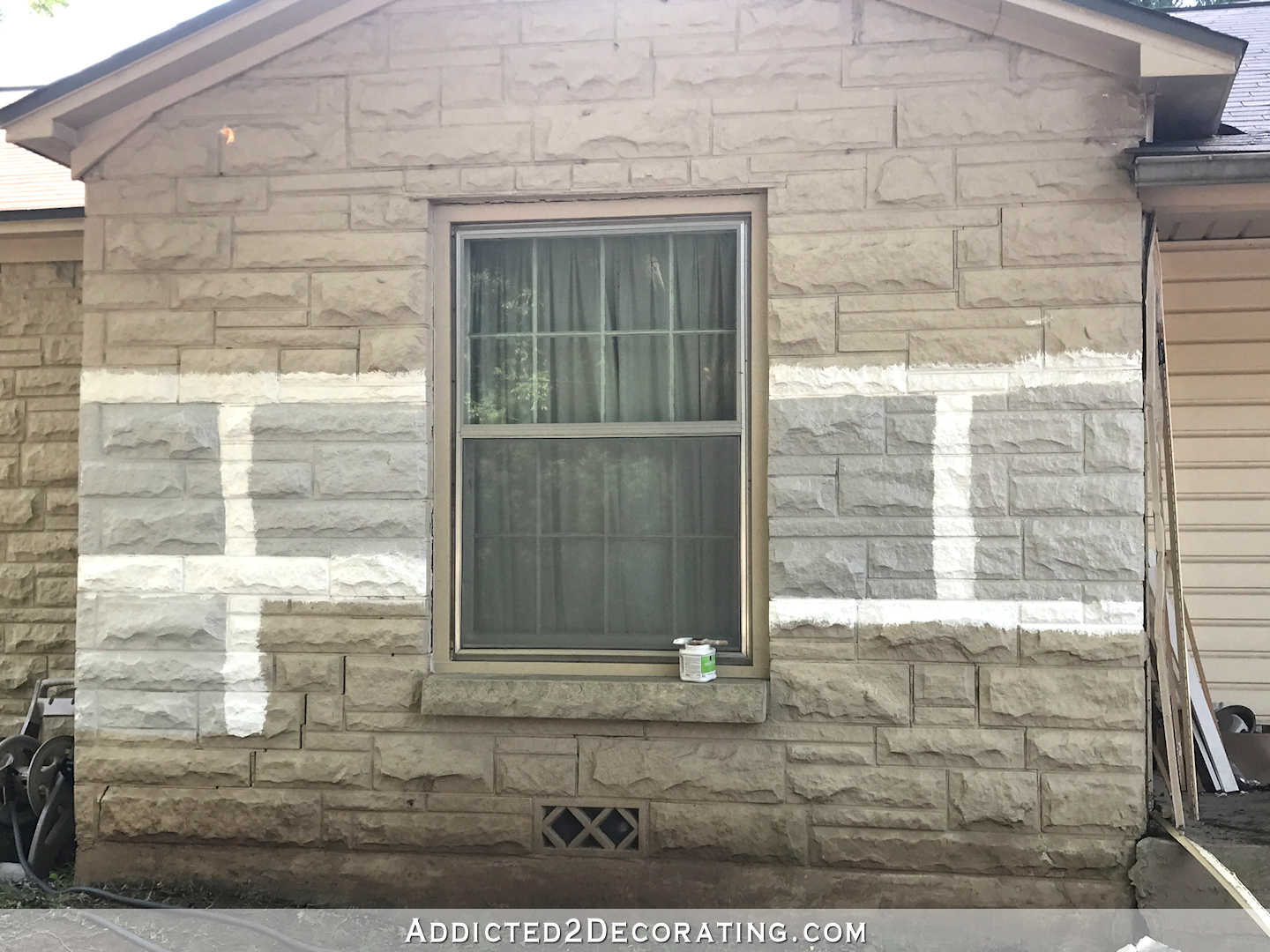 Then I waited a couple of hours and took a few more pictures. This was around 7:15pm on the breakfast room side of the studio…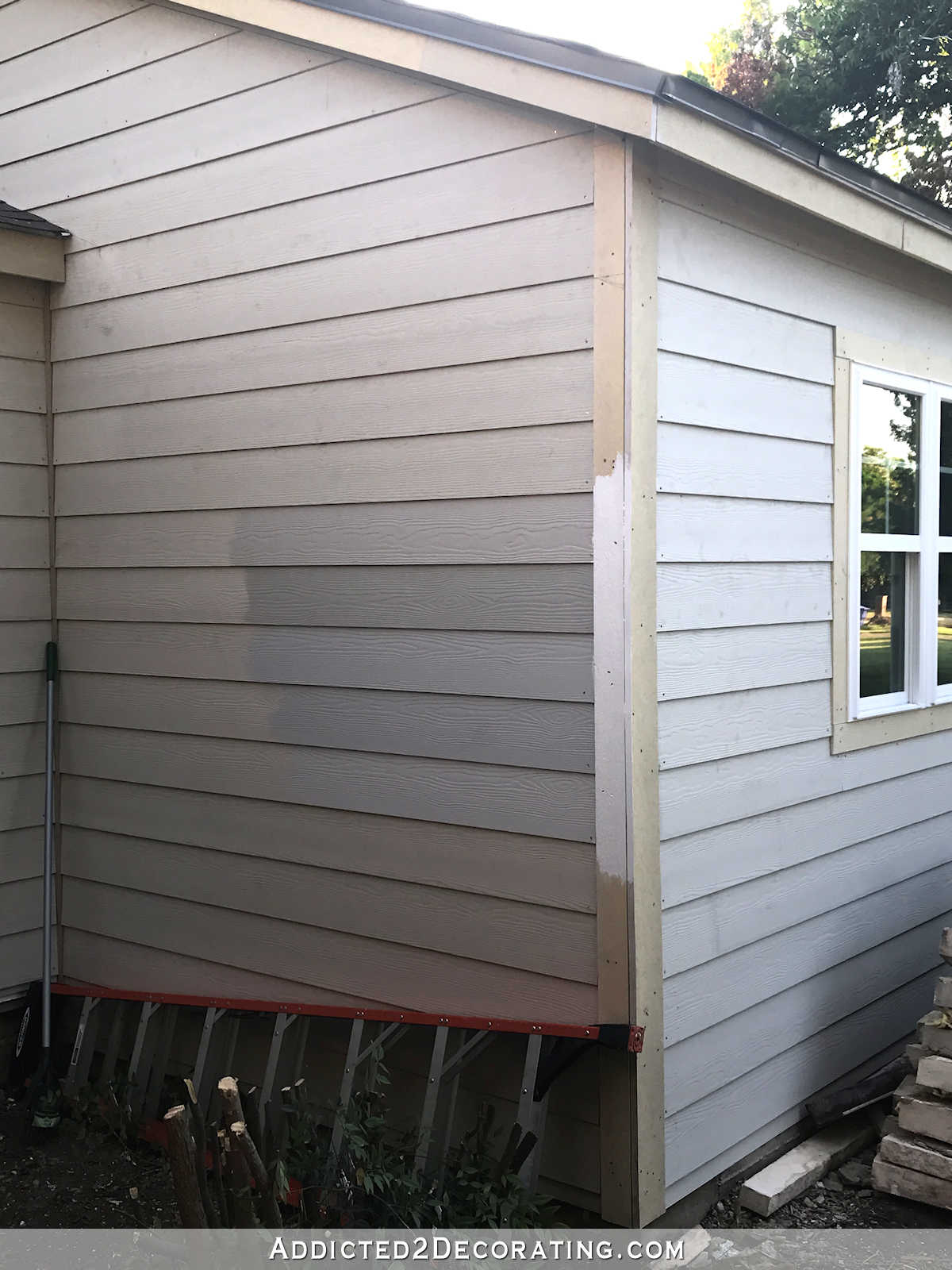 …and on the portico side of the studio, which is always in the sunlight and hard to photograph…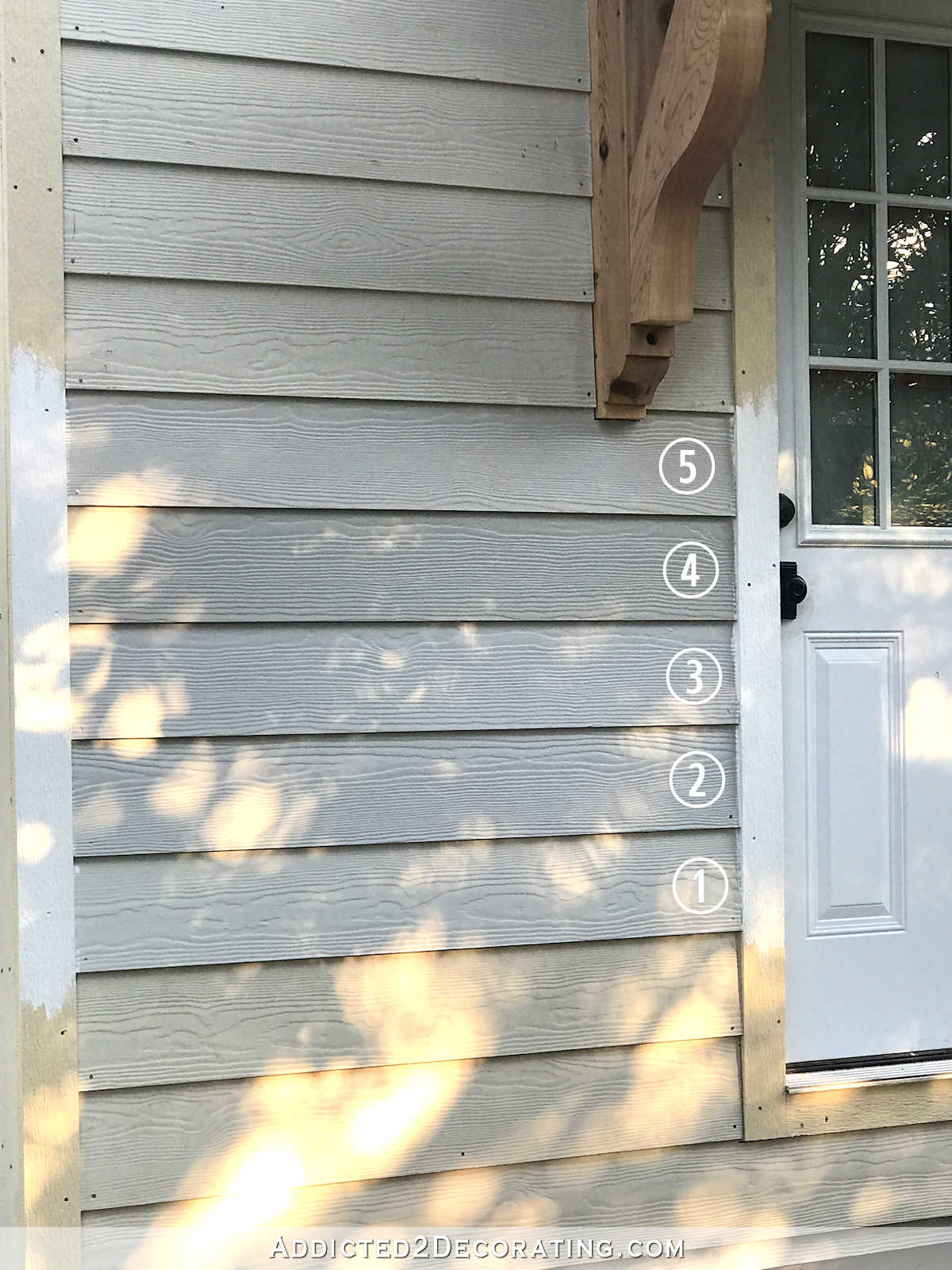 …and on the stone…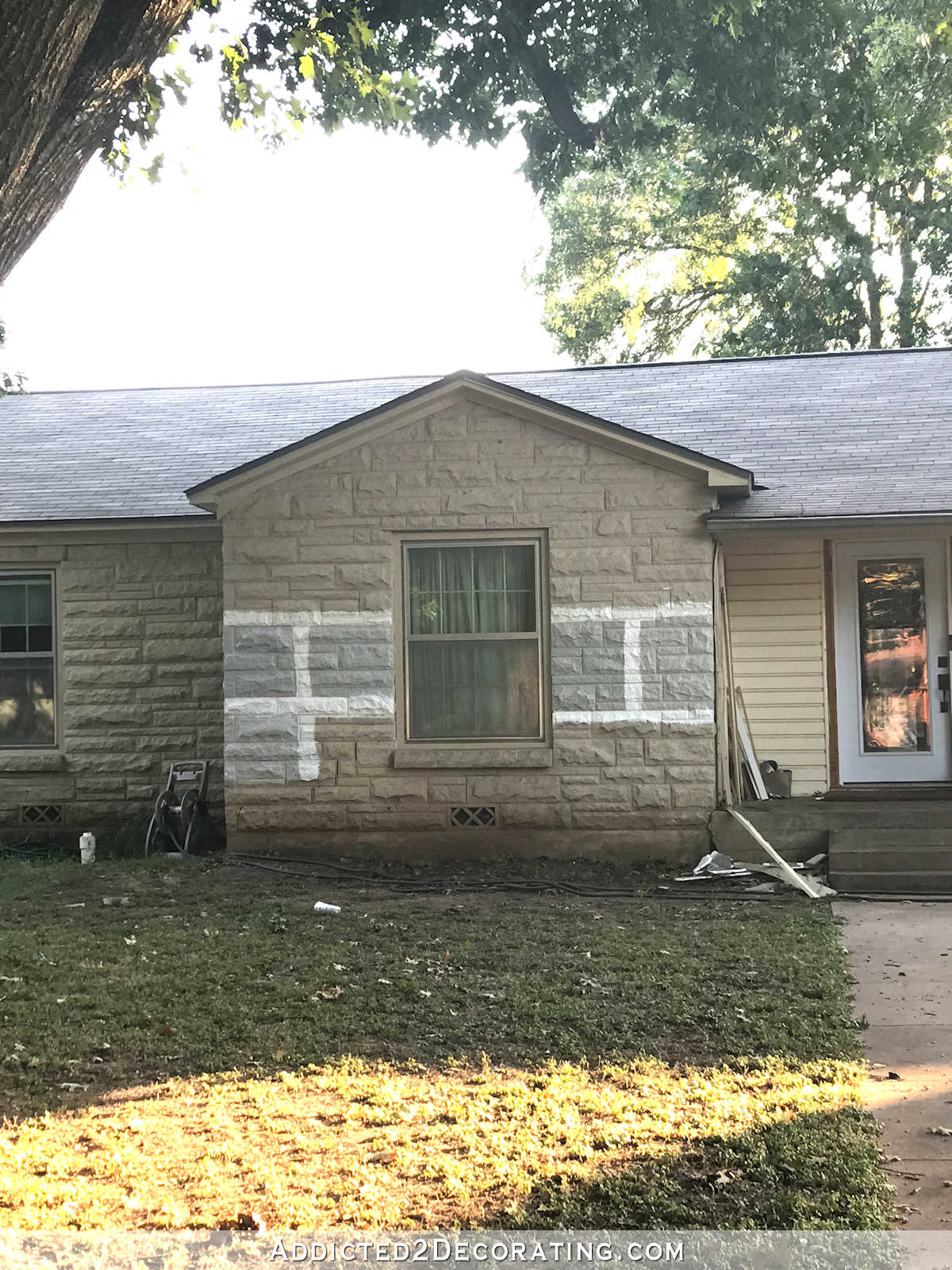 I narrowed it down to Mindful Gray (#4) and Colonnade Gray (#5) immediately. The other three just looked cold and steely to me.
Here are a couple of examples of Mindful Gray…
And this is Colonnade Gray…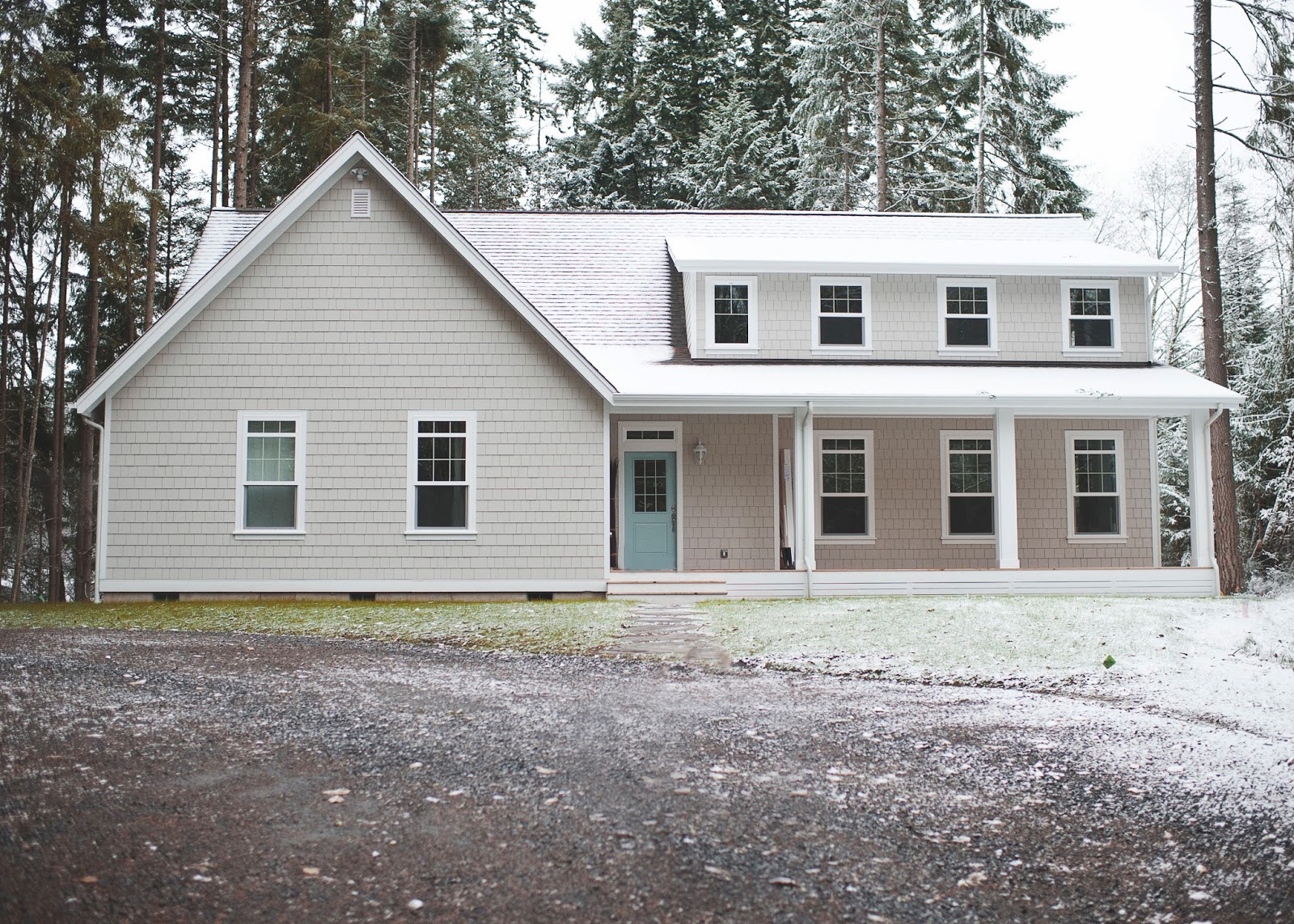 via This Sweet Reverie
Of course, while you can get a general idea of the color in a photo on someone else's house, it's hard to get an idea of the exact color in a photo since the appearance depends on so many variables — lighting, time of day, trim color, etc. So when looking at pictures of the colors on other houses online, I was mostly interested to see how well the color contrasts with white trim. On the samples on my own house, I tried my hardest to pay attention to undertones in different lighting throughout the day.
By the end of the day, I was leaning towards Mindful Gray (#4).
Repose Gray (#1) is too light and cold, Silverplate (#2) has blue undertones to it, and Knitting Needles (#3) has blue/purple undertones, so those three are definitely ruled out.
Colonnade Gray (#5) seems to have red/pink undertones in the late day and early morning light, so I'm pretty sure that won't work. Although I'll admit that I do love how light and fresh the color is, and I really like it with the aqua front door in the photo above.
So it looks like Mindful Gray is my choice. Sound good? 🙂 The fun part will be finding the right shutter and front doors colors that bring some color to the exterior of the house. But that'll come later.