Last Updated on October 8, 2017 by Kristi Linauer
I'm still at the ugly picture stage on my breakfast room and walk-in pantry, but I feel like things are starting to get exciting!
First of all, I finished up the framing for the pantry wall and doorway yesterday. That pantry is going to be nice and big!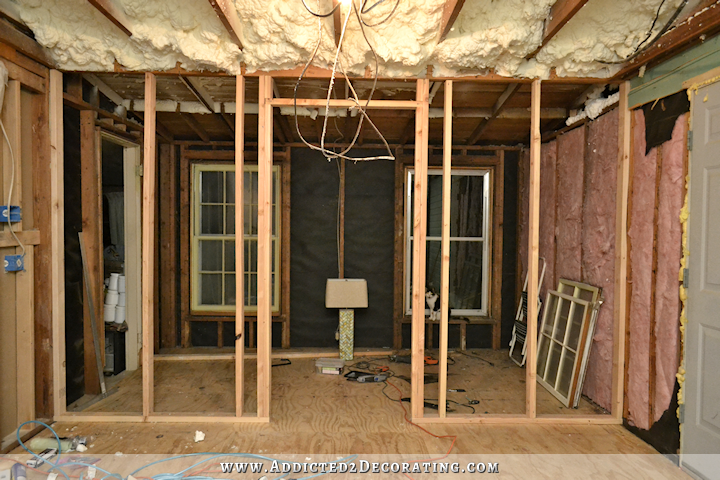 I wish I would have moved that 2 x 4 lying on the floor at the back of the pantry before taking the picture because at a glance, it gives the illusion that the new wall framing isn't square with the back wall. Oh well. Now that you're aware that it's there, you can look past it. 🙂
I decided to go with a 36-inch doorway, and I'm going to use the exact same double doors that I have on the hallway bathroom. I've never gotten a full view of those doors with the finished bathroom since they drywall in the hallway isn't finished and I didn't want ugly unfinished drywall mucking up my photo, but you can see what I'm talking about here…
Those were bi-fold closet doors that I turned into double doors that open into the hallway. More on that project here…
I wrestled back and forth with this decision. At first, I was going to go with a single pocket door because that seemed more practical. But I really like symmetry, and wanted double doors like this picture I showed y'all a couple of weeks ago.
So then I considered a single pocket door that looked like double doors. I didn't really like that idea. So then I researched how to make double pocket doors that will both open when you only open one.
Well, that was a great idea, but I had a heck of a time finding hardware that you can actually purchase that will do that. In fact, I only came across one or two companies that make anything like that, and it was expensive!! So that was a no-go. I also came across some DIY instructions (a diagram, actually), but it just seemed like way too much trouble for something that could possible come loose or break in the future, which would mean I'd have to rip drywall down to fix it.
Plus, there's the issue of pocket doors limiting what you can put on/in the wall because you have to leave all of that room for the actually doors inside the wall.
So after wrestling with it for a few days, I finally decided to stick with what's tried and true for me. I'm going with the bi-fold doors turned into double doors, but I'm going with a 36-inch doorway for the pantry, where the bathroom has a 32-inch doorway.
And yes, I'm going to put glass in them. 🙂 That should be an interesting and fun project.
The other thing I've been wrestling with is what, exactly, to do about this back wall with the two windows that I'll be removing. Here's a better view of that wall from before I did the wall framing for the pantry.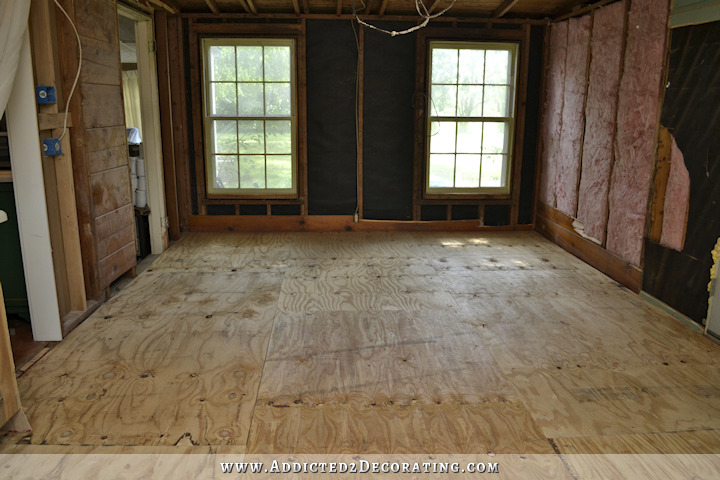 As it turns out, I'm going to have to do this project myself. Remember that extra money Matt budgeted for this room? Well, last Friday, I spent $2500 of it on something that I've needed for YEARS now. I bought myself a truck!!
It's nothing fancy — a 2004 Ford F-150 XL. But it has a full 8-foot bed on it!!! It's quite possible that I'm more excited about this truck than I was about my new car I got in June. How I've made it this long as a DIYer without a truck is beyond me. Every time I've needed to haul full sheets of plywood, MDF, or drywall, I've had to borrow my sister's truck. And while it's very generous of her to let me borrow it, it just wasn't that convenient. In addition to having to work around her schedule, it's also a 30-minute drive to her house. So that's an hour there and back to borrow the truck. Then I'd make my Home Depot run, and then take another hour round trip to return the truck. That's a full two hours out of my work day just for picking up and returning the truck.
So it was about time for me to get my own truck.
Anyway, all of that to say that the extra money that Matt budgeted for me is dwindling fast, so some of this stuff that I was planning to hire out will now have to be done by my two capable hands. And really, I'm okay with that. Excited, even.
But that brings me back to this wall, and the windows…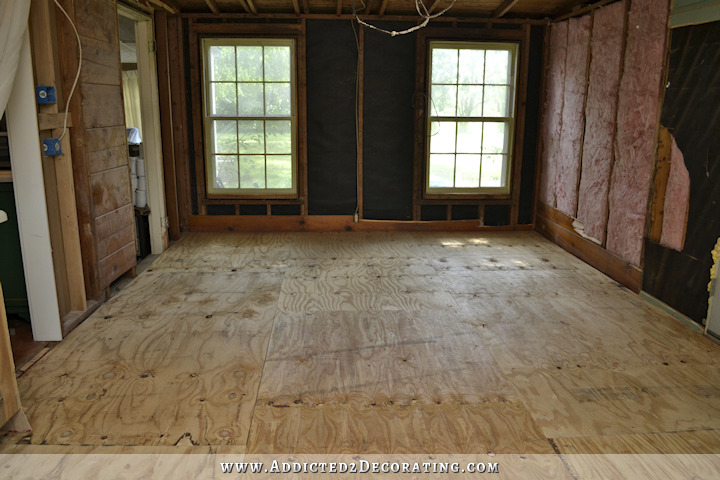 The main issue is that on the outside of the house, we have vinyl siding. Here are those two breakfast room windows from the outside, and you can see that the back wall of the breakfast room is continuous with the back wall of the storage room at the back of the garage. That door that's barely visible on the far left of this picture goes into that storage room…
If I remove those two big windows, that will leave two huge holes in my vinyl siding. And while we are definitely planning on replacing the vinyl siding, we're not planning on doing it right now.
So I had this brilliant idea…or so I thought. Those windows actually have two windows on them — the original wood window and then an outer aluminum storm window.
I thought that I could possibly remove the inside window, and cut the window frame back so that it doesn't stick out past the 2 x 4 studs.
Then I could leave the storm window on, but make sure it's water tight with lots of caulk. And then I'd insulate right over the storm window, and drywall right over it as well. That way from the outside, the windows would still be there and the vinyl siding would remain intact, but the inside would be drywalled. Of course, it would be temporary. When it comes time for us to re-side the house, the storm windows would be removed, as well as the extra framing around them, and a new regular stud would be put in its place right before the house gets new siding.
I thought that was a pretty good temporary idea, so I went ahead and removed the wood window on the right side of the pantry, leaving the storm window, and cut the wood frame back so that it didn't stick out past the wall studs.
Here you can see how I cut the wood window frame back. I just used my reciprocating saw for that.
But I just had this nagging feeling that I was missing something. I spent quite a bit of time walking through the process in my mind of covering over those windows and adding a new window in the center. It seemed like a perfectly good plan…
…until I realized it wasn't.
The issue is that these are the windows that I'll be using for my breakfast room.
As you can see, they have a nailing fin on them.
Now if you've never installed windows with a nailing fin, let me tell you that it's about as easy as hanging a large picture on your wall. Maybe even easier.
The prep work — framing and waterproofing/flashing — is the hardest part of window installation. Actually installing the window with a nailing fin is as easy as holding the window up to the roughed-in opening (while working from the outside of the building), making sure it's level and centered, and nailing it to the sheathing using nails through the holes in the nailing fin.
It doesn't get much easier than that.
Of course, then there's lots of waterproofing and flashing to do after it's installed, but that's another story. 🙂
So here's the issue. When my house gets re-sided, I want the house brought up to today's standards. When my house was built, the process was to frame the walls, then add tar paper to the framing, which is the black stuff you see on the back wall…
Then sheathing (e.g., plywood or OSB) was installed on top of the tar paper, and the siding was installed on top of the sheathing. And on my house, at some point, a previous owner added a layer of vinyl siding over the top of the old wood siding.
So my walls, from the inside out, are framing (i.e., studs), tar paper, sheathing, old wood siding, and newer vinyl siding.
But today's process is framing, sheathing, house wrap (e.g. Tyvek), and then siding.
So I want all of the old stuff taken off of my exterior walls, down to the studs, and I want it brought up to today's standards. Simply taking it down to the original sheathing and then adding the house wrap and siding won't work because then I'd have a waterproof layer on both sides of the sheathing, and if water ever found its way inside there, it would become a mold breeding ground. The sheathing has to be able to breathe on one side.
So if I install my window with the nailing fin by nailing it to the old existing sheathing, that means that when it comes time to re-side the house, the window will actually have to be removed and re-installed. It's not impossible, or even difficult, but what if the new sheathing is slightly thicker or thinner than the old stuff? Then my trim on the inside of the window will all have to be redone. It kind of starts this domino effect.
I've decided it's just better to do it right the first time, which means taking the exterior down to the studs on that section, re-sheathing it, wrapping it, and then installing the window and flashing it.
The good thing is that house wrap can be left exposed for up to about four months, give or take a couple of weeks depending on the brand. So if I wrap it, install the window, and flash it now, I don't necessarily have to rush right into installing siding right away.
So that's where I am on this project. It makes me nervous, but I've thought through the process, and watched LOADS of videos about the process, and there's really nothing to it. Right now I'm feeling pretty confident about it.
Addicted 2 Decorating is where I share my DIY and decorating journey as I remodel and decorate the 1948 fixer upper that my husband, Matt, and I bought in 2013. Matt has M.S. and is unable to do physical work, so I do the majority of the work on the house by myself. You can learn more about me here.
I hope you'll join me on my DIY and decorating journey! If you want to follow my projects and progress, you can subscribe below and have each new post delivered to your email inbox. That way you'll never miss a thing!