Last Updated on October 8, 2017 by Kristi Linauer
On Wednesday afternoon, I met with the owner of a local foundation repair company to get an estimate on my breakfast room floor. He was so helpful, and so informative, but as it turns out, he won't be able to help me. Evidently my idea for fixing the floor (pouring a new layer of concrete over the old) won't work.
Here's what he told me. First of all, he explained WHY my foundation in the breakfast room and the garage had cracked. He said that my house was built soon after World War II while steel was still in short supply and very expensive, so builders made a habit of pouring concrete without rebar. He said that if I were to pour a new layer of concrete over the old, those cracked joints are just going to transfer right through to the new layer of concrete.
He said the best way to handle that floor is to basically build what amounts to a deck over the top, with a system of wood supports underneath, and plywood on top. Then on top of the plywood, I could install my hardwood floor. And of course, that's beyond the scope of work that any foundation company does.
Fortunately, I don't think I'll be left on my own for that. He said he knows a man who does work like that, so he's going to get me in touch with him. I really hope I can find someone to do it for me. While the process seems totally doable, and I know beyond doubt that I could do it on my own, I just simply don't want to. BUT…I can, and I will if I have to.
But on to the fun stuff. I can't even tell you how excited I am at the thought of having a pantry! And a HUGE pantry, too!
I know I went through a lot of possibilities for pantry plans and layouts, but in case you don't remember, the one I decided on was this one (along with the rest of our long-term plans)…
If you're wondering how our current floor plan compares to our long-term plan, you can see both of those here:
So basically, I'm just going to wall off the entire back section of the room, which is currently 12'3″ x 21″. I think the pantry will end up being about 12'3″ x 8′.
Right now, that area has two windows and a doorway leading to the sunroom. All of that will be closed up. I don't want or need a doorway from the pantry to our future family room. I had considered swapping out the two large windows for one small window, but after giving it a lot of thought, I've decided that it's best for food storage to have no windows at all. I'm going to add the very same double doors that I used on the hallway bathroom.
Those are bi-fold closet doors that I turned into double doors. You can see more about that project here.
On the actual breakfast room part of the room, I've decided to do a lot of built-ins. I just love built-ins because I think they make a house look more custom than an plain, rectangle room filled with furniture. So on the wall of the breakfast room that's shared with the garage, I plan to build a wall unit that looks something like this…
It'll be built to match my kitchen cabinets, so my hope is that it'll extend the design of my kitchen into the breakfast room, making my kitchen look much bigger than it is. It'll actually be very similar to the bookcase wall that I built at the condo, but instead of bookcases on the upper sides, I want cabinets.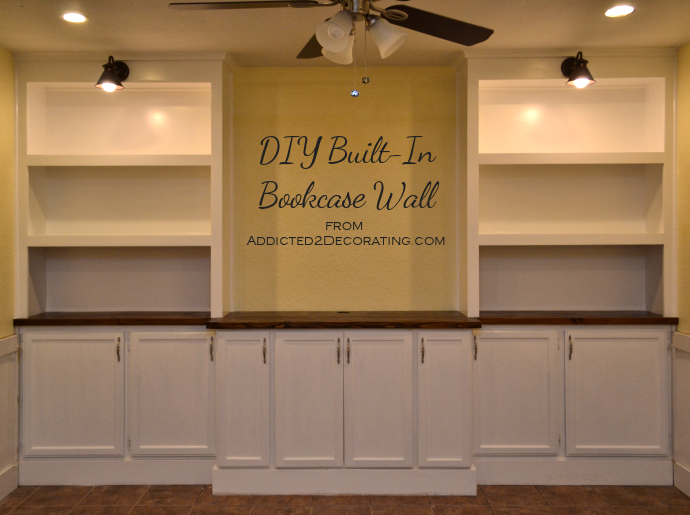 And as of now, I'm planning to build a banquette attached to the back of the kitchen peninsula. It'll look something like this…
I'll lose quite a bit of storage on the back of the peninsula, but I'll more than make up for it with the big pantry and the built-in on the other wall of the breakfast room. Plus, after considering all of my options, that arrangement just makes the most sense to me.
So to put it all into perspective, here's a view of the floor plan and how everything will be arranged…
I'll have my kitchen peninsula (where the sink is) with a banquette on the back. On the opposite wall of the breakfast room will be the built-in cabinets. And then I'll section off the back of the room for the pantry, accessible through double doors like I used on my hallway bathroom.
I think that'll work! The only thing I'm not thrilled with is that my breakfast room table won't be centered in front of the windows. I have a hard time with things being asymmetrical, but I've considered all other options, and I think this is the best one. I'll just have to deal with my symmetry issues. 🙂
Addicted 2 Decorating is where I share my DIY and decorating journey as I remodel and decorate the 1948 fixer upper that my husband, Matt, and I bought in 2013. Matt has M.S. and is unable to do physical work, so I do the majority of the work on the house by myself. You can learn more about me here.
I hope you'll join me on my DIY and decorating journey! If you want to follow my projects and progress, you can subscribe below and have each new post delivered to your email inbox. That way you'll never miss a thing!