Rethinking My Hardwood Floors
I'm a procrastinator. It's just my nature. I was one of those college students who would start working on a 20-page research paper the day before it was due, pull an all-nighter to get it done, and finish just in time to hand it in. Well, okay, I only did that once in college 😀 , but that type of procrastinating and then a last minute rush under pressure to get things done has been a recurring theme in my life.
The problem with being a procrastinator who needs a little pressure to get things done is that when you work for yourself, there's no one to apply that pressure. There are no due dates on my home projects. I don't have a boss to answer to. I have the most easygoing husband who couldn't care less if I ever finish anything. So it's just me making my own decisions, working on whatever I want to work on from day to day, and putting off the things that don't interest me.
And that's why the hardwood floor in the breakfast room and pantry that I installed in September…
…still looks like that. Unfinished. Red oak in the raw.
I've been so conflicted about how to proceed with it, and since I've been able to keep busy with other projects, I've felt no pressure to get it done. So I've procrastinated. I've put it out of my mind.
But this is the year that these rooms are going to get finished. I'm determined. And in order to get the breakfast room and pantry done, I first have to address the floor. After all, what's the point in refinishing my dining table for this room if I have no place to put it? Why spend time making window treatments if I can't hang them? So this needs to be addressed immediately before I can even begin working on other projects.
Here's my issue. That breakfast room/pantry floor, as well as the floor in the kitchen, is new red oak flooring. The floor in the rest of the house is almost 70-year-old red oak flooring. I've wanted to just put a few coats of Waterlox on the floors throughout the house and leave it at that, but there's no way that new and old oak floors will look the same color with just a clear coat. I've tried it, and they look awful together. The color is a day and night difference.
So when I remodeled the kitchen, I mixed up a very light stain that I applied before the Waterlox in an attempt to color match the old floors. It worked great as long as I only had the one side door into the kitchen from the music room. But then I went and cut an opening from the front room (living room) to the kitchen, and that changed things. Now there's a very clear distinction in color where the two floors meet. The kitchen floor is very red, where the old floor in the living room is very orange.
I've also been procrastinating because I couldn't decide whether to just sand the breakfast room floor with my big 6″ rotary sander or whether to rent the big drum sander and edge sander. I knew that to do the job properly, I needed to rent the drum sander and edge sander, but I've been trying to convince myself that using my 6″ rotary sander would be adequate.
I've seriously been wrestling with this whole flooring issue for about two months now, and I've finally made a decision. It's time to stop procrastinating and get things done. Okay, honestly, it wasn't really a decision to stop procrastinating. It was more a realization that the flooring issue is holding up every other project that I want to get done this year, so something needs to be done. Now.
If you read my blog regularly, you know that I'm not really one to settle for things that didn't turn out the way I had hoped. And after just over three years, I've learned that living with orange floors really bothers me.
I also realized that in the amount of time it would take me to completely sand the breakfast room and pantry with my 6″ rotary sander on my hands and knees, I could probably sand the pantry, breakfast room, kitchen, music room, living room, and hallway with the big drum sander. And then I could stain the whole floor at the same time and make sure that I get an even color throughout. A non-orange color that I'm actually happy with.
So I'm gonna go for it. I'm going to rent a drum sander and edge sander and get these floors knocked out ASAP so that I can get on with other things and get these rooms finished.
This time, I will stain my floors a dark(ish) color to minimize the color difference between the old and new floor. And as much as I love Waterlox, this time I'm going to use quick drying water-based polyurethane. I just want them done as quickly as possible, and waiting 24 hours between coats of Waterlox will drag this on way longer than I want. Plus, polyurethane is about half the price of Waterlox.
So now I just need to decide on the color. I've been looking at pictures of stained red oak flooring for the last two months, and I think Minwax Dark Walnut is my favorite.
Isn't that pretty? Here's another Dark Walnut red oak floor…
And one more Dark Walnut on red oak…
This floor has a mixture of half Minwax Special Walnut and half Minwax Dark Walnut. I think it's also very pretty, and I do like that it's a bit lighter (and less red), so it might not show dirt as much as the straight Dark Walnut.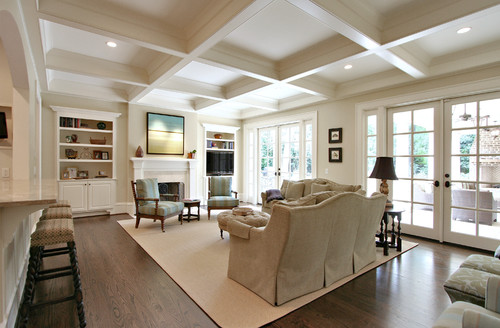 Minwax Jacobean also works very well on red oak flooring…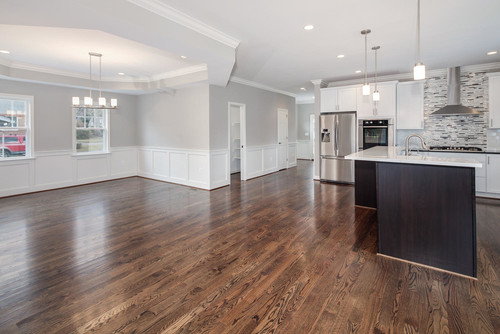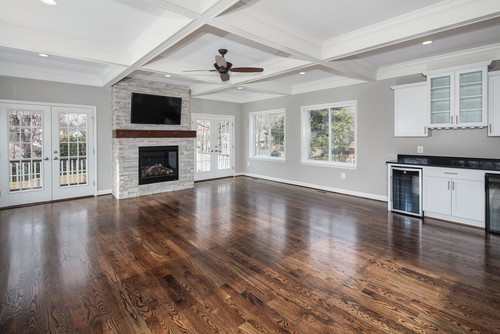 And another slightly lighter option is Minwax Early American on red oak…
I really do like that floor with the half-and-half mixed stain on it, but to be honest, I just want this as simple as possible. I'd like to find a color straight out of the can that I can live with, and just get it done. So while I'm leaning towards the Dark Walnut just based on the pictures above, I'll be testing out the Dark Walnut, Jacobean, and Early American on my floor and choosing from one of those.
I have no idea when I'll be starting on this. I've promised to finish my niece's bedroom before I start on any of my own home projects this year, and I have a few more things to do in her room. But right now, we're all hands on deck. My mom, my brother, and I are all working to get the finishing touches done, so I think we'll have it finished in just a couple of days. And then it's a trip to the tool rental shop for me.
UPDATE:
I went for it and refinished my floors. Click here to see how they turned out…
Addicted 2 Decorating is where I share my DIY and decorating journey as I remodel and decorate the 1948 fixer upper that my husband, Matt, and I bought in 2013. Matt has M.S. and is unable to do physical work, so I do the majority of the work on the house by myself. You can learn more about me here.